Elsie Larson, the creative force behind A Beautiful Mess, has inspired readers since 2007 with her blog of 4,500+ posts on crafts, home décor, and recipes. Get ready to be uplifted with "Elsie Larson Quotes," creativity, and style.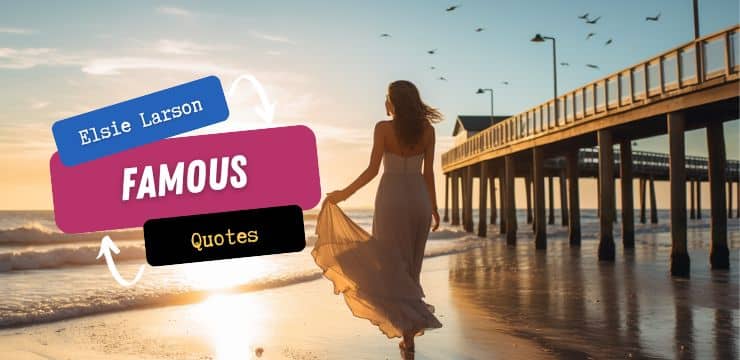 What is Elsie Larson best known for?
Elsie Larson is a visionary in the lifestyle blogging industry.
She co-founded A Beautiful Mess, a platform that has become a go-to resource for creative inspiration.
With a focus on crafts, home décor, and recipes, she has amassed a loyal following. Her work extends beyond blogging into book publishing and product lines.
 ☑ Her influence is undeniable.
Elsie Larson has successfully turned her passion for creativity into a thriving business, setting trends and inspiring countless DIY enthusiasts.
Are you feeling stuck in a creative rut? Elsie Larson, the mastermind behind A Beautiful Mess, has been redefining the art of living creatively for years.
Elsie Larson's blog is a sanctuary for those who seek to infuse their lives with color, texture, and, most importantly, joy.
What's the secret sauce behind Elsie's enduring appeal?
We've handpicked a collection of "Elsie Larson Quotes" that is the backbone of her creative ethos. These aren't just quotes; they're life lessons wrapped in eloquent words, ready to spark your next big idea or project.
So, if you are prepared to elevate your creative game, then why not let Elsie Larson's wisdom be your guide to a life less ordinary!
Why Content Writers Should Follow Elsie Larson

Given that abeautifulmess.com boasts an impressive domain rating of 79 and attracts an estimated 704,000 visitors through organic traffic each month, it stands to reason that the website serves as a valuable resource.
Therefore, any blogger aspiring to produce and publish exceptional content on their platforms could glean insightful lessons from it, including but not limited to.
Comprehensive Coverage: A Beautiful Mess offers various topics, including crafts, home décor, and recipes. It also delves into specialized areas like plant care and coffee brewing.
Multifaceted Guides: The blog provides detailed guides on making the best coffee at home. Methods covered include using a Chemex and a French Press.
Multi-Dimensional Enrichment: The blog aims to enrich its readers' lives in various ways, from enhancing living spaces to improving morning routines.
Cohesive Branding: A Beautiful Mess successfully diversifies its content while maintaining a coherent brand voice and theme. That is a valuable skill for content writers.
Content Variety: The blog employs multiple formats to keep the audience engaged, such as room tours and holiday how-to guides.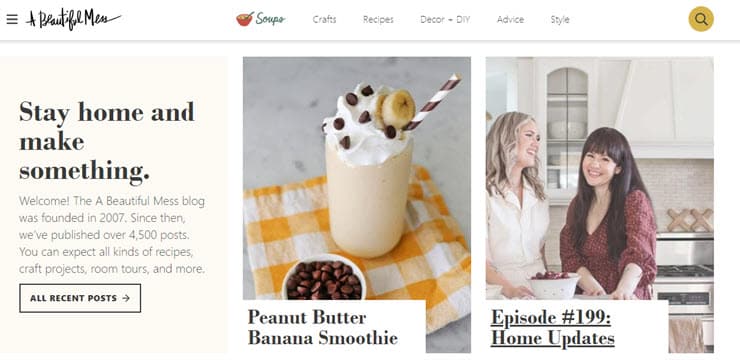 How To Create Blog Content Like ABeautifulMess.com
Broaden Your Spectrum: Start by covering topics that align with your brand and audience, like the "ABeautifulMess" blog.
Diversify Formats: Use a mix of content types, such as how-to guides, listicles, and personal anecdotes, to keep your readers engaged.
Specialize with Diversity: Don't just skim the surface. Offer specialized, in-depth guides on specific topics to add multiple layers of value to your blog.
Maintain Brand Consistency: While diversifying your content, ensure that your brand voice and theme remain cohesive to build trust and authority.
By following these numbered steps, you can emulate the captivating style of A Beautiful Mess in your blog.
Best Elsie Larson Quotes
What is Elsie Larson's most famous quote?
"My best business advice is to just be patient and keep going because everyone's career is so much harder than it looks. So don't get discouraged when yours is really hard too."
List of other famous quotes by Elsie Larson.
You don't have to take this idea of retirement for granted down the road. The new rich get to live a life that they're excited about.
When you own a business, if you didn't watch yourself, you would maybe be tempted to work constantly. But you can't live your whole life working.
For creative people to have a really strong aesthetic, you have to have almost like your double life. Like secretly listen to Marilyn Manson or whatever.
I always blow it when I describe [our website] to new people. It's kind of hard. I always try to gauge it based on the age. Like, should I start with, 'Here's what the internet is?
We think of [our content] more as like shareable content. It's the type of stuff that people get on Pinterest and they're looking for, and we're hoping to kind of catch their eye and they'll come over to the site.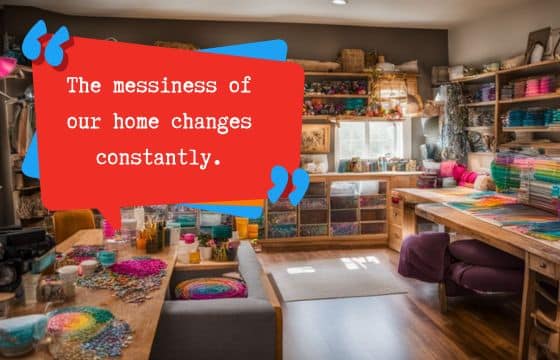 Smartphones are the backs of cereal boxes in the breakfast of our lives.
I'm still not sure if I believe in the idea of a 'forever home,' but I'm currently enjoying the dreaming phase.
Don't forget how long five years is! Don't be afraid to dream bigger and set goals that feel borderline impossible to you today. You have time to get there.
It's fun to have a really diverse breadth of things that you pay attention to because the more unique and bizarre and out of your world the stuff that you are pulling from is, the more you can kind of find inspiration in it.
When we first started 'A Beautiful Mess,' I would just post like selfies and pictures of my dog. But when we joined together, we started doing recipes and DIY projects, and several times a week, and then several times a day.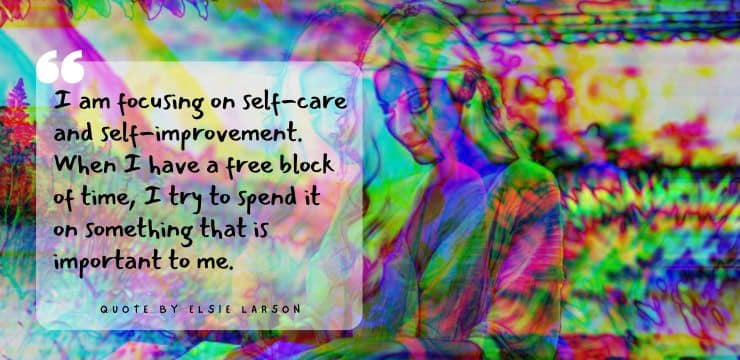 Quote by Elsie Larson
Other Memorable Elsie Larson Best Quotes And Famous Lines
Elsie Larson Quotes
I think if you have a great kitchen, you can kind of mentally block out other things that you're not happy with.
We decided to move to Nashville because my husband is a musician, so it was just a way to kind of support his career, but I actually really love Nashville.
The kind of person that inspires me more than anything is the person who takes something they don't like about their life and completely changes it.
Our lives are under construction and the things that we create are constantly being changed and grown.
Inspirational quote by Elsie Larson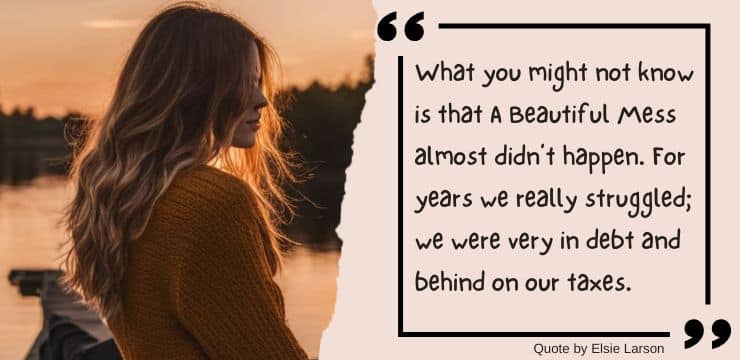 80+ Best Content Writing Quotes
Our latest blog post is a treasure trove of quotes specially curated for content writers like you! Imagine an injection of knowledge in every sentence and inspiration in every word. Whether battling writer's block or seeking that creative spark, these quotes are your go-to guide.
It took us years to go from very in debt and almost bankrupt to a million-dollar company.
We had a lot of ideas but we didn't know how to turn them into a profitable business. Then we changed our mindset; we found a new method for approaching our ideas.
Living in a space that you feel like is completely your own is really important, so I think it's worth the time and energy it takes to bring it to a place where it feels just like you.
Whenever you're house shopping, I think you just have to kind of have blinders on where you don't look at style choices, you don't look at finishes, you only look at the bones of the house and then you can kind of imagine it with your style.
Elsie Larson Motivational Quote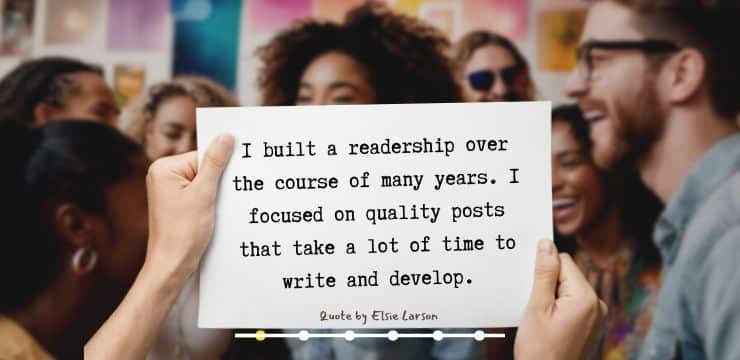 It's easier to become great at something you're good at than good at something you're bad at. Focus on your talents and strengths and find other people to fill in the gaps!
How did I not know how good matching pjs feel? It's such a simple luxury.
If you're on your couch watching this, you should be here watching this without your couch.
The journal includes a list for every week of the year and helps you discover new ways to connect with each other.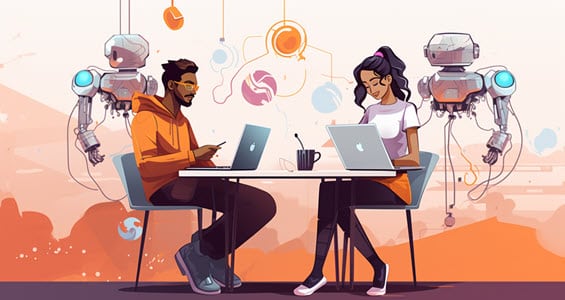 Can AI Writing Tools Ever Match the Emotional Depth of Human Writers?
The rise of artificial intelligence writing tools is changing the landscape of content creation. But can AI ever capture the unique essence, experience, and emotional depth of human writers like Elsie Larson?
As you ponder this, consider the irreplaceable value of authentic human expression in an increasingly automated world. Will the future see a harmonious blend of AI and human creativity, or will one overshadow the other?
Why Elsie Larson's Quotes Are a Must-Read for Every Content Writer
As we wrap up this exploration into the world of Elsie Larson from her YouTube videos and her blog, A Beautiful Mess, Elsie has shown us the art of living creatively, and her quotes serve as the perfect guide.
Considering everything, Elsie Larson's Quotes profoundly impact content creators. Her wise words act as both inspiration and guideposts for those aiming to improve their writing.
Quote from Elsie Larson
Related Posts You Might Like: