Taylor Swift is a talented singer, outstanding performer, and songwriter with a gift for creating catchy, relatable songs that her devoted fans love. That's why we've curated the best of Taylor Swift quotes to motivate yourself today.
September 2011, San Francisco, California – Taylor Swift participates in her "Youtube Presents" event. Photo by
Marcin Wichary
© Wikimedia Commons. Editor's note: Resized and added to background template.
Why is Taylor Swift a good role model?
There are many reasons why Taylor Swift is a good role model.
First and foremost, she is an incredibly successful young woman who has worked hard to achieve her goals at a young age. In addition, Taylor Swift is a Grammy Awards winner and an insanely talented singer and songwriter.
☑ Secondly, she is gorgeous, charming, and exorbitantly wealthy.
Despite her fame and fortune, Taylor Swift has always remained grounded and humble, making people want to follow her and learn more about her.
☑ Taylor Swift is a kind, down-to-earth, and relatable person.
Third, Taylor Swift's bubbly personality, which comes across in interviews, live performances, and music videos, is known to capture universal emotions and connect with her listeners.
Add to that her massive social media following!
☑ And it's no wonder she's one of the most famous celebrities in the world.
And Last, Taylor Swift has used her platform to speak on important issues like gender equality and anti-bullying to raise awareness and spark much-needed conversations on these topics. She is not only speaking but also taking action.
She has been generous with her time and resources, supporting many charitable organizations and helping them raise millions of dollars for various causes.
  What is Taylor Swift's Record-Breaking Achievement?
Taylor Swift has set a new record in the music industry by achieving the most No. 1 albums among female artists. Swift's new achievement is significant because she surpassed Barbra Streisand.
That makes Taylor Swift the first living artist in almost six decades to simultaneously have four albums in the top 10. In addition, she is the first woman and solo artist alive to have 11 albums charting concurrently on the Billboard 200.
What is Noteworthy About Taylor Swift's "Eras Tour"?
Taylor Swift's "Eras Tour" is a phenomenal success, consistently selling out stadiums. That extraordinary accomplishment highlights Taylor Swift's enduring popularity and attests to the consistently high quality of her music.
☑ It's a tribute to her dedicated fanbase, affectionately known as "Swifties."
Swiftie's fanbase passionately enjoys Taylor Swift's music, engages with her on social media, and attends her concerts in droves.
This unwavering loyalty enhances her status beyond that of a typical artist and solidifies her enduring appeal and influence as a cultural icon in the music industry.
What are some fun facts about Taylor Swift?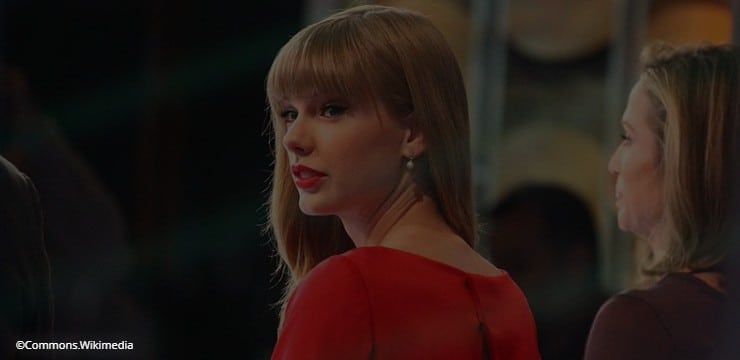 October 2012, New York, NY – Taylor Swift at her Red Album launch event on Good Morning America. Photo by
Paolo Villanueva
© Wikimedia Commons. Editor's note: Edited and resized image.
No, Taylor Swift is not left-handed. She is a righty!
She was born in West Reading, Pennsylvania.
Her mom, Andrea Swift, is a stay-at-home mom who used to work as a mutual fund marketing executive. And Her dad, Scott Kingsley, is a financial advisor and former stockbroker. More about Taylor Swift's parents here.
Taylor Swift has a younger brother named Austin, an actor.
At nine years old, she developed an interest in music.
At 12 years old, she began writing songs. When she was 13, she made her first trip to Nashville, and by age 14, her family relocated to Nashville, Tennessee, so that Taylor Swift could pursue a music career.
At the age of 16, Swift signed with Big Machine Records.
"Tim McGraw" was Swift's first single off her self-titled album, "Taylor Swift," and was a commercial success with over two million copies sold In the United States of America since its release. It is now a certified 2× Platinum.
Her second album, "Fearless," sold over 3 million copies and became the best-selling album of 2009 in the US. In addition, it set a record for being #1 on the Billboard 200 for the most consecutive weeks by female country album.
"We Are Never Ever Getting Back Together" from her fourth studio album, Red (2012), gained the biggest single-week jumps in The Billboard Hot 100 chart history and was Taylor Swift's first song to hit #1 on Billboard Hot 100 songs.
The commercial success of her songs catapulted Taylor Swift to mainstream prominence, a new star was born, and as they say, the rest is history.
Why has Taylor Swift never performed at the Super Bowl?
Over the years, there's been a lot of speculation about why Taylor Swift has never performed at the Super Bowl halftime show, where millions of people tune in to watch the game, and many more gather together in homes and at bars to celebrate.
▣ It's also a momentous day for advertisers.
TV commercials during the super bowl are some of the most expensive advertising slots. But they are also very effective because so many people watch the game. As a result, advertisers spend a lot of money on these commercials.
So it's no surprise that many famous music stars have performed at halftime.
Why has Taylor Swift never done the Super Bowl halftime show?
Taylor Swift is one of the biggest pop stars in recent memory, but she has never performed at halftime during the Super Bowl, and while there have been plenty of rumors, no one knows for sure. And we may never know.
She may have been offered the opportunity but declined, or the panels that have presided over past Super Bowl events favored other artists over her.
Some theories speculate that she's a country artist and that the Super Bowl is a high-profile event more geared toward pop performers. Therefore, Taylor Swift doesn't fit the mold of what the Super Bowl halftime show is typically about;
That's not Taylor Swift's style and doesn't fit her brand or image.
When it comes to performances, she's more interested in creating intimate, personal connections with her fans. She wants them to feel like they're part of the show rather than just watching from the sidelines.
☑ Lastly, please don't hold this one on me, but I think Taylor Swift is darn too busy!
Performing at the Super Bowl is a huge time commitment—rehearsals start weeks in advance. Moreover, for a firmly established artist like Taylor Swift, appearing at the Super Bowl might not be worth the opportunity cost.
Taylor Swift is constantly on the go. Between her concert tours and creating new albums, she probably doesn't have time to fit into the hectic Super Bowl performance schedule. Plus, it's not like she needs to do it for commercial or marketing reasons!
✔ Taylor Swift is already famous and one of the highest-paid artists in the world.
Why did Taylor Swift get an honorary Doctorate from NYU?
Taylor Swift received an honorary Doctor of Fine Arts, honoris causa, from NYU (New York University). So why did NYU award her this honorary degree?
Taylor Swift was awarded this honor primarily due to her incredible success as a musician and songwriter, for her remarkable creative talents and accomplishments, and for using her platform as a role model for positive change.
After accepting her Doctorate, she gave an uplifting speech to New York University's Class of 2022. Her message was inspiring and full of hope.
Taylor Swift reminded everyone in attendance that no matter what life throws our way, no matter how many mistakes we make, as long as we keep trying, are not hindered by shame, and are still breathing, let's keep dancing; things will work out.
How many instruments can Taylor Swift play?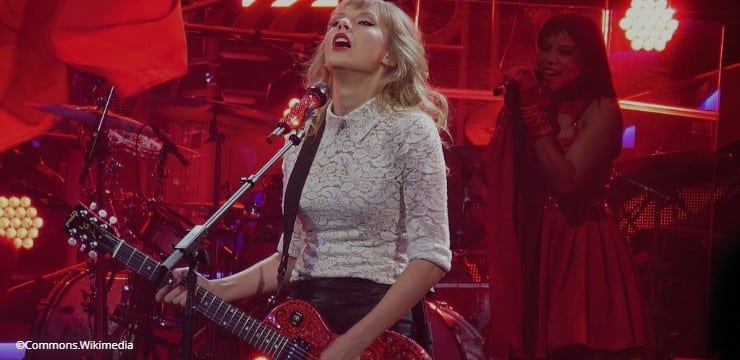 October 2012, New York, NY – Taylor Swift at her Red Album launch event on Good Morning America. Photo by
Jana Zills
© Wikimedia Commons. Editor's note: Resized image and Edited image.
Taylor Swift is a multi-instrumentalist who can play the piano, guitar, banjo, and ukulele. She first learned to play the guitar at a young age, and her guitar-playing skills quickly progressed over the years.
In addition, Taylor Swift is also an incredible pianist, and she is known to play the banjo and ukulele. However, she doesn't perform with them often. Undeniably, her instrumental skills have contributed to her massive success as a musician.
Best Taylor Swift Quotes
What is Taylor Swift's famous quote?
"No matter what happens in life, be good to people. Being good to people is a wonderful legacy to leave behind."
List of other famous quotes by Taylor Swift.
Every day was a struggle. Forget making plans for life – we were just trying to make it to next week.
I've gotten into this nasty habit of running away from love, but maybe one day I can find the exception to that.
Your feelings so are important to write down, to capture, and to remember because today you're heartbroken, but tomorrow you'll be in love again.
I've apparently been the victim of growing up, which apparently happens to all of us at one point or another.
Seeing a live Kenny Chesney show, you know what you're going to get. You know it's going to be an all-day party.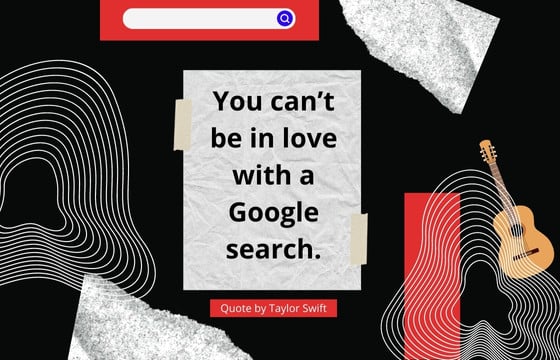 The thing about life is, every time you learn a lesson, another is waiting right at the corner. You never know everything.
As your career grows, the list of things that makes you happy should not become smaller, it should become bigger.
You realize who you're in love with is fading fast. You don't know what to do, but in that period time moves so slowly.
People like you always want back the love they pushed aside. But people like me are gone forever when you say goodbye.
If you're trying too hard to be the girl next door, you're not going to be.
Quote by Taylor Swift
List of Famous Taylor Swift Quotes – Table of Content
Taylor Swift Quotes From Songs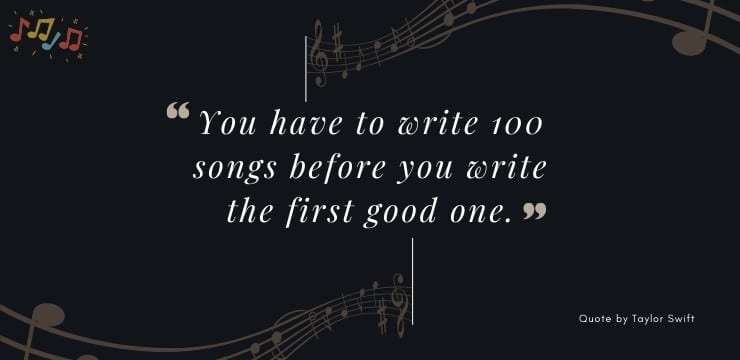 It takes time and practice to develop any new skill. But with a lot of hard work, we can all be good at anything if we set our minds to it and try our best.
☑ It is okay to be mediocre at first.
We shouldn't be afraid of putting ourselves out there and diligently pursue our goals and desires. While at the same time, we must allow ourselves to get used to making mistakes before we can improve at something.
☑ Don't be afraid of being wrong.
Sometimes we freak out and become afraid of making mistakes and failing.
But here's the thing: those feelings are normal. Remember that mistakes are part of the human experience. They help us learn and grow.
☑ Without making mistakes, we would never achieve our goals.
The best thing we can do if we want to improve our skills is for us to commit to practicing regularly. Start by setting aside time daily to work on your craft.
That will help us to see progress over time and keep us motivated. Additionally, joining a group or taking lessons can also be beneficial. Practice makes perfect. The more we practice, the better we'll become!
This motivational quote by Taylor Swift reminds us that we all have to work to get what we want and that it will never be easy. So take her advice and run with it!
Taylor Swift Quotes
If you're horrible to me, I'm going to write a song about it, and you won't like it. That's how I operate.
Music is art, and art is important and rare. Important, rare things are valuable. Valuable things should be paid for.
I love writing songs because I love preserving memories, like putting a picture frame around a feeling you once had.
Songs are my diaries; they always have been. You have to put your trust in everyone because putting down those real, personal details and thoughts that make a song authentic also opens you right up. I am constantly misunderstood; a lot of people just don't get me.
I've never thought about songwriting as a weapon. I've only thought about it as a way to help me get through love and loss and sadness and loneliness and growing up.
My favorite kinds of books to read are the ones that do more than just tell you a story. They do more than just set the scene or paint the picture.
I took a chance, I took a shot And you may think I'm bullet-proof, but I'm not. You took a swing, I took it hard. And down here from the ground I see who you are.
You know it's not about perfection. It's about just getting on with things, sometimes. Sometimes, you just get credit for getting up and going on with things – you don't have to do it perfectly.
Taylor Swift Quotes
I write songs so that the person I didn't say those words to can hear them.
There's a special place in hell for women who don't help other women.
A letdown is worth a few songs. A heartbreak is worth a few albums.
This is why we can't have nice things, darling, because you break them.
Taylor Swift Quotes About Friendship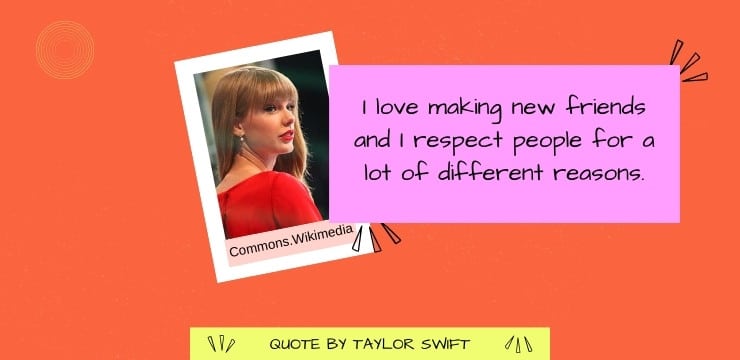 Taylor Swift Quotes
My mom and I have always been really close. She's always been the friend that was always there.
I think it's "fearless" to fall for your best friend, even though he's in love with someone else.
There were times when, in middle school and junior high, I didn't have a lot of friends. But my mom was always my friend. Always.
My friends tease me about the fact that if someone seems bad or shady or like they have a secret, I find them incredibly interesting.
I'm the girl who – I call it girl-next-door-it-is – the hot guy is friends with and gets all his relationship advice from but never considers dating.
Be friends first when you're dating. If it turns into something more, that's awesome, and if not you have another friend.
I'm not that complicated. My complications come out in my songs. All you need to do to be my friend is like me.
Fans are my favorite thing in the world. I've never been the type of artist who has that line drawn between their friends and their fans.

The line's always been really blurred for me. I'll hang out with them after the show. I'll hang out with them before the show. If I see them in the mall, I'll stand there and talk to them for 10 minutes.
Taylor Swift Quotes About Love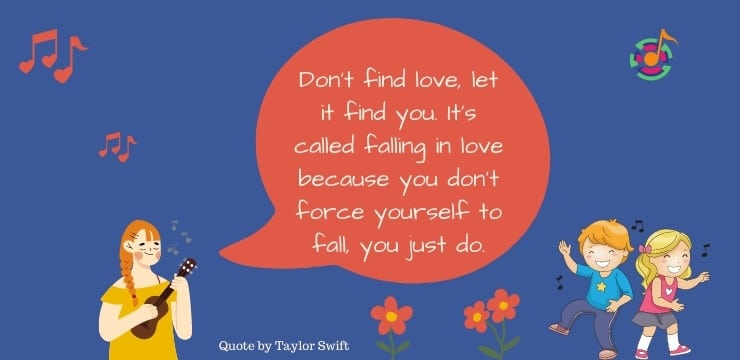 The key is to let ourselves be open to the possibility of falling in love and then do what we can to ensure we're ready for it when it arrives.
☑ Falling in love is a two-way street.
We can't force someone to fall in love with us if they don't feel the same way.
Like in fairy tales, some people dream of finding their perfect prince charming or princess. Also, sometimes we expect love to drop out of the sky and land in our laps.
☑ That rarely happens. We must find it ourselves and not by force.
When I was younger, my dreams were to finish college, get a job, find a beautiful partner to settle down with, have lots of babies, and live happily evermore!
Of course, life doesn't always go as planned. Life is full of twists and turns.
Now that I've gotten older, my aspirations have changed, including love.
Falling in love can be one of the best experiences in life. Love can make us feel happy, sad, scared, grateful, angry, messy, complicated, …and the list goes on.
But despite all of the different emotions love can evoke, if we're lucky enough to find someone we genuinely care about and they too care about us, hang on, appreciate and cherish each moment because love is fragile.
True love exists, but unfortunately, it is hard to find.
Besides love, sometimes all we need is a little inspiration to put a smile on our faces. Here are some excellent quotes that might do the trick.
Taylor Swift Quotes
I'm not the girl who always has a boyfriend. I'm the girl who rarely has a boyfriend.
Real love still happens sometimes. It's not just something we make up when you're nine. I have to believe that. You do too.
My parents taught me never to judge others based on whom they love, what color their skin is, or their religion.
But no matter what love throws at you, you have to believe in it. You have ot believe in love stories and prince charmings and happily ever after. That's why I write these songs. Because I think love is FEARLESS.
Most of us fear reaching the end of our life regretting moments when we didn't speak up, say I love you, or say I'm sorry.
If something happens to me, you're going to hear about it. I only know how to write songs about my life.
Love will find you when you least expect it.
Be yourself and the right people will love you.
There are beautiful things about both being in love and being out of love. I just think you have to find those things.
I think the perfection of love is that it's not perfect.
It's the most maddening, beautiful, magical, horrible, painful, wonderful joyous thing in the world, love.
People like music when they're in love, but they don't need it as much. You need music when you're missing someone or you're pining for someone or you're forgetting someone or you're trying to process what just happened.
Taylor Swift Quotes About Life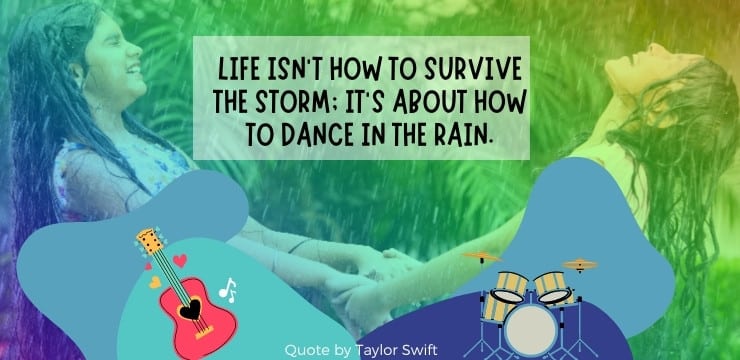 Taylor Swift Quotes
Sometimes in life you have to be your own best friend.
You have to not only live your life in spite of people who don't understand you, you have to have more fun than they do.
I've wanted one thing for me whole life and I'm not going to be that girl who wants one thing her whole life then gets it and complains.
The lesson I've learned the most often in life is that you're always going to know more in the future than you know now.
There's more to life than dating the boy on the football team.
I am an over-achiever, and I want to be known for the good things in my life.
My definition of country music is really pretty simple. It's when someone sings about their life and what they know, from an authentic place.
Be grateful more than anything in your life. If you have to put a priority on something, put a priority on what your thankful for and the people in your life that you're grateful for.
Life is a ruthless game unless you play it good and right.
I think that what people always want is what they don't have a lot of.
Giving up doesn't always mean you're weak, sometimes you're just strong enough to let go.
I have this really high priority on happiness and finding something to be happy about.
Taylor Swift Quotes About Growing Up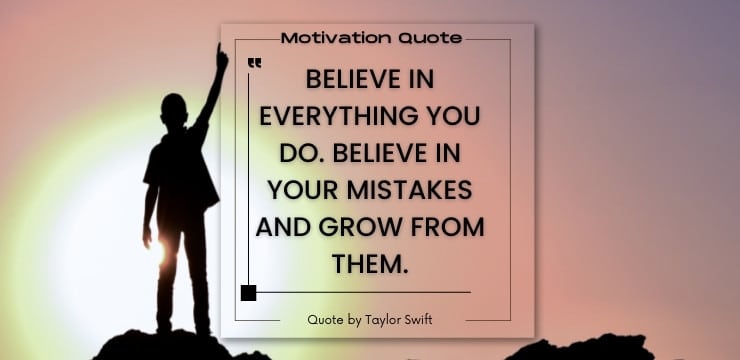 Taylor Swift Quotes
As I grow up, the lessons I learn in love and relationships and how we treat each other are hopefully maturing – hopefully.
I know that a Christmas tree farm in Pennsylvania is about the most random place for a country singer to come from, but I had an awesome childhood.
Don't you ever grow up, it could stay this simple.
I've never thought about songwriting as a weapon. I've only thought about it as a way to help me get through love and loss and sadness and loneliness and growing up.
Taylor Swift Quotes About Success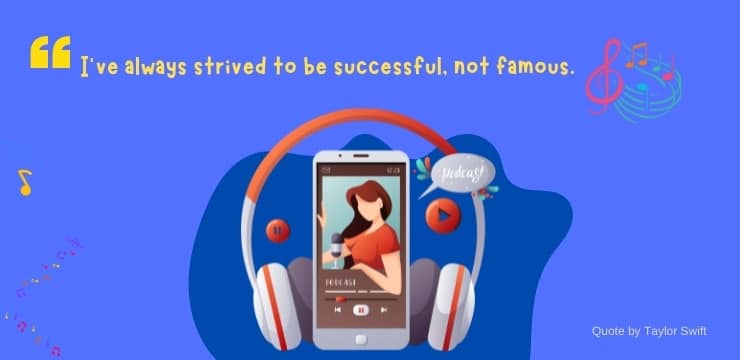 Taylor Swift Quotes
My attitude has always been if you get better and you see success, that should motivate you to even work harder, so that's kinda how I approach everything.
Be yourself, chase your dreams, and just never say never. That's the best advice I could ever give someone.
I think the first thing you should know is that nobody in country music 'made it' the same way. It's all different. There's no blueprint for success, and sometimes you just have to work at it.
The world doesn't owe you anything. You have to work for everything you get and you have to appreciate every bit of success the world gives you.
There's more to life than dating the boy on the football team.
I've wanted one thing for me whole life and I'm not going to be that girl who wants one thing her whole life then gets it and complains.
The only way I hear gossip is if it's big enough and loud enough for my friends to bring it up to me. Or if it's, like, a big untrue ordeal from my publicist – and she hates making that phone call!
I love dresses, and I've definitely thought about designing them someday. I just want to make sure that I wait until the time is perfect and I can do it right.
Taylor Swift Quotes
I still love sparkles and grocery shopping and really old cats that are only nice to you half the time. I still love writing in my journal and wearing dresses all the time and staring at chandeliers.
Everybody has that point in their life where you hit a crossroads and you've had a bunch of bad days and there's different ways you can deal with it and the way I dealt with it was I just turned completely to music.
In fairy tales the bad guy is very easy to spot. The bad guy is always wearing a black cape so you always know who he is. Then you grow up and you realize that Prince Charming is not as easy to find as you thought.
Words can break someone into a million pieces, but they can also put them back together. I hope you use yours for good, because the only words you'll regret more than the ones left unsaid are the ones you use to intentionally hurt someone.
It's FEARLESS to have faith that someday things will change. FEARLESS is having the courage to say goodbye to someone who only hurts you, even if you can't breathe without them.
For someone like me who is obsessed with organization and planning, I love the idea that love is the one exception to that. Love is the one wild card
I guess it's a weird thing to be 19 and not ever have been drunk, but for me, it just feels normal because I don't really know any other way.
All the king's horses, all the king's men couldn't put me together again, 'cause all of my enemies started out friends.
Famous Taylor Swift Quotes And Sayings From Song Lyrics And Music Videos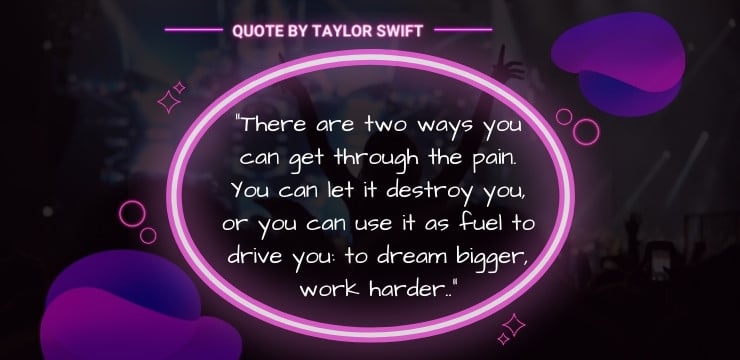 There's no denying that pain is inevitable.
We all have to face it at some point in our lives. But suffering is optional.
▣ We can choose to suffer, or we can choose to rise above the pain. It's our choice.
It can be hard to find the will and motivation to keep going when we're in pain, but there are ways to manage pain, so it doesn't take over and ruin our lives.
Millions of people go through painful and life-threatening events every day, but they always manage to come out on the other side stronger than before.
Pain can be a powerful motivator.
☑ We can harness its power and channel it into something positive.
Pain can be an incredible force for good. It can push us to achieve great things we never thought possible. Whether it's a goal, a dream, or simply the desire to be happy, we can use painful experiences to push ourselves to reach new heights.
▣ Of course, pain isn't always desirable.
This quote by Taylor Swift reminds us that even though pain can be brutal to deal with, we have two choices: let it destroy us or face it head-on and become stronger and more resilient. I think that's a pretty powerful choice for everyone to make.
And that concludes our list of famous Taylor Swift quotes from her songs, interviews, and music videos to help keep us moving forward toward our goals.
Related Posts You Might Like: