Edgar Allan Poe is a celebrated writer, poet, and literary critic best known for his poems and mysterious short stories, which often dealt with crime, death, and mourning themes. Here are the most famous Edgar Allan Poe quotes.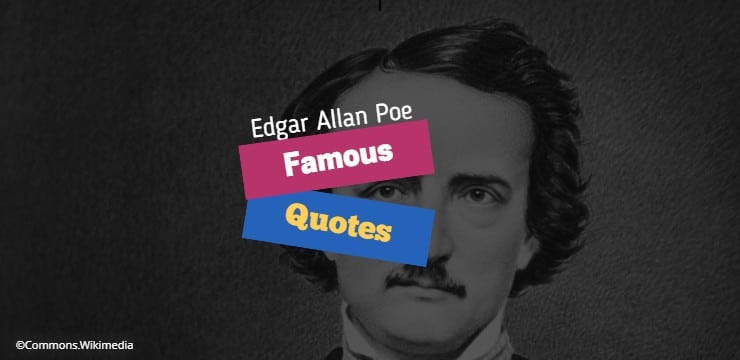 Before 1849, Retouched picture of Edgar Allan Poe. Image processed by the Daguerreotype photographic process. © Wikimedia Commons.
What is Edgar Allan Poe best known for?
Edgar Allan Poe is one of the most famous and well-respected American authors, editors, literary critics, and poets. He was a prolific poet and wrote some of the most famous poems and short stories that are still widely read today.
☑ He was a master of the written word.
Edgar Allan Poe is best known for his dark, mysterious, and suspenseful writing style, which has greatly influenced horror and mystery writers throughout history.
Why is Edgar Allan Poe important today?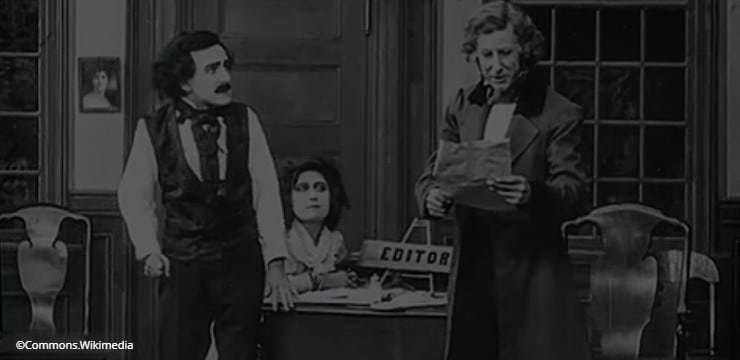 1909, New York – Digital screen capture of actors Anita Hendrie as the assistant editor, David Miles as the publisher, and Herbert Yost as Edgar Allan Poe from his Biograph film. © Wikimedia Commons.
Though he died over 170 years ago, Edgar Allan Poe is still important in today's world because he influenced and inspired many writers of modern literature and the detective fiction genre on television shows and movies.
His dark, gothic horror writing style was ahead of its time and ultimately helped pave the way for horror and suspense genres as we know them today.
Edgar Allan Poe's life was as fascinating as his writing, and he remains a controversial figure. Yet, his tales of terror, full of suspense, mystery, and horror, have thrilled and excited readers across the globe for generations.
His work continues to be studied and appreciated by scholars and laypeople alike.
▣ For example, his most famous poem, "The Raven."
Did you know that Edgar Allan Poe was only paid a measly $9 for its publication? And we're still talking about work exploitation! But that's a talk for another day.
What is the most famous line from The Raven?
The most famous line from Edgar Allan Poe's poem "The Raven" is arguable the phrase "Nevermore' which the titular bird utters.
☑ The poem is about a man mourning the loss of his lost love, Lenore.
In the poem, a raven appears at the man's window and repeats the word "nevermore" repeatedly. This line has become so famous that some poetry enthusiasts see it as a symbol of immortality or eternal love.
Edgar Allan Poe's eerie poem "The Raven," published in 1845, is one of his most famous works and perhaps in American literature. It has been recited at funerals, read by millions, and used in hundreds of movies and TV shows.
What is an interesting fact about Edgar Allan Poe?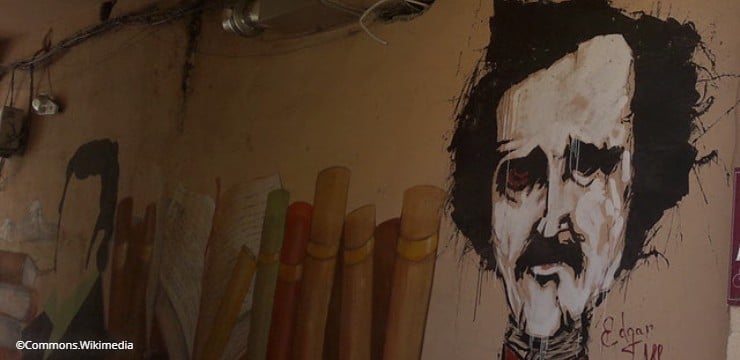 April 2014, Yerevan, Armenia – Edgar Allan Poe Graffiti. Artist work by
Rs4815
© Wikimedia Commons. Editor's note: I Resized and cropped the image for a better viewing experience.
One interesting fact about Edgar Allan Poe is that he was married to his first cousin, Virginia Clemm. They were married when she was only 13 years old and he was 26.
▣ Unfortunately, Virginia contracted tuberculosis and died in 1847.
Edgar Allan Poe died a year and a few months later of unknown causes. However, some people speculate that it may have been heart disease, cholera, or his enemies may have poisoned him. Come to think of it, what a paradox in life!
🔹 That a well-known mystery tale writer ends up dying in a mystery.
Best Edgar Allan Poe Quotes
What is Edgar Allan Poe most famous quote?
"Men have called me mad; but the question is not yet settled, whether madness is or is not the loftiest intelligence."
List of other famous quotes by Edgar Allan Poe.
Believe nothing you hear, and only one half that you see.
A dirge for her the doubly dead in that she died so young.
Deep in earth my love is lying And I must weep alone.
Those who dream by day are cognizant of many things which escape those who dream only by night.
I remained too much inside my head and ended up losing my mind.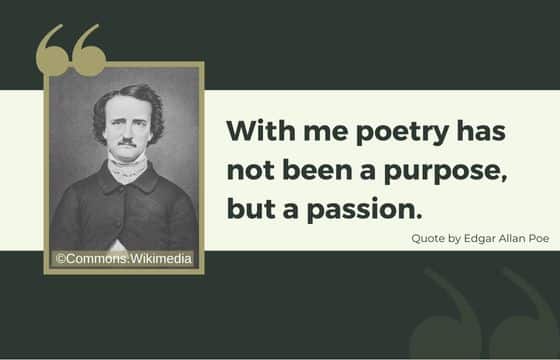 Those who dream by day are cognizant of many things which escape those who dream only by night.
You call it hope — that fire of fire! It is but agony of desire.
And Darkness and Decay and the Red Death held illimitable dominion over all.
It is a happiness to wonder; – it is a happiness to dream.
That man is not truly brave who is afraid either to seem or to be, when it suits him, a coward.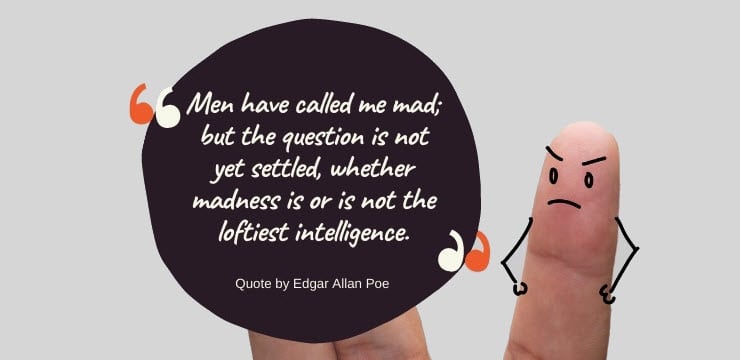 Quote by Edgar Allan Poe
List of Top Edgar Allan Poe – Table of Content
Edgar Allan Poe Quotes About Love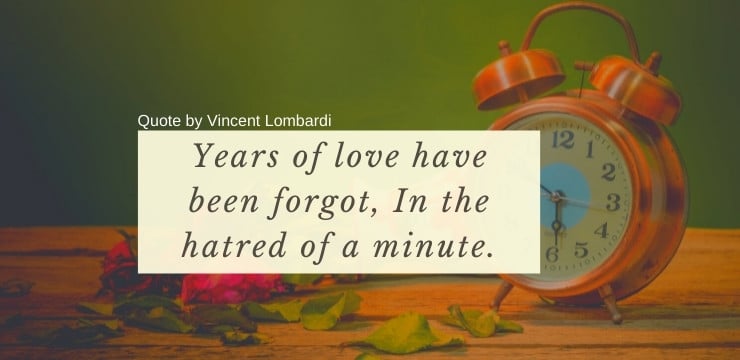 Love and hatred are two completely different emotions.
Both love and hatred involve strong feelings towards someone or something. And both can lead to very intense behaviors.
Love can make people happy and give them hope, while hatred can make them angry and lash out in violence. They are also two sides of the same coin; you can't have one without the other. They are both a part of life.
We can work so hard to build and experience the beauty of love.
☑ Yet, it can be so easy and quick to wreck and turn it into an instrument for hate.
In the same way, builders can work on skyscrapers for years, and natural disasters can make them collapse practically instantly, so is hatred.
Although love is robust and resilient, that doesn't stop the human mind from responding quickly and sometimes irrationally to emotions.
If we want to be humans who can transcend the heat of the moment, we should try to remember just how strong love and hatred are, and they can both lead to disastrous consequences if not kept in check.
Edgar Allan Poe Quotes
And so being young and dipped in folly I fell in love with melancholy.
From childhood's hour I have not been. As others were, I have not seen. As others saw, I could not awaken. My heart to joy at the same tone. And all I loved, I loved alone. And all I loved, I loved alone.
Imperceptibly the love of these discords grew upon me as my love of music grew stronger.
We loved with a love that was more than love.
Edgar Allan Poe Quotes About Death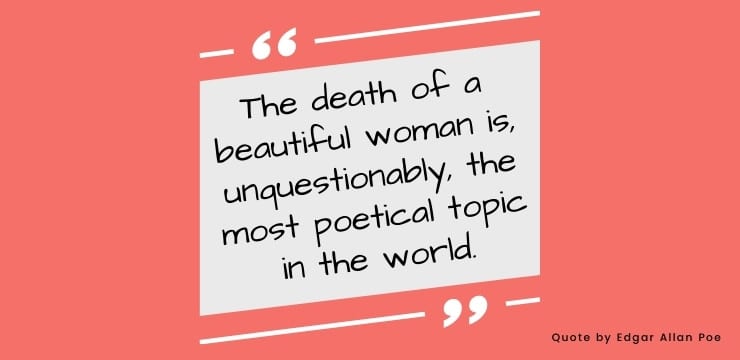 Beauty is indeed in the eye of the beholder.
There is no denying the fact that gorgeous women have the potential to transform the world. If you think about it, throughout history, beautiful women have made men fight over them, write lyrics about them or even sculpt them in vivid detail.
☑ Beautiful women have inspired countless artists since the beginning of time.
There's no question that the death of any woman, let alone a beautiful one at that, is a tragic event. But despite the sadness that comes with it, there's also something about it that's strangely intriguing.
Mourning a beautiful woman is painful yet artistic.
It can feel a lot like a melancholy poem.
What is a better poem there than that of a beautiful woman, anyway?
You can almost taste the sadness in the air. And feels like the world is fading away, and all left is the emptiness inside. It's a scary feeling like you're falling into a void.
☑ The pain and darkness engulf you, and the coldness seeps through your bones.
But then, in the next moment, thoughts of remembrance and shared moments of love can feel like happiness and contentment. It can feel like you are home and loved and that everything is right in the world.
It's one of life's great mysteries.
Edgar Allan Poe Quotes
Every poem should remind the reader that they are going to die.
Sleep, those little slices of death — how I loathe them.
The boundaries which divide Life from Death are at best shadowy and vague. Who shall say where the one ends, and where the other begins?
To die laughing must be the most glorious of all glorious deaths!
Edgar Allan Poe Quotes About Life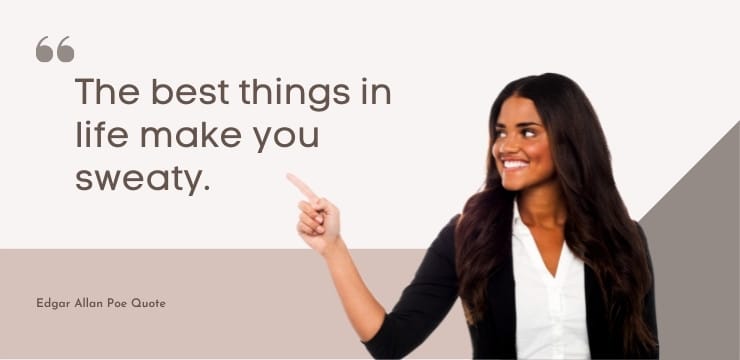 Being lazy might not seem productive and usually gets a bad reputation. But some of the world's most successful people have moments of laziness.
Lounging around can feel wonderful for an hour or two. But unfortunately, it usually makes people feel gloomy and unwanted by the end of the day.
☑ There are advantages to being lazy.
For example, did you know that lazy people are often more creative than those who are always on the go? But here is the kicker:
The best things in life are the ones that make us sweaty.
That could be because we're working hard tackling that intimidating workout, dancing our hearts out, getting on hiking adventures, giving 110% of our effort and capability during a volleyball game, or even spending time in the sauna.
It's always worth it when we feel we've accomplished something. We feel a sense of pride and satisfaction when we know we've worked hard and achieved our goal.
It's a great feeling and one that motivates us to keep going.
In most official professional surroundings, sweating may be a nuisance, something that causes us to feel uncomfortable and unattractive.
But for most people, sweating means working hard and being healthy. Sweating is proof that they are pushing themselves and trying their best.
✔ And that's what counts in the end.
Edgar Allan Poe Quotes
Even with the utterly lost, to whom life and death are equally jests, there are matters of which no jest can be made.
It has not been in the pursuit of pleasure that I have periled life and reputation and reason.
All that we see or seem is but a dream within a dream.
There are chords in the hearts of the most reckless which cannot be touched without emotion, even by the utterly lost, to whom life and death are equally jests, there are matters of which no jest can be made.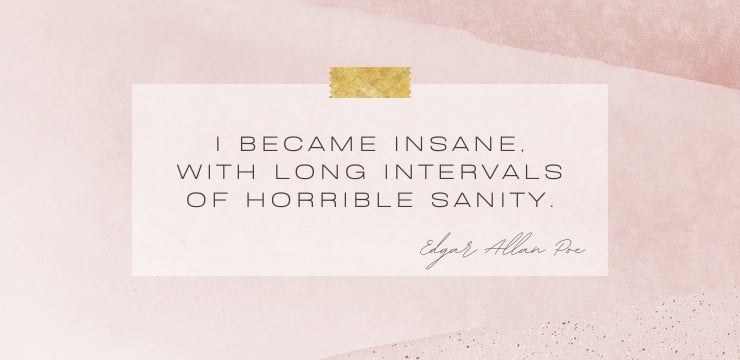 Edgar Allan Poe Quotes On Insanity And Madness
Science has not yet taught us if madness is or is not the sublimity of the intelligence.
I was never really insane except upon occasions when my heart was touched.
That which you mistake for madness is but an overacuteness of the senses.
I call to mind flatness and dampness; and then all is madness – the madness of a memory which busies itself among forbidden things.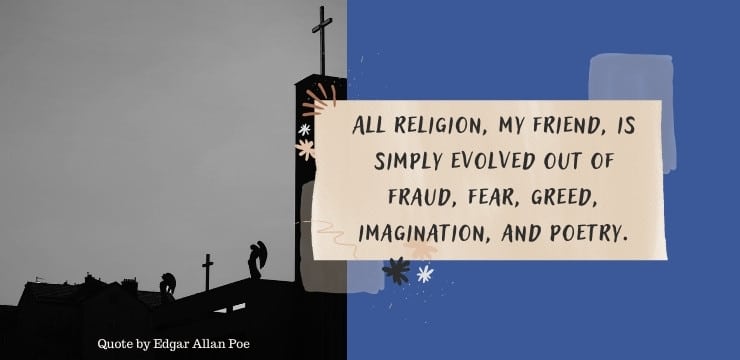 Edgar Allan Poe Quotes About Fear And darkness
Mysteries force a man to think, and so injure his health.
Deep into that darkness peering, long I stood there, wondering, fearing, doubting, dreaming dreams no mortal ever dared to dream before.
I have no faith in human perfectibility. I think that human exertion will have no appreciable effect upon humanity. Man is now only more active – not more happy – nor more wise, than he was 6000 years ago.
The ninety and nine are with dreams, content, but the hope of the world made new, is the hundredth man who is grimly bent on making those dreams come true.
Other Famous Edgar Allan Poe Inspirational Quotes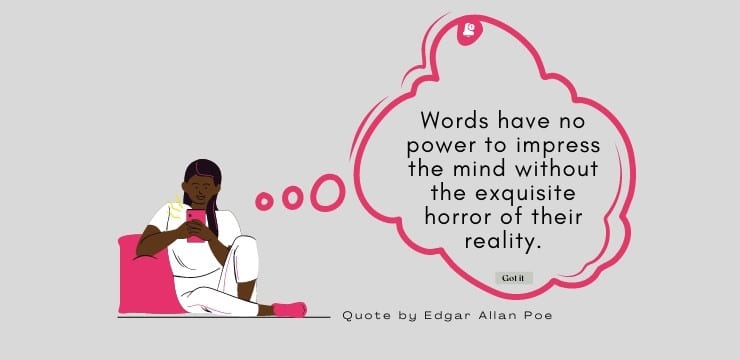 There's something benevolent about spoken words that can touch the soul.
They have the power to impress the mind, just like music or a beautiful sunset. Likewise, words can alter our mood and shape our thoughts, whether spoken in a loving whisper or an angry declaration.
☑ In a way, you could say that words are like magic.
They can transport us to another world or help us see the beauty in everyday life.
Sometimes, all it takes is one perfect sentence to change everything.
On the other hand, it's no joke that talk is cheap.
People say that all the time and they're correct. Meaningless words are essentially powerless. If you're serious about communicating something honest, powerful, and unforgettable, you should contemplate your words' weight.
Words can say a lot about a person.
Some of the most powerful and magnetic words are the ones that can remind people about the aspects of life that are particularly difficult and "ugly."
Reality doesn't always smell like roses.
☑ Sometimes, it's messy and complicated.
In the same way, truthful spokes words may remind us about the ugly and the beautiful, the good and the bad that we don't want to remember.
That's okay because life is imperfect and full of surprises.
This quote by Edgar Allan Poe reminds us about the power of words and why we need to choose them wisely because they can significantly impact people's lives.
Just think about how much better we would feel connected to others and ourselves if we made an effort to speak only kind, positive words to each other!
Edgar Allan Poe Quotes
Beauty is the sole legitimate province of the poem.
Love like mine can never be gotten over.
It is with literature as with law or empire – an established name is an estate in tenure, or a throne in possession.
And so faintly you came tapping, tapping at my chamber door, That I scarce was sure I heard you"— here I opened wide the door; — Darkness there, and nothing more.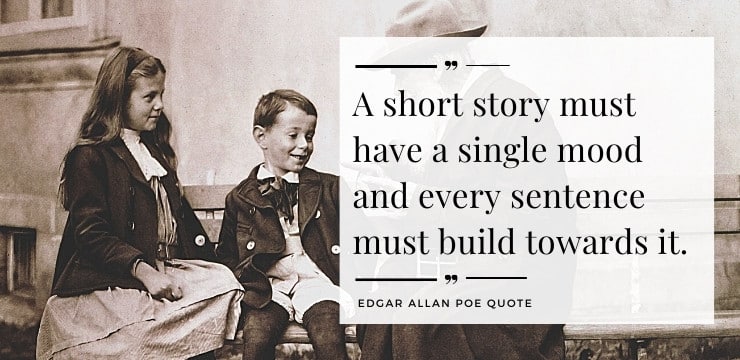 Let my heart be still a moment and this mystery explore.
Now this is the point. You fancy me a mad. Madmen know nothing. But you should have seen me. You should have seen how wisely I proceeded.
The true genius shudders at incompleteness — imperfection — and usually prefers silence to saying the something which is not everything that should be said.
Experience has shown, and a true philosophy will always show, that a vast, perhaps the larger, portion of truth arises from the seemingly irrelevant.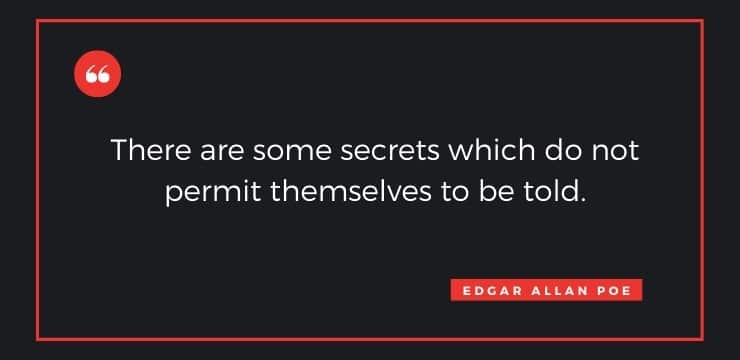 Edgar Allan Poe Quotes
In reading some books we occupy ourselves chiefly with the thoughts of the author; in perusing others, exclusively with our own.
The most natural, and, consequently, the truest and most intense of the human affections are those which arise in the heart as if by electric sympathy.
I felt that I breathed an atmosphere of sorrow.
Beauty of whatever kind, in its supreme development, invariably excites the sensitive soul to tears.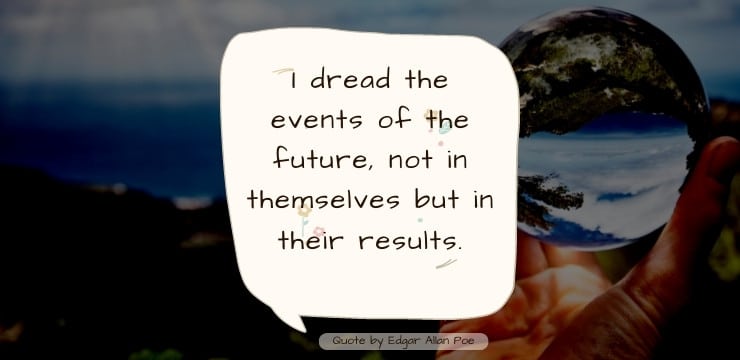 Stupidity is a talent for misconception.
Every moment of the night Forever changing places And they put out the star-light With the breath from their pale faces.
A poem deserves its title only inasmuch as it excites, by elevating the soul.
I have great faith in fools — self-confidence my friends will call it.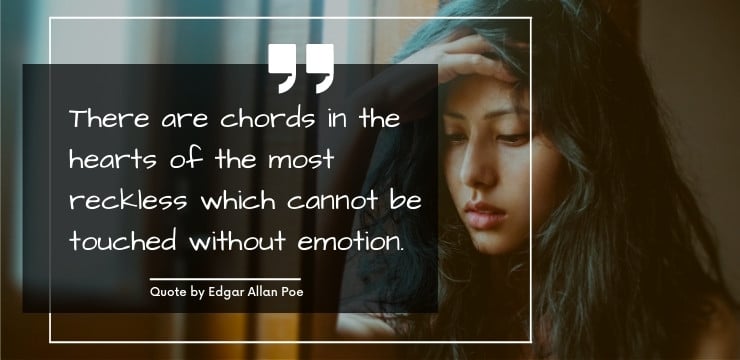 No matter how dark things seem, some good can come out of it and is worth fighting for because if we do, we can all achieve our potential and positively impact the world. So no matter what life throws our way, we must never lose hope.
☑ Remember, no human being is immune to emotion.
Even the great Edgar Allan Poe was well-known to be highly emotional, and his emotions often got the better of him and led him to make some poor life decisions.
Nevertheless, as history has proven, Poe was capable of great things despite his tumultuous emotions. So, if you find yourself feeling down or struggling with your feelings, don't forget that you have the potential to overcome anything.
Just take things one step at a time and believe in yourself!
Some people have sprung into action and made positive changes in their lives. They continue to inspire others with their positive attitude and example. It is never too late to make a change, no matter how big or small.
Edgar Allan Poe Quotes
Poetry is the rhythmical creation of beauty in words.
If you wish to forget anything on the spot, make a note that this thing is to be remembered.
There is no exquisite beauty… without some strangeness in the proportion.
It is by no means an irrational fancy that, in a future existence, we shall look upon what we think our present existence, as a dream.
Famous Edgar Allan Poe Quotes About Death, Loneliness And Love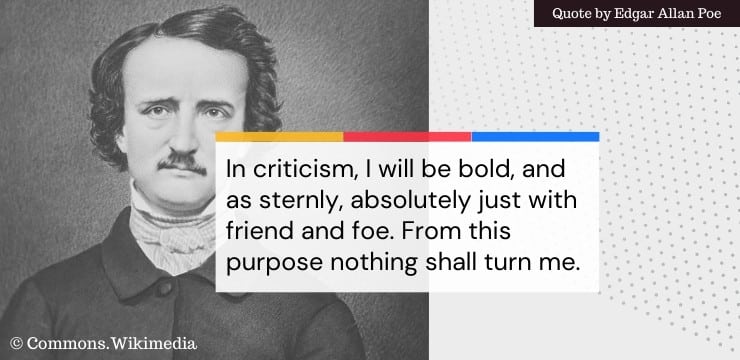 Fairness is a good, rare thing that is hard to find nowadays.
A little unbiased compassion can go a long way.
It can be tempting to lash out and be tough on the people we don't like when they do the things that frustrate us. But, on the flip side, we tend to go easy on the people we want in our lives regardless of what they do.
We all have our moments when we're not at our best.
So cut the people in your life some slack – they deserve it.
☑ Fairness is a lot like a superpower.
If we can be fair to others, we can expect the same in return. It's human nature. Maybe that's why fairness is much like a superpower for many of us.
That concludes our favorite list of Edgar Allan Poe quotes of all time!
Related Posts You Might Like: