Beth Dutton is fiercely independent, headstrong, tough as nails, and completely unafraid to speak her mind. Yet, at the same time, she's incredibly vulnerable. For that reason, here are the best Beth Dutton quotes from Yellowstone show.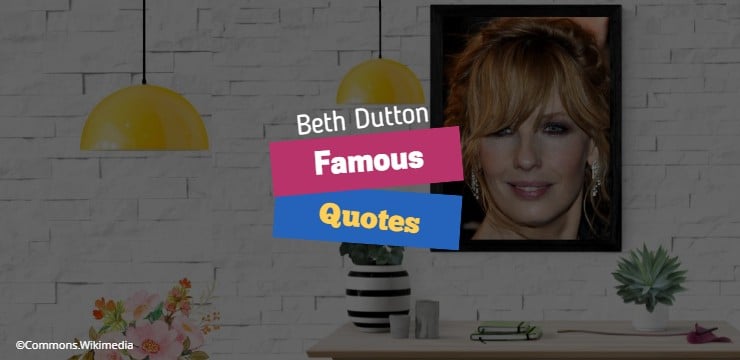 January 2013, Paris – Kelly Reilly is one of the lead actors on "Yellowstone TV Show." She's best known for playing Beth Dutton, the daughter of a powerful rancher. Photo by
Georges Biard
© Wikimedia Commons – Editor's Note: Edited photo to add background frame
What is Beth Dutton famous for?
She's known for being a powerful and successful businesswoman who will stop at nothing and is ready to get her hands dirty to get what she wants.
☑ The one and only talented actress Kelly Reilly plays the role of Beth Dutton.
Before Yellowstone, Kelly Reilly had starring roles in several UK television shows and movies, including the horror film Eden Lake, Above Suspicion, The Graduate, True Detective, and more. In addition, she has a promising film career.
What is the Yellowstone TV show about?
Yellowstone is a television show about the fictional Dutton family, who runs the largest ranch in Montana ranch near Yellowstone National Park.
The show was created by Taylor Sheridan and starred John Dutton (Kevin Costner), his only daughter Beth (Kelly Reilly), and his sons Jamie (Wes Bentley) and Kayce (Luke Grimes), and Tate Dutton (Brecken Merrill), as his only biological grandchild.
Other actors include Rip Wheeler (Cole Hauser), Monica (Kelsey Asbille), etc.
Yellowstone's first drama series premiered on Paramount Network on June 20, 2018. The show has received high ratings from fans and mixed reviews from critics, but overall, it has been a rating success for Paramount Network.
What did Beth Dutton say about flowers?
Where can I watch all seasons of Yellowstone TV Show?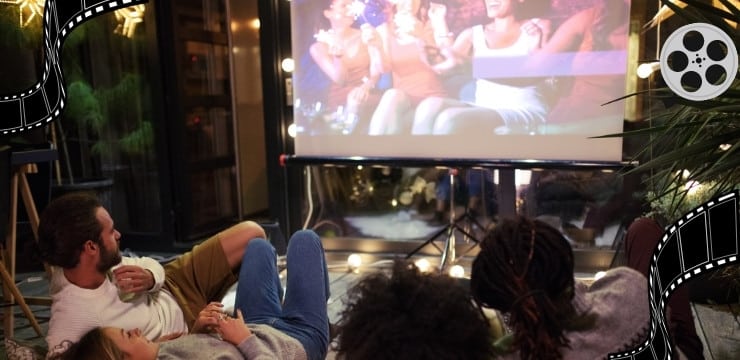 If you're looking to watch all seasons of Yellowstone, there are a few different places anyone can watch all seasons of the Yellowstone television series.
▣ Firstly, if you have a cable subscription, you can likely watch it on demand or through your provider's website. However, if you do not have an active cable subscription, there are three other ways to watch Yellowstone.
▣ The first alternative is to buy or rent individual episodes or seasons through platforms like iTunes, Amazon Instant Video, Google Play, and more.
▣ The second option is to sign up for TV episodes and movie streaming services that offer Yellowstone – two popular choices are Netflix and Hulu.
▣ Finally, if you want to watch for free, some websites on the internet offer full episodes of Yellowstone season (and other television shows).
Best Beth Dutton Quotes
What is Beth Dutton's most famous quote?
"The only thing I ask is that you outlive me, so I never live another day without you."
List of other famous quotes by Beth Dutton.
You know, life isn't a longevity contest; it's a contest in quality.
I have been down this road many, many times before, buddy. And no one who tried it is alive to tell you how poorly that worked out for them.
Give me a troubled loser with blue eyes and I'd dry-hump a hole in his jeans.
We're with Yellowstone. Nobody's gonna mess with us.
I made two bad decisions in my life based on fear, and they cost me everything.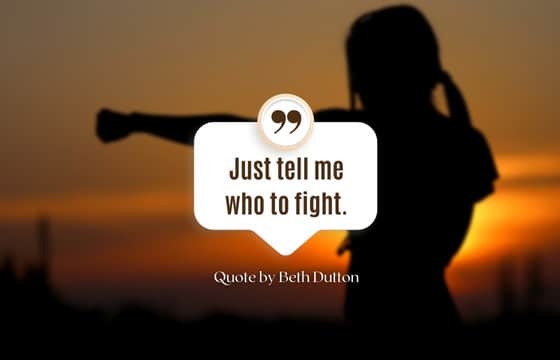 Where's the fun in wrecking a single man? When I break you, I want to know I'm breaking generations.
I made two decisions in my life based on fear and they cost me everything.
Wow, that's really deep, Jamie. You must be watching Ted Talks on Youtube.
The sting never fades with me. It is a painful lesson and one you're about to learn.
My great-grandfather had a dream. All of his sons on the same road, the same ranch working toward the same goal. That dream survived a hundred years, until me.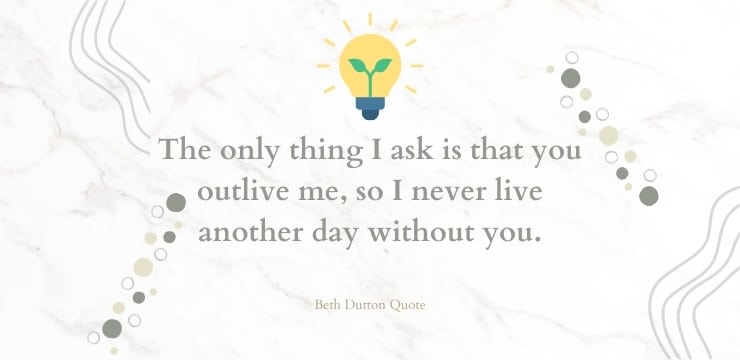 Quote by Beth Dutton
List of Top Beth Dutton Quotes – Table of Content
The Best Beth Dutton Quotes From Yellowstone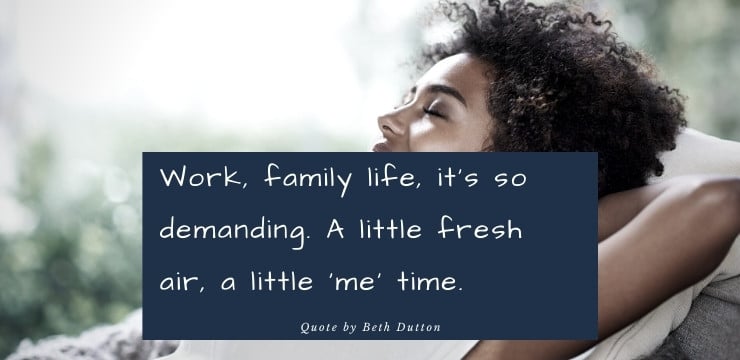 A good life is all about doing things that make us happy. It's about finding what brings joy and filling our days with as much happiness as possible.
That's what quality of life is all about!
This inspirational quote reminds us that we need to balanced life between work, friends, and family. But unfortunately, it's hard to find this balance when starting a new career because we must put all our time and effort into making it work.
☑ We can't expect much at the initial stages of growth.
As we grow older and wiser, we start learning how to create a good balance in our life. For example, we know it's okay to take time off from work sometimes to spend more time with our family or friends.
We realize it's okay if we don't make any money for a few months because taking a break is good for our mental and physical health every now and then. Besides, we're all a work in progress and still learning and growing for the rest of our lives.
Famous Beth Dutton Quotes
In 35 years, I have never been alone on this ranch. We're all alone, Rip. We can do whatever we want.
We don't care if he's scared. We're here to scare you.
It's OK to watch me walk away, you know. That's why we do it.
Don't judge us for the way we're protecting the thing we're giving you.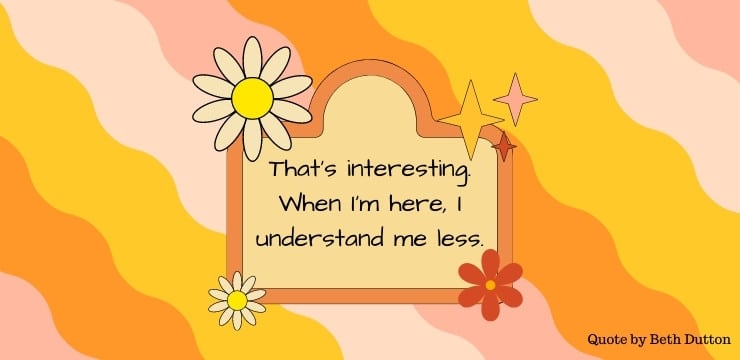 Stop for a moment and ask yourself, "Who am I?"
Then, seriously, think about it.
How would you describe yourself? What are your likes and dislikes?
Once you have a good understanding of who you are, you can start to make wiser choices in your life. Without self-awareness, managing our emotions, setting boundaries, or achieving our goals is impossible.
If you're looking to get to know yourself better, taking some time off and spending time alone is the first step to a happier and more successful life.
☑ What motivates you?
Knowing your strengths and weaknesses will help you choose a career path or business opportunity that complements them rather than exposes them.
It can be hard to acknowledge our weaknesses.
We all have weaknesses and flaws. That's okay; it makes us unique and helps us grow. Knowing our weaknesses allows us to accept and work on them.
Knowing our strengths can help us identify the areas where we can excel in our personal and professional capacities or relationships.
It's important to know ourselves—both the good and the bad. Doing so can create a more holistic view of who we are and work towards becoming our best selves.
Lastly, accepting who we are can be a tough pill to swallow, especially if there's something about ourselves that we don't like or want to change. But, ironically, it's the first step towards living a life full of happiness.
✔ Click here to read other famous motivational quotes and words of wisdom.
Beth Dutton Quotes
You're hunting. That's why you're sitting in a bar instead of standing in a river.
I'm going to get you disbarred, you spineless piece of sh*t. You should never have come home.
You know, houses are like boats. They need to be Christened. Beth to Rip.
I don't believe you're capable of swallowing your pride and contributing to this family.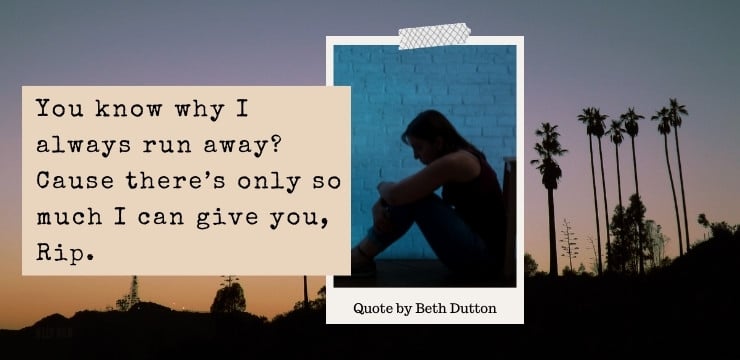 Two things in life destroy men and women alike: shame and pain. The only way to avoid these two things is never to experience them.
Most people spend their lives trying to avoid pain and shame.
They will go to great lengths to avoid pain, even lying or covering up what they've done wrong, so they don't have to face the consequences.
☑ It's in facing our pain that we can become more assertive.
By facing our shame, we can learn from our mistakes and grow into better people. But unfortunately, most people are afraid of looking weak or vulnerable.
More often, we don't take the necessary steps to grow as a person and deal with our issues head-on. The problem with this mental attitude is that the longer we avoid our pain and shame, the more it builds up and manifests in other areas of our lives.
It can make us less effective in relationships and work. Eventually, it can cause us to lose focus and drive and cause us to act out in anger or resentment.
✔ Fortunately, this inspirational quote by Bett Dutton reminds us that when we're ready to face our pain and shame, it can be a powerful catalyst for personal growth.
Famous Beth Dutton Quotes
I think heaven's right here. So's hell. One person can be walking the clouds right next to someone enduring eternal damnation. And God is the land.
When all this is over, I'm gonna hang your diploma above my toilet in my guest house. You have my word.
You are the trailer park I'm the tornado.
It's only the things I love that die, Rip, never me…Come to think of it, I'm surprised you're still standing.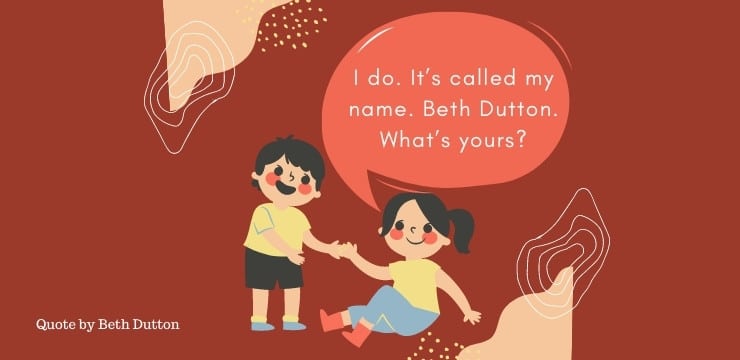 It's great to meet new people and expand our social circle.
Making friends can enrich our lives in so many ways.
It's always beneficial to have someone to rely on and confide in, and it's just fun to have someone new to connect with and share common interests.
☑ Don't be shy!
Go out there and start meeting new people.
We should always be 100 percent open to learning and broadening our horizons about different cultures, vocations, pastimes, aspirations, food, and more.
The world is brimming with wonderful people, and we may not already have all the friends we could ever need! In addition, to be well-rounded individuals who constantly learn, we should embrace the idea of making new friends.
☑ Life is about balance. It's about being dynamic.
If we want to evolve as a person, we should go above and beyond to seek new and meaningful human connections because such interaction can be a precious thing.
Beth Dutton Best Quotes
Your company will be chapter eleven by Friday, and since we are your largest creditors, I can promise you there'll be no negotiating then.
I remember the stories of heaven and hell in church. Lies, a lot of it.
What do you think is gonna happen when I dump our 18-percent share tomorrow morning? I'll tell you what. The stock will drop below 10, SEC will suspend trading, and every creditor you have will file on you.
It's handled. He saved you the indignity. So, what do you say?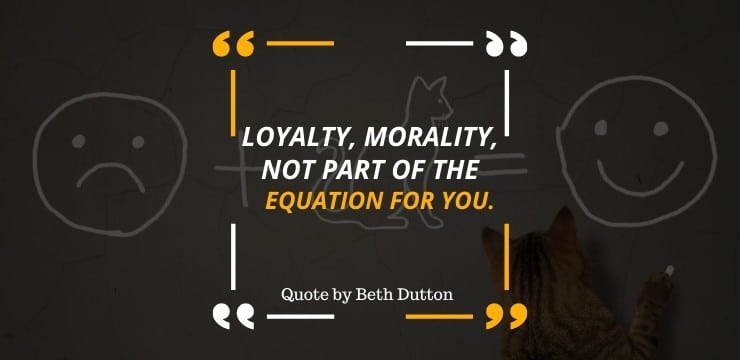 To build a solid, successful life, you must start by setting the proper foundation and strong moral compass built on honesty, character, integrity, faith, love, and loyalty.
When we are honest with ourselves and others, we have no choice but to build a foundation of integrity. When we have faith, love, and loyalty, we have an unshakable foundation to improve our lives.
Our words and actions become consistent with our beliefs and values.
When we have good characteristics, people are attracted to us, and we can be confident that we will take the right actions at the right time. We can trust ourselves and others because we know they act in our best interests.
☑ These core values improve us daily in every aspect of our lives.
This inspirational quote from Beth Dutton and other words of wisdom are always worth listening to because they can teach valuable life lessons and help us face challenges, make difficult decisions, and become better people.
Beth Dutton Quotes
I see things in people, and I feel like if I can touch it, even if the rest of the person is rotten, I can take that good thing and I can make it part of me.
My mother was the spine of this family. She was the center. Without her, he's, well the best of him died with her.
I've got the cure for that. We'll see how tough you are after I give it to ya.
For someone with no spine, you've sure got a lot of balls.
Other Famous Inspirational Beth Dutton Quotes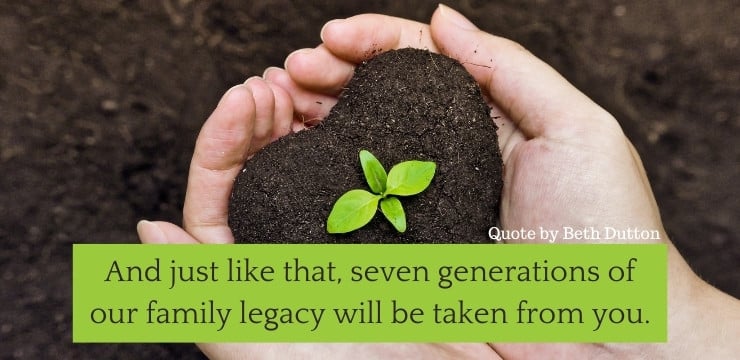 Some inspirational quotes can be thought-provoking.
We all know that death is a natural part of human existence. However, that doesn't mean that it's ever anything but a shock.
Deaths feel abrupt and jarring.
We can never be fully prepared to forever say farewell to someone we love.
It feels unnatural to realize that someone isn't coming back no matter what we do or say. It may take someone we care about a long time for our feeling to pass away. In fact, that may never happen; however, that doesn't dull the pain in any sense.
▣ Death is death.
Mourning is a process that's the total opposite of speedy and easy. So if you want to grieve something, you should set aside time to work through your emotions.
You can't ever prepare perfectly for the death of someone. However, you can acknowledge that sadness is a valid human emotion.
Quotes from Beth Dutton
Well, that's what it means. It means that you have me, that I'm yours. It means come live your life with me.
That's a conversation for another time that we'll never have.
No one wants to merge with you. You have a three-to-one debt ratio. It'd be easier to sell VCRs.
Say it when it matters. Say it when it will save me!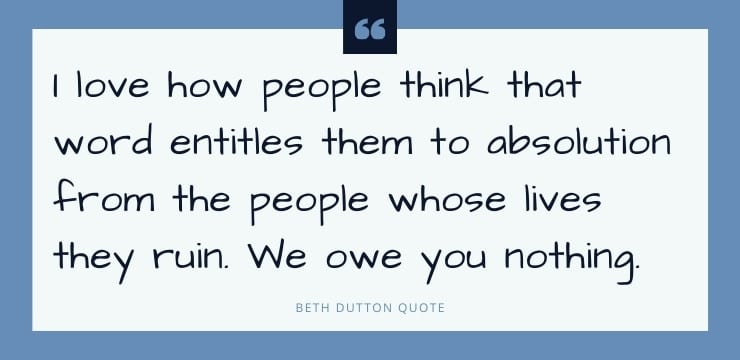 It's incredible how some people think that simply because they are born in a particular family or live in a specific region, that right entitles them to act however they want with total disregard for social norms, rules, or fear of consequences.
Some people think that just because they exist, the world owes them something and is supposed to hand them everything they want on a silver platter.
Some believe the world should give them a clean slate.
If you're like many other caring individuals, you like the idea of helping people who are in trouble. However, it's crucial to understand that the best way to help another person is by listening, understanding their needs, and doing the right thing.
☑ Only then can we constructively offer our support.
Unfortunately, some people are bound only to create so much havoc and destruction, even from those trying to help.
☑ Ironically, those whose lives they ruin don't have that same opportunity.
Therefore everyone needs to be held responsible for any bad things that happen to the people's lives they destroy. Eventually, we all get to start over and don't have to live with the weight of our past mistakes.
▣ The world doesn't always give second chances, but everyone is entitled to one.
That's why we must forgive the people who ruin our lives, move on, and continue living our best lives. It's not always easy, but holding onto anger and resentment will only hurt us in the end. Let go of the past and focus on the present moment.
Beth Dutton Quotes
The outcome has already been decided.
Yeah, baby. I'm asking you to marry me. Will you do that?
I believe in lovin' with your whole soul and destroying anything that wants to kill what you love. That's it. That's all there is.
You came alone 'cause none of your friends could afford it, and those who do, they have wives a lot smarter than yours 'cause let's be honest, Ted, you didn't come here to fish.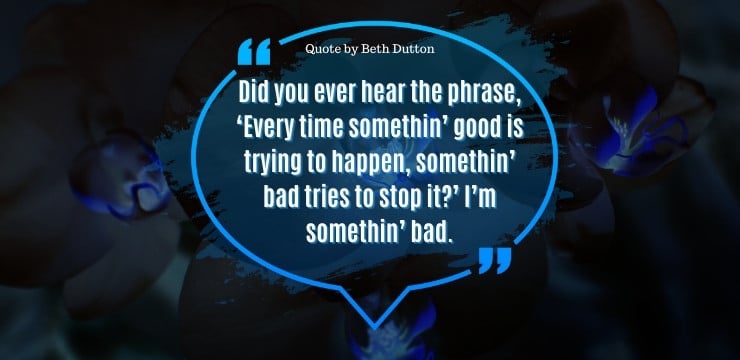 Bad luck is inevitable, and it doesn't discriminate.
We all experience occasional misfortunes.
It doesn't matter if you're the wealthiest or poorest person in the world. Bad luck has a way of catching up with us sooner or later.
☑ It can destroy our plans, our hopes, and our dreams.
Dire misfortunes can be brutal. But it doesn't have to control our lives.
Don't worry because good luck is just as powerful, a force to be reckoned with, and shouldn't be underestimated. Good luck can lift you when you're down, give you hope when lost, and help you achieve anything you've ever wanted.
☑ We can all refuse to let bad luck define us.
Tough "life lessons" can help us turn into the person of our destiny.
When that happens, that's a success story.
We should strive to turn sour lemons into delicious and refreshing lemonade and view misfortunes as an excellent opportunity to advance and improve for the future.
So if something terrible happens to you, fear not. Instead, it would be best to consider what you can do to make the most out of the situation.
Famous Beth Dutton Quotes
You can't unmake family, Jamie, but you can take their gold card.
If you cum on my leather seats, your walking home.
You are many things, baby, but funny is not one of them. Sorry.
I don't believe our father will ever trust you again, which is why I don't believe you have a role here anymore.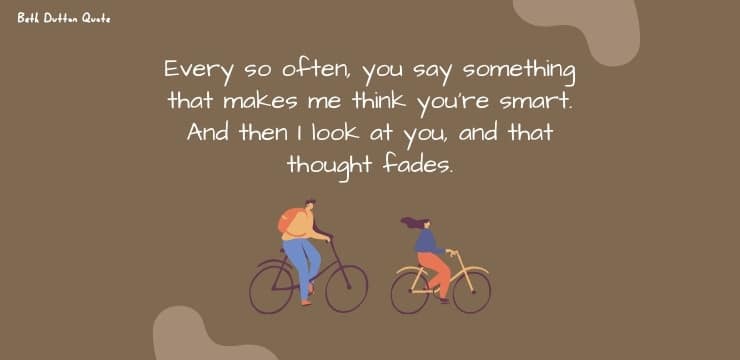 Knowledge is power.
It allows us to improve the art of small talk, confidently approach any situation, and proceed with the assuredness that we know what to say.
That makes us desirable communicators and valuable assets in any field. When we're looking to establish ourselves as an expert or sound like one, gaining a little knowledge can go a long way and lead to more tremendous success.
On the other hand, wisdom is to know when to say it. And when to keep silent.
Wisdom is the ability to discern the difference between what we should say in a conversation and what should remain unspoken. But unfortunately, wisdom is a gift that not everyone possesses.
☑ If you're lucky enough to have wisdom, cherish it because it's rare and valuable.
Wisdom allows us to avoid inconveniences and misunderstandings and to potentially and unnecessarily hurt other people's feelings when we shouldn't.
Blessed is the person who has the knowledge and great wisdom.
Beth Dutton Quotes
You're in real estate or something equally as unimportant, married, couple of kids, one on the way. That was your excuse to come out here.
I'm gonna tell you a little secret. The more you become what he wanted you to become, the more he'll hate you for it. And he does hate you for it. We all do.
Well, I'm no lawyer, but I believe it's the Fourth Amendment that deals with unlawful search and seizure.
I ain't judging you, buddy. Morning, gentlemen. I'm hunting too, just not hunting you.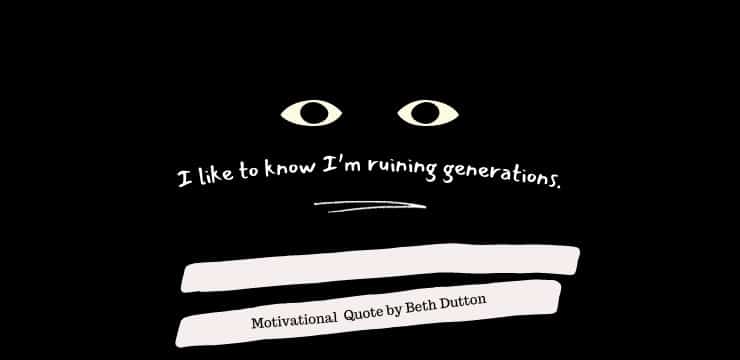 We have the power to change our life. It's one of the best discoveries in humanity, and learning this can be immensely empowering and motivating.
No matter what area of our life we want to improve, we can do so.
I remember a time when I was at my lowest and longed to escape from my reality.
But instead, I practically lived in my head, feeding myself with self-hatred and negativity. At my lowest ebb, things went so wrong!
🔹My attitude was immensely negative.
During those moments, I could not remember the last time I had spoken positivity into my life. Then one day, I thought, if I can brainwash my mind with so much negativity, why not start to brainwash myself with positivity?
What's the worst that can happen anyway?
I began to speak positivity into my life every time I felt myself slipping into negativity, and slowly but surely, I trained my body and mind to expect good things.
Despite not knowing how the future would be, I have been able to turn misfortunes into happiness and predict the outcomes by proximity, and things have been good.
✔ Simply by changing my attitude and opening myself up to new possibilities.
Beth Dutton Quotes
No. I can't have children. You need to know that. When you're with me, it's the end of you.
I gotta tell you something, and it comes from a place of love. You should really consider killing yourself.
Lady, you crave trouble; you just don't want resistance. And if you don't want resistance around here, you just mind your business.
Spanx. What a shocker. You know you had an *ss like a 12-year-old boy in high school. What happened?
Beth Dutton Quotes
Nothing's wrong. It's just life. Always changing. You should try Zumba. Get your cardio up. I'm chopping your family tree down.
Only the good die young. If a meteor strikes Earth tonight, it's me and the cockroaches running this mother f*cker tomorrow.
I didn't have enough sons. They just kept dying or quitting. And one day, not too long ago, I realized that I have enough sons after all.
What do you think's gonna happen when I dump our 18-percent share tomorrow morning? I'll tell you what. The stock will drop below 10, SEC will suspend trading, and every creditor you have will file on you.
Famous Beth Dutton Quotes And Sayings From Yellowstone TV Series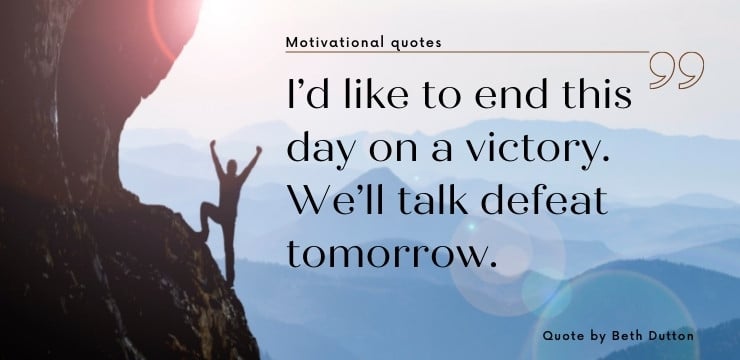 If we want to win, we can't plan to lose.
We can't achieve victory if we're expecting defeat.
Plan for success and expect nothing less. Anticipate victory, and it shall be yours.
Getting caught up in the "what ifs" and the "what could have been's" in life is easy. We often get so focused on what could go wrong that we forget all the awesome things that could happen.
We spend so much time worrying about the future and what might happen that we don't even realize that our minds are playing tricks on us! We think something terrible is going to happen when it isn't at all.
The truth is, we cannot expect victory and plan for defeat.
There is no plausible excuse for training our minds to plan for both simultaneously!
Of course, in reality, we can never predict or control the outcome.
We can only plan for the best and hope all our hard work pays off. The key to success is not worrying about what might go wrong tomorrow but instead focusing on what could go right today.
In conclusion, these famous Beth Dutton quotes are fundamental concepts to understanding our human nature and remembering when trying to achieve success.
Quote by Beth Dutton
Related Posts You Might Like: