David Goggins is a former Navy SEAL and ultra-marathon runner who has set several world records. He is also the author of the New York Times Bestseller "Can't Hurt Me." Here are David Goggins quotes to keep you motivated.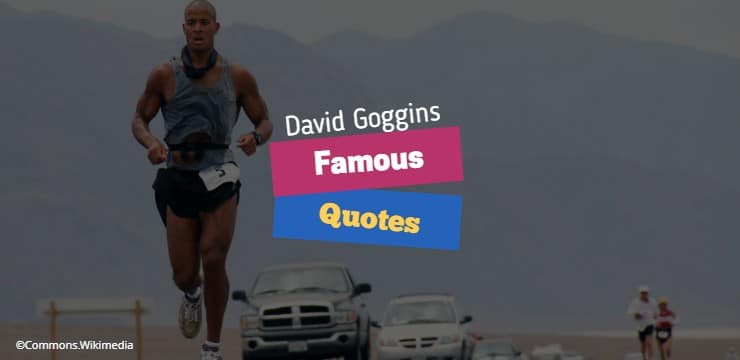 July 2007, Death Valley, California – David Goggins in the 135 miles Badwater Ultramarathon. Photo by Seaman Brandon Rogers, U.S. Navy © Wikimedia Commons
Why is David Goggins famous?
David Goggins is famous for his extreme fitness achievements.
He can do insane pull-ups, has a crazy high pain tolerance, and has completed more than 60 extreme endurance events, including running the Moab 240 marathon in less than sixty-three hours.
David Goggins is a retired Navy Seal Team 5 who served in Afghanistan and Iraq during his military career. He also worked as an accomplished TACP (the United States Air Force Tactical Air Control Party) specialist.
▣ He once held the world record for most pull-ups completed in 24 hours.
What makes David Goggins so inspiring and remarkable is that he's faced enormous personal challenges and overcome them through sheer force of will.
What does David Goggins say about the mind?
You see, David Goggins was born with a rare genetic disorder called Primary Hypothyroidism, which caused him to be severely overweight and extremely under-active from an early age.
Yet despite that, after being told by doctors that he would never be able to do anything physically strenuous because of his condition, David Goggins set out to prove them wrong. And boy, did he ever succeed!
How did David Goggins train his mind to think positively?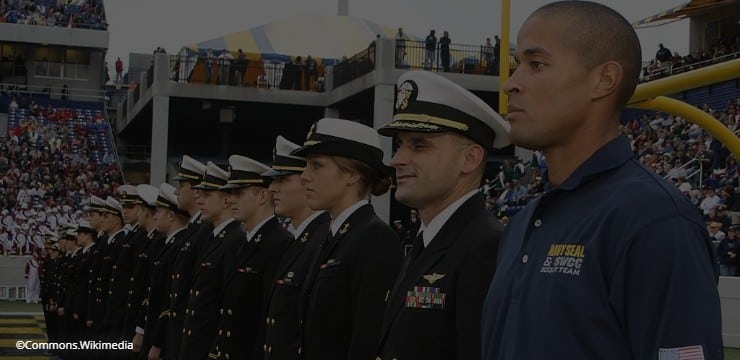 October 2009, Annapolis, Maryland – David Goggins with members of Naval Academy's triathlon team of the United States. Photo by Michelle Kapica, U.S. Navy © Wikimedia Commons
David Goggins says that overcoming physical challenges strengthens the mind.
✔ In other words, whatever you tell yourself, you can achieve.
Through dedication and perseverance, and despite challenges and setbacks, this philosophy has helped David Goggins become one of the fittest and most mentally tough athletes and an incredible motivator and teacher.
▣ David Goggins Records
David Goggins is a world-renowned ultra-endurance athlete, and he's certainly no stranger to pulling off insane feats of strength and stamina.
David Goggins has smashed many records, including the Guinness World Record for the most pull-ups completed in 24 hours.
How many pull-ups did David Goggins do in 24 hours?
▣ In 2013, Goggins completed 4,030 pull-ups in 17 hours and 10 minutes, the Guinness World Record for the most pull-ups completed in 24 hours.
To achieve this feat, Goggins had to do an average of 237 pull-ups per hour.
As of August 2022 (the time of this publication), the current holder of the Guinness world record for most pull-ups in 24 hours is Brandon Tucker. You can check for the up-to-date current title holder of the most pull-ups in 24 hours here.
▣ In 2007, he completed the Badwater Ultramarathon, covering 135 miles non-stop from Death Valley to Mt. Whitney in California, in 25 hours and 49 minutes and finished 3rd overall.
▣ In 2016, David attempted & completed the "Infinitus 88k," a brutal race that brings out the most formidable competitors, and he won the race in 12 hours.
What is the 40% rule by David Goggins?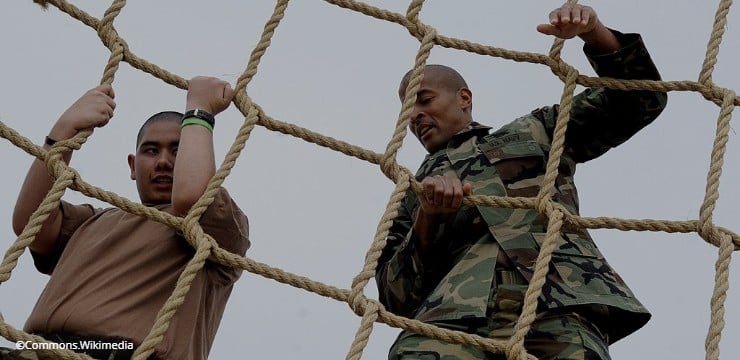 March 2011, San Diego. California – Make-A-Wish Foundation recipient climbing the cargo net obstacle with David Goggins. Photo by Dominique Lasco/Released – U.S. Navy © Wikimedia Commons
The 40% rule is a piece of advice that David Goggins often gives to people trying to push themselves mentally and physically to the next level. He knows what it takes to succeed and wants to see others reach their potential.
It's the idea that when your mind tells you that you hit a wall during a task – whether you're working out, running a race, or just slogging through life – you're only 40% done, and there's always room to push yourself harder than you think.
☑ So, for example, if you're running and feel like you can't possibly run any further, you should keep going until you've run 40% further than your original goal.
That teaches mental toughness and stamina and can help you achieve things you never thought possible. David Goggins talks about and explains it in his book.
What is David Goggins's book "Can't Hurt Me" about?
David Goggins' book "Can't Hurt Me" is about his life story and how he became a Navy SEAL, ultra-endurance athlete, and successful businessman.
He talks about the discipline and hard work it took for him to achieve these goals, as well as the mindset that has helped him overcome various challenges in life.
☑ The book's title comes from a mantra that Goggins repeated to himself during some of his most difficult moments – "It can't hurt me" – which helped him push through the pain and keep going.
The book is clear and concise. It offers readers insight and inspires anyone who wants to learn more about overcoming adversity and how to bounce back from life's challenges to achieve their goals.
Best David Goggins Quotes
What is David Goggins's most famous quote?
"From the time you take your first breath, you become eligible to die. You also become eligible to find your greatness and become the One Warrior. But it is up to you to equip yourself for the battle ahead."
List of other famous quotes by David Goggins.
The most important conversations you'll ever have are the ones you'll have with yourself.
Just because you believe something doesn't make it true. Denial is the ultimate comfort zone.
If you can get through doing things that you hate to do, on the other side is greatness.
Pain unlocks a secret doorway in the mind, one that leads to both peak performance, and beautiful silence.
In the military we always say we don't rise to the level of our expectations, we fall to the level of our training.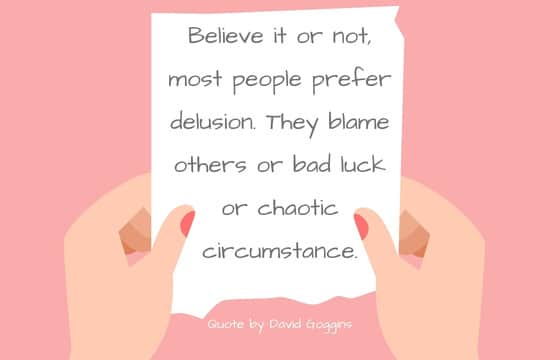 A lot of us don't know about another world that exists for us because it's on the other side of suffering. That's the real growth in life.
Life is one big tug of war between mediocrity and trying to find your best self.
If you're willing to suffer, and I mean suffer, your brain and body once connected together, can do anything.
Greatness pulls mediocrity into the mud. Get out there and get after it.
Believe it or not, most people prefer delusion. They blame others or bad luck or chaotic circumstance.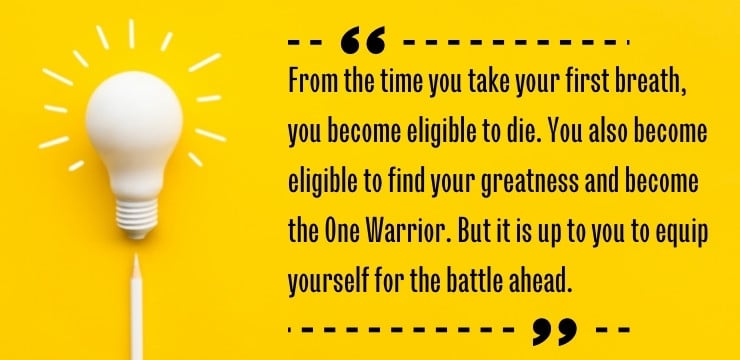 Inspirational Quote by David Goggins
List of Top David Goggins Quotes – Table of Content
David Goggins Inspirational Quotes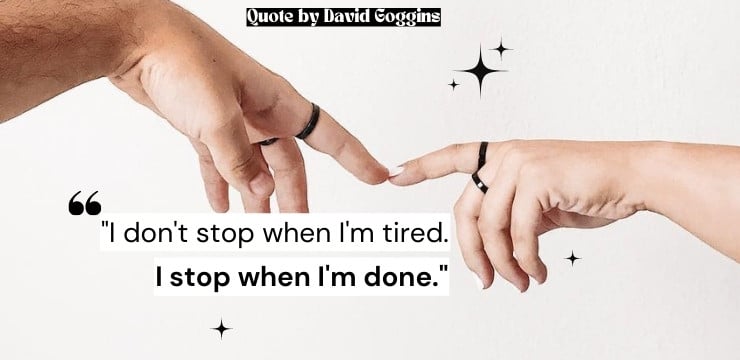 We should always give 100% effort because I know that's what success takes.
Some of the most successful people in the world are incredibly persistent.
☑ They don't give up easily.
Successful people don't stop at the first sign of fatigue.
They find fatigue motivating and know well that being tired is often a sign of good work. At the same time, we should not obsess over the small things that honestly don't matter. Instead, think about the big picture.
☑ It's crucial to keep our eyes on the prize.
It's imperative to get sufficient rest each night. Rest, however, isn't an excuse to abandon something important. On the contrary, it's a golden opportunity to recharge and return to work the next day better than ever.
It would be best if we tried to be an unstoppable force in all we do.
This inspirational quote by David Goggins can help change our outlook on life and help inspire us to chase our dreams, never give up on ourselves, and channel our efforts toward developing a good work ethic.
Quote by David Goggins
If you're not physically and mentally prepared for what life is going to throw at you, then you're just going to crumble, And then, you're no good to nobody.
Never let people who choose the path of least resistance steer you away from your chosen path of most resistance.
The only reason why I became successful was because I went towards the truth. As painful and as brutal as it is, it changed me. It allowed me, in my own right, to become the person who I am today.
Always be willing to embrace ignorance, because that is the only way to expand your body of knowledge and body of work. It's the only way to expand your mind.
Famous David Goggins Quotes To Not Give Up
Don't limit expectations of yourself and settle for anything less than what you are truly capable of achieving.
In every failure a lot of good things will have happened, and we must acknowledge them.
Life is one big mind game. The only person you are playing against is yourself.
It's a lot more than mind over matter. It takes relentless self discipline to schedule suffering into your day, every day.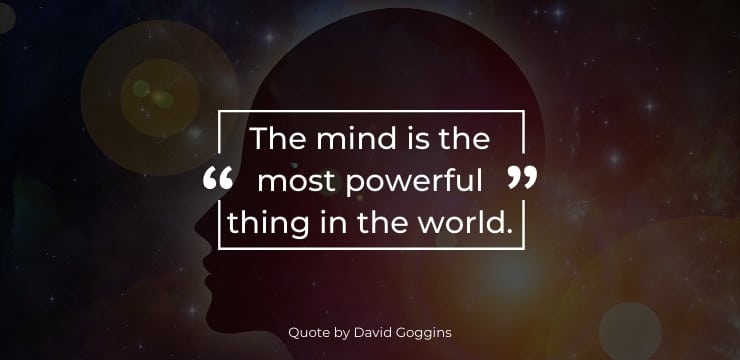 Nothing on the planet can indeed surpass the power of the mind.
Our mental state can influence how we feel on any given day, affect our actions, and how we perform our daily work chores. Our minds can also affect how we treat our fellow humans, either good, fair, or wrong.
☑ Civilization is nothing without the existence of the mind.
Our human mind has contributed to many incredible things throughout history. For example, it helps us invent new technologies, build massive structures in bustling cities, and write poignant literature that has transformed countless lives.
The mind is brimming with powerful emotions and feelings such as sadness or Joy. Our minds can help us get physically fit, expand our intellectual horizons or change our life for the better. The possibilities are endless.
Read other inspirational quotes by well-known people that can help you push and get through tough times and be a source of inspiration when you need it most.
David Goggins Quotes
We like to live our lives on social media with lies about ourselves about how great we are. Get to the source! Fix the problem.
It's easier to accept the fact that you're just not good enough. We all have a lot more than we think we have.
Only when you identify and accept your weaknesses will you finally stop running from your past.
It's going to be hard work, discipline, and the non-cognitive skills – hard work, dedication, sacrifice – that will set you apart.
The human body can withstand and accomplish a hell of a lot more than most of us think possible, and that it all begins and ends in the mind.
All I did was pick up that shovel and made my own path. Life is a battle between trying to find more of yourself knowing that the real you is afraid.
We are all our own worst haters and doubters because self doubt is a natural reaction to any bold attempt to change your life for the better.
Everybody wants a quick fix like 6-minute abs — you may get some results from it, but those results won't be permanent. The permanent results come from you having to suffer.
David Goggins Motivational Quotes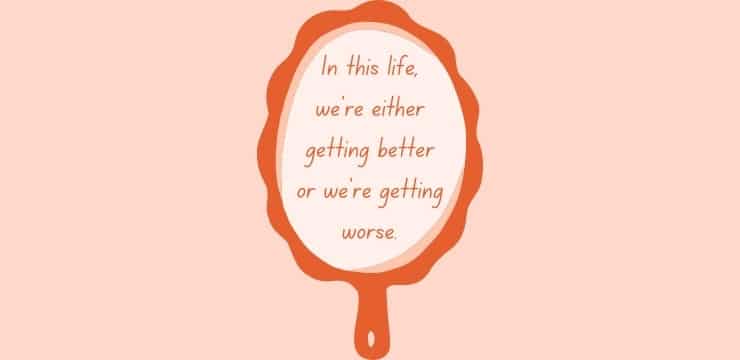 A truthful, inspiring quote can be exhilarating. It's like looking at ourselves in the mirror. However, the reality is that all humans are works in progress.
No individual is flawless straight out of the box.
☑ If we want to thrive, we must put in the necessary work.
If we fail to work, then things may not go our way.
There's no denying that it can be tempting to ignore work altogether. But we'll inevitably improve if we work and do our best day in and day out. In addition, honest work can be emotionally nurturing.
We all know that we must work to put food on the table at the end of the day. Otherwise, we'll never get anything done, but that is another story for another day!
✔ People improve their life all of the time.
In this life, we're always striving to get better. Every day, we wake up hoping to become just a little bit better than we were the day before.
And it doesn't always have to be a significant improvement; sometimes, it can be something as small as finding a new favorite song. But as long as we're moving forward and getting better, that's all that matters.
Famous David Goggins Quotes To Keep Going
Be more than motivated, be more than driven, become literally obsessed to the point where people think you're f*cking nuts.
It's possible to transcend anything that doesn't kill you.
Nobody cares what you did yesterday. What have you done today to better yourself?
Only you can master your mind, which is what it takes to live a bold life filled with accomplishments most people consider beyond their capability.
Famous David Goggins Quotes To Keep Pushing
We habitually settle for less than our best; at work, in school, in our relationships, and on the playing field or racecourse.
Even if you are hurting, never let your competition see the look of defeat or even vulnerability on your face.
I thought I'd solved a problem when really I was creating new ones by taking the path of least resistance.
Your brain is the only thing you have when you're going through depression and hard times, and you're going through death, real life, you can't Google that man. You're alone!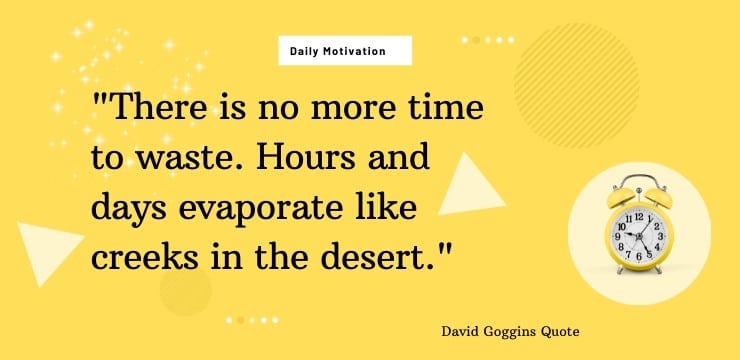 Our time on earth is limited as we will all face death at any given point in life, so it's better to live each day as if it is our last day on earth.
☑ We must maximize every opportunity along the way and do our best.
When we cultivate that thinking mode, we will always do good to others, like helping, encouraging, and loving one another, as we would like others to do to us.
No one knows their end times.
Every day, hours evaporate like water in the hot sun. So we must not waste every happening of our life no matter how good or bad our current situation.
If we don't use our time wisely, we'll waste valuable opportunities that could benefit us in the future. Therefore let us seize the day! Don't let time slip away without enjoying it and making meaningful memories.
This motivational quote from David Goggins reminds everyone to live life to the fullest. Time is fleeting, and no one can go back to the time a person has right now.
David Goggins Quotes
You will never learn from people if you always tap dance around the truth.
If you want to get better, do the things that no-one else wants to do.
You are in danger of living a life so comfortable and soft, that you will die without ever realizing your true potential.
We live in a world where a lot of people need goals, motivation, and a lot of other words to get started. It's just a big excuse to not get started.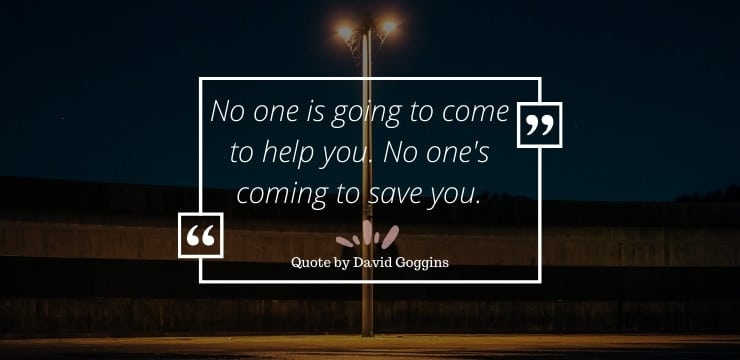 Here's some tough love: no one will come to help you once you reach 18+ years old.
After that, you're on your own.
You are the only captain of your ship.
The best thing we can do is to learn, know and master all the skills needed to equip ourselves with all the training and characters to steer our ship to its destination.
☑ Only you can lead your life to success.
It's the same as when we apply for a job and go for an interview or take a national board exam. Of course, we can't ask somebody to take our place in such instances, but we must face it alone.
There's no one to help.
Boost yourself with confidence and faith that you can make it alone. And if there is help along the way, take it with gratitude and humility.
This motivational quote by David Goggins reminds us that, in reality, challenges and problems are a part of life, but you are the one who will face them head-on.
▣ That's pretty daunting!
But I know you are strong and capable and can handle whatever comes your way.
You can control your life and make it whatever you want. So here are some words of motivation to help you keep pushing forward, never give up on your dreams, always believe in yourself, stay positive, and keep moving forward towards your goals.
Famous David Goggins Quotes To Work Hard
Looking back on that was me trying hard. That's why people got to understand what is in us, we have no idea until we start trying hard, and I mean trying really hard, where you're obsessed with it.
A lot of people put motivational quotes up on the wall, and all they do is collect dust. Become what that quote says. Live it every day.
Everyone fails sometimes and life isn't supposed to be fair, much less bend to your every whim.
People take classes on self-help, mental toughness, breathing control – the only way to get tougher is to put yourself in hellacious situations.
Your entitled mind is dead weight. Cut it loose. Don't focus on what you think you deserve. Take aim on what you are willing to earn!
A warrior is not a person that carries a gun. The biggest war you ever go through is right between your own ears. It's in your mind.
Most of this generation quits the second they get talked to. It's so easy to be great nowadays because most people are just weak.
You gotta find the courage. It's going to be hard work, discipline, and the non-cognitive skills — hard work, dedication, sacrifice — that will set you apart. Suffering is a test. That's all it is. Suffering is the true test of life.
Famous David Goggins Quotes And Sayings For Working Hard And Keep Pushing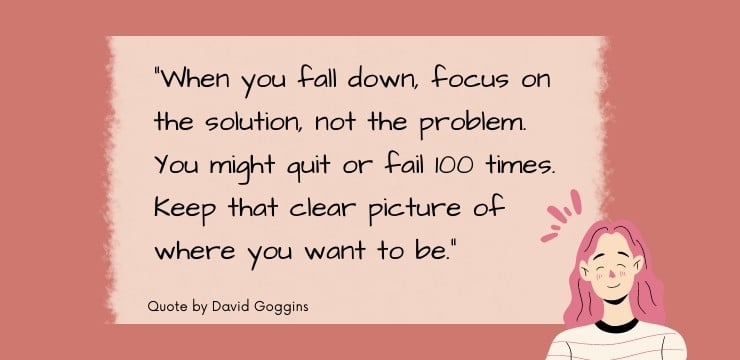 We all have bad days. We all fall and hurt ourselves.
☑ Part of life is that we all fall and get back up again.
Most times, we all try things that don't work. Unfortunately, bad days are impossible to avoid. Our goal shouldn't be to prevent them, however. Instead, it should be to make the best out of them.
It can be tempting to wallow in misery at times.
▣ But, when you think about it, falling is pretty interesting.
After all, it's how we learn to walk! We start by crawling, pulling ourselves up to standing, and finally taking those first wobbly steps. And when a baby trying to walk falls, they get back up and try again and again until they get it right.
So next time you find yourself faced with unsurmountable challenges and down on the ground, remember that falling is just a part of life. And like everything else, it's something you can overcome with a little effort and determination.
Aim to be a person who concentrates on the positive and tries to do away with the negative. Too much negativity is a waste of mental energy.
Hopefully, these famous David Goggins quotes will inspire you today.
Related Posts You Might Like: