Kevin Gates is an incredibly talented musician, and his lyrics often talk about subjects like depression, poverty, and time spent in prison. For that reason, these are some of the best Kevin Gates quotes to inspire us to succeed.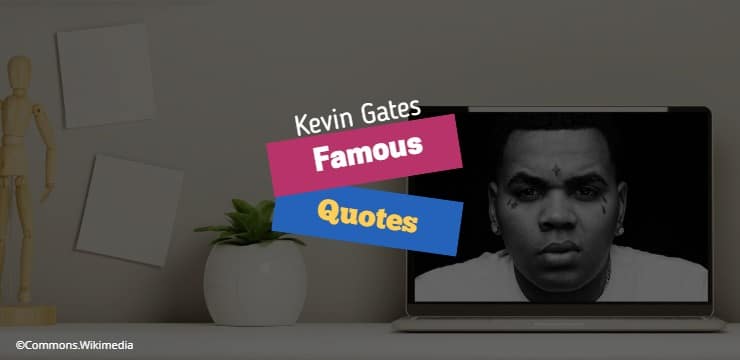 October 2015, Picture of Multi-Platinum Recording Artist Kevin Gates, founder of Bread Winners' Association (BWA). Photo by
Jimmy Fontaine
© Wikimedia Commons. Editor's note: Added background frame and cropped image.
What is Kevin Gates best known for?
Kevin Gates is an American entrepreneur, rapper, songwriter, and singer from Baton Rouge. Kevin Gates's real name is Kevin Jerome Gilyard.
He is known for his unique blend of Hip Hop with Southern Rap music style and hard-hitting lyrics that often tell his personal stories, struggles, and life experiences, which has captivated and connected him to fans worldwide.
Although Kevin Gates started to write his songs and rap at a young age, he started his professional music career at 22 years old, in 2007, when he signed up with Dead Game Records. After that, he went on to release several mixtapes.
Kevin Gates and his spouse, Dreka Gates, star in the song "Power."
Kevin Gates Power song (lyrics)
Kevin Gates's rise to fame
Kevin is a hard-working man. On February 2021, he released his 17th mixtape.
Notably, three of the artist's mixtapes, "Stranger Than Fiction," "Luca Brasi 2," and "By Any Means," gained him some buzz and started to get him some attention from other successful rappers like Lil Wayne, founder of Young Money Entertainment.
☑ Kevin Gates became famous for his album "Islah."
▣ The album was well-received, making him a star in the U.S. rap scene since 2016.
Kevin Gates is also famous for being incarcerated several times throughout his career. While his wild and unpredictable behavior has sometimes gotten him into trouble, it has also made him one of the most entertaining figures in hip-hop.
Kevin Gates's key to success has always been willing to bear his soul and be vulnerable in his music, and that raw honesty has endeared him to so many people.
Kevin Gates I Don't Get Tired lyrics quote
What was Kevin Gates's first big hit?
With over two million copies sold since December 2014, "I Don't Get Tired" is the first song by Kevin Gates to make it to the United States Hot 100 Billboard.
The song is a single from his 13th mixtape Luca Brasi 2. In addition, it was Kevin's first song to be certified Gold, and it has since gone 2× Platinum.
☑ Undoubtedly, "I Don't Get Tired" is Kevin Gates's first big hit.
Maybe it could be the catchy hook, the infectious beat, or simply the fact that it's a great song, but it quickly caught on and became a viral sensation.
Kevin Gates lyrics quote
What is Kevin Gates best selling album?
With over 324 million views on Youtube, Most people know Kevin Gates from his hit single "2 Phones." But did you know that he's also responsible for one of the best-selling albums of the past year?
As of August 2022, Kevin Gates' best-selling album is his debut studio album, "Islah." The album was released in 2016 and reached #2 on the Billboard 200 chart.
With a whopping two million plus copies in sales in the U.S., It has since been certified 2x Platinum by the RIAA. Apart from "2 Phones," three other popular songs from the album include "Really Really," "Time for That," and "Kno One."
The album was his breakthrough, establishing him as a bonafide star, catapulting him to levels of success, and providing the gateway to crown Kevin Gates as the second highest-selling rap artist in the country that year, succeeded only by Drake.
In addition, Gates has released two other albums, "I'm Him" and his most recent album, "Khaza," which have both been well-received by fans and critics alike.
Kevin Gates "I Got Two Phones" song lyrics
What is Kevin Gates's net worth?
As of 2019, Kevin Gates' net worth is about $1 million. Gates earned his wealth primarily as a rapper and singer. In addition, Kevin Gates tours extensively and makes money from selling concert tickets and merchandise.
He has released three studio albums and many mixtapes, including 2017's "By Any Means 2", which debuted at number seventeen on the Billboard 200 chart.
While most of his money comes from his hip-hop career, he's also gained a large YouTube following, with his channel receiving more than 7+ billion views and over 7.75 million subscribers. So it must be earning him some serious money.
Best Kevin Gates Quotes
What is Kevin Gate's most famous quote?
"It's easy to betray or violate a loved one. You know all their strengths and weaknesses."
List of other famous quotes by Kevin Gates.
Life is about conduct and how we conduct ourselves. But two wrongs never make a right.
Whatever I have a natural love for or respect or admiration for, I tattoo it on my body.
Loyalty is hard to find; trust is easy to lose.
Gambling with love and life can produce some rough odds of winning.
True wealth is not of the pocket, but of the heart and of the mind.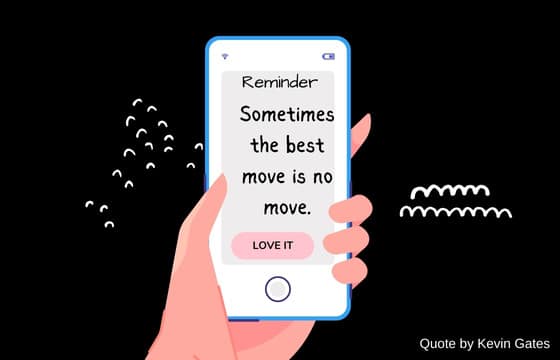 Everytime the leaves are changing, it's the loneliest time of the year.
I'm a felon. I get pulled over all the time.
Sometimes being different is what matters in relationships.
I like being with my family. That's my party.
Why accept failure when success is free?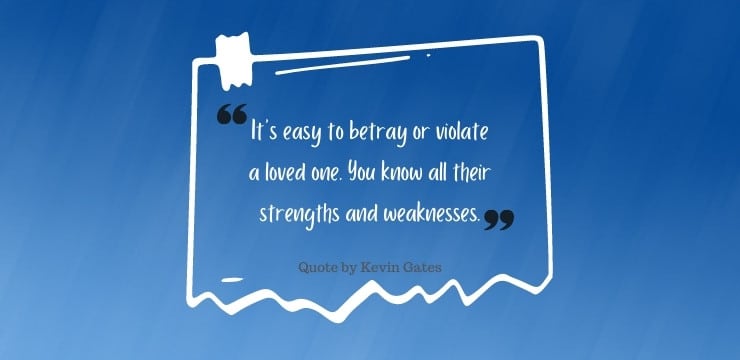 Quote by Kevin Gates
List of Top Kevin Gates Quotes – Table of Content
Kevin Gates Quotes About Life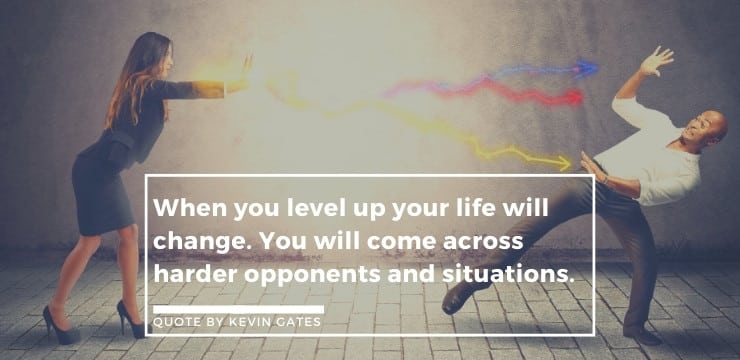 Having plenty of friends and no foes is easy when we have no achievements.
Everyone loves us because they don't want what we have – and they feel great when they compare themselves to us. That's the weird thing about life!
Staying down makes everyone else happy.
But that's no reason to stay on the bottom. Instead, we have to hustle and work hard to level up and get on top, and more importantly, we have to be ready for success.
☑ Success is a double-edged sword.
Success allows us to enjoy things we didn't think were possible.
Unfortunately, the more successful someone is, the more new enemies will keep popping up. People who love us start to envy our success, and we will cross paths with others who want to take what we have worked hard to achieve.
☑ It's part of the process of life.
Kevin Gates's quote reminds us that we will find more demanding challenges when we improve, no matter what we do. Fortunately, if we have made it so far, we must keep pushing to achieve even greater things.
Kevin Gates Quotes
I believe that life is a journey and for me to tell you my plans; things never go according to plan.
The ones that hate you most tend to be the people you know.
Some'll say life is a gamble, which means love is a casino. Everybody just playin' to win.
If you go back on your word…I won't say anything but in my mind you punk for life.
Kevin Gates Quotes About Friends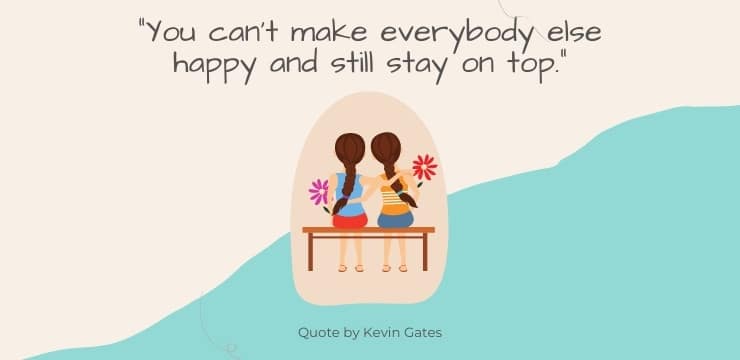 We'll find challenges and enemies on the way to the top, and we shouldn't shy away from a challenge because it'll upset someone.
☑ Challenges are there to help us improve.
If we decide to level up and live better, some people will start to hate us because we're no longer at the bottom with them. Others will get upset because they're getting new competition.
So, we must figure out whether we want to stay on the bottom and keep everyone complacent and happy, or get in the game, play better than everyone else, and get the number one spot.
☑ Think about it this way, this is going to be a harsh reality check:
If we want the crown, we'll have to take it from the king. That sounds pretty mean, but we must decide whether our happiness is more important than our competition's.
When we're in the game, 100%, it's impossible to keep everyone else happy – unless we decide to be miserable. So this quote from Kevin Gates is spot on, right?
Kevin Gates Quotes
What I see, what I went through, what a friend of mine may have went through, whatever – I rap about it.
I married my best friend that happens to be a girl.
Sometimes you have to let people bump their heads to realize that they are not making sense. Don't try to figure them out or it will drive you crazy.
If you associate yourself with peer pressure or complacency, you're destined for failure.
Kevin Gates Quotes About Time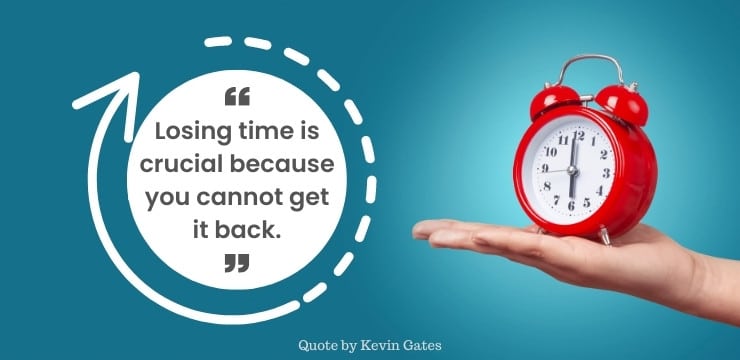 Not a single soul on this Earth can turn back the clock.
No matter how many millions we have in the bank, we can't buy a second's worth of time. Sad! So, we must make every moment count, or we'll soon regret it when the clock runs out of time. So let's put things in perspective:
We have 24 hours every day, the same as everyone else. We're using a few hours to sleep, so doing anything during those hours is out of the question.
☑ After the nap, what will we do with the time left?
It better be something worthwhile.
The question to ask ourselves is, are we investing our time to become better? Are we studying, working, and networking to improve our situation? Are we bringing our A-game to every situation and problem we face?
☑ Time will pass one way or the other.
So it's better to look back with a smile on our faces instead of regret in our hearts.
If we're not careful, time can slip away from us without us even realizing it But when we take a step back and read a quote that reminds us of what matters most, it can help us refocus our attention and use our time more wisely.
Kevin Gates Quotes
Anything lost, can be found again, except for time wasted. A vision without action is merely a dream. Action, it's the grind, it's the hustle, it's the persistence.
I've had mixtapes that have been better than albums I've heard from other artists. I take my time; I put my heart into it.
Because the problem lies with self, and a lot of times we don't look inward as individuals.
I've had good times and I've had bad times and I reminisce, maybe when I lay down, but throughout my day I keep myself engulfed in whatever moment I'm in because it could steer me into a depressed state.
Kevin Gates Quotes About Love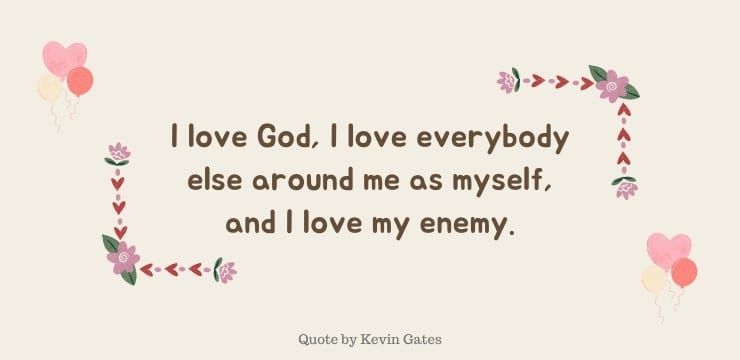 God comes first and everyone else second, but that doesn't mean we shouldn't love everyone on this Earth, including those who plot against us. Loving others puts us in a good state of mind, and having a positive attitude will help us achieve our goals.
☑ If we hate whoever tries to harm us, our heart becomes poisoned.
Even if that person doesn't succeed with their plans, they've succeeded in hurting us in one of the worst ways possible by poisoning our hearts.
So, in a way, we can't hate because if we do, our enemies win.
By allowing ourselves to love God and our family, friends, and enemies, our heart remains pure, and we can concentrate our efforts on hustling and working hard.
☑ When we focus on the good stuff, we feel great.
If we decide to waste our efforts hating on someone, we'll never achieve our goals. Therefore this inspirational quote by Kevin Gates reminds us to make the right and wise decision and show love for all.
Kevin Gates Quotes
A hot producer might not make a hot beat for me. I just love music.
I love to make music, I love to get tattoos…That's just what I love. If I wasn't getting paid I'd still do it.
Some may consider this a problem, I easily fall in love.
If you look at the movie 'Belly,' I identify with Sincere the most. I am a gangster. I love my lady to death.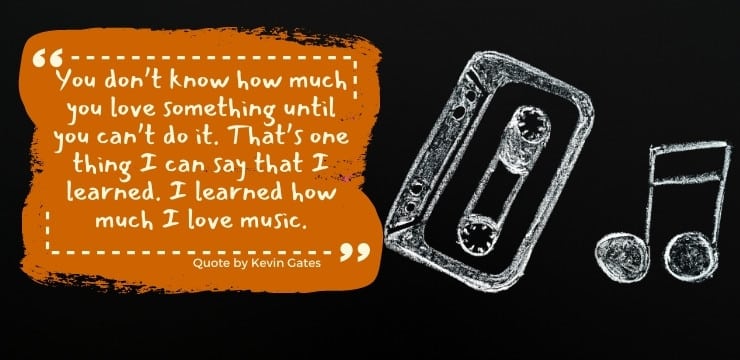 Kevin Gates Quotes
Fall in love fast, make sure I handle it delicate.
I like where we at now — but I'm in love with where we going.
Love's a battlefield it's not a one-night stand.
I'm in the game to survive so the people that I love could be straight. I'm a highly intelligent individual.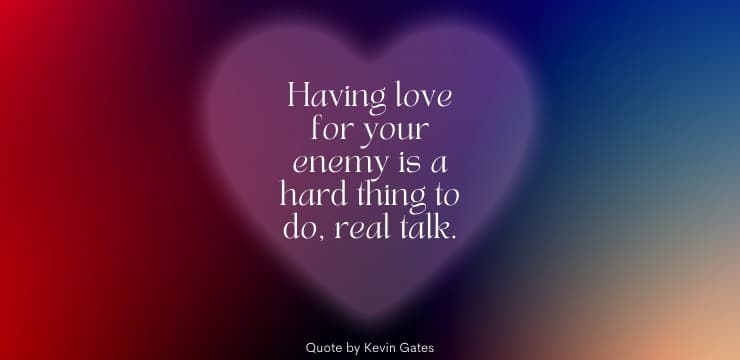 Kevin Gates Quotes
I love to be clean. I wear the same things, all of my clothes pretty much look the same. I'm a plain and simple type of guy.
Disconnecting from one you love can be a lonely ordeal. The feelings you will experience will change you.
I'd love to be accepted, but I'm not seeking acceptance.
Cause I read the Quran, I read the Kabbalah, I read the Bible. They all got the same three basic principles: Love God, love your neighbor as yourself, and…As far as me being, I live by those principles.
Kevin Gates Quotes About Respect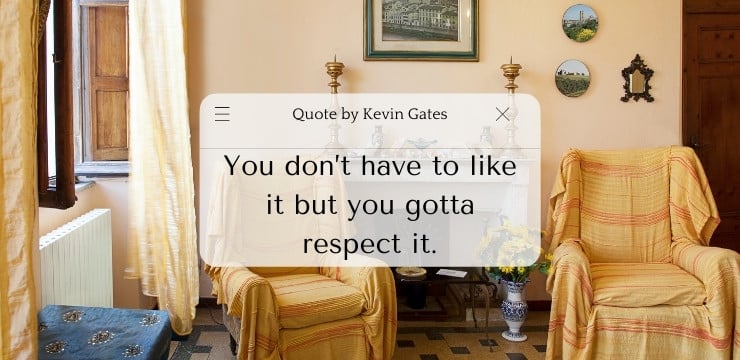 Respect makes the world go around.
Sometimes, we're not going to like a thing or two, but we better be respectful of the effort it takes to make things happen.
Sure, we can waste our time complaining and hating about something, but that will not help us achieve our goals.
We have to show respect if we want others to do the same to us.
For sure, some people won't like a few of our moves, but we'll demand respect from them whether they like what we do or not.
☑ So, why shouldn't we do the same?
There will be times in our life when we will not be mature enough to understand the moves someone makes, but we have to respect someone for making them.
In due time, we'll wise up and understand what happened.
The first step to making that happen is to show respect. Also, read these quotes with words of wisdom from famous people to help us learn from the experience of others and gain motivation to pursue our own goals.
Kevin Gates Quotes
I have respect for every man that demands your respect.
Don't get mad at me for being the best of what I was created to be.
I could give a flying flip about doing promo because, no disrespect, nobody put me in the position that I'm in.
Whatever an individual chooses to do with themselves, long as it doesn't affect me and they're respectful with it, I don't care what they do. Because I'm not perfect and I have flaws, so who would I be to be judgmental?
Other Famous Kevin Gates Motivational Quotes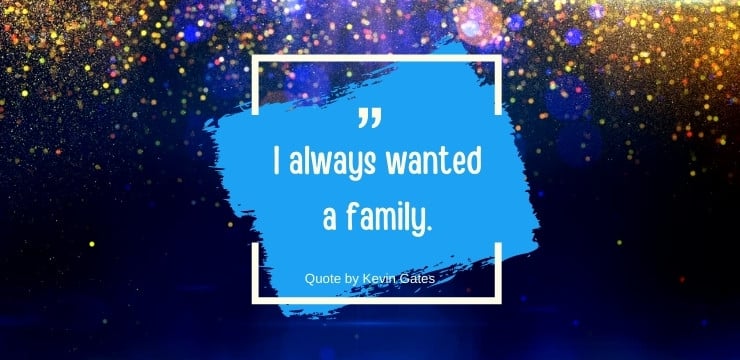 Having a family and taking care of it is one of the most invaluable things in this life, if not the most important. Friends become foes, and strangers become enemies for countless reasons, but our family will forever stay true to us.
Of course, building and maintaining a family requires time and work.
It will not happen overnight, especially if we're alone right now. But fortunately, we can make that happen and finally have the family we always wanted.
Everyone's experience with family is different, but for most people, family is the most priceless thing in the world. It's where we come from, our support system, and the one constant in our lives.
☑ It takes effort – but having a family is always worth it.
Most people would agree that family is worth everything because it provides us with a sense of belonging and connection to something bigger than ourselves.
Our family is always there for us, no matter what, and they're the ones who love us unconditionally. They help us grow into our best selves and make life worth living.
Kevin Gates Quotes
Money coming, money gotta flip it. I ain't waiting on nobody, I'mma go get it.
I have trust issues with allowing other individuals to know my innermost secrets for fear of how I may be viewed. Everyone has this.
Out my window.. I see everything I dream about and wished I had.
I don't pay attention to sales because it's not about that for me. It's about the music. Music is all I have.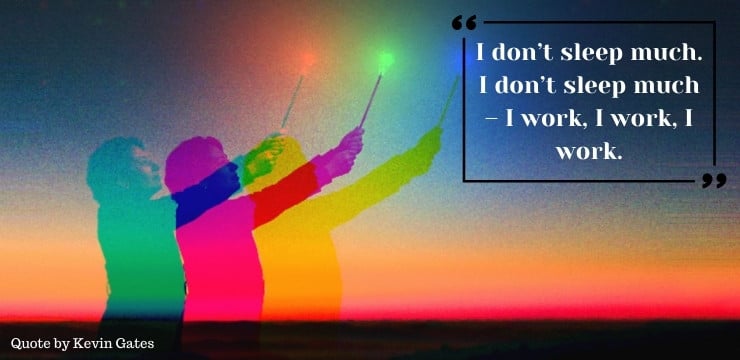 Kevin Gates Quotes
I have a cult-like following because I exemplify what it is to be a human being.
Knowledge is provided but only to those who need to know.
Inspiration comes from many things, and in the life of KG his music is just one of them.
Any artist that's as serious about making music as I am, I'm cool with that. But if you tellin' me, "Man, send me a verse and I'm a send you a verse." No. That's not collaborating. We don't know each other and I'm serious about this music.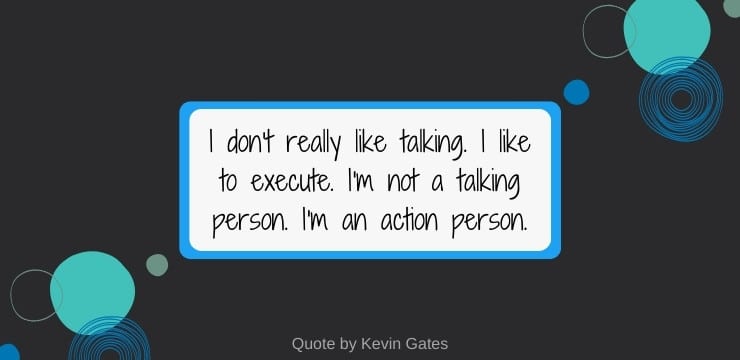 Kevin Gates Quotes
Coming up in the streets, I had to learn how to read people early on. I'm a very analytical person.
The only frustrating thing about jail is that I can't make music.
I live by the ten percent rule. Save one, you save a thousand.
My mentality, I guess. I used to deal with things totally differently than the way that I deal with things now.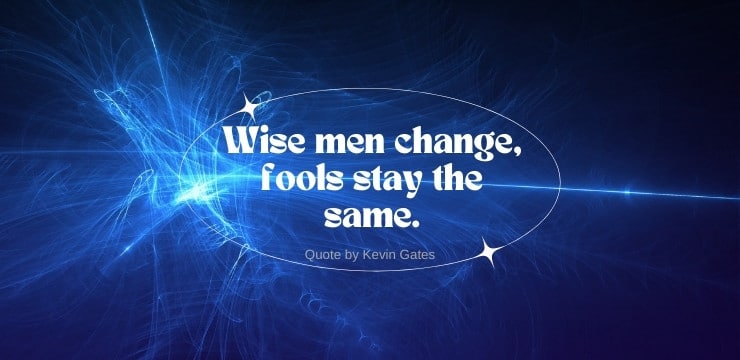 Kevin Gates Quotes
I don't know how the rap game is, because I'm a fan of reality, and the rap game's entertainment.
Music was also like a journal. It was like my personal diary or personal journal.
I suffer from deep depression, so my only release is music.
Music's the most therapeutic thing for me. Because I suffer with depression, and it's my only form of releasing it.
Famous Kevin Gates Quotes And Sayings From Song Lyrics About Music And Life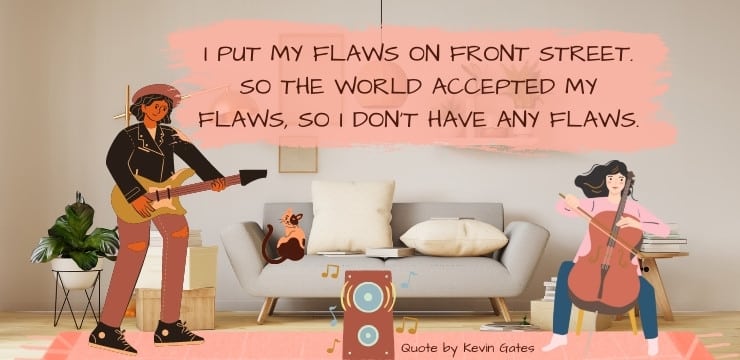 We all have flaws. It's what makes us human.
Let's be honest: many of our flaws are simply embarrassing. For example, if we're overweight, have acne, or are bad at public speaking, we often feel ashamed.
☑ Our imperfections don't define us.
Our first instinct is to hide them, but that's not always the best approach. Sometimes, owning up to our imperfections can be empowering. It can help us connect with others and create a feeling of community.
☑ Working on ourselves requires us to accept what's wrong with us.
That way, we can take mental notes on what to improve.
Nevertheless, hiding our flaws from the world means hiding part of who we are from everyone. That requires effort – and that's the effort we should use to improve our weaknesses and strengths.
At the same time, there are certain flaws we can't change. So to overcome that obstacle, we first have to accept ourselves for who we are, then show ourselves to the world, so everyone else can do the same.
Why is Kevin Gates inspirational?
Kevin Gates is famous for his personal story and for working to overcome his flaws despite spending time in jail for several years before earning a master's degree in psychology and becoming one of the most successful rappers in the world.
His story is an inspiration to many people who have faced similar challenges in their own lives. Hopefully, these famous Kevin Gates quotes will help inspire us to accept our flaws and work on our strengths to become more successful in life.
Quote from Kevin Gates
Related Posts You Might Like: