John Robert Wooden was an American basketball player and is considered one of the greatest coaches in history. For that reason, we've curated a list of the most famous John Wooden quotes to encourage you to become your best!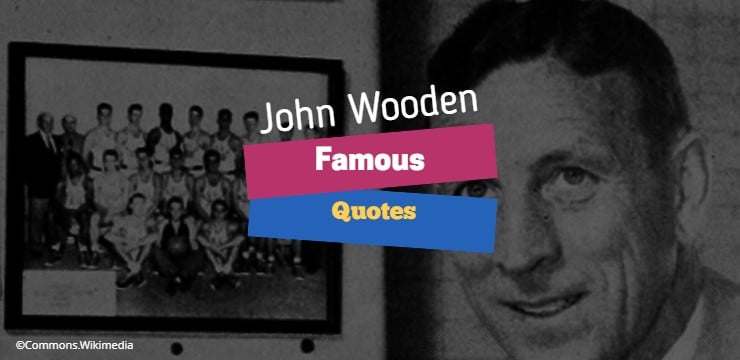 John Wooden, 1960: Head coach at the University of California, Los Angeles. Photo ©Commons.Wikimedia.org
What was John Wooden famous for?
John Robert Wooden was one of the greatest coaches in NCAA history.
He led the UCLA Bruins football team to win 10 NCAA championships, including a record seven in a row, between 1948 and 1975. He was the only coach in NCAA history to win that many championships.
In addition, John Wooden was named National Coach of the Year six times and inducted into the Naismith Memorial Basketball Hall of Fame in 1973.
His record-breaking winning percentage and longevity as a coach made John Wooden one of the best and most successful coaches in history.
What did John Wooden say about character?
Why was John Wooden so successful and a good coach?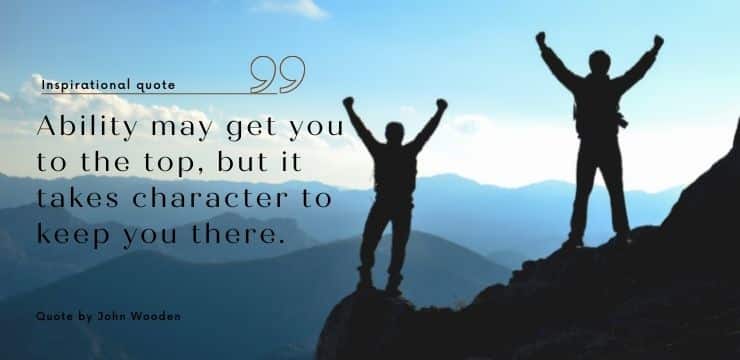 John Wooden was successful because he was renowned for his coaching philosophy, "Pyramid of Success," which emphasized building team character and instilling discipline to achieve success in basketball and life.
John Wooden was a great teacher.
He taught his players how to win without arrogance or lose a game without bitterness. Wooden was renowned for his coaching philosophy, and he emphasized the importance of being a good person off of the basketball court as well as on it.
If you are a good person, people will respect you no matter what you do. People who appreciate you will be likelier to listen to your advice and follow your lead.
In addition to his coaching career, Wooden was a successful businessman and author. John Wooden passed away in 2010 at the age of 99.
What did John Wooden say about success?
What is John Wooden's coaching philosophy?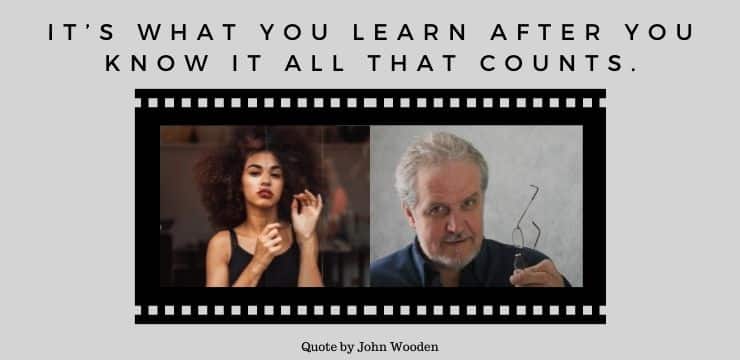 John Wooden's coaching philosophy, "The Pyramid of Success," is one of history's most famous coaching philosophies and motivational tools that coaches, athletes, business people, and students have relied on for over 50 years.
The pyramid is based on the philosophy that if you focus on the basics, you will eventually achieve personal and professional success.
▣ The pyramid consists of five levels comprising a total of fifteen unique traits.
Each pyramid layer is based on one of these qualities and builds on the ones below.
John Wooden believed that if you focused on these fifteen traits, you would achieve personal and professional excellence. The pyramid's pinnacle is self-realization, which means becoming your best possible self.
Best John Wooden Quotes
What is John Wooden's most famous quote?
"It's what you learn after you know it all that counts."
List of other famous quotes by John Wooden.
If you don't have time to do it right, when will you have time to do it over?
Things turn out best for the people who make the best of the way things turn out.
It is amazing how much can be accomplished if no one cares who gets the credit.
Success is never final, failure is never fatal, and it's courage that counts.
If you're not making mistakes, then you're not doing anything. I'm positive that a doer makes mistakes.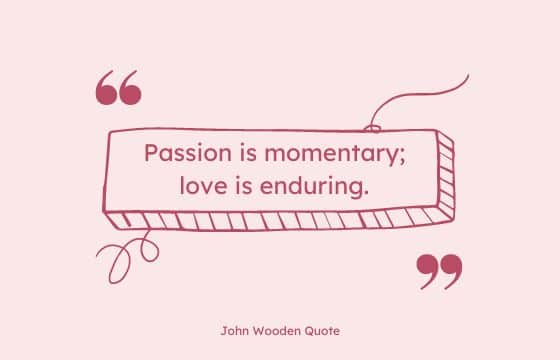 We can have no progress without change, whether it be basketball or anything else.
Just try to be the best you can be; never cease trying to be the best you can be. That's in your power.
Success comes from knowing that you did your best to become the best that you are capable of becoming.
It is the little details that are vital. Little things make big things happen.
Be more concerned with your character than your reputation, because your character is what you really are, while your reputation is merely what others think you are.
What did John Wooden say about success?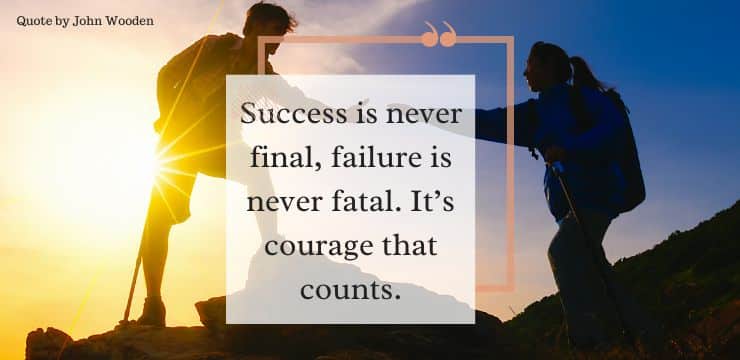 List of Top John Wooden Quotes – Table of Content
John Wooden Quotes On Teamwork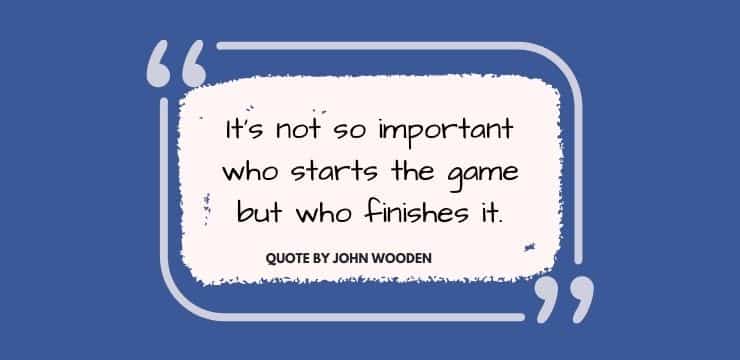 Throughout life, we may start many projects.
For some people, starting something is always the most challenging part, while for others, sometimes, starting is the easy part.
Regardless, if you start something, it's essential to see it through to the end because starting and completing a project is where the challenge lies.
After all, the end is what truly defines us.
If you're the kind of person who likes to start things but finds it hard to see things through to the end, it's not that you're lazy or lack motivation.
That's life!
But if you want to be successful, you need to learn how to finish what you start. It's not enough to have a great idea. You have to see it through and make it a reality. Otherwise, it's just a wasted opportunity.
John Wooden Quotes
I had three rules for my players: No profanity. Don't criticize a teammate. Never be late.
The main ingredient of stardom is the rest of the team.
I think permitting the game to become too physical takes away a little bit of the beauty.
A player who makes a team great is more valuable than a great player. Losing yourself in the group, for the good of the group — that's teamwork.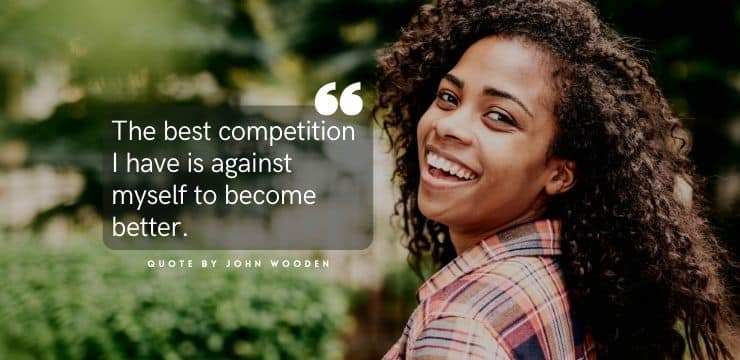 There will always be competition in life and business, and we all have individual battles to fight. However, it's essential to remember that we should not constantly compete with others but also aim to compete with ourselves.
Healthy competition is the one that keeps in mind that we all have different strengths, weaknesses, obstacles, and struggles throughout our lives.
We also have different motivations for what we want to do with our lives!
Therefore, competing against yourself is an excellent way of measuring success and helps you improve your performance and become a better version of yourself.
Seeing results or improvements in your work will motivate you to push harder, even more, and keep growing and achieving success! John Wooden's motivational quote tells us that our priority should be striving to be better than who we were yesterday.
John Wooden Quotes
Players with fight never lose a game, they just run out of time.
The star of the team is the team. "We" supersedes "me."
Constantly be aware and observing. Always seek to improve yourself and the team.
You can lose when you outscore somebody in a game. And you can win when you're outscored.
John Wooden Quotes On Leadership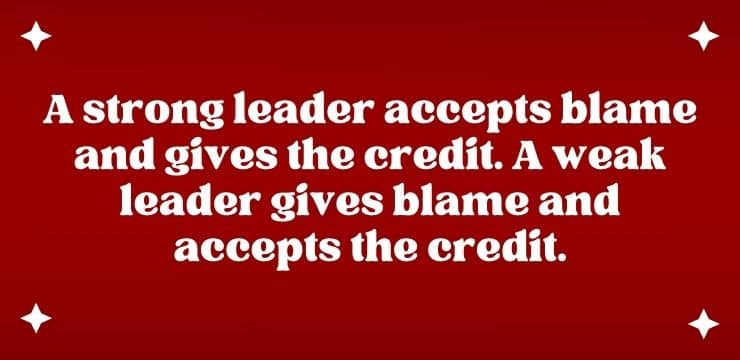 Frankly, it's much easier to give credit when you are successful, but it takes good leadership qualities to accept responsibility for failures.
A good strong leader will admit their mistakes, learn from them, and move on with more experience under their belt. A strong leader sees failure as an opportunity to learn something new, grow their skill set, and become more successful.
On the other hand, a weak leader thinks that failure is a sign that they are not good enough or talented enough to do something well.
A weak leader will look for someone else to blame for their failures.
That leads to discouragement, which leads to giving up on trying again or learning from mistakes because they think they will fail again anyway, so they refuse to make an effort.
This motivational quote by John Wooden should give an insight into what being a strong and inspiring leader should be about, especially nowadays.
John Wooden Quotes
I think that in any group activity – whether it be business, sports, or family – there has to be leadership or it won't be successful.
Whatever you do in life, surround yourself with smart people who'll argue with you.
I worry that business leaders are more interested in material gain than they are in having the patience to build up a strong organization, and a strong organization starts with caring for their people.
If you're not making mistakes, then you're not doing anything. I'm positive that a doer makes mistakes.
John Wooden Quotes On Coaching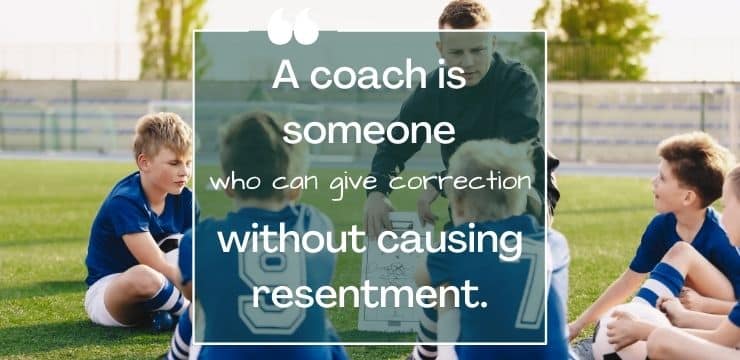 The job, work, and responsibilities of a coach are vital because they can make or break the accomplishments of any team.
A highly successful coach will always look for new and innovative ways to improve their team's performance. A successful coach will also have a great deal of knowledge about the game and be able to pass this on to their players.
They will constantly be adapting their strategies and tactics to suit the needs of their team and the opposition.
☑ The best coaches inspire their teams to be their best.
They'll teach them to work together and push themselves to reach their potential, with the ultimate goal being to help their team win, but they also want to see their players grow and develop as athletes.
Good coaches are effective at maintaining team harmony.
They are honest and direct with their players and know how to discipline team members without making them resentful, harbor hard feelings, or be uncomfortable.
John Wooden Quotes
If I were a young coach today, I would be extremely careful in selecting assistants.
In the end, it's about the teaching, and what I always loved about coaching was the practices. Not the games, not the tournaments, not the alumni stuff. But teaching the players during practice was what coaching was all about to me.
Teaching players during practices was what coaching was all about to me.
I think the teaching profession contributes more to the future of our society than any other single profession.
John Wooden Inspirational Quotes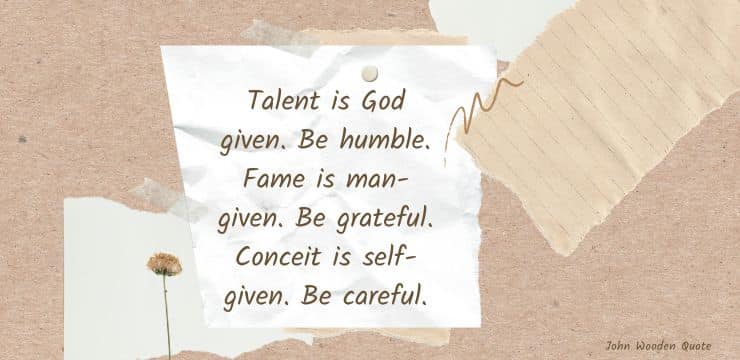 It's a great reminder that talent and skill are gifts we should be grateful for, but as with many things, how we use them makes the difference between success and mediocrity.
✔ Just because we have a unique talent, it's not a guarantee for success.
Many people make the mistake of becoming arrogant and boastful about themselves and their talents. As a result, that pushes people away from them, even potential connections that may have helped them succeed quicker.
▣ Most people will not want to work with boastful arrogant individuals.
But, even if they do, it won't be long because they'll eventually get tired of that attitude and leave to find someone who's more humble and appreciative of their talents and skillsets.
This motivational quote by John Wooden reminds us that if we're talented at something, don't brag about it or use it as an excuse to be lazy or procrastinate on our responsibilities. Instead, use it as motivation to work harder and be the best!
John Wooden Quotes
You can't live a perfect day without doing something for someone who will never be able to repay you.
All of life is peaks and valleys. Don't let the peaks get too high and the valleys too low.
You can't let praise or criticism get to you. It's a weakness to get caught up in either one.
I worry that business leaders are more interested in material gain than they are in having the patience to build up a strong organization, and a strong organization starts with caring for their people.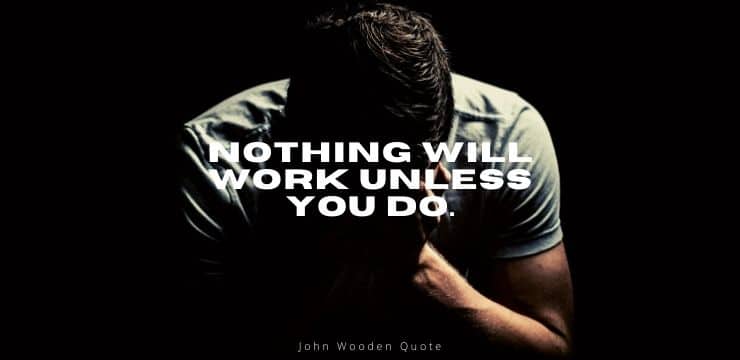 John Wooden Quotes
What you are as a person is far more important than what you are as a basketball player.
Do not let what you cannot do interfere with what you can do.
Failure is not fatal, but failure to change might be.
You are not a failure until you start blaming others for your mistakes.
Other John Wooden Motivational Quotes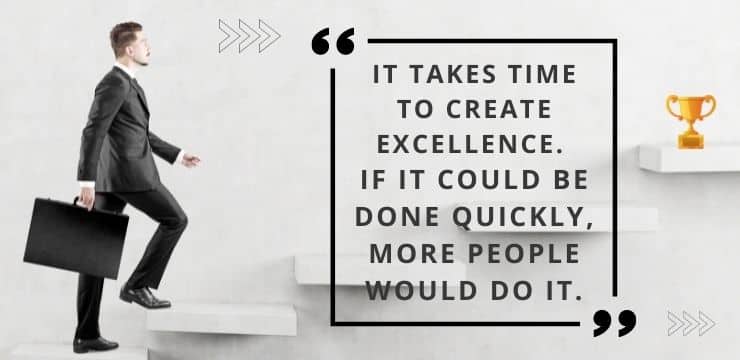 In a fast-paced world, we're all looking for shortcuts to success.
It takes time to create excellence.
Excellence is not something we can rush; it's an ongoing process that requires dedication and perseverance. Read other famous quotes to inspire you.
We must understand that there's no shortcut for anything worth achieving in life or business. Therefore, we must work hard now so that later we can reap the benefits of all our efforts and enjoy the fruits of our labor.
The good news is that the more work you put in now, the easier it will be in the future. So if you want to improve your results and get better at what you do, focus on improving yourself every day for the next seven years or more.
✔ And don't stop, and don't look back!
John Wooden Quotes
Don't measure yourself by what you have accomplished, but by what you should have accomplished with your ability.
Success is peace of mind, which is a direct result of self-satisfaction in knowing you made the effort to become the best of which you are capable.
There are many things that are essential to arriving at true peace of mind, and one of the most important is faith, which cannot be acquired without prayer.
Be true to yourself, help others, make each day your masterpiece, make friendship a fine art, drink deeply from good books – especially the Bible, build a shelter against a rainy day, give thanks for your blessings and pray for guidance every day.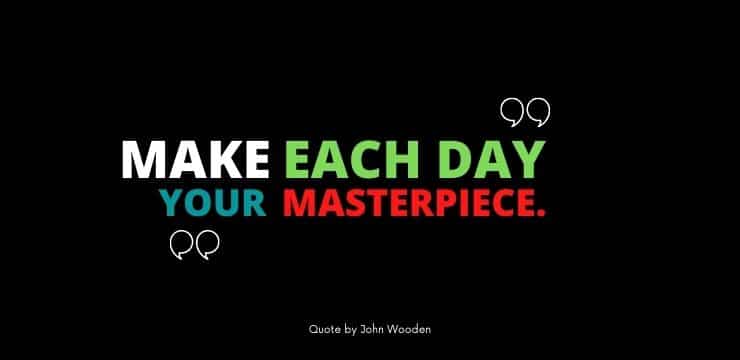 John Wooden Quotes
Adversity is the state in which man most easily becomes acquainted with himself, being especially free of admirers then.
Well, if you're true to yourself you're going to be true to everyone else.
Love is the most important thing in the world. Hate, we should remove from the dictionary.
I don't think I was a fine game coach. I'm trying to be honest. I think I was a good practice coach.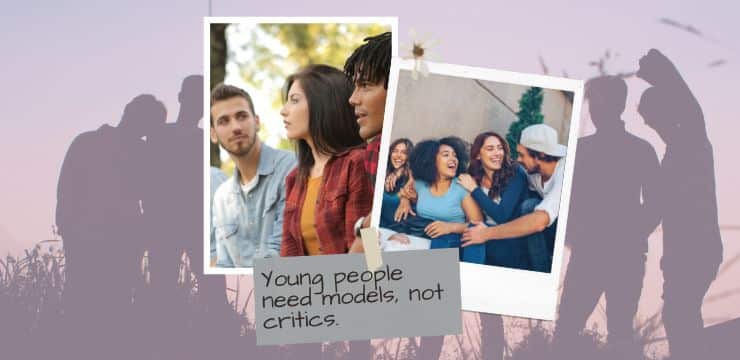 John Wooden Quotes
Failing to prepare is preparing to fail.
Defense is a definite part of the game, and a great part of defense is learning to play it without fouling.
The worst thing about new books is that they keep us from reading the old ones.
Don't let yesterday take up too much of today.
Timeless John Wooden Quotes And Sayings That Are Unforgettable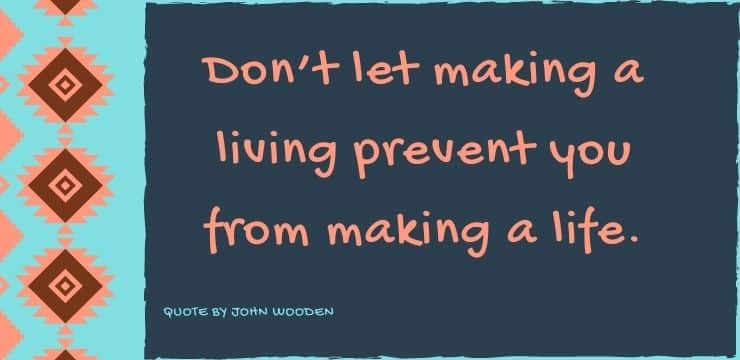 Many of us are working tirelessly to make ends meet. For some people, that means working full-time and still having time for a part-time job while joggling other personal and societal commitments.
Unfortunately, sometimes we become so busy and inundated with workloads, meetings, and deadlines leading to conflict with co-workers, friends, or our families.
▣ In our quest for success…
We forget to rest, enjoy life, and have time for other things we used to do.
John Wooden's quotes remind us that it is not wrong to work hard, but happiness, fulfillment, and enjoyment come from living life, having time for ourselves, doing what we love, and spending time with our families.
☑ People only live once.
Always remember that the joy and a true sense of fulfillment come from enjoying every time spent. Besides, If you do what you love, you will not feel that working is a chore but a path to success and enjoying your passion.
That is it! Our favorite John Wooden quotes to bless your day.
Related Posts You Might Like: