Maya Angelou is one of the most profound writers in American history. She has inspired generations with her work, which talks about overcoming life's obstacles and staying strong. Read the best Maya Angelou quotes of all time.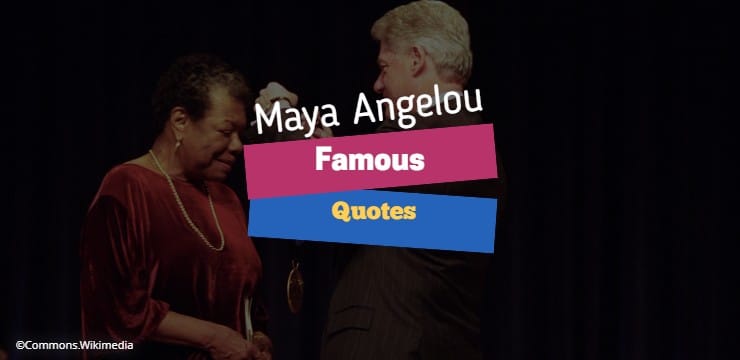 Maya Angelou received the National Medal of Arts and Humanities Award on 12/20/2000 from President Bill Clinton. Photo by Wikimedia Commons
What is Maya Angelou most famous for?
Maya Angelou is most famous for her autobiography I Know Why the Caged Bird Sings, which describes her experiences as a young black girl in the Jim Crow South.
The book was published in 1969 and became an instant bestseller. In addition, it has been translated into more than 30 languages and nominated for the National Book Award in 1970.
Maya Angelou has also written six other autobiographies, numerous articles, some books of poetry, and three books of essays, one of which received a nomination for a Pulitzer Prize.
She served as a professor at Wake Forest University, was a speaker at a presidential inauguration, and received numerous awards and honors for her literature and civil rights activism contributions.
What qualities made Maya Angelou a good leader?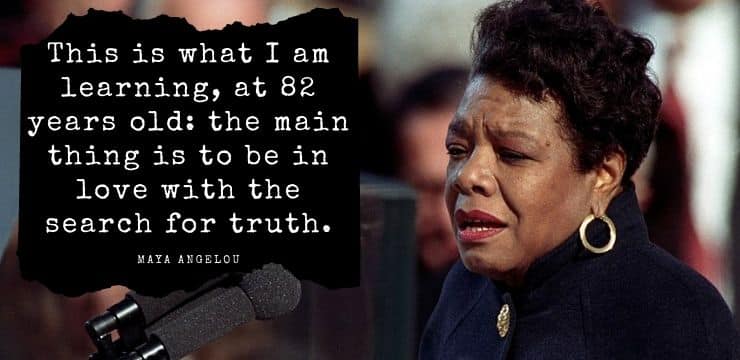 Many qualities made Maya Angelou a good leader. She was an eloquent speaker, a gifted writer, and a tireless advocate for civil rights. Angelou was also brilliant and fiercely independent.
Angelou was fearless in her personal life and career and possessed a rare combination of strength and compassion.
▣ Maya Angelou was unapologetically black.
Living at a time when the color of one's skin was a huge dividing line, she proudly represented her African heritage.
She faced racism, sexism, and bigotry without flinching and spoke out against injustice wherever she saw it happening. In addition, she refused to de-emphasize her culture to gain social or professional acceptance.
Her story is one of perseverance in facing adversity, making her an inspiring and empowering figure. She left an indelible mark on American society, and her example continues to inspire people worldwide.
What are 3 interesting facts about Maya Angelou?
Born Marguerite Annie Johnson, here are the top three interesting facts about Maya Angelou:
Dr. Angelou was the first black female streetcar conductor in San Francisco and the first black woman director in Hollywood.
Along with being an accomplished writer and poet, she was also an excellent spoken word artist; in 1971, she released her debut album titled "Miss Calypso," which achieved moderate success.
In 1993, she recited "On the Pulse of Morning" at US President Bill Clinton's inauguration–this made her the first female poet ever to read a poem at a presidential inauguration in history.
How did Maya Angelou change the world?
Through her writing, Maya Angelou helped people to speak their truths and be proud of their heritage and traditions. She also brought visibility to the experience of Black women in America, helping to break down barriers and stereotypes.
Angelou's involvement in the Civil Rights Movement began when she met Martin Luther King Jr. in the early 1960s has inspired women, particularly those who have overcome prejudice and discrimination.
Maya Angelou is one of the most inspiring women in history, and her work has helped countless people throughout America.
Best Maya Angelou Quotes
What is Maya Angelou's most famous quote?
"I've learned that people will forget what you said, people will forget what you did, but people will never forget how you made them feel."
List of other famous quotes by Maya Angelou.
If you are always trying to be normal you will never know how amazing you can be.
You alone are enough. You have nothing to prove to anybody.
This is what I am learning, at 82 years old: the main thing is to be in love with the search for truth.
To develop courage you have to start developing courage as you do any other muscle. You have to start with small things and build it up.
Nature has no mercy at all. Nature says, 'I'm going to snow. If you have on a bikini and no snowshoes, that's tough. I am going to snow anyway.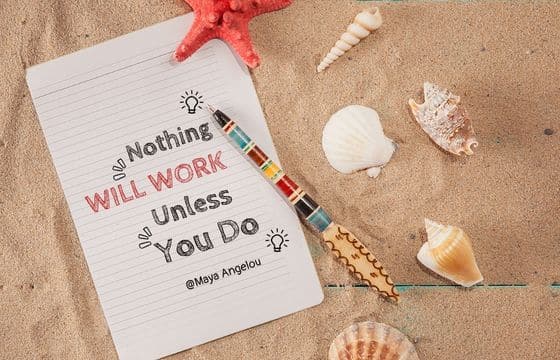 You can't use up creativity. The more you use, the more you have.
The thing to do, it seems to me, is to prepare yourself so you can be a rainbow in somebody else's cloud.
The idea is to write it so that people hear it and it slides through the brain and goes straight to the heart.
Bitterness is like cancer. It eats upon the host. But anger is like fire. It burns it all clean.
It's very important to know the neighbor next door and the people down the street and the people in another race.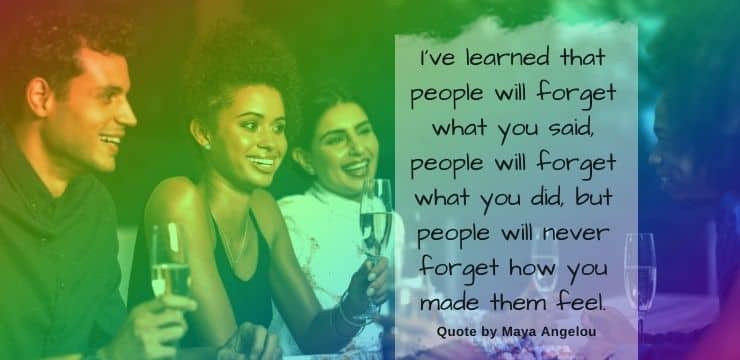 Quote by Maya Angelou
Maya Angelou Quotes – Table of Content
Maya Angelou Quotes About Women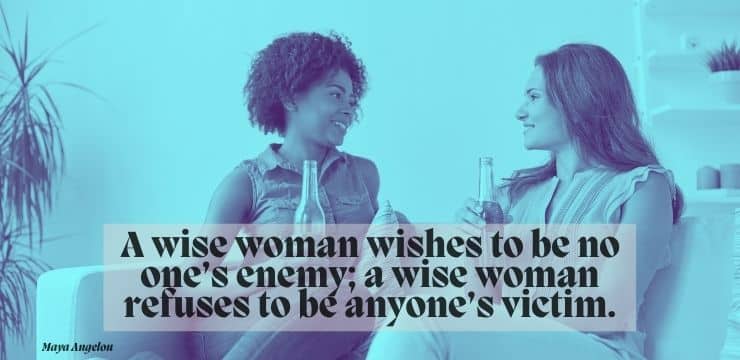 This short and intense quote by Maya Angelou gives us the boost of motivation we need to take on anything life throws at us, not just today but for the rest of our life.
While self-victimization can provide brief relief, it is not a place we want to stay for a long time; rather, it should be a moment to reflect, try to relax, breathe, and vow not to let the events of the past control your present and future.
The idea was not to divert our strength to become someone who incites adversaries and haters, to cause trouble but neither should we squander it by allowing others to trample all over us and take advantage for their selfish gains.
I love to see a young girl go out and grab the world by the lapels. Life's a bitch. You've got to go out and kick ass.
Stepping onto a brand-new path is difficult, but not more difficult than remaining in a situation, which is not nurturing to the whole woman.
Each time a woman stands up for herself, without knowing it possibly, without claiming it, she stands up for all women.
A woman's heart should be so hidden in God that a man has to seek Him just to find her.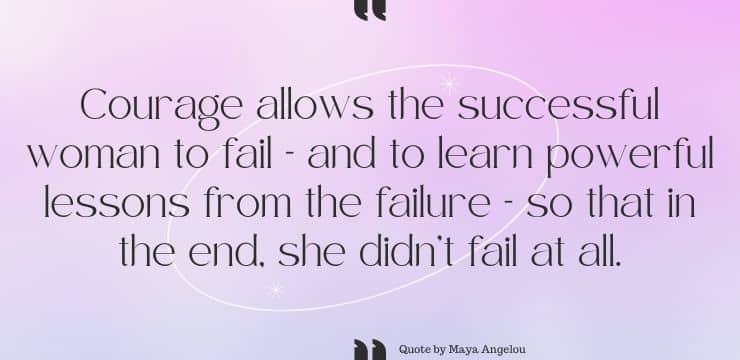 This quote by Maya Angelou speaks volumes about the power of failure.
Many people in this world fear failure and actively do everything to avoid making mistakes. However, we will never succeed if we don't experience a few failures and setbacks, as that's how most people learn.
When we fail, we realize we don't know everything yet; it's an opportunity for growth.
Even the most successful people today wouldn't have gotten to where they are if it weren't for the several rejections and setbacks they've experienced throughout their lives.
✔ It's easy to take our failure personally, given how uncomfortable and painful it can feel. However, the lessons we can learn from every failure will lead us to success.
A woman in harmony with her spirit is like a river flowing. She goes where she will without pretense and arrives at her destination prepared to be herself and only herself.
The sadness of the women's movement is that they don't allow the necessity of love. See, I don't personally trust any revolution where love is not allowed.
I am a woman phenomenally, phenomenal woman that is your grandmother, that is your mother, that is your sister, that is you and that is me.
All of my history as an African-American woman, as a Jewish woman, as a Muslim woman. I'm bringing everything I ever knew, and all the stories I've read – everything good, strong, kind and powerful. I bring it all with me into every situation, and I will not allow my life to be minimized by anybody's racism or sexism or ageism.
Maya Angelou Quotes About Love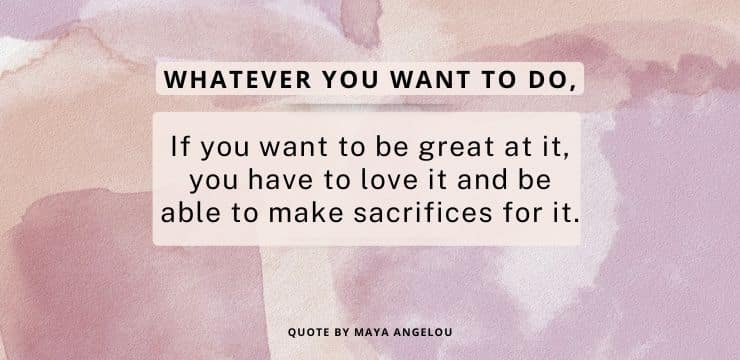 This inspirational quote by Maya Angelou speaks to me on a different level.
☑ True happiness, success, and love go hand in hand!
When you like something or someone, a hobby, a skill, or something you are really into, you want to be great.
There are no shortcuts.
It's all about committing and being willing to focus, consistent, persistent, and believing in oneself, ultimately leading one to excellence. We must take the first step and then another, working progress until we reach the level of greatness we desire.
To be great at anything in life, we should be ready and prepared to make sacrifices, without which we won't be able to be great at something.
What did Maya Angelou say about love?
I don't trust people who don't love themselves and tell me, 'I love you.' … There is an African saying which is: Be careful when a naked person offers you a shirt.
Love recognizes no barriers. It jumps hurdles, leaps fences, penetrates walls to arrive at its destination full of hope.
My great hope is to laugh as much as I cry; to get my work done and try to love somebody and have the courage to accept the love in return.
Have enough courage to trust love one more time and always one more time.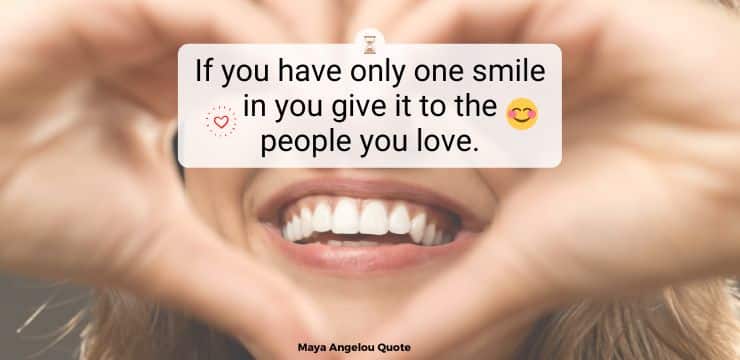 We all tend to want to please everyone in our lives.
Unfortunately, if you keep giving everyone access to your happiness and joy, you'll be drained and have no energy to love the people who matter most.
Even though we want to make an impact and impress every person we come across, we need to keep our circle close as those are the people we should trust, love, and treasure.
I've learned that life sometimes gives you a second chance.
We are here to love each other. That is why you are alive. That is what life is for.
To those who have given up on love: I say, "Trust life a little bit"
If I'm here, I'll be trying to be a better human being, a better writer, a better friend and a better beloved.
Maya Angelou Quotes About Life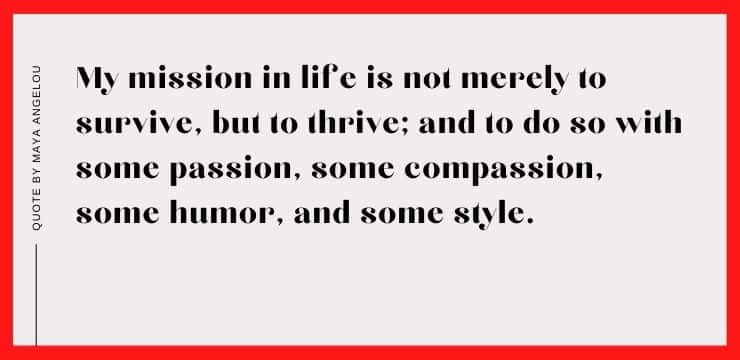 Maya Angelou's quote reminds us that there is always dawn after darkness. Furthermore, it served as a reminder to each one of us that hope rises with the light.
There's a lot more to life than just existing.
We must question whether we're genuinely embracing life to its fullest and continuously striving to succeed in anything we do.
▣ People must figure out their purpose in life because they can confidently conquer the world once they do.
We should not easily give up; instead, we must thrive and live life courageously and lovingly with whomever we meet and be inspirational for them to live life splendidly.
I work very hard, and I play very hard. I'm grateful for life. And I live it – I believe life loves the liver of it. I live it.
Life is not measured by the number of breaths you take but by the moments that take your breath away.
Determine to live life with flair and laughter.
My life has been one great big joke, a dance that's walked, a song that speaks, I laugh so hard I almost choke when I think about myself.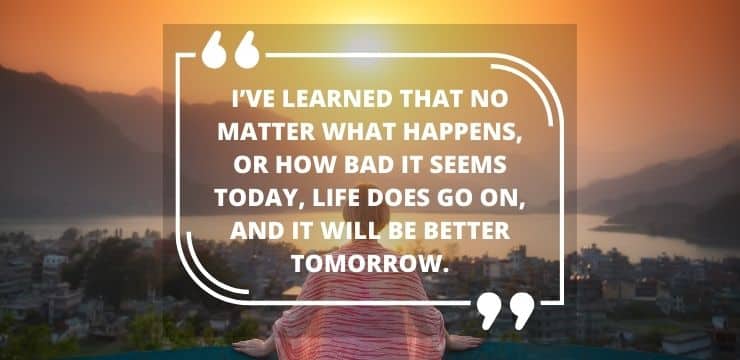 ✔ Rational people do not expect each day to be perfect as planned.
Sometimes uncertainties happen like family emergencies, work issues, health problems, and relationship issues that can affect our work to perform well.
If there are problems along the way and we can't achieve our dreams instantly, don't let yourself be stressed; we must not give up.
Remind yourselves that each day has enough trouble on its own, think positively, and have faith that you will have a better tomorrow. Also, don't dwell on the mistakes you've made in the past;
Do your best today to accomplish your plans leading to a better future.
Remember, if you can't achieve it today, keep on persevering. A constant single step each day will make multiple results tomorrow.
If you want what you're saying heard, then take your time and say it so that the listener will actually hear it. You might save somebody's life. Your own, first.
There is a very fine line between loving life and being greedy for it.
I've learned that making a "living" is not the same thing as making a "life".
At fifteen, life had taught me undeniably that surrender, in its place, was as honorable as resistance, especially if one had no choice.
Maya Angelou Quotes About Success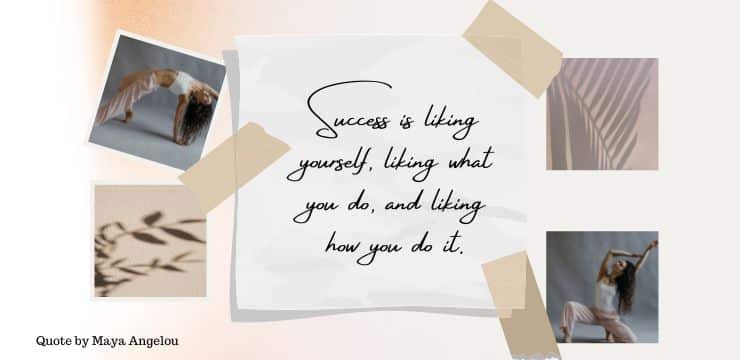 The secret of success isn't fame and fortune – it's pretty simple.
Many people make the mistake of working in a career and industry that they despise going to every day. But, unfortunately, they settle for it because of the pay and stability aspect that it offers them.
While that is the practical option for many, it won't help you succeed either. Instead, it would be best if you found something – maybe a particular passion or hobby you have – that you could turn into a full-time career.
When you find something you love working on, it barely feels like work to you…
☑ That's when you start thriving.
Of course, it will not be easy because the road to success never is.
However, if you don't see the purpose behind what you're doing and you're simply dragging yourself to work, you'll never reach the peak of success.
That is basically what this quote by Maya Angelou is telling us. So find what you love, and that'll take you places.
What did Maya Angelou say about success?
If you find it in your heart to care for somebody else, you will have succeeded.
The desire to reach for the stars is ambitious. The desire to reach hearts is wise.
I've learned that whenever I decide something with an open heart, I usually make the right decision.
You can only become truly accomplished at something you love. Don't make money your goal. Instead, pursue the things you love doing and then do them so well that people can't take their eyes off of you.
Maya Angelou Quotes About Change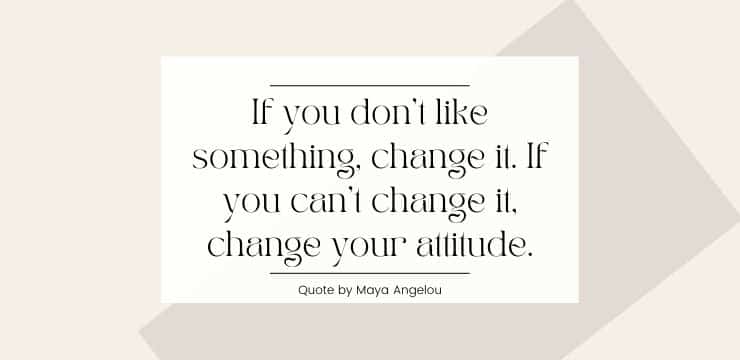 After all, we live in a time when stress is practically around every turn we take.
We should take action and stop complaining.
If you can't change, modify or alter it, the world may tell us that we need to adjust our perspective. Because if we don't change our perspective, it will continue to upset us indefinitely.
It's pointless to spend the rest of our life disappointed, furious, bugged and annoyed when we can easily change our mindset. Perhaps, it's way better to find a silver lining, pick a positive and find a way to learn to live peacefully with it.
Sometimes, we have to be content with life even though some things remain unchanged, and there is little to nothing we can do about it!
What did Maya Angelou say about change?
I can be changed by what happens to me. But I refuse to be reduced by it.
What you're supposed to do when you don't like a thing is change it. If you can't change it, change the way you think about it. Don't complain.
Make every effort to change things you do not like. If you cannot make a change, change the way you have been thinking. You might find a new solution.
We delight in the beauty of the butterfly, but rarely admit the changes it has gone through to achieve that beauty.
Inspirational Quotes by Maya Angelou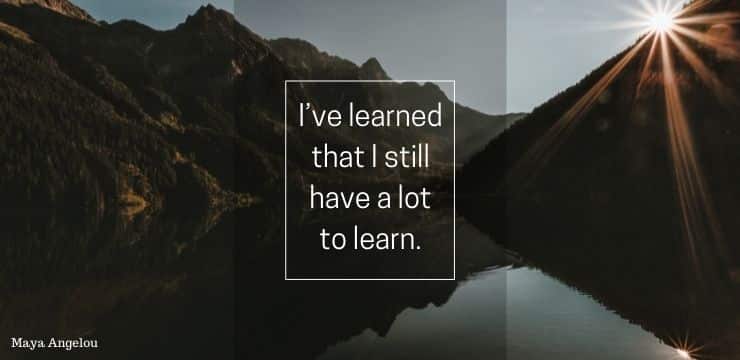 We may think that we're the best person in the room!
And maybe we're, but for the moment! In this world, we can never and will never be the best person; there will always be another better person who comes along – that's what this inspirational quote by Maya Angelou tells us.
Fortunately, we continuously grow and become better when we realize that we still have so much to learn and a long way to go.
It's imperative to your personal development to never see yourself as if you already know everything because no person in this world knows everything thoroughly.
We should be humble enough to accept our flaws and imperfects, even when it comes to our knowledge.
▣ We all have a long way to go, and that's okay.
So for your betterment, the best thing you can do for yourself is accepting you still have a lot to learn in life with every experience and encounter you have.
Life loves to be taken by the lapel and told, 'I'm with you kid. Let's go'.
Open your eyes to the beauty around you, open your mind to the wonders of life, open your heart to those who love you, and always be true to yourself.
A man or woman who sees other people as whole and prepared and accords them respect and the same rights has arranged his or her own allies.
You may encounter many defeats, but you must not be defeated. In fact, it may be necessary to encounter the defeats, so you can know who you are, what you can rise from, how you can still come out of it.
Maya Angelou Quotes About Courage And Strength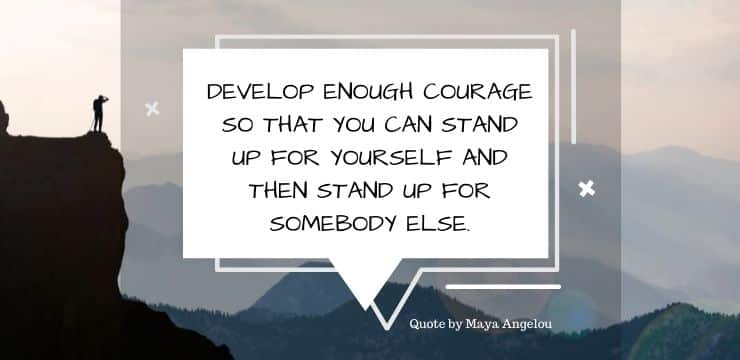 Courage is an essential component of existence.
But first, we need to stand up for ourselves so that later on, we can stand up for somebody else.
There's not much else you need if you have the confidence to do what makes you happy, even if it isn't necessarily what other people believe is best for you.
Being courageous is essential to being confident, and it will help you grow as a person and the bravery to speak up for yourself and others.
After all, you can't build confidence if you're constantly afraid. You'll need the guts to constructively face life's positive and negative aspects.
What did Maya Angelou say about courage?
One isn't necessarily born with courage, but one is born with potential. Without courage, we cannot practice any other virtue with consistency. We can't be kind, true, merciful, generous, or honest.
Courage – you develop courage by doing small things like just as if you wouldn't want to pick up a 100-pound weight without preparing yourself.
When you know you are of worth — not asking it but knowing it — you walk into a room with a particular power.
Courage is the most important of all the virtues because, without courage, you can't practice any other virtue consistently.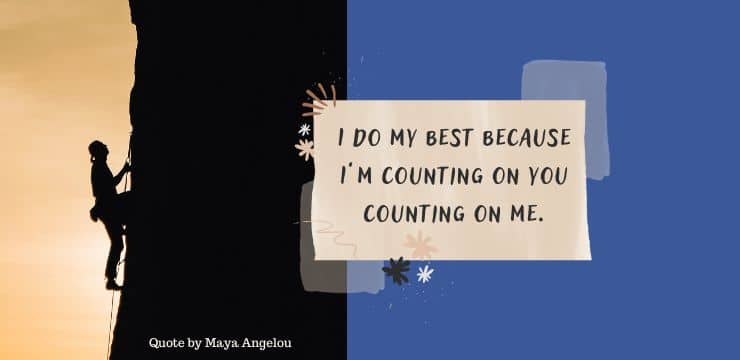 As we all know, no man is an island.
We need other people because we can't do everything alone, and some people are counting on us, especially our dear loved ones, family, and friends.
They are counting on us in terms of financial aspects and to motivate and inspire them in life. In the same way, we are also dependent on them.
We, the human species, tend to perform at our very best, and the result of our work is also at its best when we feel loved and appreciated, especially by those we love the most.
The general rule of thumb is always to be good and respectful to everyone, regardless of their social and economic status, so that that blessing will follow you on your journey in this life.
You can't forgive without loving. And I don't mean sentimentality. I don't mean much. I mean having enough courage to stand up and say, 'I forgive. I'm finished with it.
History, despite its wrenching pain, cannot be unlived, but if faced with courage, need not be lived again.
It is time for parents to teach young people early on that in diversity there is beauty and there is strength.
The children to whom we read simple stories may or may not show gratitude, but each boon we give strengthens the pillars of the world.
Maya Angelou Quotes On Friendship And Family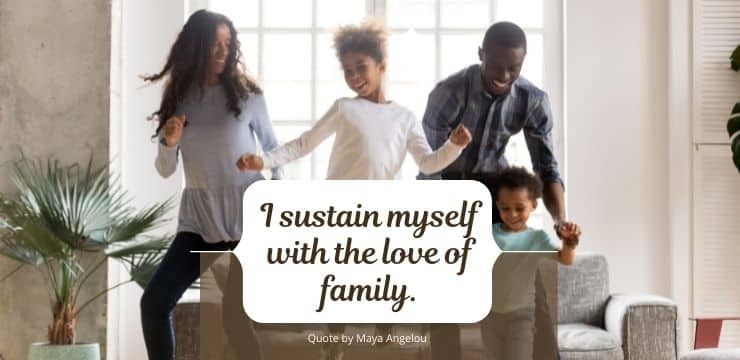 Our family is the source of inspiration in life.
When we get filled with the joy and love from our spouse, sons, daughters, and other family members each day, our day will always be complete making our responsibilities and daily activities easier and lighter.
Their selfless love inspires, encourages, and uplifts us to become bolder, stronger, and willing to face all our fears and uncertainties in life.
That love gives us inner strength that will sustain us through every challenge and problem that will come along the way.
What did Maya Angelou say about family?
If you're in love with your children, you're in their lives all the time. Leave them alone. Let them grow and make some mistakes.
I do hope that young men and women will start to think for themselves and start to take responsibility for their own thoughts.
It is imperative that young white men and women study the black American history. It is imperative that blacks and whites study the Asian American history.
As far as I knew white women were never lonely, except in books. White men adored them, Black men desired them and Black women worked for them.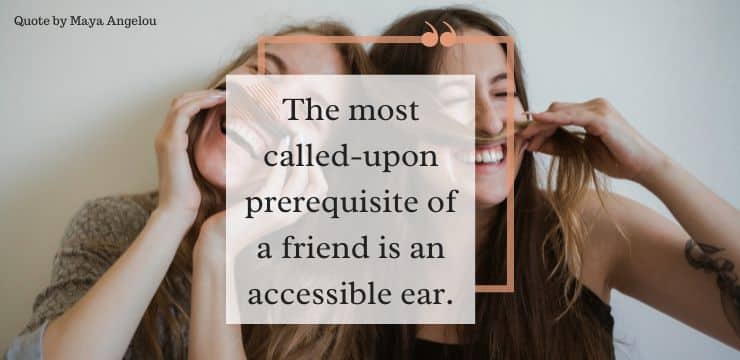 An essential part of being a good friend is being a good listener.
That means you don't just listen for its sake or to respond appropriately, but you listen because you genuinely care.
Listening is a rare quality these days, especially with how easy it has become to get distracted by our smart gadgets and social media.
This quote by Maya Angelou reminds us that to be considered a good friend, we first need to be a good listener. When someone opens up about a problem or asks for advice, be genuinely invested and interested in the conversation.
As their friend, you owe them to acknowledge their feelings and everything they say. Even if it's difficult, being a good friend requires mindfully listening to what they say.
The love of the family, the love of one person can heal. It heals the scars left by a larger society. A massive, powerful society.
Home is a refuge not only from the world, but a refuge from my worries, my troubles, my concerns.
I've learned that regardless of your relationship with your parents, you'll miss them when they're gone from your life.
My pride had been starched by a family who assumed unlimited authority in its own affairs.
Motivational Quotes by Maya Angelou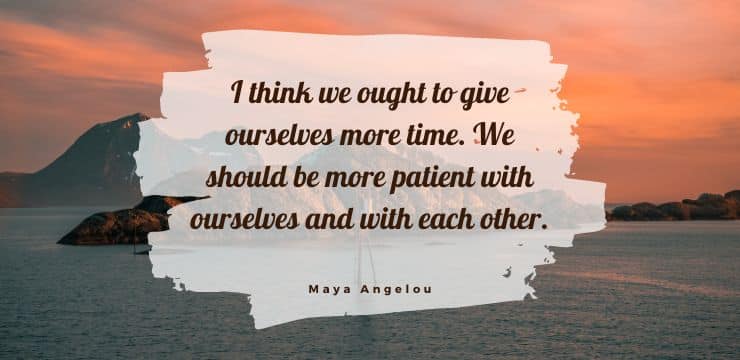 Time is a limited resource, and we can't recover or return to past times.
That's why it is important to value our time daily, every hour, and every minute.
We live in a world where everyone is in a hurry and wants everything to be instant; we've become impatient in doing our work and reaching our dreams.
☑ We want to become instant millionaires!
When we pray for something, we want it to have answers immediately.
All things on earth, including us, have their seasons – a time to smile, cry, face our problems, and motivate ourselves to achieve our life goals. We need to give enough time for ourselves to practice, grow, develop, and mature even if we are not perfect.
If we give more time to ourselves and be more patient with ourselves and others, we soon understand that eventually, everything happens in our lives in due season.
We can be better, we can be wiser, we can be more kind. Yes we have to change. We have to grow up and stop acting like 10 years old. Yes there is much to do, much to see, much to go into.
The need for change bulldozed a road down the center of my mind.
Do the best you can until you know better. Then when you know better, do better.
I've learned that every day you should reach out and touch someone. People love a warm hug, or just a friendly pat on the back.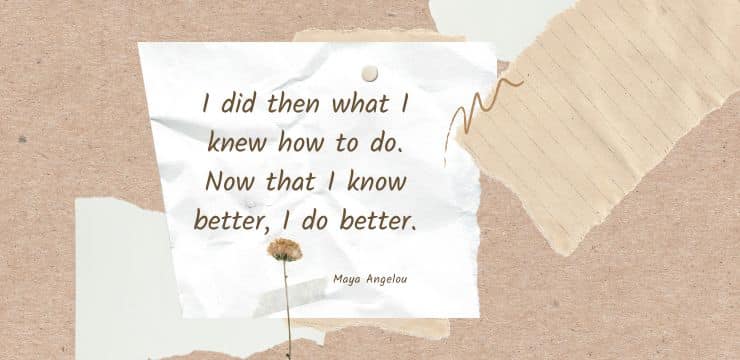 I encourage courtesy. To accept nothing less than courtesy, and to give nothing less than courtesy.
There is no greater agony than bearing an untold story inside you.
It's very hard for adults to maintain respect and romance so that a love affair can be sustained over years.
My work is to be honest. My work is to try to think clearly, then have the courage to make sure that what I say is the truth.
Other Famous Maya Angelou Quotes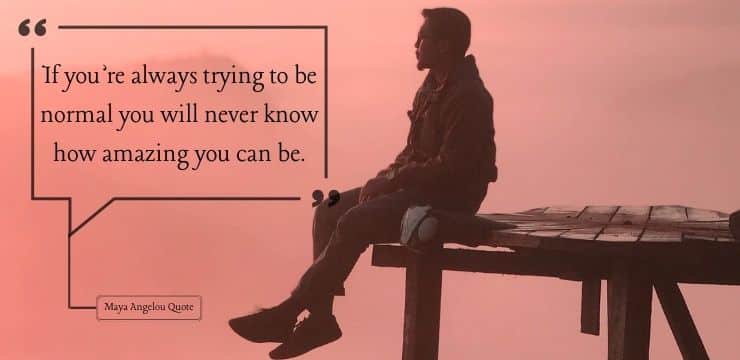 Instead of trying so hard to blend in, rather be yourself.
When we try too hard to fit in, we'd never stand out from a crowd – we'd be just like everyone else. It's better to embrace our little quirks, flaws, and awkwardness as they make us who we are.
We are remarkable, unique, and extraordinary!
Instead of trying so hard to pretend to be someone you're not, accept yourself, let go of putting up a facade all the time and learn to reveal to others your true nature.
Trust us when we say that it'll be admiringly rejuvenating.
Never make someone a priority when all you are to them is an option.
The quality of strength lined with tenderness is an unbeatable combination, as are intelligence and necessity when unblunted by formal education.
You may shoot me with your words, you may cut me with your eyes, you may kill me with your hatefulness, but still, like air, I'll rise!
I've learned that you shouldn't go through life with a catcher's mitt on both hands; you need to be able to throw something back.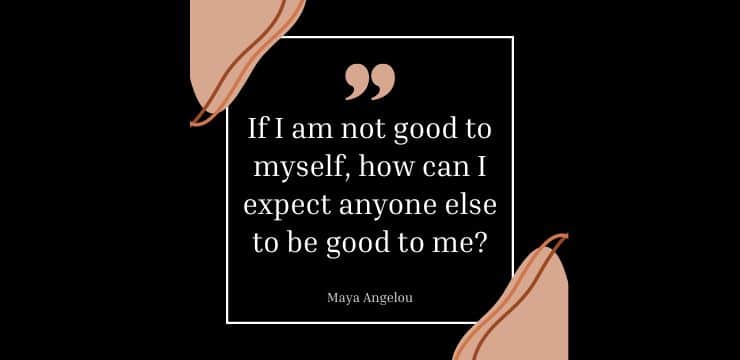 You might've heard the saying to love yourself before letting others love you, and this quote by Maya Angelou implies the same thing.
You can't expect goodness and kindness from others when you maltreat yourself. So, although it's easier said than done, you must stop being harsh to yourself.
All you have is yourself, which is why you should treat yourself with more compassion. If you wouldn't treat a friend so harshly, you shouldn't be doing it to yourself, either.
The key to all healthy and thriving relationships comes from within, and until you learn and accept that, people won't treat you with goodness. Therefore, practicing your relationship with yourself first before anything else is essential.
If you're good to yourself and practice positive self-talk, that same goodness should naturally come from others.
Seek patience and passion in equal amounts. Patience alone will not build the temple. Passion alone will destroy its walls.
I respect myself and insist upon it from everybody. And because I do it, I then respect everybody, too.
Words mean more than what is set down on paper. It takes the human voice to infuse them with deeper meaning.
You are the sum total of everything you've ever seen, heard, eaten, smelled, been told, forgot – it's all there. Everything influences each of us, and because of that I try to make sure that my experiences are positive.
Maya Angelou Quotes To Live By And Celebrate Life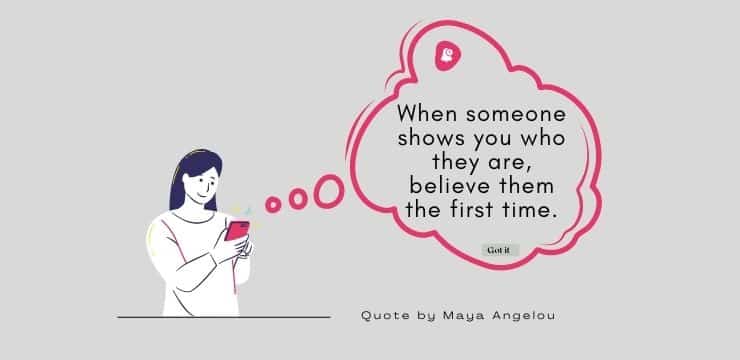 Sometimes, we try to make someone who they're not because of the goodness of our hearts. Some people will show us a bunch of red flags, but we ignore that because we like them or care about them so much.
We must stop ignoring the ominous signs about someone just because we want them to stay or want things to work out.
The minute someone shows us who they are initially, better to believe them and stop trying to love them for their potential.
It's not your responsibility to change or save someone.
They've shown us who they are the first time, and we're only fooling ourselves by trying to believe otherwise.
We must learn not to hold on to blind optimism for the possibility that they'll change their ways or become a better friend, partner, or person for us.
There you have it; the greatest Maya Angelou quotes of all time!
I hope they've made you realize that you are valuable because you are upbeat and make people feel great. May Your gentle ways and kindness speak volumes to the hearts of many people and make the world a better place.
Whenever you are having a hard day, remember the time that someone made you feel uplifted. Think of the positive memory. Let it be a source of joy and strength for you to keep going.
You do make a positive difference.
Let it light your way to continue using your influence to make others feel empowered to believe they can make it through the hard times.
Let's forever be grateful, joyful, and care about others people's feelings because each one of us matters.
Related Posts You Might Like: