Nicki Minaj is known for her colorful persona, unique fashion sense, candid interviews, and being unafraid to speak her mind. And because of that, these are the most famous Nicki Minaj quotes to cheer someone up today.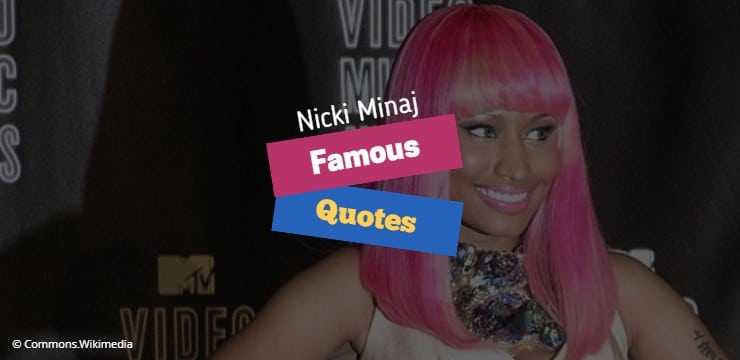 September 2010, Nicki Minaj Poses for a photo shoot at MTV Video Music Awards. Photo by
Philip Nelson
© Wikimedia Commons. Editor's note: Resized image.
Why is Nicki Minaj the Queen of Rap?
Nowadays, many people refer to Nicki Minaj as the Queen of rap because she is one of the best-selling female rappers in the game. Most people are obsessed with her, so it's no surprise that she has a huge fan base and that her music is so popular.
☑ Nicki Minaj is known chiefly for her music and her unique style.
She has released four albums that have been well-received by fans and critics alike.
Quote by Nicki Minaj
But aside from her musical talents, Nicki Minaj's real name is Onika Tanya Maraj-Petty, and she is well known for her outlandish fashion sense and makeup choices.
Nicki Minaj loves to experiment with different looks, and her outspoken personality has helped her become one of the most instantly recognizable celebrities in the world today.
Whether you love or hate her, there's no denying that she is a genuinely original force to be reckoned with within and outside the music and entertainment industry.
Quote from Nicki Minaj "Your Love" Lyrics
What is Nicki Minaj's best album?
Nicki Minaj's best-selling album to date is her debut album, "Pink Friday," which was released in November 2010 and quickly rose to the top of the charts.
It remained in the top ten number spot on the Billboard 200 by a female rap album for fourteen weeks and was eventually certified triple Platinum. Since its release, the Pink Friday album has sold over 3 million copies in the United States alone.
This album features 13 songs on its Standard edition and twelve bonus tracks, all in all, including the first eight singles she used to promote the album.
Notable tracks include "Moment 4 Life" featuring Drake, "Super Bass" bonus track, "Roman's Revenge" featuring Eminem, "Your Love," "Fly" featuring Rihanna, etc.
Nicki Minaj has also recorded three mixtapes and three other albums, and it's believed her fourth album is in the works.
Nicki Minaj Your Love (Song) Quote
Are all Nicki Minaj albums platinum?
Nicki Minaj has had an incredible career thus far, and her albums have been just as impressive. All four of her albums have been certified Platinum by the Recording Industry Association of America (RIAA).
Her studio albums – includes Pink Friday (Released in 2010; is 3× Platinum), Pink Friday: Roman Reloaded (Released in 2012; is 2× Platinum), The Pinkprint (Released in 2014; is 2× Platinum), and Queen (Released in 2018; is Platinum certified).
☑ That shows how popular and widespread appeal her music has become.
 ▣ Nicki Minaj has also achieved commercial success with her solo singles.
Many of Nick Minaj's singles have also gone Platinum. For example, "Super Bass" (2010) is Diamond certified, "Starships" (2012) is 6× Platinum, and "Anaconda" (2014) is 2× Platinum, while "Pound the Alarm" (2012) is certified Platinum.
Has Nicki Minaj ever won a Grammy Award?
Nicki Minaj has received ten nominations, but as of September 2022, she has yet to win any Grammy awards. These nominations were from the 53rd, 54th, 57th, and 58th annual Grammy awards.
Her most recent nomination was in 2016 for her album "The Pinkprint," nominated for the Best Rap Album category, and her song "Truffle Butter," featuring Drake and Lil Wayne, nominated for the Best Rap Performance.
Despite that, Nicki Minaj is a critically-acclaimed artist with many accolades and musical awards we can't possibly list here.
Quote from Nicki Minaj "Super Bass" Lyrics
Did Nicki Minaj act in Barbershop?
Nicki Minaj is one of the actors in the comedy film "Barbershop: The Next Cut" alongside Ice Cube, Regina Hall, Anthony Anderson, Cedric the Entertainer, and more. The movie, rated PG-13, was released in April 2016.
"Barbershop: The Next Cut," well known as Barbershop 3, is the third installment in the Barbershop movie franchise.
☑ Nicki Minaj did a superb job playing her role in Barbershop 3.
Nicki Minaj plays the character role of "Draya" in this comedy/drama about a barbershop business with both male barbers and sassy female hairdressers trying to keep their community together in the city of Chicago.
Barbershop 3 tackles the challenges of modern women and men, gang violence, mass incarceration, police brutality, racism, and other issues that the African American community faces in America today.
What is Nicki Minaj's net worth?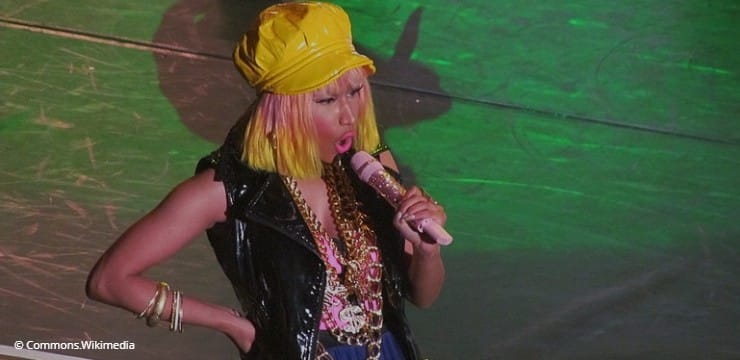 June 2012, London, England – Nicki Minaj performed on stage during her Pink Friday Tour at the HMV Hammersmith Apollo. Photo by
Rory
from Glasgow, U.K. © Wikimedia Commons. Editor's note: Resized image.
As of September 2022, Nicki Minaj has accumulated a net worth of $100 million, making her one of the richest female rappers in the world.
Most of her wealth comes from sales and music streaming, and she has starred in a few movies and made lucrative endorsement deals with major brands.
Nicki Minaj also launched her fragrance line in 2012.
Her debut perfume scent, Pink Friday, was named after her first album, and her ninth fragrance is named Queen after her fourth album. Her online shop also sells different items of clothing.
Best Nicki Minaj Quotes
What is Nicki Minaj's quote about life?
"You like me, you don't like me, you love me, you hate me. I am gonna be me, but one thing I have to back it up is skills."
List of other famous quotes by Nicki Minaj.
My whole life is about being Nicki Minaj now. It's a never-ending saga.
The camera's my worst enemy and my best friend. It's the way I convey my emotions to the world without saying a word, so I use it.
Respect your haters. They're the only ones who think you're better than them.
True confidence leaves no room for jealousy. When you know you are great, you have no need to hate.
Now I'm just a little more ladylike and fearless. You should never feel afraid to become a piece of art. It's exhilarating.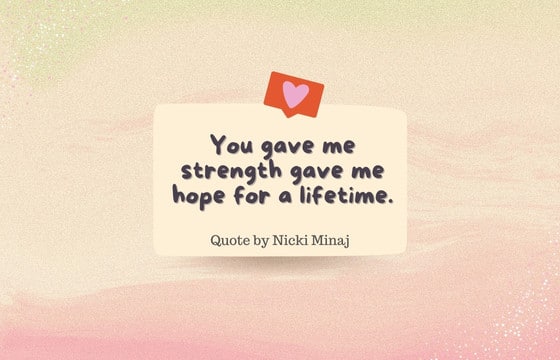 Good advice I always hated, but lookin back it made me greater.
Life is a prize, but to live doesn't mean you're alive.
I think of myself as a woman who wants other women to be bosses and to be strong and to be go-getters.
You can't say, "Oh, you know what? I'm not feeling good today." No. No one's trying to hear that.
I don't agree that everyone should agree with everyone's lifestyle. I think that some people aren't going to agree, but I think that when you're mean and when you ridicule people it's a sign of your own insecurities.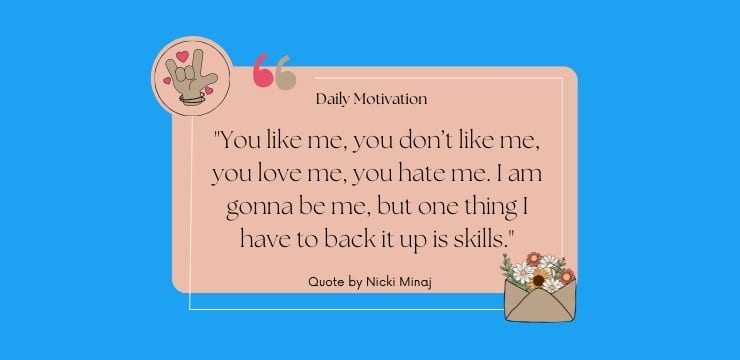 Quote by Nicki Minaj
List of Top Nicki Minaj Quotes – Table of Content
Nicki Minaj Quotes About Love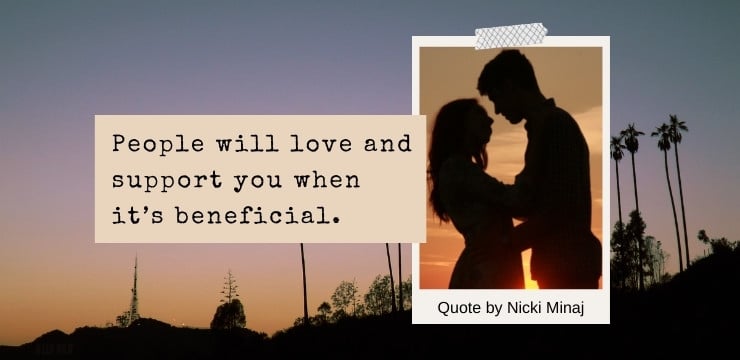 People crave the feeling of love and connection.
However, we must keep something in mind. Human relationships are also, in most parts, transactional; If someone does something for us, we might do something for them in return so that the relationship continues to work.
☑ That is not necessarily a bad thing.
 ▣ On the contrary, it's one of the intricacies of human nature.
✔ The transactional nature may be any of the five levels of human needs.
Love and support often go hand-in-hand. We love someone because we want to support them, and we want to assist them because we love them.
It feels good to know that we can help the people we care about, which can benefit both parties involved. A sense of satisfaction comes from being able to make somebody else's life just a little bit better.
One of the best things about being in a relationship with someone is when we know that we can rely on each other and offer emotional and practical support when needed. It creates a strong bond between us that is reassuring and comforting.
☑ We need to remember that we are our own best supporters.
In the back of our minds, as they say, this quote from Nicki Minaj reminds us that we must always be careful not to be used by people who might exploit our trust and take advantage of us for their selfish gain.
We must be vigilant and aware of those seeking to take advantage of our good nature while, at the same time, we must also remember that not everyone is out to get us and that most people are just as trustworthy as we are.
Nicki Minaj Quotes
Strange how someone you once loved can become just another person you once knew.
You wanna know what scares people? Success. When you don't make moves and you don't climb up the ladder, everybody loves you because you're not competition.
Maybe I blamed you for everything, that was my mistake. In hindsight I loved your rawness and I loved your edge. 'Cause it was you who talked me down from jumping off the ledge.
I don't know if the secret of life is to find love, but I do think one of the secrets of life is to embody love.
Love it or hate it, this is me, this is who I am!
I don't have to do things just to please people. It's okay to do what I love because what I love, my fans love. And they're really the only ones that should matter.
Who doesn't love Enya? Whenever I'm in a trying time, she is the calm in the middle of the storm. If I put her on, I'll be in this crazy peaceful state. I love her style. And her harmonies are freaking genius.
I hate formal stuff. I love looking like a doll and all that stuff and playing dress-up, but when I'm home, sweat pants, t-shirt. When I'm in the studio, sweat pants, t-shirt.
Nicki Minaj Quotes About Life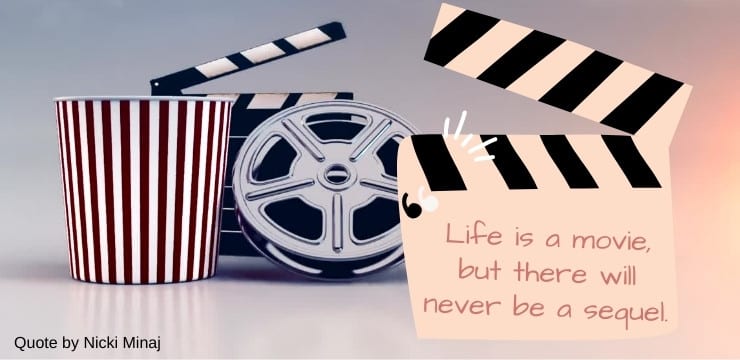 We are protagonists of our own lives, and we cannot forget that we only have one chance to live, and unfortunately, there will be no second parts or sequels.
☑ Day by day, we are filming the scenes of our life.
It's up to each of us to be creative. We must make the scenes of our lives as exciting and engaging as possible. No one else can do it for us.
Maybe we can't all be the heroes or heroines of our "movie tales," but that doesn't mean we can't add a little extra fun to the life we dream of and desire.
☑ Who knows, maybe one day we'll even get to tell our story to someone else.
This phrase by Nicki Minaj reminds us that time is running, whether or not we are aware of it. We are in the world for a limited time, and our life comes with only one guarantee that one day it will end.
We should write our own stories and be the star of our show.
From a purely encouraging and positive perspective, we should make our lives the best movie. By doing what we love and enjoying the moments, we can make our life a masterpiece filled with great adventure, excitement, and joy.
Nicki Minaj Quotes
I believe that life is a prize, but to live doesn't mean you're alive.
My happiness doesn't come from money or fame. My happiness comes from seeing life without struggle.
I went through a lot of bullying early on. Girls made my life a living hell. We had come to America from a different country. My brother and I had accents. It was very tough.
Always tell someone how you feel because opportunities are lost in the blink of an eye, but regrets can last for a lifetime.
May the Lord protect me as the world gets hectic. My voice projected, my life reflected.
I, I'm not living life. I'm not living right. I'm not living if you're not by my side.
Only one chance, one bullet in the gun. This is my life and I only got one, yeah. The safety's off and I put on her. Oh stick 'em up, stick 'em up. Ready to shoot.
I feel like my entire career and life, I've been judged by people who did not really know me. I definitely think that they probably were right to assume what they had assumed about me, because there was such little to go on out there.
Nicki Minaj Quotes About Haters
Nicki Minaj Quotes
All these haters mad because I'm so established.
Haters, I'm not your enemy I'm your hero. Cheer up, you should be happy I'm here.
Shoutout to my haters, sorry that you couldn't phase me.
Still I rise Still I fight Still I might crack a smile Keep my eyes on the prize See my haters tell em hi.
Other Famous Nicki Minaj Inspirational Quotes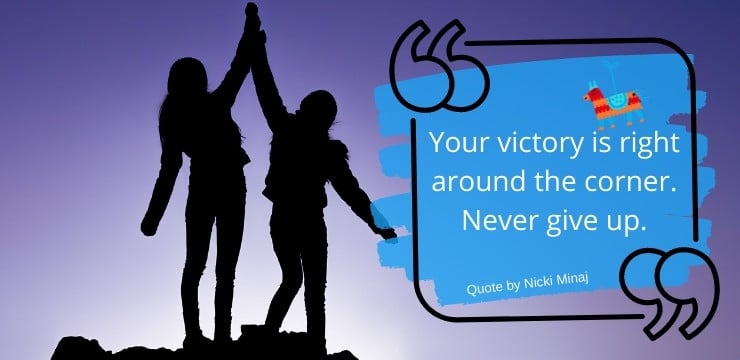 Your victory is right around the corner. "Never give up."
☑ Nobody can beat a person who never gives up.
Success is only around the corner if we have persistence and firm resolve. The rest of the world may scream, "give up," but our optimism urges, "try again."
We all know giving up is easy. Of course, sometimes quitting is the right choice, but when it comes to achieving success, let's not give up just yet!
☑ Anything is possible if we set our minds to it.
If we refuse to quit, some days will be challenging, and more often than once, we will be on the brink of giving up, but if we push through and stay focused on our goals, eventually, we'll achieve them, one by one.
☑ We were created to win, not to lose.
If we're weary of failing after failing, we must alter the plan, not our aspirations.
We must try until the very last second. Maintaining a forward-leaning, positive mentality and attitude while we work toward our objective will propel anyone toward success, irrespective of the obstacles, challenges, and hurdles they may face.
☑ Nothing beats perseverance and determination.
Always believe that something great will happen no matter how difficult the circumstances. Therefore, it's better to continue with our goals without pausing since we never know if the next effort will deliver the victory we want.
When everything is well, we'll reflect on the challenging moment in our lives and be grateful we are victorious because we never gave up but kept going forward.
Nicki Minaj Quotes
You can be the king, but watch the queen conquer.
Take me or leave me, I'll never be perfect. Believe me I'm worth it.
Female rappers get it the hardest. You have to be a girl, yet you have to be just as hard as the guys. I think some female rappers get scared out of the business before they can make it.
I don't really like the sound of that, "cause that sounds like a temper tantrum." I'm just very black and white when it comes to my business.
I've always had this female-empowerment thing in the back of my mind—because I wanted my mother to be stronger, and she couldn't be. I thought, 'If I'm successful, I can change her life.
Sometimes you don't realize how far you've gotten until you look around at the people who are still trailing far behind you.
I'm a role model now. I didn't know I was gonna have 13-year-old fans, so I've tried to change a few things here and there. But I also know that the girls don't want me to be Miley Cyrus, either.
My advice to women in general—even if you're doing a nine-to-five job, treat yourself like a boss. Not arrogant, but be sure of what you want and don't allow people to run anything for you without your knowledge.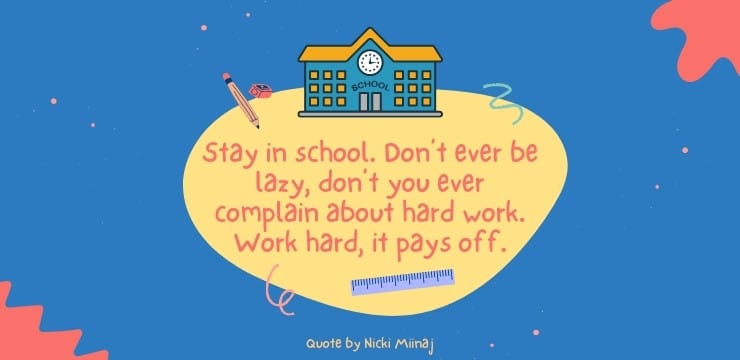 Nicki Minaj Quotes
She's my queen and I ain't even British, she's the only reason that I went to school and I finished.
Maybe your weird is my normal. Who's to say?
Beauty might bring happiness, but happiness always brings beauty.
Being honest, if I had a daughter I wouldn't want her listening to a Nicki Minaj CD until she was a certain age. Even when I meet my fans and they tell me they are 12, I cringe a little. I always say, 'Listen. I don't want you saying the bad words, put school first.
If I'm fake I ain't notice, "cause my money ain't."
My goal the whole time has been for people to see me as a stand-alone artist. I came out with Young Money, the biggest hip-hop label in the world at the time. And then it was, "How do I branch away from Lil Wayne?"
I know right now she has no idea who I am, but I'd like to collaborate with Enya one day. Of course I'd love to work with Jay-Z, maybe even Phil Collins. I love his voice.
My rule is, whatever you were calling me four years ago is what you should be calling me now, because I don't like it when my family or close friends call me Nicki Minaj. To me I'm not Nicki Minaj when I'm with them.
Nicki Minaj Quotes
I end up touching a lot more people who might never have paid much attention to a female rapper.
People always want to talk about who I was, but I've always been singing, always been experimenting with pop music.
It's not hard to get your way when it's your way or the highway. People either follow suit or they're not around.
You don't have to feel the need to put somebody down to make yourself feel better.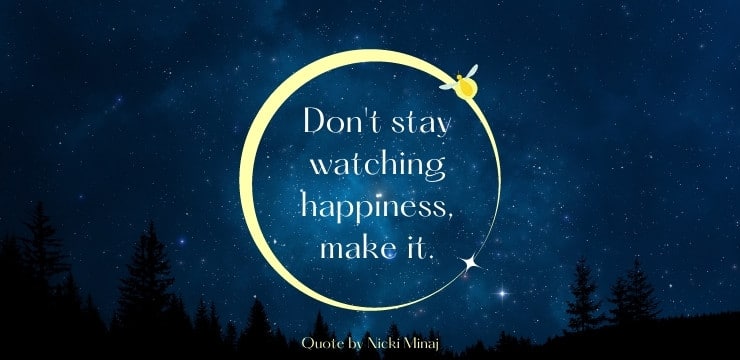 Nicki Minaj Quotes
Dear God, I am only what you made me and I appreciate everything that you gave me, but like, I don't want to do it any more, sort of lost sight of what I'm doing it for.
Everything I've been through could've killed me. That's why it really ain't nothing you could tell me.
I don't want children cursing. I'm very strict on my nieces and my little brother. They have to listen to clean versions of music. Even my music.
Like, I mean I don't even know why you girls bother at this point. Like, give it up. It's me. I win and you lose.
Nicki Minaj Quotes
I'm thinking of a legacy that I can be proud of and wealth that my grandchildren can use to go to college. So world domination – in terms of providing for my family.
Everyone knows I'm a lash girl by now. When I don't have my lashes, I feel naked.
I'm very proud of my team, and the way they stood behind me – and I'm very happy to show my female fans in that audience, and even my gay fans in that audience.
My goal, in the beginning, was to buy my mother a house. Now I realize, Okay, if I really focus and become a key player in business, then I can build an empire.
Conclusion: Famous Nicki Minaj Quotes And Sayings About Success, Love, And Life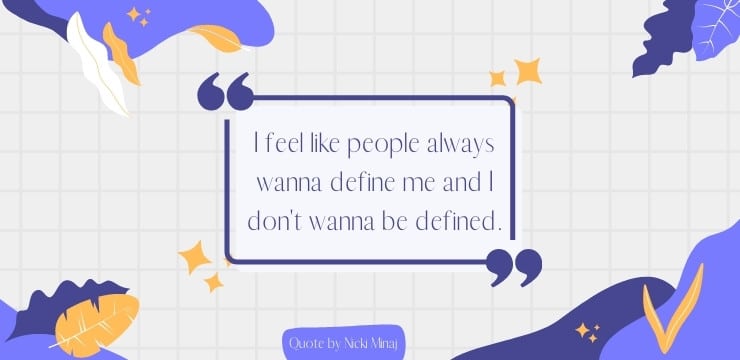 Despite being told by many people that she couldn't make it in the music industry, Nicki Minaj has achieved massive success. Her success story proves that anything is possible if we set our minds to it and work hard.
☑ Nicki Minaj is also a great motivator.
In a world where so many people are quick to give up, it's refreshing to see someone become a symbol of strength, resilience, and hope for many young boys and girls to model after to achieve success.
✔ We hope you found these Nicki Minaj quotes funny, uplifting, and inspiring.
Quote from Nicki Minaj
Related Posts You Might Like: