Matthew McConaughey is a great actor who has inspired people with his work in both television and film. These are some of the best Matthew McConaughey quotes to motivate us today to be our best selves and pursue our passions.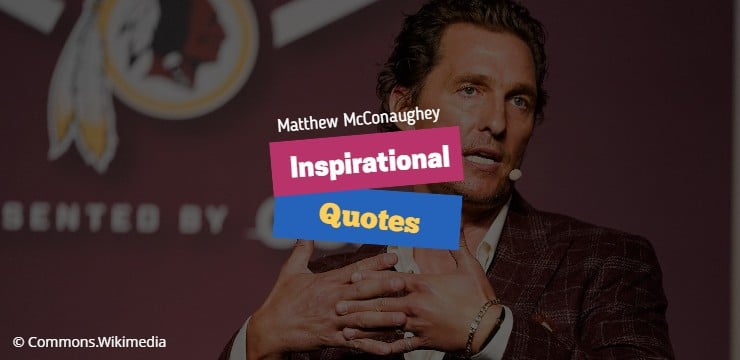 August 2019, Washington, D.C. – Matthew McConaughey spoke at Washington Hilton during the NFL Redskins 58th Annual Luncheon. Photo by
All-Pro Reels
© Wikimedia Commons. Editors note: Resized and edited photo.
Famous Matthew McConaughey And Famous Lines From Movies
Matthew McConaughey is a talented actor who has won an Oscar and starred in many movies. But what makes him unique is his ability to be a great role model and an example of someone who has followed his dreams and achieved great success.
☑ He is successful in his professional and personal life.
Matthew McConaughey is also an inspiring speaker with much wisdom to share.
What's Matthew McConaughey's famous line?
Matthew McConaughey's quotes are thoughtful, insightful, and often motivational, and they can help people achieve their goals or get through tough times.
In addition, Matthew gives excellent advice on how to succeed.
☑ He believes hard work, dedication, and determination are crucial to success.
His quotes reflect his outlook on life, which is upbeat, and he encourages others to never give up on their dreams and to stay motivated in the face of adversity.
What is Matthew McConaughey's favorite saying?
Best Matthew McConaughey Quotes
What is one of Matthew McConaughey's famous quotes?
"I believe in living in the present and making each day count. I don't pay much attention to the past or the future."
Below is a list of ten of Matthew McConaughey's best quotes.
Every hero doesn't do this great big hero thing. They do the simple thing over and over…and they stick to it.
The first step that leads to our identity in life is usually not "I know who I am," but rather "I know who I am not." Process of elimination.
For me, one of the toughest things about Valentine's Day is that it gets geared up as the day to profess your love.
There's two sorts of fear: one you embrace and one you should listen to and turn the other way.
I've never been a jealous person, and I've never felt built up by someone else's failure – that's a cheap thrill.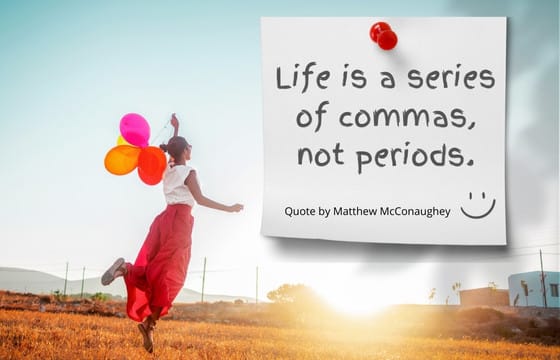 We dissect failure a lot more than we dissect success.
The unsaid rule for living in a trailer park is if the door's shut, don't come a-knockin.' But if it's open and you're walkin' by, feel free to say hello.
If you can be mentally stimulated by the workout and find out how to get through it, it's more fun.
Do not fall into the trap—the entitlement trap of feeling like you're a victim. You are not.
You want to be a writer? Start writing. You want to be a filmmaker? Start shooting stuff on your phone right now.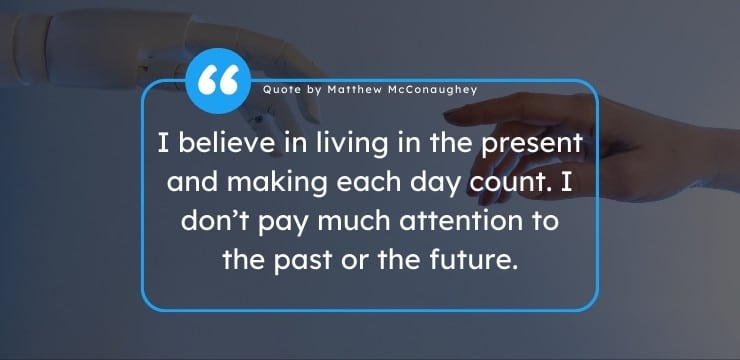 Quote by Matthew McConaughey
List of Top Matthew McConaughey Quotes – Table of Content
Matthew McConaughey Quotes About Life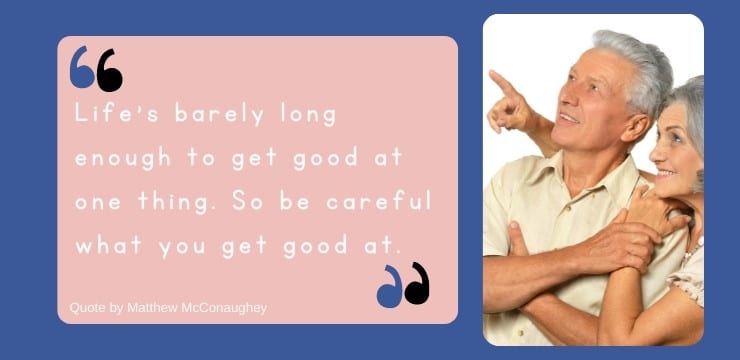 We often wish we had enough time to do everything we've always wanted.
Maybe we want to become the best artist, entrepreneur, singer, surgeon, blogger, or even a great parent because we have a passion for it. In addition, we hope to explore, grow and leave a mark in this world while having a lot of fun along the way!
The world is full of opportunities, and there are so many choices to make, but unfortunately, there is too little time to pursue them all, and we can often get caught up in the what-ifs.
The most valuable resource is time, and we can't waste it.
☑ Time is something we never get back.
It's better to concentrate on one thing at a time, and everything else will eventually fall into place. Otherwise, we'll never get anything done if we get too focused on all the extra things we want to do.
We must work on ourselves to bring our best version to life.
We should ask ourselves, what would we like others to remember about us? Is it power, money, or perhaps kindness? What talent can we nurture to make this world a better place?
We must also be careful not to listen when others say our dream is impossible or too big. Instead, we keep doing our best and mastering the skills and talents that will lead us to our goals, and one day we'll look back and be proud of our journey.
Quotes by Matthew McConaughey
My life is the road, man. I need to keep moving.
I have no problem with commitment. In fact, I love having someone in my life.
Life is not fair, and it never was and it is now and it won't ever be. Do not fall into the trap. The entitlement trap, of feeling like you're a victim. You are not.
First off, I want to thank God because he's the one I look up to. He's graced my life with opportunities that I know are not of my hand or any other human kind.
Bringing a baby into the world is something I've always wanted, and now I'm completely ready for my life to start revolving around another human being.
Cynicism can be funny, but it's the easy way. You'll forget to enjoy anything. I try to make the evolving choice, the forward-moving, life-giving choice. Just keep living, man.
The best education I've had in my life is to travel.
Life is our resume. It is our story to tell, and the choices we make write the chapters. Can we live in a way where we look forward to looking back?
Matthew McConaughey Quotes About Love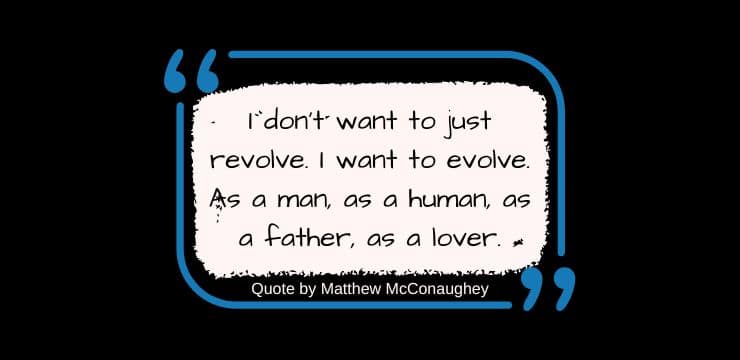 We are born and destined to grow as a person as we age.
Simply "living" our life isn't enough; we can do much more if we actively strive for improvement. Regardless of who we are, what age we're in, and our current state of life, there's always something we can do to evolve and become better people.
For example, imagine the person you want to be in the next five or ten years, see that vision, and work your way towards it by devising and implementing short and long-term goals.
We must not be afraid to try new things.
☑ By shifting our mindset or way of thinking, we all can genuinely evolve.
Stubbornness to change is a condition we should remove from our psyche to unlock our full potential. It's worth noting that every person is different, so one person's idea of "evolving" could be further from another person's.
If we want to improve and be better spouses, family members, co-workers, or friends, we should work towards that and actively strive for it.
Check out these inspiring quotes that can help us evolve and be better. Maybe they'll give you the motivation you need to make some positive changes in your life!
Matthew McConaughey Quotes
I have my own vocabulary. I love linguistics. That surprises people.
That's what I love about these high school girls, man. As I get older, they stay the same age.
I don't want to just revolve. I want to evolve. As a man, as a human, as a father, as a lover.
What the heck is true love? I remember feeling, back when I was 12 and "going" with this girl, "Is this true love?"
Dazed And Confused Movie Quotes By Matthew McConaughey And Others
Quote by David Wooderson
I don't know coach, I've been doin' so well in english I thought I might work on bein' a writer. What do ya think about that? 〰️ Benny O'Donnell
You act like you're so oppressed. You guys are kings of the school. 〰️ Simone Kerr
So, you're not gonna go to law school? What do you wanna do then? 〰️ Tony Olson
What are you looking at? Huh? I'll kick your f*ck*ng *ss, right now! What are you smiling at? Freshman faggot! 〰️ Fred O'Bannion
Dazed and Confused Movie Quote by Cynthia Dunn
Hey. Come here. We just wanna know something. You gonna be f*ck*ng that tonight, or are you gonna be a little wimp? 〰️ Melvin Spivey
I only came here to do two things kick some a*s, and drink some beer. 〰️ Clint Bruno
Hey you guys know what that song is about? Its about the aliens. We're the aliens man, we're the savages. We're the savages man. 〰️ Kevin Pickford
Don, have you ever thought about why we play football? How many times have you gotten laid strictly because you're a football player? 〰️ Randall "Pink" Floyd
Mathew McConaughey Best Movies
Mathew McConaughey is a very talented actor, has a great sense of humor, and is fun to watch onscreen. He always brings a lot of emotion and intensity to his roles. You never know what will happen next when watching his movies.
The Wolf Of Wall Street Movie Quotes By McConaughey And Other Actors
Quote by Max Belfort
People say sh*t… I mean like, you married your cousin or some stupid sh*t. 〰️ Jordan Belfort
Let me give you some legal advice Shut the f*ck up! 〰️ Patrick Denham
Why don't you do me a favor. Write your name down on that napkin for me. 〰️ Brad Bodnick
The name of the game, moving the money from the client's pocket to your pocket. 〰️ Mark Hanna
The Wolf of Wall Street Movie quote by Chester Ming
Yeah, there's like a 60 percent, you know… 60, 65 percent chance the kid's gonna be f*ckin' retarded or whatever. 〰️ Donnie Azoff
If you sell $10,000 worth of this stock, I will personally give you a bl*wjob for free. 〰️ Dwayne
Let me tell you something else. Honestly, I'm not bullshitting here, this is one of the nicest boats that I've ever been on. I gotta tell you. 〰️ Patrick Denham
Don't you f*ck*ng Duchess me! Don't you Duchess me! Do you really think that I don't know what you're up to? You're a father now, Jordan. 〰️ Naomi Lapaglia
Other Famous Inspirational Quotes By Matthew McConaughey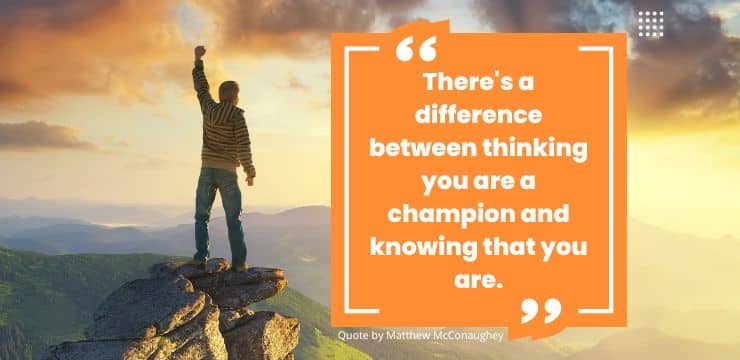 We need to be very aware of our talents, strengths, weaknesses, and accomplishments without having to brag or talk about ourselves to impress others.
☑ Inactivity is the mother of failure.
We are born to be dreamers, but dreams are not enough.
It is one thing to think about something, to plan or plot a course of action; however, that will not help us much unless we get our hands busy and work hard, determined, and focused on achieving our goals.
Nobody great has ever got anything done by sitting on the couch. Therefore, we must make this our golden rule: break a sweat at least once a day by putting maximum effort into achieving something we desire.
We have to get off the sofa and follow our plan.
Once a day, step by step, we absolutely must get moving on it and start working to make our dreams come true; that is how people succeed in life. Try this for 365 days, and you will be surprised at your progress and what you've achieved!
This quote by Matthew McConaughey reminds us that it's not enough to think we can do something but that we need to believe in ourselves and have the confidence to take action. Then we might be the champion that others look up to for motivation.
Quotes from Matthew McConaughey
Give thanks. Appreciate what you DO have…the more we give thanks, the more we receive to be thankful for. Gratitude is the gift that always gives back.
It's one of the things I love about making films—the places I've gotta travel that I would never have gone to before.
Traveling is a great love of mine. I love South America and Africa. I'm your ultimate backpacker when I'm away. It's just me and my backpack. It's good for getting away from the industry.
I love having my hands in the dirt. It is never a science and always an art. There are no rules. And if it comes down to me versus that weed I'm trying to pull out of the ground that doesn't want to come out? I know I'll win.
We have a big appetite for putting people down, but at the heart of everyone, there's enough room for all of us to succeed.
The challenge for me as an actor is if you become a celebrity, you don't meet strangers anymore. And strangers are where we have our anonymity.
Instead of denying these fears, declare them. Say them out loud, admit them, give them the credit they deserve. Find the courage to overcome them.
My wife and I don't compete. We know each other's preferences, and we work to provide those for each other. One will take over when the other is faced with something he or she dislikes. That's what friends do.
Conclusion : Famous Matthew McConaughey Quotes And Sayings On Life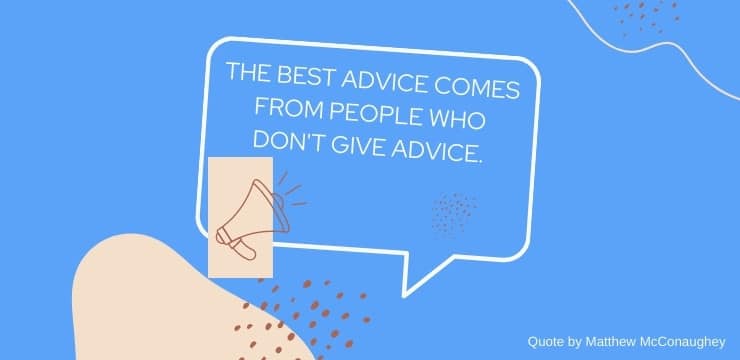 Many people will consider themselves professionals at something, whether it be a hobby, career, lifestyle, and more. However, it is vital to take commentary and advice from others with a grain of salt.
☑ Be wary of the so-called expert on social media.
Someone who calls themselves an expert on something may not always be one, so we must not compare ourselves to others regarding life achievements.
Often, the silent doer, the person who does not brag about their accomplishments or try to direct and teach other people to do as they do, can offer better guidance and advice.
Of course, we should consider all advice or tips that come our way, but it is also important to consider who is giving us the advice and whether we would like to be in their shoes.
In conclusion, we all indeed hope for many things in life because we're all different. Still, hopefully, these Matthew McConaughey quotes will help inspire and motivate us to keep pushing and moving forward until we achieve our dreams.
Related Posts You Might Like: