Lil Peep was a singer and rapper who rose to fame in the mid-2010s and gained a cult of young listeners because of his unique music style combining emo and pop-punk elements into rap music. Read famous Lil Peep quotes.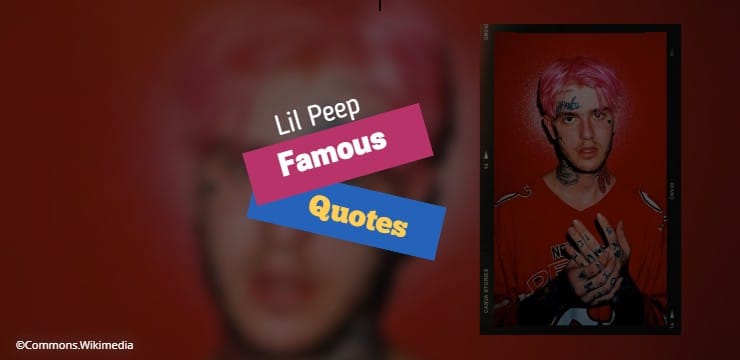 August 2016, Lil Peep was taking pictures at a photo shoot. Photo by
Miller Rodríguez
© Wikimedia Commons. Editor's note: Edited image and added background frame.
What is Lil Peep famous for?
Lil Peep, born Gustav Elijah Åhr, was a Swedish-American singer, songwriter, and rapper. He is famous for pioneering a new wave of musicians and artists in recent times known for blurring the lines between the genre of music.
He was one of the first musicians of the mid-2010s to take elements of hip-hop, rock, punk, trap, and dream pop and infuse them with emo and pop punk, creating a piece of unique rap music that made waves in the music industry.
Lil Peep's musical work often dealt with candid lyrics that touch on mental health, depression, relationships, drug use, addiction, and suicide.
☑ His music resonated with many young people back then and now.
How old was Lil Peep when he overdosed?
Lil Peep tragically died of a drug overdose in 2017.
◬ He was only 21 years old.
His death sent shockwaves through the music industry and brought renewed attention to the issue of drug addiction and mental health.
In the short time he was alive, he significantly impacted the music world, and his music continues to live on and inspire his fans, other singers, and songwriters.
Does Lil Peep have a documentary?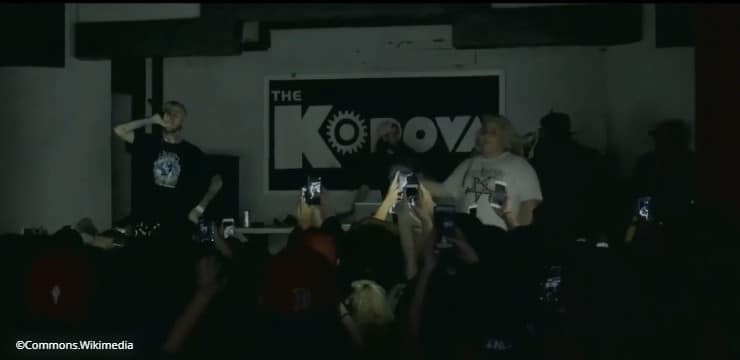 September 2019, Texas – YouTube video of Lil Peep and Fat Nick performing live.
Dink
© Wikimedia Commons.
Lil Peep's (Gustav Elijah Åhr) documentary is a fascinating look at the life of the rapper "Lil Peep," directed by Ramez Silyan and Sebastian Jones.
☑ It's titled "Everybody's Everything."
It chronicles his life and career, from his childhood in Long Island to his rise to fame, his struggles with addiction and mental health, and ultimately his untimely death.
It includes interviews with those who knew him best, including family members and friends, and never-before-seen footage of Lil Peep's performance and candid moments, including those of creating music in action.
🎞️ Where can you watch the Lil Peep documentary?
Lil Peep's documentary "Everybody's Everything" is available for streaming on multiple platforms, including YouTube, Apple TV, and Amazon Prime. Each one has a slightly different price point, so you can pick according to your budget.
The documentary is well-made and provides a lot of insight into who Lil Peep was as a person, and it's worth checking out if you're a fan of his music.
What is Lil Peep's most famous song?
Lil Peep was a rising star in the music industry before his death, and he is probably best known for his songs "Benz Truck" and "Awful Things," which have both been viewed over 249+ million times on YouTube.
Despite his death, he still has a large following on social media, and many other rappers praise and find inspiration from his skills and talent.
How much money did Lil Peep make?
At the time of his death, Lil Peep was worth an estimated $300 thousand. He earned most of his money from his emo-rap music projects and tours, sales and streams of his music, and merchandise.
Lil Peep was not precisely a millionaire during his lifetime, but after his death, he did make a good amount of money because his popularity and fanbase multiplied.
Best Lil Peep Quotes
What is Lil Peep's most famous quote?
"My mom has been calling me Peep my whole life. That's how I got the name."
List of other famous quotes by Lil Peep.
I always knew I was gonna be an artist. I was very confident in that.
To love you is the most wonderful experience of my life.
I feel like I'm creative, and I want to take advantage of that.
For me, if I saw my favorite artist in the store, I would probably just tell them three words and walk away.
I guess she wasn't the one, right? This isn't what love's like, that's for sure.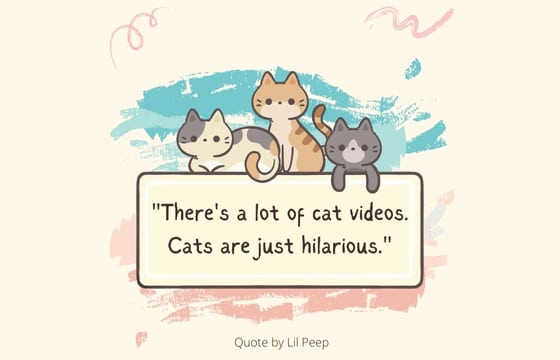 I never dress the same way for a week – I'll dress like a whole other person the next week.
My tattoos have become a part of me. When I look in the mirror, I just see my face.
I want people to hear what I have to say, and I want to be able to get a lot of points across.
Sometimes I'll be watching a movie then think to myself that I could do a better job.
I want to go deep into fashion; I want to go maybe into acting. There's a lot of stuff I would like to go into.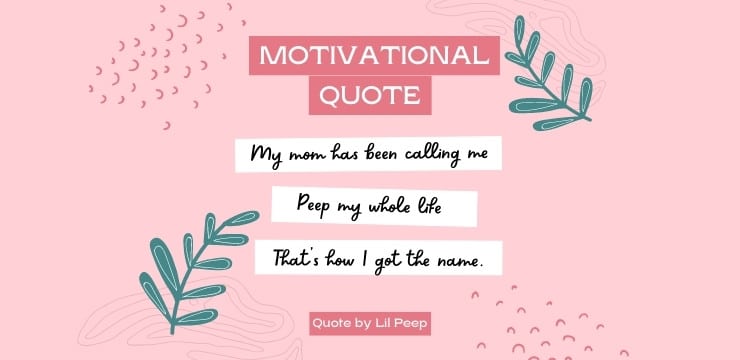 Quote by Lil Peep
List of Top Lil Peep Quotes – Table of Content
Lil Peep Quotes About Love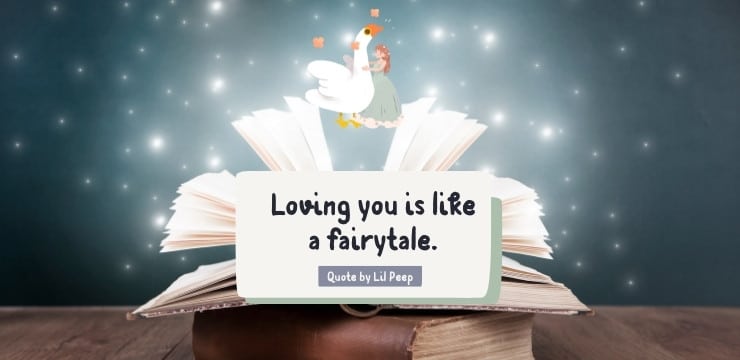 Finding someone who makes us feel like we're living in a fairy tale is beautiful. A love story that makes us believe in magic and possibility.
Someone that makes us feel special and loved.
We can't help but be drawn to their warmth and light, especially when the love story ends with both lovers living happily ever after.
☑ And then, finally, riding into the sunset together.
Unfortunately, love isn't always easy, and it can be messy.
If you've found that fairy tale love, hold onto it for as long as possible.
Sometimes we forget that we must work hard every day to keep our fairy tale going.
We love someone because they make our hearts feel good, and we are happy to be around them. They are not just convenient or easy to be with; we make a mutual choice to love each other in good and bad and to improve each other's lives.
The day we lose sight of this truth is the day when we start to write the final chapter and page and mark the last period of the sentence.
▣ Then, we'll close the book, and the fairy tale will end just like that.
This inspirational quote by Lil Peep means that the love we share can be magical and enchanting. And to add to it, it is also a reminder that we should never take our love for granted. We may think it will last forever, but that doesn't mean it will.
✔ Love is a gift, and we should treat it as such.
Lil Peep Quotes About Love
I'd love to be the new Kurt Cobain.
Rain keeps falling, tears keep falling. Darling, your love is like walking a bed of nails and I just can't keep on fine.
It's either love or hate with me. People really can hate me.
Bother me, tell me awful things. You know I love it when you do that.
That's why she texts me and tells me she loves me. She knows that someday I'll be over the sea.
I love gas stations. Gas stations have some of the sickest clothes ever. T-shirts, hats, everything.
People always say that, like, you're a dog person or a cat person. I just love animals. I'm not a dog person or a cat person.
Kurt Cobain jeans, you my Courtney Love. Thraxxl Rose how I got the club going up. Taking bars for anxiety. Smoking kush is my therapy.
You know I love you by the way I kiss you.
I'm in love with a ghost girl. All alone in a lonely world I just really wanna find her.
Nothin' worse than losing a friend. And the feeling you get when everybody that you love ain't around, I really got to get away from this town.
I think it's funny, she opens up to me, gets comfortable with me. Once I got it comin'. I love her, she loves me.
Lil Peep Quotes About Death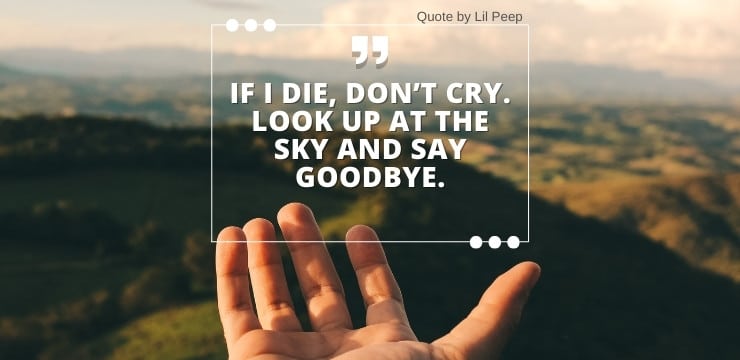 Some people humorously use this quote to make light of the fact that people are not immortal. In this way, it can be seen as a playful reminder that death is inevitable, and we should not mourn those who pass but celebrate their lives.
▣ The death of a loved one indeed saddens us.
But we should not let that sadness cloud our memories of the people we love.
Although, at the moment, we may be overwhelmed by grief and darkness, it's okay to celebrate their life and the mark they left in this world.
Besides, we should remember that every time we look up at the stars, their presence will always be alive in our memory and heart.
This quote by Lil Peep reminds us that we should not be sad when someone we love dies. Instead, we should celebrate their life and be grateful for everything.
Famous people can be a great source of inspiration. So if you're feeling down, consider reading some of their encouraging quotes to pick yourself back up.
Lil Peep Quotes
When I die, you will love me.
Please don't love me. Don't get close. I can't show you this side of me. I'm burnin' up, I'm next to death.
There comes a time when everybody meets the same fate. I think I'mma die alone inside my room.
When I die, bury me with all my ice on. When I die, bury me without the lights on.
I'm not evil by design, but I feel dead at times.
They gon' miss me when I'm dead, I lay my head and rest in peace.
And if you ever need a friend then you got me. And in the end, when I die, would you watch me? And if I try suicide, would you stop me? Would you help me get a grip or would you drop?
Lil Peep Quotes About Drugs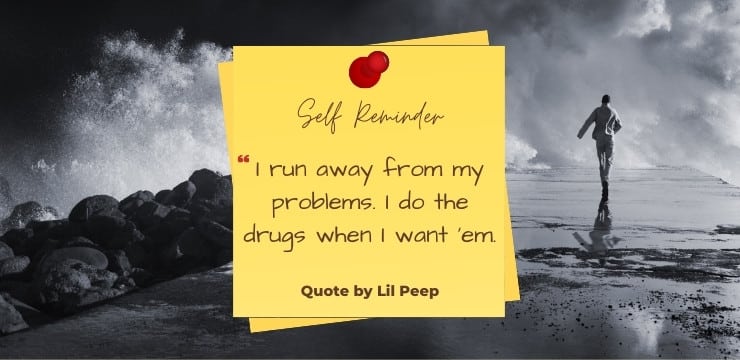 In the long run, we can't run away from things that bother us.
When we have a problem, it's better to face them head-on and work through them, especially if it's about drug use, addiction, mental health, etc.
☑ That way, they won't bother us anymore.
This motivational quote by Lil Peep reminds us that we all have problems, but they don't have to affect us. So if we're having trouble dealing with something, we should talk about it with someone who can help us.
It may not seem like much at first, but talking about our problems can be therapeutic and comforting. Unfortunately, the more we run away from everything, the more complicated things will get.
▣ Repressed emotions are the most dangerous of all; never underestimate them.
Keeping everything bottled up will eventually destroy a person, physically and mentally. Therefore the next time you're feeling overwhelmed, don't bottle it up!
Let it all out! You'll feel better after getting everything off your chest.
You might be surprised at how much better you feel after doing so, and you can start fresh with a clear mind and a new vision for yourself and your life.
Lil Peep Quotes
Hold me, I can't breathe. I don't wanna die, I don't wanna OD. Cup full of lean, pure codeine. Ten lines deep, now I can't see.
I got this vibe, I swear she love gettin' high too and I love gettin' high too. I wanna hide you.
Drugs in my nose, good drugs in my cup.
Runnin' away from you takes time and pain. And I don't even want to. So, I'm gettin' high all week without you. Poppin' pills, thinkin' about you.
Lil Peep Quotes About School And Education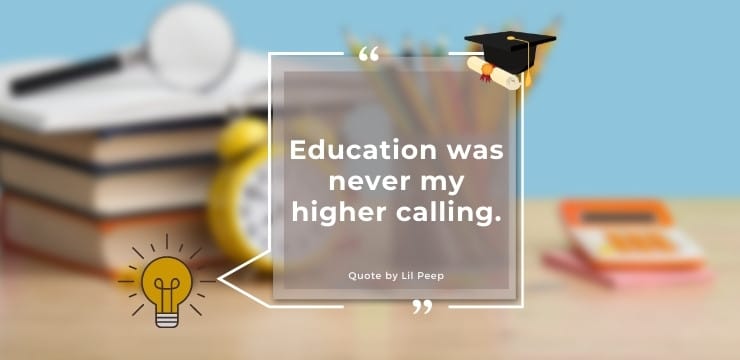 The idea that education isn't everything is contested by many.
For example, some people believe formal education is the key to success, while others think it's possible to achieve success without schooling. Either way, this is a meaningful conversation and one that doesn't seem to have a clear answer.
There are plenty of successful people who haven't gone to college or university.
They might have learned a particular trade or started their businesses.
☑ Others might have followed a less conventional path to success.
But it's safe to say that education provides people with the skills and knowledge they need to succeed. It teaches us how to think critically and how to solve problems.
It also helps us develop our unique talents and passions, which we can use to better life for ourselves and our loved ones and make a difference in the world.
However, many other vital factors, such as hard work, perseverance, help from others, and good old-fashioned luck, contribute to success.
No matter the route, there are many ways to succeed in today's world.
Lil Peep Quotes
I always got good grades; I just didn't go to school much. I didn't like it.
They let me do my diploma from home, but I always knew I was destined to do something creative, so I didn't care.
Sometimes life gets fucked up. That's why we get fucked up.
I didn't even walk for graduation​​—I did graduate, though. I got this homeschool deal. I didn't have to go to school because I was depressed, and my mom wrote all these essays for me. I didn't write one of them. She literally got me my diploma.
Lil Peep Quotes About Sadness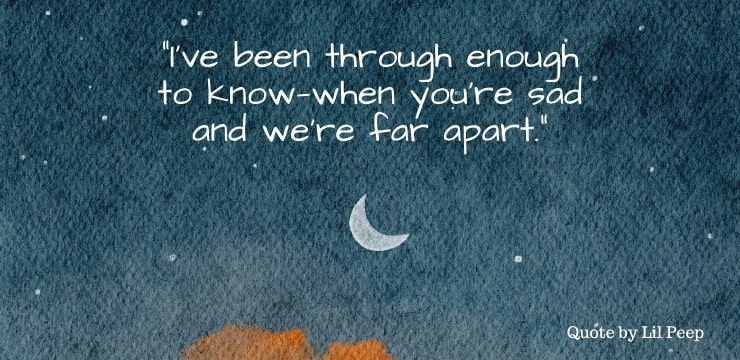 Life's sad and difficult circumstances can prove to be valuable lessons.
If you've "been around the block" for a while, as some of us have been, then I'm sure you know that sadness and loneliness tend to creep into one's life from time to time.
Consequently, it is a feeling that many of us strive to avoid.
☑ But did you know that sadness can be a big motivator in life?
Think about it this way: sadness is more often than not caused by loss.
And when we lose something, we're motivated to try and get it back.
Whether it's a loved one, a job, or anything else, the feeling of loss can be a powerful motivator. It gives us a sense of purpose and drives us to work harder.
However, it's important to remember that sadness is only one emotion in life. Many other emotions can be motivating factors, such as happiness, love, anger, etc.
Reading uplifting quotes from prominent people can help turn our mood around by focusing on positive emotions instead of painful ones when we're feeling down.
Lil Peep Quotes
I'm alone 99% of my life.
Hear the sadness in your laughter. She's afraid of what comes after me, true love.
I definitely think the planet is very sad. I also think a lot of people are very ungrateful, which is another big problem.
I don't feel much pain. Got a knife in my back, and a bullet in my brain. I'm clinically insane. Walkin' home alone, I see faces in the rain.
Other Famous Inspirational Quotes by Lil Peep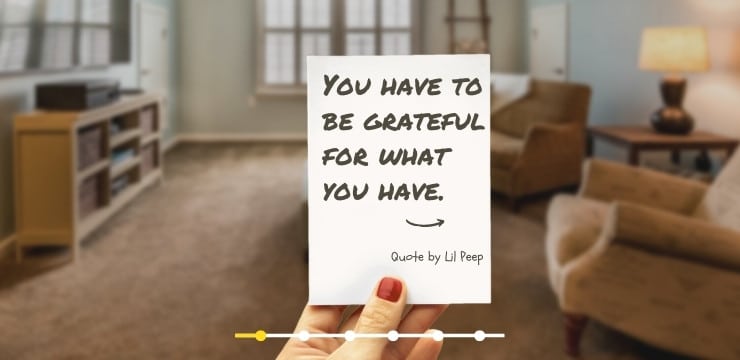 We should be grateful for everything, both big and small.
‣ Life is full of ups and downs.
We never know what's going to happen next. One minute we could be on top of the world, and the next minute we may find ourselves struggling to get by.
It's all a part of life, and it's what makes life so interesting.
Being thankful makes life more enjoyable, meaningful, and worth living.
Studies have shown that people who practice gratitude tend to be more optimistic and feel more positive emotions like joy and admiration.
☑ Additionally, gratitude can help us cope with stress and difficult situations.
When facing challenges, taking a moment to appreciate what we have can remind us of all the good in our lives and help us maintain our composure and focus on finding solutions rather than getting caught up in the problem.
Moreover, gratitude is contagious!
Showing appreciation for the good in our lives can create a ripple effect, spreading positivity and goodwill throughout our social networks, strengthening our relationships, and inspiring others to do the same.
This quote by Lil Peep can help us get out of a negative mindset and to look at things from a positive perspective as much as possible.
Lil Peep Quotes
I did this all by myself. Matter fact, I ain't never ask no one for help.
David Bowie is my biggest inspiration. Pretty much the only thing that stayed the same with Bowie was his eyes. Everything else constantly changed, from his sexuality to his songs.
One of my favorite hip-hop artists is Makonnen. One of my favorite bands is Fall Out Boy. You put those two together, and that's Lil Peep.
She was prolly thinking bout me. I was prolly thinking bout cheese.
Goth boy, I'm the one you can't avoid. No choice, no choice.
Club lights, we fight every night. Baby , I don't wanna do that. Your type, jeans tight, dirty Sprite. She like, 'How the f*c*k you do that?
People understand my message is positive, and at the end of the day, I'm just here to make music that I enjoy and that other people enjoy. I think that's why I have such a loyal fan base.
Welcome to my castle, It's just me and you tonight. I think you're my angel, just a human in disguise. This is not rap, it's a goth lullaby. I'll be in your dreams every time that we get high. Lie, lie, lie, all you ever do is lie.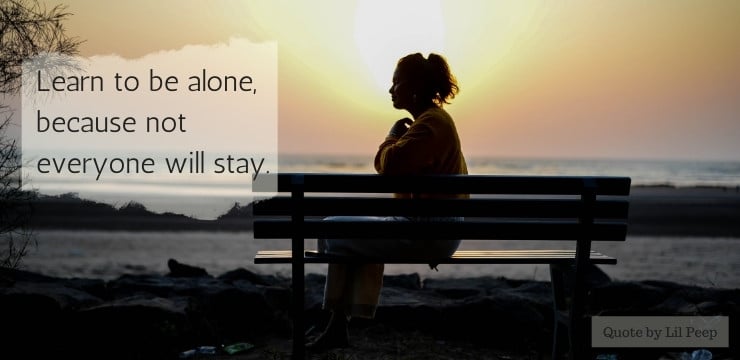 Strive to set aside time to spend alone from time to time.
Staying alone can be difficult sometimes.
We live in a world where other people constantly surround us, and while that can be enjoyable, it can also be draining. That is because we often get so caught up in the hustle and bustle of everyday life that we forget to take care of ourselves.
Learning how to enjoy ourselves without others gives us a chance to refocus, reconnect with ourselves, and re-energize.
"Alone time" can help boost our creativity and productivity.
That is because being alone allows us to be completely uninterrupted and focused, leading to more innovative thinking and improved work output.
In addition, spending time alone can help us remember what we enjoy doing and what makes us happy. It allows us to think about how to focus on our interests and desires and ways to explore opportunities that give us joy.
It can be nice to occasionally have some quiet and solitude time away from the hustle and bustle of daily life. So go try it; you can thank me later!
Lil Peep Quotes
If you like how people look when they're all covered in tattoos, then you should be covered in tattoos.
Future is gonna be remembered forever. Future just has so much quality music.
I don't remember taking pictures with eighty percent of the people that I have taken pictures with.
Promise me it's real, girl I got a deal, you could be my girl I could be your world.
Okay, yeah I hit that, shawty, get back I got death notes, where is my list at?
I can feel a sudden emptiness. I'm here to grant your one last wish. So, f*ck me like we're lyin' on our death bed.
Everything changes with time. You can't predict where you're gonna be next year; you have no idea, you know what I mean?
Something people wouldn't expect me to do is—I play this computer game called 'Runescape.' I've played 'Runescape' since forever. Since I was, like, six. It is still one of my favorite games ever.
Look at the sky tonight, all the stars have a reason.
I wish I was a little less passionate. I'm a very passionate person.
Tell the rich kids to look at me now.
I was dying and nobody was there. Please don't cry baby, life ain't fair.
Famous Lil Peep Quotes From Song Lyrics About Life, Love And Death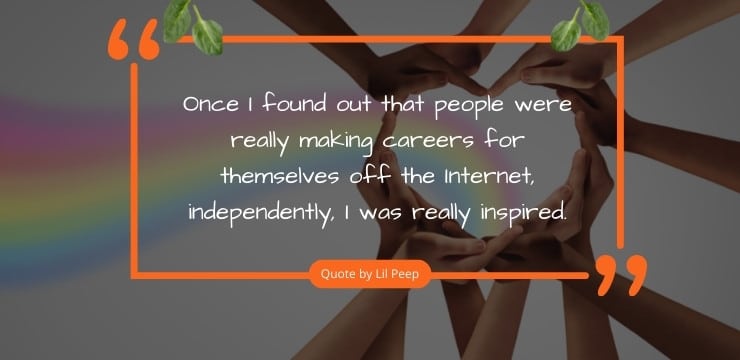 The Internet has changed how we communicate, learn, and work.
It's hard to believe that only a few decades ago, the Internet didn't even exist! Can you imagine living in a world without email, social media, or online shopping?
☑ There are now more opportunities than ever before to earn a living online.
We can work as freelancers or find a full-time job that allows us to work from home.
Additionally, the Internet has made it easier to start our own businesses or sell products and services online and reach a global audience with just a few clicks.
If we have an idea, some skill, and time to spare, it is much easier to start our own business and get it off the ground, even when we don't know where to start.
Countless online courses and tutorials teach new and seasoned entrepreneurs how to set up websites on platforms like WordPress, Etsy, Amazon, Shopify, etc.
☑ The possibilities are endless!
Lil Peep's quote reminds us that anything is possible with the Internet.
With billions of people using the Internet daily for countless reasons, chances are good that, if we can dream of it, we can make it happen on the Internet.
And that concludes our discussion about famous Lil Peep quotes to inspire us to work hard, follow our passion, and keep pushing to achieve our goals in life.
Related Posts You Might Like: