Nipsey Hussle was a famous rapper and entrepreneur known for his philanthropic work and community involvement. Sadly, he was shot dead in 2019. For that reason, here're Nipsey Hussle quotes to inspire and uplift us.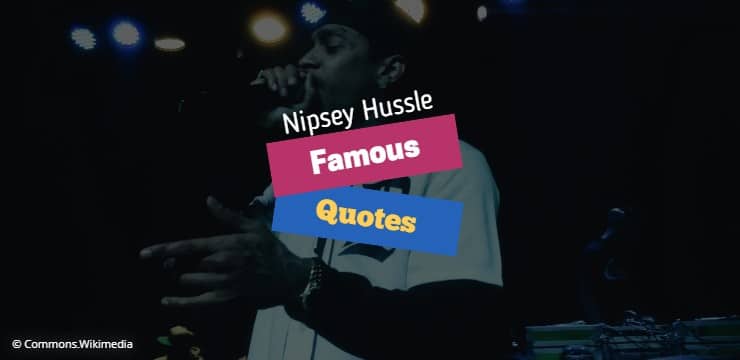 April 2014, Nipsey Hussle founder of "All Money In" record label, performs on stage to his fans. Photo by
LitoStarr
© Wikimedia Commons. Editor's note: Resized image.
Why was Nipsey Hussle famous?
Nipsey Hussle was a posthumous Grammy-winning rapper from Los Angeles, best known for his Hip Hop music. His real name is Airmiess Joseph Asghedom.
Most of Nipsey Hussle's loyal fans remember him because of his entrepreneurial spirit and the story of how he started from nothing and became successful.
Nipsey Hussle is best known for his lyrical raps that denounced gun violence, chronicling the process of growing up in Los Angeles, California, specifically the area of Hyde Park, and being open about gang affiliation in his adolescence.
What is Nipsey Hussle's famous saying?
☑ Nipsey Hussle is also known for continuously trying to help his community.
For example, he started a co-working environment for communal workspaces, which he named Vector 90, to help young entrepreneurs. Nipsey Hussle also wanted to support young people taking mathematics, science, and technology classes.
In addition, he began funding improvements to schools in the surrounding Crenshaw neighborhood in south Los Angeles, where he grew up with his siblings.
Quote from Nipsey Hussle Double Up lyrics
What is Nipsey Hussle's best-selling album?
Nipsey Hussle's most acclaimed and best-selling album was "Victory Lap," his only studio album released while still alive. It came out in 2018, and he collaborated with other famous rappers, such as YG, Puff Daddy, Kendrick Lamar, and others.
Many fans and critics enjoyed songs on this album; notable tracks include "Rap Niggas," "Dedication," "Double Up," "Victory Lap," and "Last Time That I Checc'd."
The album stats show Victory Lap debuted at number 4 on the Billboard 200 and has since sold over 1,000,000 units considering streams and sales combined in the United States. With those sales, RIAA officially certified "Victory Lap" as platinum.
"Double Up" lyrics quote
Nipsey Hussle has also released several mixtapes, such as "Slauson Boy Volume 1," "Bullets Ain't Got No Name," "The Marathon Continues," and "Crenshaw."
His mixtapes reflect his unique approach to rap music, which blends elements of gangsta rap, conscious hip-hop, and West Coast G-funk. His lyrics are often political and focus on issues affecting the inner city, such as gangs, violence, and poverty.
What was Nipsey Hussle's last song before he died?
With over 186 million views on YouTube alone, "Racks In The Middle" is one of the most famous songs by Nipsey Hussle. Unfortunately, it is also the last single he released in February 2019 before his sudden and untimely death by gunshot.
The song won a Grammy Award for Best Rap Performance category and, according to Billboard Hot 100, "Racks In The Middle" is Nipsey Hussle's highest-charting song as a lead artist.
Quote from Nipsey Hussle Racks In The Middle lyrics
What businesses did Nipsey Hussle own?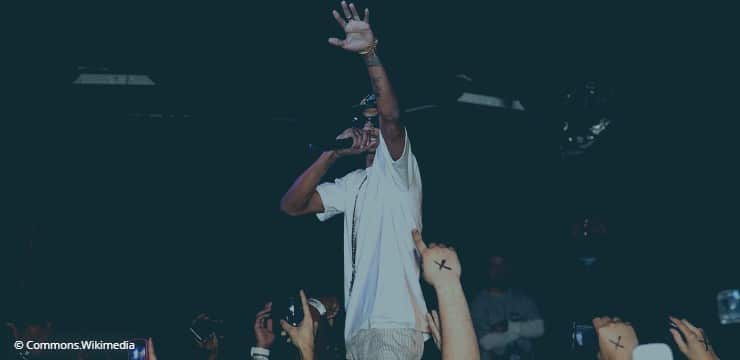 December 2010, Nipsey Hussle raps on stage to an audience. Photo by
Andrew Farquhar
© Wikimedia Commons. Editor's note: Resized image and added color overlay.
Although Nipsey Hussle was a prolific rapper from the West Coast hip hop artists, not many know about his business ventures and entrepreneurial spirit outside his rap career.
Nipsey Hussle started his record label, "All Money In," and released projects under this label while also signing on emerging talent. The rapper also opened his clothing store, "Marathon Clothing," in the Crenshaw Commercial District in Los Angeles.
Marathon Clothing's "smart store" allows customers to not only browse clothing but also gives customers the chance to access music by up-and-coming rap artists and other news through an app located inside the store.
Before he passed, Nipsey Hussle bought the shopping center where his store is located and was planning to open other businesses, such as barbershops and restaurants.
Nipsey Hussle "Racks In The Middle" lyrics quote
What is Nipsey Hussle's net worth?
As of 2022, according to Celebrity Net Worth, Nipsey Hussle's net worth was $8 million at the time of his death. So how did Nipsey create his wealth? Well, to put it simply, Nipsey Hussle was a man of many hats.
He also collaborated with many well-known artists, such as Drake, Rick Ross, Snoop Dogg, Kendrick Lamar, and more. So it is no surprise the young rapper amassed such a substantial net worth.
Nipsey Hussle was a talented musician with eyes and hands focused on business, entrepreneurship, and community development.
He left an indelible mark, and fans and the community will forever cherish his music and contributions to improving this world.
Best Nipsey Hussle Quotes
What is Nipsey Hussle's most famous quote?
"When you start seeing the most successful people and the most respected people, the next step is figuring out how they became that."
List of other famous quotes by Nipsey Hussle.
Define who you are and what you are, and be clear on that. Meditate on that and then, live and die by that.
I'm tryna live my life, so when it's over I got no regrets.
Material things ain't nothing. You feel me? At the end of the day, it's who you are. You weren't born with it; you gon' die without it.
Success or greatness come with a roller-coaster ride—anybody can apply the marathon concept to what they do.
Without a game plan, and without a strong sense of faith in what you're doing, it's going to be really hard to accomplish anything.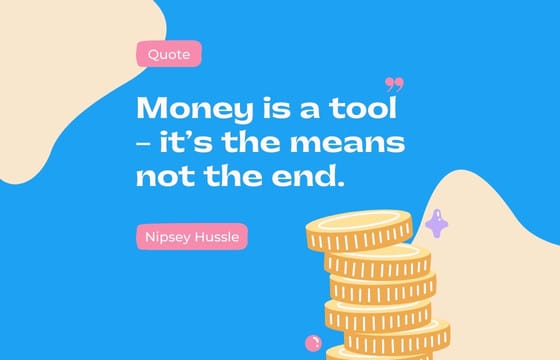 I try to sprinkle little gems and jewels in the music that people could use in their own life.
You can't break the rules, the fundamental rules.
If what I believe Is proved to be wrong, Then I guess I'm a miracle.
Seize the opportunity, believe, and take control of it. Then get on your marathon and grind it 'til it's over with.
It's strictly business in this game, still they faking friendly. Don't let em take advantage of you and it make em envy.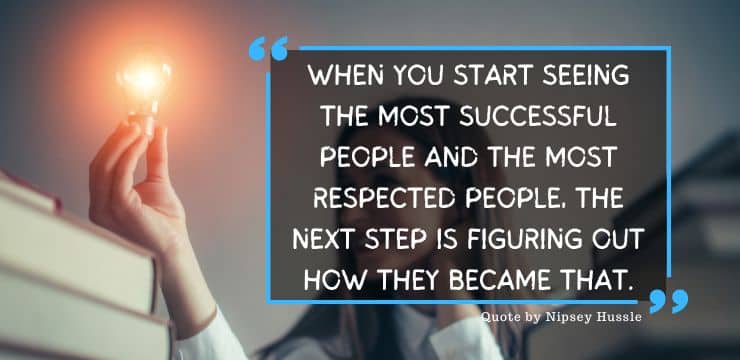 Quote by Nipsey Hussle
List of Top Nipsey Hussle Quotes – Table of Content
Nipsey Hussle Quotes About Life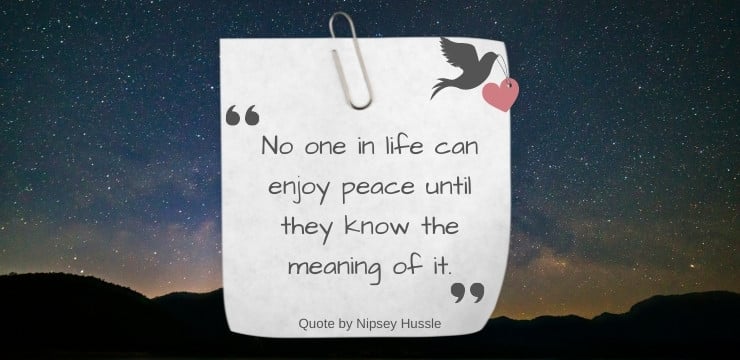 This motivational quote by Nipsey Hussle reminds us that peace starts from within. It's a state of mind. When we're at peace with ourselves, we'll be able to find inner tranquility and contentment.
We can not enforce peace through violence or coercion. Instead, we achieve peace through understanding and cooperation.
☑ Life can be hectic and overwhelming at times.
It can be easy to get caught up in the stresses of daily life. But if we can find a way to focus on our inner peace, it will help us to stay grounded and better able to cope with whatever comes our way.
Everyone's path to achieving inner peace is going to be different.
However, meditation is one popular method. Taking some time each day to sit quietly and focus on our breath can help us clear our minds and find a sense of calm.
That way, we can let go of any negative thoughts or emotions weighing us down. That can be easier said than done, but it's better to try to live in the present moment as much as possible and savor the small joys in life instead of dwelling in the past.
☑ Let's focus on gratitude and positive thinking.
It may sound cliche, but making a daily list of things we're thankful for can help shift our perspective, improve our mood, and find inner peace.
Nipsey Hussle Quotes
Before rap my last name was my lifestyle, and when I visualize success it looked like right now.
I'm at peace with what I'm doing, I feel good with what I wake up doing and about my lifestyle.
Life is just a fight against your disbeliefs.
Thought is powerful in all phases. Even in my career, even in my life, things end up exactly how I visualized them.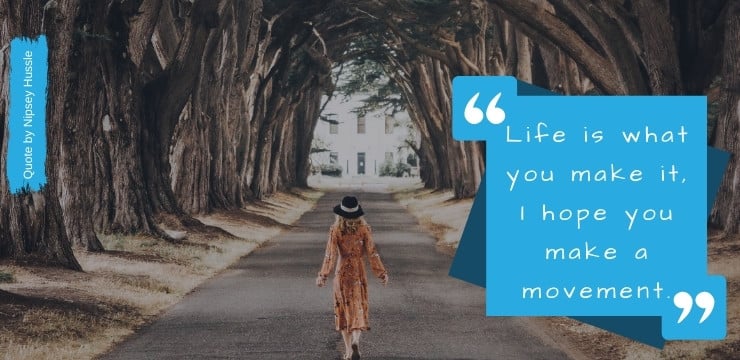 Nipsey Hussle Quotes
If I wasn't involved in this hip-hop, I'd probably be breakin' the law to eat and feed my family and maintain the lifestyle that I'm used to.
Your parents are supposed to tell you to make decisions that are gonna help you and that'll have a positive effect on your life and your well-being.
I don't know about hell, I don't know about heaven, All I know is 'bout right now and this lifestyle is interesting.
That's the best currency you can offer: inspiration. So, when a person can rely on you for that, that empowers them in every realm of their life.
Nipsey Hussle Quotes About Love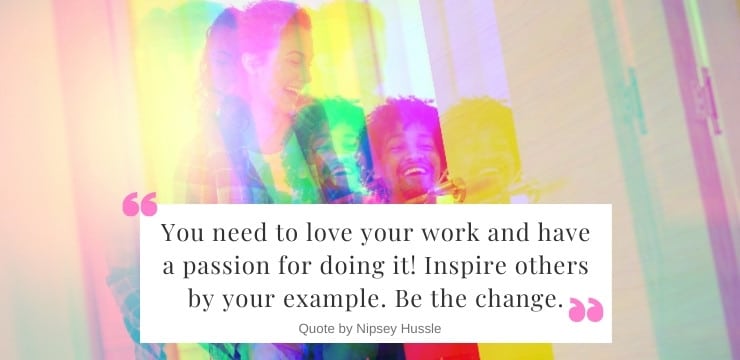 We need to be intentional about how we spend our time.
If we do not love what we do, it will be hard for others to see the good in us because our dislike for what we do will show up in our poor performance and the quality of our work. On the other hand, when we love what we do..,
☑ It is easy to be passionate about it and share that passion with others.
Each of us has an opportunity to make a difference by making changes in our lives, such as changing jobs or volunteering at an organization that needs help.
As a result, we need to be willing to take action and do whatever it takes to improve the world. This quote from Nipsey Hussle reminds us that we are all responsible for how things change and cannot wait for someone else to make a difference.
Nipsey Hussle Quotes
If you're going to write about rap music and hip-hop, and you don't love it, then we don't need your opinion, and we revoke your opinion.
Success to me is just being able to do what you love to do and support yourself all through.
If you have strong faith, your God will love you.
The reason children accept discipline from their parents is because they know their parents love them.
Nipsey Hussle Quotes About Respect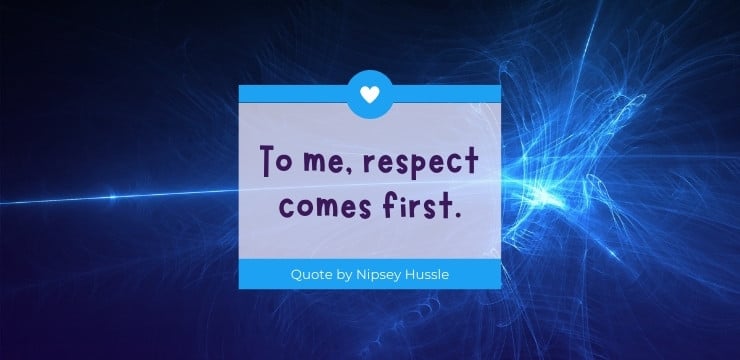 Respect is the foundation of a good relationship.
If we don't respect someone, having a good relationship with them will be challenging. This motivational quote by Nipsey Hussle reminds us that if there's a core value to prioritize, it should be none other than respect.
Respect also comes from respecting ourselves and having a solid sense of our self-esteem. That means we know who we are, our values, and what we stand for.
Consequently, we know our strengths and weaknesses because we've worked hard to identify them. We, therefore, can accept compliments without taking them as confirmation of some false ideal of perfection that only exists in our imagination.
☑ Respect is the cornerstone of any lasting relationship.
When someone stands up for their beliefs, they're passionate about their convictions. Moreover, it demonstrates that they're not afraid to stand up for their beliefs, even when it might be difficult.
That sends a strong message to others that they are willing to fight for what they believe in and expect others to do the same. And that is an admirable quality.
We need respect for ourselves, so we can also treat others with respect. If someone doesn't respect themselves, they won't expect others to respect them, either.
Nipsey Hussle Quotes
Be a man of your word, do what you say you're gonna do, respect people the way you would like to be respected.
I respect Snoop even aside from the music—just as a man, and especially the way he still represents who he is, after being a pop star and an icon.
As far as respect goes, we have to stop respecting dumb shit. We have to return to old school principles.
Make a million cash fore you flatline. Make a master plan watch it backfire. Burn it all down then collect the ashes. Build it back, respect ya passion.
Nipsey Hussle Quotes About Money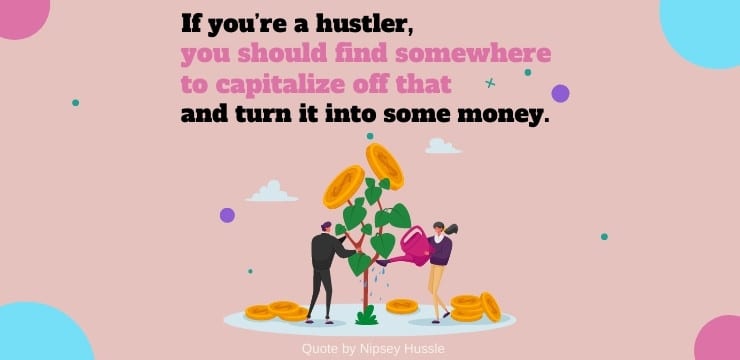 If we work hard and are creative, there's always a way to make money. But we must also have a plan and are willing to hustle.
If anything, side hustles will help us succeed in life.
We're not talking about the "hustle" of trying to sell people stuff they don't want. We mean the hustle of doing something valuable. Most side hustles won't feel like work when we have a passion for it and enjoy what we do.
☑ If we can sell something online, we can make money.
If we have a skill (like writing) and are willing to invest time, we can make money. Likewise, if we're good at marketing, networking, or building relationships, then there's probably a way for any of us to monetize those skills.
The key is to find your passion and figure out how to monetize it!
Nipsey Hussle Quotes
All the smart money got they best on me/ And all the real ngs wish the best for me.
We playing the long game. We don't want the money to stop when we go. When we can't work no more. We want it to outlive us, we want it to be generational.
Now its up to you are you going. Take heed and get paid. And scream all money in until your dying day.
I'd rather invest in real estate — invest in some assets as opposed to trick all my money in diamonds and cars — it look good but at the end of the day you're losing value. It ain't appreciating, it's depreciating.
Other Famous Nipsey Hussle Inspirational Quotes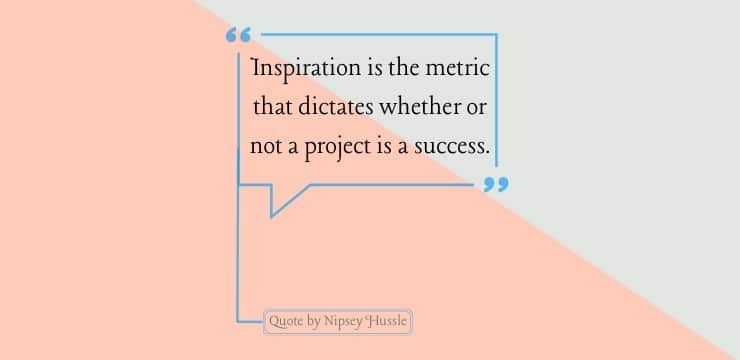 We all do it: we procrastinate. We put off projects until the last minute.
Most of us are guilty of spending our days doing things that don't matter and then wonder why we have so little time to do the things that matter.
☑ The cure for this epidemic is finding inspiration.
The best way to stop procrastinating is to find a way to get ourselves excited about the task at hand. That might mean finding a way to make it more fun, challenging, or interesting. It could also mean breaking the task into smaller parts.
Smaller tasks seem less daunting and easier to focus on, one piece at a time.
It's all about finding the motivation to complete our work, which usually comes from outside sources, friends, family, mentors, and the like, but sometimes we have to find it within ourselves.
☑ The best way to stop procrastinating is to get started.
Some people find it helpful to set a timer and work for a specific period (e.g., 20 minutes). Others prefer to work until they complete a task or achieve a particular goal. Whatever works for you, start now.
For example, if we want to be successful writers, we must begin to write. If we want to be successful lawyers, we must practice law. If we want to be successful entrepreneurs, then start a business a.s.a.p.
☑ We are in control of our destiny, and no one else can make this happen for us.
This inspiring and uplifting quote by Nipsey Hussle reminds you that we are the one who determines whether or not we will be successful by the actions we take.
Nipsey Hussle Quotes
Most of the time I look inside, And find the answers waitin'.
If you've got a plan, it's not just like a pipe dream. You have a step-by-step list of things to do to get to your goal.
Get on your marathon 'til you bruise your feet.
Be your own biggest fan, your own biggest believer, and put it on your back and carry the weight.
Nipsey Hussle Quotes
I never wanted to alienate my brand for business. I always wanted to keep it authentic and keep as pure as I could.
Instead of trying to build a brick wall, lay a brick every day. Eventually, you'll look up, and you'll have a brick wall.
Most the time, when it rains it starts pouring, but how we grind it makes the weather change for us.
Luck is just being prepared at all times, so when the door opens you're ready.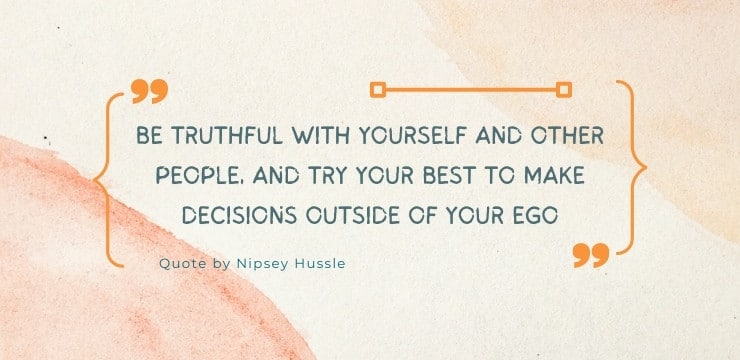 Nipsey Hussle Quotes
And it's possible to monetize your art without compromising the integrity of it for commerce.
I just believe in ownership. I believe in investing in yourself. Your foundation should be strong.
Sometimes you have to take two steps back to take ten forward.
We didn't wake up and create our own mindstate and our environment ; we adapted our survival instincts.
Being self-made means never making an excuse as to why you can't take steps toward whatever your goal is.
If you don't know your full-throttle history, the whole story of how you came to where you are, it's kind of hard to put things together.
Luck is the product of hard work. The moment you are idle, you fall back.
We got turned down, we failed, had setbacks, had to start over a lot of times. But we kept going at it. In anybody's case that's always the distinguishing factor.
Famous Nipsey Hussle Quotes And Sayings From Songs About Life To Inspire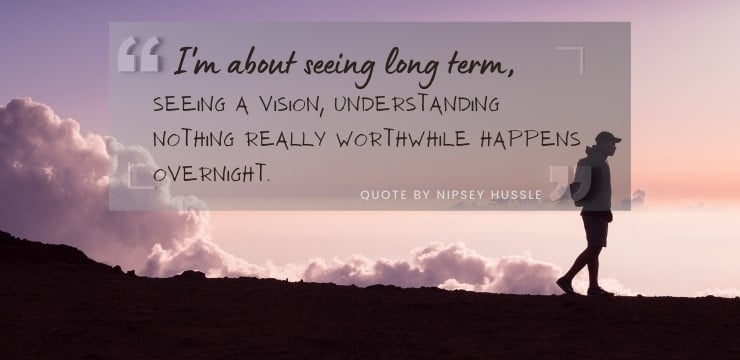 We all should strive to think long-term.
We want to make decisions that will benefit us now and down the road later if we're looking to create lasting value, not just for ourselves but for our community and the world at large.
☑ It all starts with a dream and vision.
Dreams start a journey, the first step towards making our aspirations a reality, and provide motivation and hope to pursue success.
Then we must plan to make that dream into reality by working hard with dedication and determination. The key is never to give up so easily.
Nothing worthwhile happens overnight!
Haste makes waste; as they say, we should be patient because it takes time and effort to see results, achieve transformation, and get the best things in life.
☑ Change seldom happens rapidly.
The process is gradual, but it's worth the wait. Real growth seldom happens overnight. Everything in life is a journey, and if we want to achieve our life's desires, we must persevere through each season, whether good or bad.
There you have it; the best Nipsey Hussle quotes to motivate and encourage us.
Quote from Nipsey Hussle
Related Posts You Might Like: