Ozark is a popular crime drama television series on Netflix that has received critical acclaim, particularly praise for its acting, directing, and writing. For that reason, here're the best Ruth Langmore quotes from Ozark's Netflix TV show.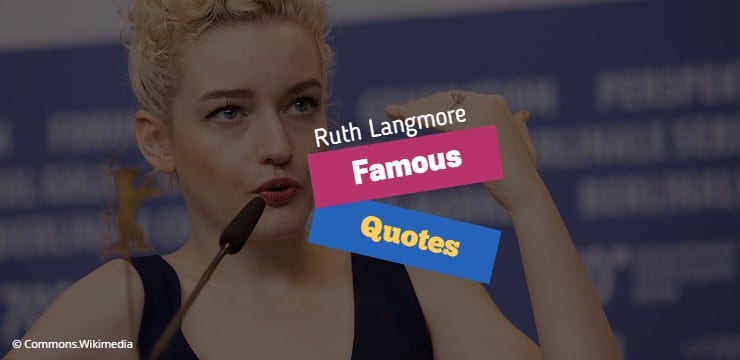 February 2020, Berlin, Germany – Actress Julia Garner speaks at the 70th annual Berlin International Film Festival (Berlinale 2020). Photo by
Harald Krichel
© Wikimedia Commons. Editor's note: Resized image.
Why is the Ozark TV series on Netflix popular?
The Ozark TV series is a popular show that premiered on the Netflix streaming service on July 21, 2017 and ran for four seasons. The show's first season consists of ten episodes, whereas its fourth and last seasons consist of fourteen.
The show has garnered praise for its suspenseful, well-acted, interesting plots, complex characters, and beautiful cinematography.
☑ The storyline is compelling, with twists and turns that keep viewers hooked.
Ruth Langmore Quotes from Ozark on Netflix
Ozark TV show is also unique because it is one of the few TV shows set and filmed in Missouri. That gives the show an authentic feel that many viewers appreciate.
The show's creator, Bill Dubuque, is originally from Missouri, which adds another layer of authenticity. In addition, it also deals with weighty themes, such as greed, comedy, romance, corruption, and family dynamics, which resonate with most fans.
With its strong writing, excellent cast, and stunning setting, it's no wonder that Ozark has become one of the most popular TV shows in recent years worth watching.
What is the Ozark series on Netflix about?
The show is about Marty Byrde, a financial advisor who moves his family from Chicago to the Ozarks after getting involved in money laundering for a Mexican drug cartel. The series follows how the family adjusts to their new lifestyle.
As they struggle to assimilate into their new surroundings, they must deal with dangerous criminals, corrupt politicians, and the dark secrets that lurk beneath the surface of their idyllic community.
The show also exposes the criminal lifestyle's pros, cons, and challenges.
Is the Netflix show Ozark based on a true story?
No, Ozark is not based on a true story. However, the show's co-creator, Bill Dubuque, drew inspiration from his life at Alhonna Resort and Marina in Lake Ozark, Missouri.
As a teen, Bill Dubuque, one of the show creators, worked as a handyman at their family-owned resort in Ozark, where years later, they filmed the show.
He used his past experiences living and working in the Ozarks to create believable and compelling world-like scenes for the Ozark television series on Netflix.
☑ While Ozark is not a true story, it certainly feels authentic.
So even though the events unfolding on the show are not actual events from a true story, it accurately captures the Ozarks region and its residents' feelings.
It provides a fascinating glimpse into the shadowy world of financial crimes. It also offers a fascinating look at the dark side of the American dream.
Who's the actress who plays Ruth in the Ozark Netflix original series?
Julia Garner plays Ruth Langmore in the popular Netflix show. Garner is an American actress who has appeared in several movies and TV shows, including "The Americans, We Are What We Are, Sin City: A Dame to Kill For," etc.
On Ozark, Ruth is a tough and resourceful teenager who becomes embroiled in the Byrde family's criminal activities. Julia Garner's performance is one of the show's highlights, and she has received critical acclaim for her portrayal of Ruth Langmore.
☑ Julia Garner has been performing since she was a preteen.
Although she's already shown her worth with films like Grandma, her work on Netflix's Ozark has garnered her the greatest recognition, including three Emmy awards for "Outstanding Supporting Actress" for her role as Ruth on the Ozark.
What is Julia Garner's net worth?
Julia Garner has a net worth of approximately $3 million.
She has earned most of her wealth from her acting career in television and film, which launched at age 17 in the early 2010s.
She started acting in minor roles in films such as "Not Fade Away" and "Martha Marcy May Marlene." Her first major role was in the movie "The Perks of Being a Wallflower" alongside well-known actors like Emma Watson and Logan Lerman.
She has since gone on to star in more prominent roles in films and television, such as "The Assistant," "Inventing Anna," and "Ozark," as we've discussed here.
What will Ruth say about winning an Emmy Award? » Quote by Julia Garner
Is Ozark worth watching?
Ozark is definitely worth watching! The Ozark TV series has a beautiful and unique setting, a twisty and engaging plot, and rich and complex characters.
For viewers who are looking for a complex and ambitious crime drama, Ozark is definitely worth watching. It will keep you hooked from beginning to end.
Best Ruth Langmore Quotes
What is one of the most memorable Ruth Langmore Quote from the Ozark TV Series?
"Look, I know I kissed you last night, but it's coz I thought I was gonna die."
List of other Ruth Langmore's most famous lines in Ozark television series on Netflix.
You know, Wyatt, in our world, it's good to be one of the smart ones. Remember that, okay?
Tell me, why do rich folks need so much money spent on them before they'll even think about going in their own pocket?
Shut your nugget mouth and get the hell out.
How about I pop those t**s and squeeze out the silicon?
Is that my fault that you can't communicate for sh*t with your wife?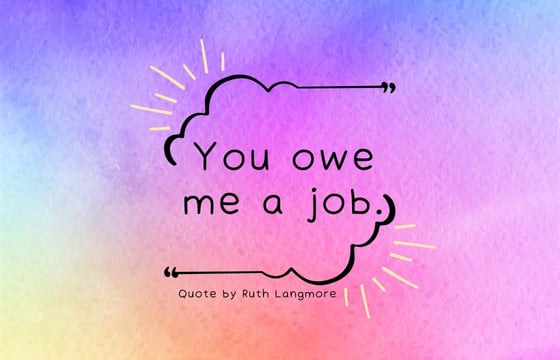 Why would they make DEFCON 1 worse than DEFCON 5?
Everything he touches turns to dogsh*t. I'm starting to think we might be related.
If you want to stop me, you're gonna have to f**k*ng kill me!
God's a m*therf**k*r. Isn't he? Built me smart enough to know how fu**ed up my life is. But not quite smart enough to haul my a*s out of it.
I've been in the system somewhere since I was three years old crawling around through cat flaps for my daddy.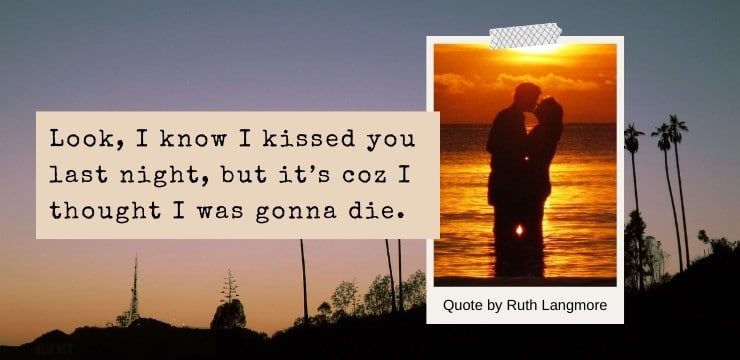 Quote by Ruth Langmore
Other Memorable Ruth Langmore Best Quotes And Famous Lines
(Ruth Langmore to Frank Cosgrove Jr.)
If you're a killer, then I'm f**k*ng Snow White. And I don't see any dwarfs around. 〰️ (Ruth Langmore to Marty)
What the f*c* are you gonna do? Kill me, you f*c*in' bit*ch wolf? 〰️ (Ruth Langmore to Wendy)
I've got a pretty strong f**k*ng stomach… Pardon my French. 〰️ (Talking to the funeral home director)
You know who you're in business with? They will tear everything you have to the ground, and somehow, they'll make you feel like next time it'll all be different. Because you wanna believe. They'll make you feel like they f**k*ng care. 〰️ (Ruth Langmore to Clare)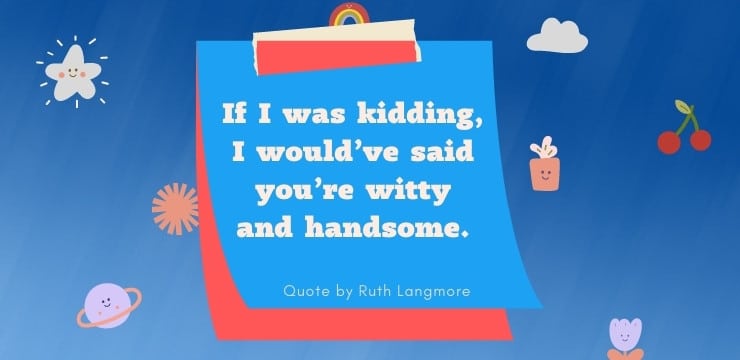 180+ Short Inspirational Quotes
We've curated a list of the best inspirational quotes by famous people to help you get motivated. Read these quotes to see what some of history's most successful people have had to say about achieving success in life.
This is your life. It aint f**k*ng mine. 〰️ (Talking to her Dad)
Just because you let that c**t get her fist up your a*s does not mean you can get yours up mine. 〰️ (Ruth Langmore to Marty)
There's a f*c*load of politics in your job, but right is right. 〰️ (Ruth Langmore to Ronnie)
Sounds like you need to go f*c* yourself. What you do is, you roll yourself into a ball or whatever, and you take your d*ck and you put it up your a*s. 〰️ (Talking to Agent Petty's threats)
(Ruth Langmore to Rachel)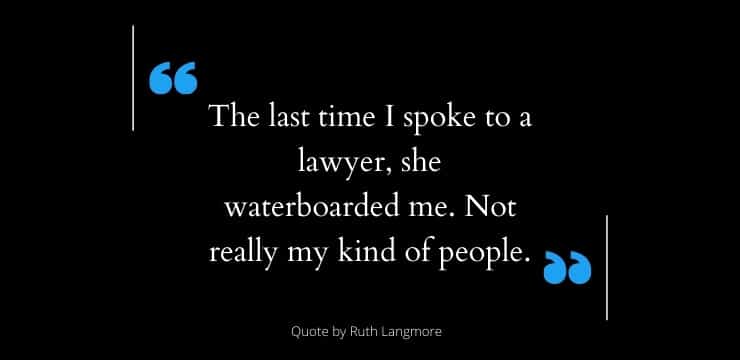 Hows about instead of sh*ttin' on me, you get your own house in order? And until you do, hows about you f*c* off, alrighty? 〰️ (Ruth Langmore to Marty)
Let me say this as respectfully as I possibly can. Would you please kindly f*c* yourself and leave me alone? Thank you. 〰️ (Ruth Langmore to Frank Jr.)
Not such a smart move, trying to blackmail a woman you just watched kill a man. 〰️ (Ruth Langmore to Clare)
Well, you must not rate much around here if no one bothered to tell you it's back on. And before you go sticking your d*ck in decisions above your pay grade, ask yourself, do you really want to have to toss it in a Yeti while you pray the doctors can sew it back on? 〰️ (Talking to foreman)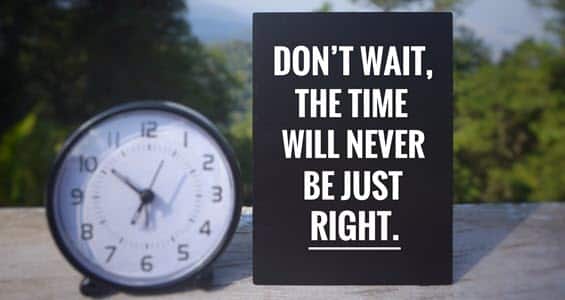 137+ Best Motivational Quotes
The motivational quotes we published in this blog post are from great thinkers and leaders like Walt Disney, Oprah Winfrey, and Abraham Lincoln. But there are also plenty of newer quotes from contemporary authors and speakers that can be just as inspiring.
The Most Iconic Ruth Langmore Famous Lines And Sayings From Ozark TV Show
Once most people watch Ruth Langmore's performance, they can't help but let her be one of their favorite characters on the show. She's tough, determined, and fiercely loyal to her family and friends – all traits viewers can appreciate.
And as you can see from the scene above, ruth from Ozark represents something many people can relate to: "the underdog who makes it big."
Despite being underestimated by those around her, Langmore never gives up and is more than willing to push her boundaries to help her family's business.
There you have it, 25 most unforgettable Ruth Langmore quotes.
Quote from Ruth Langmore
Related Posts You Might Like: