Johnny Cash was a pioneer in country music and influenced generations of artists across genres. His deep, resonant voice and dark, introspective lyrics made him a beloved figure. Therefore, these are the best Johnny Cash quotes.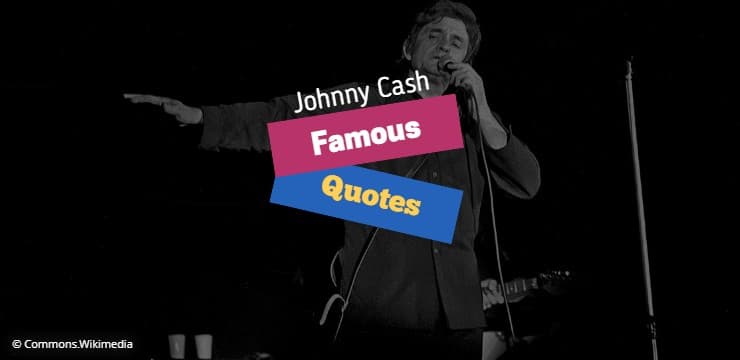 September 1972, Bremen, Germany – Johnny Cash was performing on stage. Photo by
Heinrich Klaffs
© Wikimedia Commons. Editor's note: Resized image
Why was Johnny Cash so famous?
Johnny Cash was among the best American songwriters and singers of the 20th century. While he was famous for his country music, a significant portion of his work impacted other music genres, including blues, rock and roll, gospel, etc.
Fans and critics remember Johnny Cash most for his baritone voice and humility; despite his success and fame, which was extensive.
✔ Johnny Cash had a gifted ability to tell a story in his songs.
Johnny Cash always almost wore black clothes when he performed live, which ultimately earned him the nickname "The Man in Black."
He sang songs about love and other topics such as redemption, prison, pathos, misfortune, death, and lust predicated on dark themes reflecting his difficult upbringing.
Johnny Cash's most famous songs include "I Walk the Line, Folsom Prison Blues, Ring of Fire, Rusty Cage, One Piece at a Time, Sunday Morning Coming Down, A Boy Named Sue, Hurt, God's Gonna Cut You Down, I've Been Everywhere," etc.
Quote by Johnny Cash about his love for music
What is the meaning behind the "Ring of Fire" song by Johnny Cash?
According to Rosanne Cash, Johnny Cash's daughter, this track is about the power of love. She says this is what it always meant for Johnny Cash and his children.
◬ Love can be both beautiful and destructive.
The lyrics describe the passionate love affair between Johnny and June. The song is a perfect metaphor for the volatility and intensity of their relationship and a great example of how love can simultaneously be both wonderful and dangerous.
Quote by Johnny Cash
Best Johnny Cash Quotes
What is Johnny Cash's famous quote?
"Yeah, the ones that you're calling wild are going to be the leaders in a little while."
List of other famous quotes by Johnny Cash.
You build on failure. You use it as a stepping stone.
I learn from my mistakes. It's a very painful way to learn, but without pain, the old saying is, there's no gain.
Gospel music is so ingrained into my bones. I can't do a concert without singing a gospel song. It's what I was raised on.
He has given me life and joy where others saw oblivion. He has given a new purpose to live for, new services to render and old wounds to heal.
Money can't buy back your youth when you're old, a friend when you're lonely, or peace to your soul.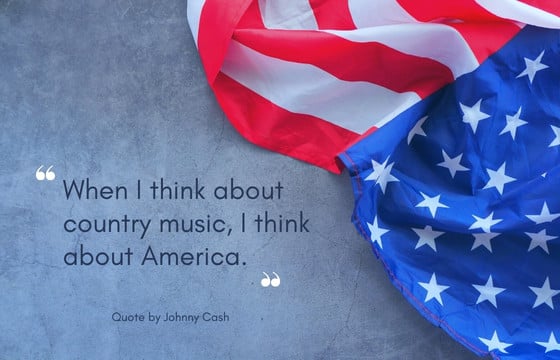 Love is a burning thing and it makes a firey ring.
Close the door on the past. You don't try to forget the mistakes, but you don't dwell on it.
I'm not really concerned about boundaries. I just follow my conscience and my heart. Follow your heart. That's what I do.
Well, I'd love to wear a rainbow every day and tell the world that everything's okay. But I'll try to carry off a little darkness on my back.
So I simply don't buy the concept of "Generation X" as the "lost generation." I see too many good kids out there, kids who are ready and willing to do the right thing, just as Jack was.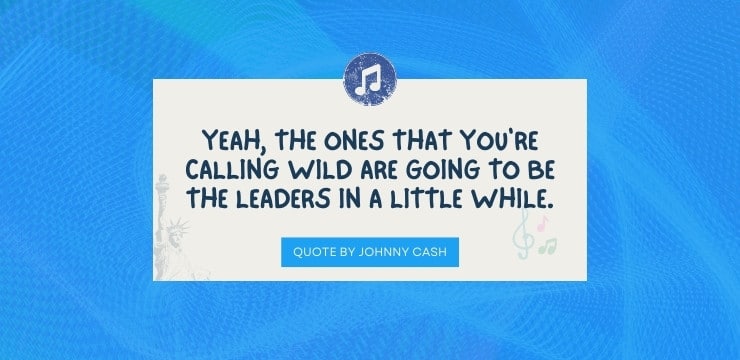 Quote by Johnny Cash
List of Top Johnny Cash Quotes – Table of Content
Johnny Cash Quotes About June Carter Cash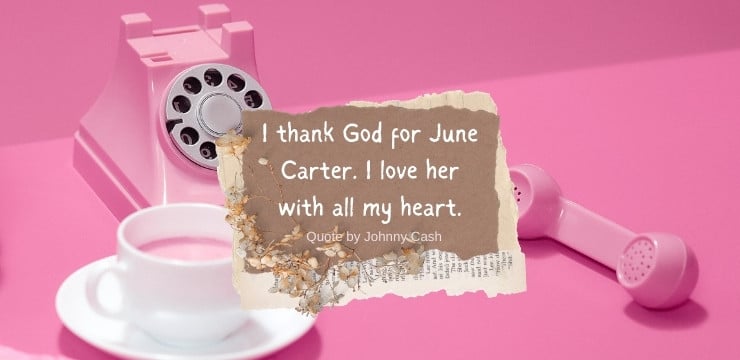 Quotes by Johnny Cash
You still fascinate and inspire me. You're the object of my desire, the number one earthly reason for my existence. I love you very much.
Backstage at the Grand Ole Opry, I got on my knees and told her that I was going to marry her some day. We were both married to someone else at the time.
'Ring Of Fire'—June and Merle Kilgore wrote that song for me—that's the way our love affair was. We fell madly in love and we worked together all the time, toured together all the time, and when the tour was over we both had to go home to other people. It hurt.
We connect somewhere between here and Heaven. She came down for a short visit, I guess, from Heaven to visit with me tonight to give me courage and inspiration like she always has. She's never been one for me except courage and inspiration.
Johnny Cash Quotes About Life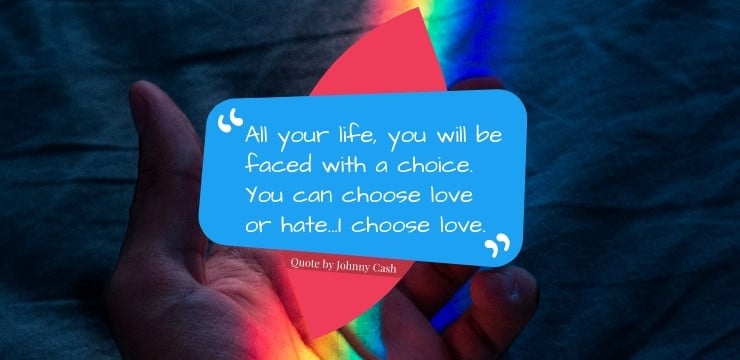 Love is a feeling of strong affection, while hate is intense or passionate dislike.
Unfortunately, some people often choose negative emotions such as hate, resentment, and jealousy. As a result, they end up feeling bitter, hollow, and alone.
☑ Today, we say choose love.
And we're not alone! The legendary Johnny Cash reminds us to choose love over hate through his words of wisdom. Hatred only leads to negativity and destruction, while love can lead to happiness, compassion, and peace.
When we choose to love, we free ourselves from the chains of fear, pain, bitterness, anger, and hatred. Consequently, we open our hearts to love, compassion, understanding, happiness, new possibilities, and incredible life experiences.
Johnny Cash Quotes
I'm not bitter. Why should I be bitter? I'm thrilled to death with life.
Some gal would giggle and I'd get red, and some guy'd laugh and I'd bust his head. I tell ya, life ain't easy for a boy named Sue.
The battle against the dark one and the clinging to the right one is what my life is about.
Follow your heart. That's what I do. Compassion is something I have a lot of because I've been through a lot of pain in my life. Anybody who has suffered a lot of pain has a lot of compassion.
Johnny Cash Quotes About God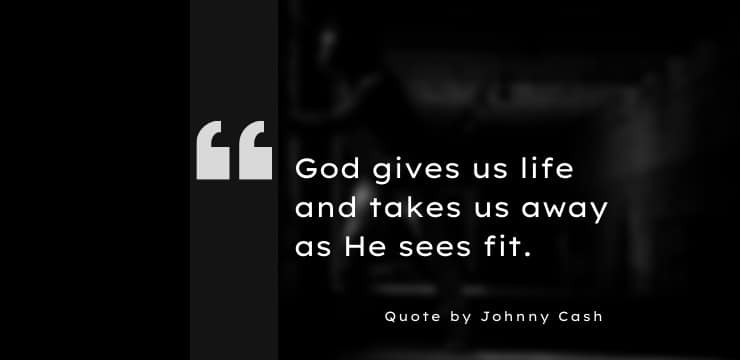 Quotes by Johnny Cash
Life is the question and life is the answer, and God is the reason and love is the way.
I expect my life to end pretty soon. You know, I'm 71 years old. I have great faith, though. I have unshakable faith.
Life is – the way God has given it to me was just a platter – a golden platter of life laid out there for me. Its been beautiful.
The Master of life has been good to me. He has given me strength to face past illnesses, and victory in the face of defeat.
Johnny Cash Quotes About Love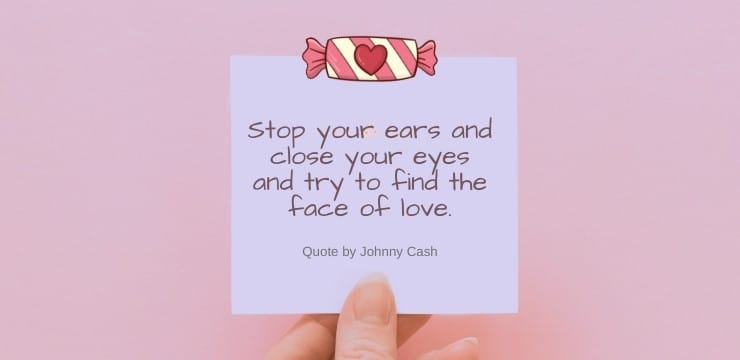 Love Quotes by Johnny Cash
Six foot six he stood on the ground He weighed two hundred and thirty-five pounds But I saw that giant of a man brought down To his knees by love.
Happiness is being at peace, being with loved ones, being comfortable—but most of all, it's having those loved ones.
The fire and excitement may be gone now that we don't go out there and sing them anymore, but the ring of fire still burns around you and I, keeping our love hotter than a pepper sprout.
I love weather. I'm a connoisseur of weather. Wherever my travels take me, the first thing I do is turn on the weather channel and see what's going on, what's coming.
Johnny Cash Quotes About Music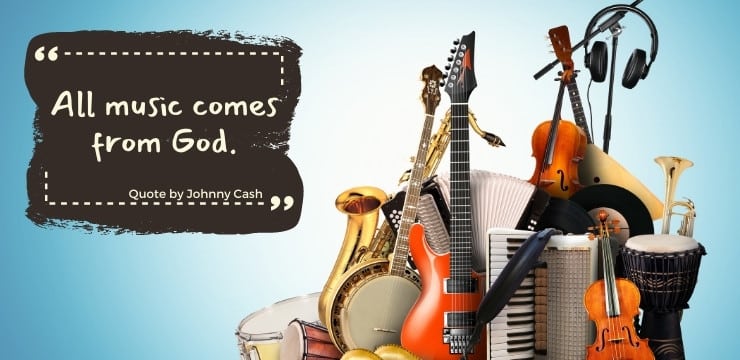 Johnny Cash Quotes
Life and love go on, let the music play.
I love to go to the studio and stay there 10 or 12 hours a day. I love it. What is it? I don't know. It's life.
Of emotions, of love, of breakups, of love and hate and death and dying, mama, apple pie, and the whole thing. It covers a lot of territory, country music does.
Gospel music was the thing that inspired me as a child growing up on a cotton farm, where work was drudgery and it was so hard that when I was in the field I sang all the time. Usually gospel songs because they lifted me up above that black dirt.
Other Famous Johnny Cash Motivational Quotes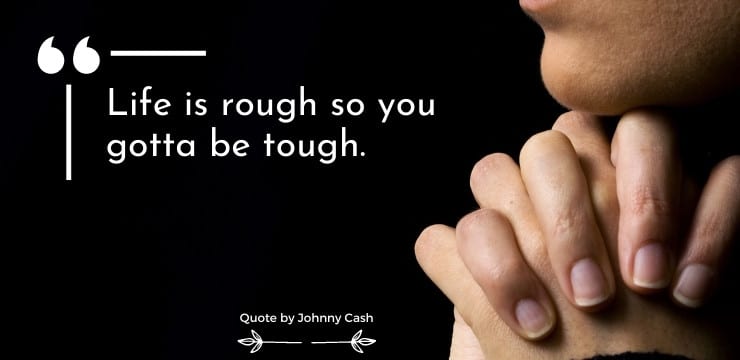 Life is often full of challenges and hardships.
That is because life is unpredictable, and it's not always easy for most people to achieve their goals and desires. In addition, we often have to confront obstacles full of pain, heartache, and disappointment along the way.
Regardless of the challenges, we often experience different emotions, meet interesting people, see new places, and do things we never thought possible.
☑ Remember, we all have to fight hard every day to survive.
In life, we will always be up against the odds, so don't take it personally. Instead, we must strive daily to be strong, fierce, and resilient to make it in this world.
Sure, there are moments of happiness and joy.
When you have those moments of joy, embrace them. Have fun, let go, be happy in the good times, and create new memories. Those joyful moments are what make life worth living, so cherish them.
Johnny Cash Quotes
There's no more simple life with simple choices for the young.
The taste of love is sweet when hearts like ours meet.
A person knows when it just seems to feel right to them. Listen to your heart.
I love Bob Dylan, I really do. I love his early work, I love the first time he plugged in electrically, I love his Christian albums, I love his other albums.
There's unconditional love there. You hear that phrase a lot but it's real with me and her. She loves me in spite of everything, in spite of myself. She has saved my life more than once.
She's always been there with her love, and it has certainly made me forget the pain for a long time, many times. When it gets dark and everybody's gone home and the lights are turned off, it's just me and her.
Because you are mine, I walk the line. The taste of love is sweet when heart like ours meet. We're soulmates, friends and lovers, and everything else that makes a happy marriage.
We share each other's triumphs, and when one of us gets hurt, we all bleed — it's corny, I know, but it's true. Loneliness is emptiness, but happiness is you.
They're powerful, those songs. At times they've been my only way back, the only door out of the dark, bad places the black dog calls home.
Everybody was wearing rhinestones, all those sparkly clothes, and cowboy boots. I decided to wear a black shirt and pants and see if I could get by with it. I did and I've worn black clothes ever since.
That's not a passion everybody shares, I know, but I don't believe there are any people on earth who, properly sheltered, don't feel the peace inside a summer rain and the cleansing it brings, the renewal of the earth in its aftermath.
I wore black because I liked it. I still do, and wearing it still means something to me. It's still my symbol of rebellion – against a stagnant status quo, against our hypocritical houses of God, against people whose minds are closed to others' ideas.
There's a lot of things blamed on me that never happened. But then, there's a lot of things that I did that I never got caught at.
I knew I wanted to sing when I was a very small boy. When I was probably 4 years old. My mother played a guitar and I would sit with her and she would sing and I learned to sing along with her.
You've got to know your limitations. I don't know what your limitations are. I found out what mine were when I was twelve. I found out that there weren't too many limitations, if I did it my way.
I wear the black for the poor and the beaten down, Livin' in the hopeless, hungry side of town, I wear it for the prisoner who has long paid for his crime, But is there because he's a victim of the times. I wear the black for those who never read.
137+ Best Motivational Quotes
What are some of the most powerful positive words to inspire somebody? Well, we've researched and curated the best quotes from famous people to motivate someone today.
Famous Johnny Cash Quotes And Sayings About Success In Life, Love, And Music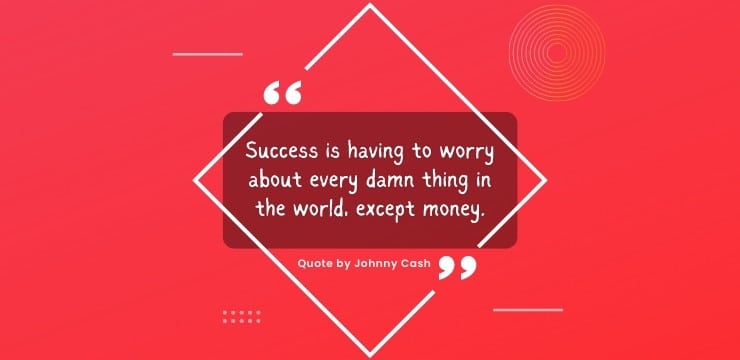 ☑ The harsh reality is that money can only do so much.
Successful people often have to worry about things that have nothing to do with money. For example, they may worry about maintaining their successful image, pleasing their boss or clients, and staying on top of their field.
▣ They are constantly under a lot of pressure, which can be stressful.
Besides, when someone is successful, people will look for guidance and leadership and be responsible for making important decisions that affect many people.
But at the same time, it's also advantageous to be successful because it allows one to live a meaningful, fulfilling, and happy life without worrying about money.
Quotes from Johnny Cash
Related Posts You Might Like: