Babe Ruth was one of the best baseball players, well-known for his fun-loving personality, natural showman, and carefree attitude. For that reason, we've curated the most famous Babe Ruth quotes to cheer you up for success!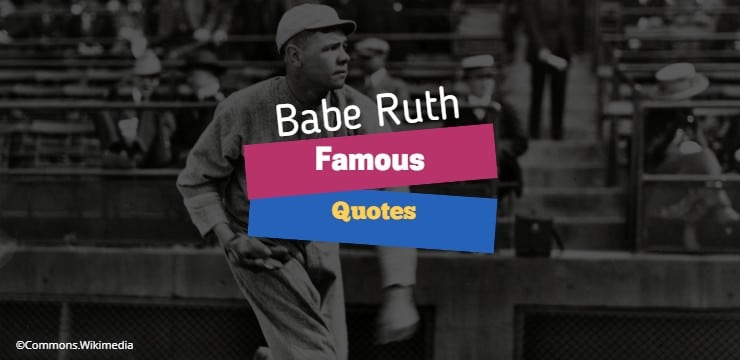 Babe Ruth, 1914 – 1919 – Boston Red Sox. Public domain in the United States © Wikimedia Commons
Why is Babe Ruth so famous?
Babe Ruth is perhaps best known for setting the single-season home run record (60 homers in 1927), his remarkable World Series performance, and monumental lifetime statistics.
He was not only a great baseball player but also an entertainer and one of the most famous athletes of his era, and fans loved watching him play.
George Herman "Babe" Ruth Jr. was a pioneer in the world of sports marketing.
Babe Ruth was one of the first athletes to endorse products and be paid for his endorsement deals. That helped to make him a household name, and it's one of the reasons why he remains so popular today.
What does Babe Ruth say about legends?
When did Babe Ruth become famous?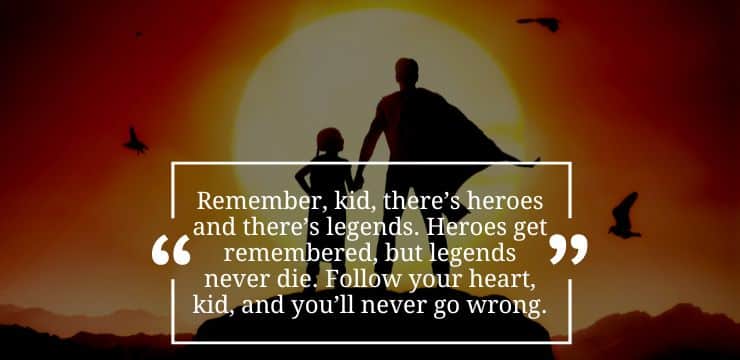 Babe Ruth became famous in the 1920s when he started playing for the New York Yankees. He quickly became one of the most popular players in baseball and was celebrated for his home run hitting ability.
Babe Ruth started his professional baseball career with Baltimore Orioles. However, in 1914 he was soon sold to the Boston Red Sox.
▣ In 1919, Boston Red Sox traded him to the New York Yankees.
It's playing for the New York Yankees, where he began to dominate the sport. He became known as "the Sultan of Swat" for his power at the plate and led the Yankees to consecutive World Series championships in 1927 and 1928.
Why is Babe Ruth important to American history?
Babe Ruth is important to American history because he was one of the most legendary figures in baseball and played a pivotal role in helping to make the sport extremely popular in the country.
He was also renowned for his hitting ability, setting numerous records that still stand today. As a result, he became a symbol of American power, mainstream pop culture, and athleticism.
In many ways, Babe Ruth embodied the spirit of America in the early twentieth century – he was bold, confident, and always striving to be the best.
Best Babe Ruth Quotes
What is Babe Ruth's most famous quote?
"I swing big, with everything I've got. I hit big or I miss big. I like to live as big as I can."
List of other famous quotes by Babe Ruth.
Don't let the fear of striking out hold you back.
You just can't beat the person who never gives up.
I have only one superstition. I touch all the bases when I hit a home run.
Baseball is the greatest game in the world and deserves the best you can give it.
I won't be happy until we have every boy in America between the ages of six and sixteen wearing a glove and swinging a bat.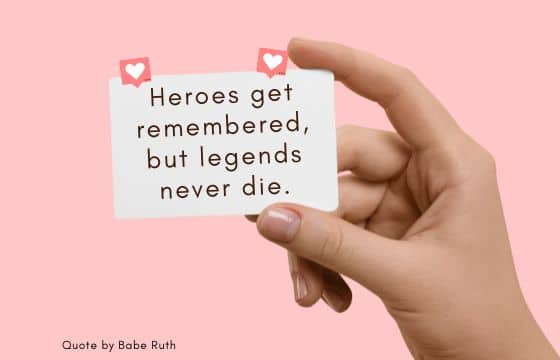 I said I'm going to hit the next one right over the flagpole. God must have been with me.
The way a team plays as a whole determines its success. You may have the greatest bunch of individual stars in the world, but if they don't play together, the club won't be worth a dime.
You may have the greatest bunch of individual stars in the world, but if they don't play together, the club won't be worth a dime.
Don't ever forget two things I'm going to tell you. One, don't believe everything that's written about you. Two, don't pick up too many checks.
Well, the good Lord and good luck must have been with me because I did exactly what I said I was going to do.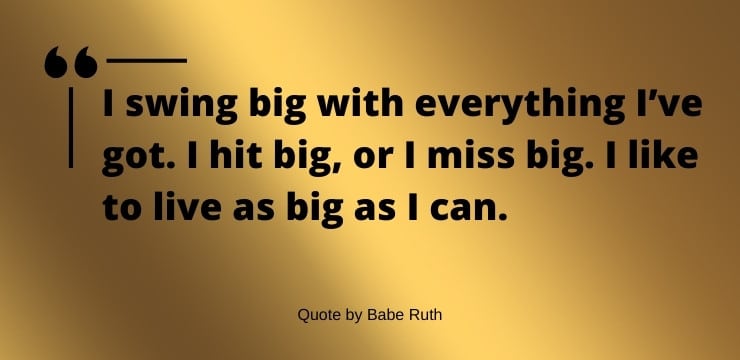 List of Top Babe Ruth Quotes – Table of Content
Babe Ruth Inspirational Quotes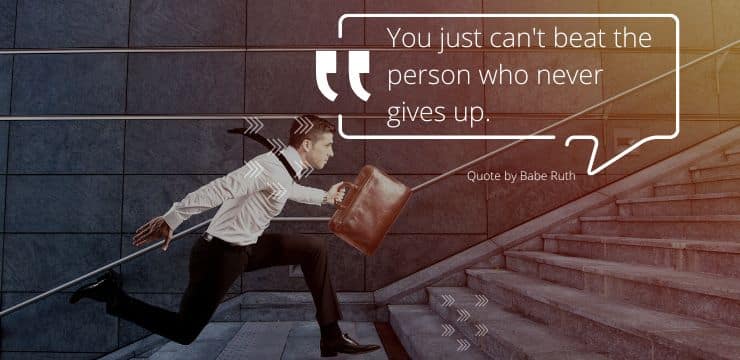 A person with a big dream who never gives up on it will not only find a way through but may go even under, around, and over anything to make their dream come true.
Such a person will see obstacles as stepping stones rather than dead ends.
▣ Many people will see "NOs" as rejection and give up on their dreams.
People with big dreams and determined effort tend to have minds that go into creative brainstorming and solution-seeking mode instead of taking a "NO, for an answer.
After all," they would say, "is just a two-letter word in a 26-letter English alphabet."
✔ How can anyone beat a person like that?
Babe Ruth Quotes
Gee, its lonesome in the outfield. It's hard to keep awake with nothing to do.
I'd give a year of my life if I could hit a homerun on opening day of this great new park (Yankee Stadium).
Every strike brings me closer to the next home run.
If it wasn't for baseball, I'd be in either the penitentiary or the cemetery.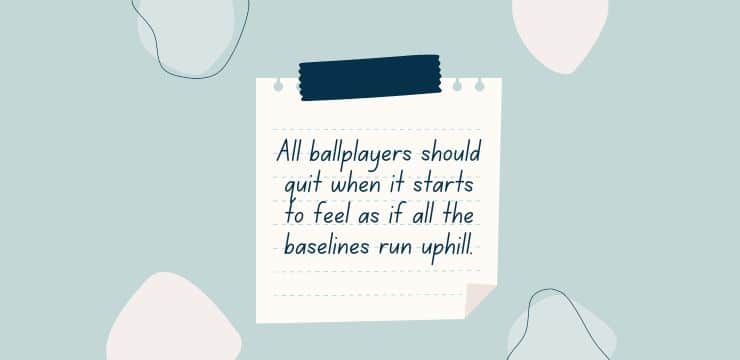 Navigating life feels like playing any sport or game.
We follow the rules, inspire ourselves, try to get to the finish line, and win.
☑ Sometimes in life, rather than beat a dead horse, it is easier to quit!
Our time is limited, and we shouldn't waste our time running after something that doesn't help us grow or no longer serve a purpose in our life.
Baseball is a game played on a flat field, and you shouldn't be running uphill because it makes the game needlessly more difficult than it should be.
We should also apply this to our life by eliminating things and taking ourselves out of situations that hinder us from reaching our most significant potential.
Babe Ruth Quotes
I get back to the dugout and they ask me what it was I hit and I tell them I don't know except it looked good.
After all, there's only one answer to be made to the young fellow who is asking constantly for advice as to how to hit. All I can tell them is pick a good one and sock it!
I copied (Shoeless Joe) Jackson's style because I thought he was the greatest hitter I had ever seen, the greatest natural hitter I ever saw. He's the guy who made me a hitter.
How to hit home runs: I swing as hard as I can, and I try to swing right through the ball… The harder you grip the bat, the more you can swing it through the ball, and the farther the ball will go. I swing big, with everything I've got.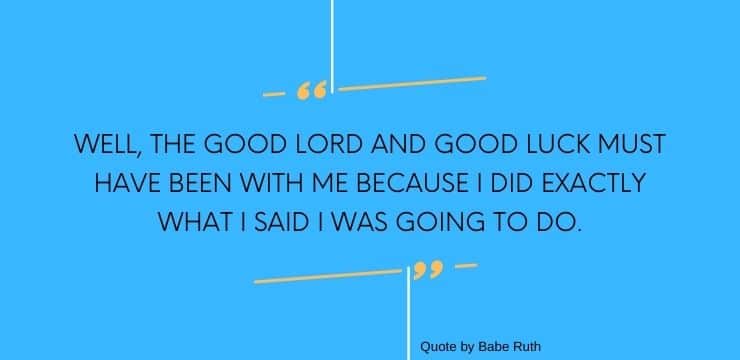 If you try hard enough, you're bound to come out on top.
How about a little noise. How do you expect a man to putt?
Who is richer? The man who is seen, but cannot see? Or the man who is not being seen, but can see?
Wealth is always attracted, never pursued.
Other Famous Babe Ruth Motivational Quotes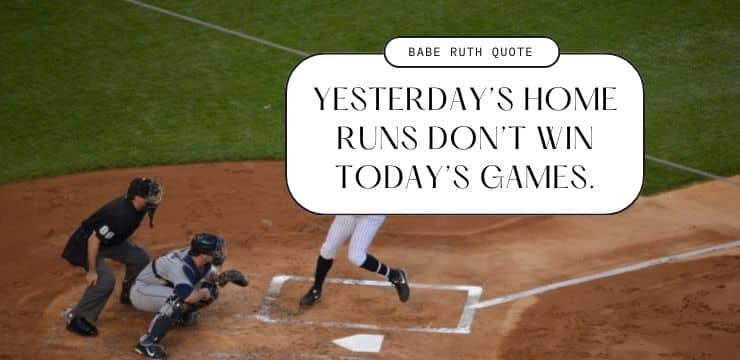 This quote by Babe Ruth reminds us that it is vital to keep improving and growing our skills or talents and stay humble beyond the success achieved in the past.
▣ We can not rely purely on past achievements to win future contests.
Instead, we must continuously be determined each day to hone our skills, talents, and knowledge and put in the hard work.
Staying humble keeps us grounded and ready to win against life's challenges and surpass society's expectations – or even the ones we set for ourselves.
Babe Ruth Quotes
What the hell has Hoover got to do with it? Besides, I had a better year than he did.
I thank heaven we have had baseball in this world… the kids… our national pastime.
You should always go to other people funerals, or they wont go to yours.
The way a team plays as a whole determines its success. You may have the greatest bunch of individual stars in the world, but if they don't play together, the club won't be worth a dime.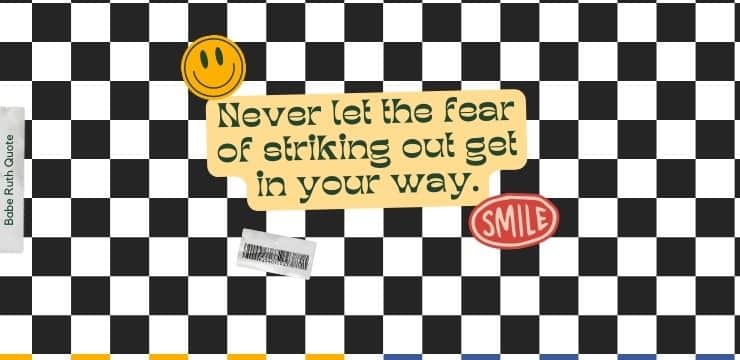 This motivational quote by Babe Ruth reminds us that the only way to get better at anything we set to do in life is to do it repeatedly until we get better at it.
It doesn't matter if we're playing baseball, learning how to dance, starting a business, or trying to memorize lines for a play…
☑ We need to do the work to get positive results eventually.
We can't let fear keep paralyzing us because our fears – and overcoming them – are an integral part of our success. Read other famous quotes to keep you motivated.
I've never heard a crowd boo a homer, but I've heard plenty of boos after a strikeout.
Reading isn't good for a ballplayer. Not good for his eyes. If my eyes went bad even a little bit I couldn't hit home runs. So I gave up reading.
I didn't mean to hit the umpire with the dirt, but I did mean to hit that bastard in the stands.
As soon as I got out there I felt a strange relationship with the pitcher's mound. It was as if I'd been born out there. Pitching just felt like the most natural thing in the world. Striking out batters was easy.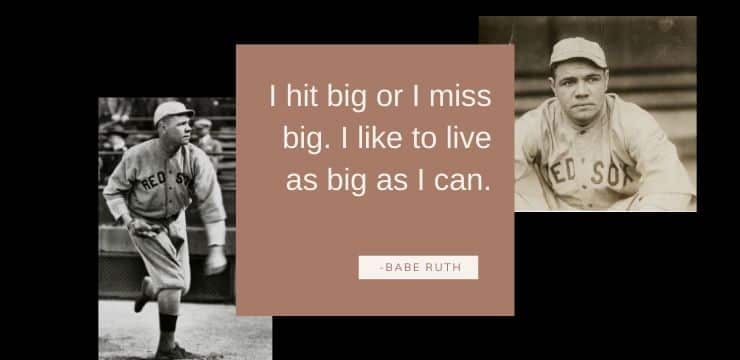 What are some famous baseball quotes?
Baseball was, is and always will be to me the best game in the world.
I'd play for half my salary if I could hit in this dump (Wrigley Field) all the time.
Life is a game like any other; we just don't take it as seriously.
What I am, what I have, what I am going to leave behind me – all this I owe to the game of baseball.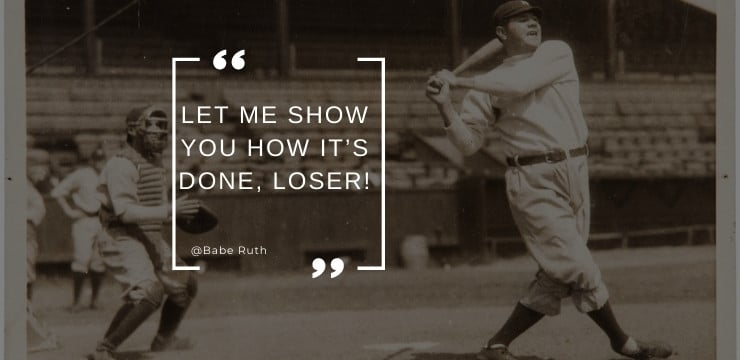 Love the game of baseball and baseball will love you.
If I'd tried for them dinky singles I could've batted around 600.
To my sick little pal, I will try to knock you another homer, maybe two today.
As soon as I got out there, I felt a strange relationship with the pitcher's mound. It was as if I'd been born out there.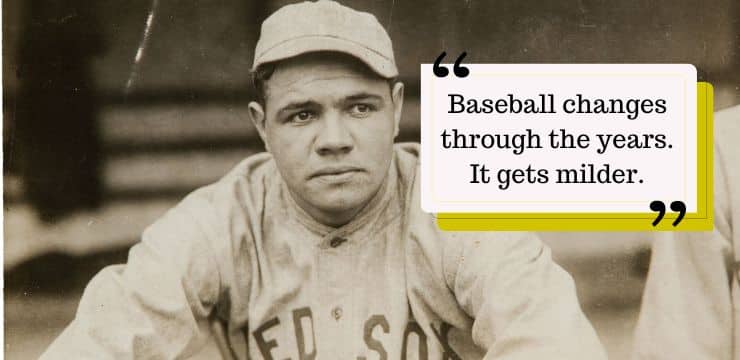 Babe Ruth Quotes
A man who works for another is not going to be paid any more than he is worth; you can bet on that.
I didn't mean to hit the umpire with the dirt, but I did mean to hit that bastard in the stands.
A part of control is learning to correct your weaknesses.
I'll promise to go easier on drinking and to get to bed earlier, but not for you, fifty thousand dollars, or two-hundred and fifty thousand dollars will I give up women. They're too much fun.
Famous Babe Ruth Quotes And Sayings About Baseball And Life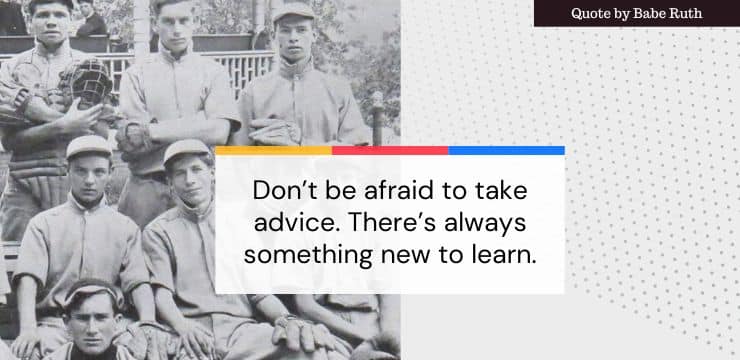 Advice is something that we all need, especially when it comes to our business.
Sometimes we're afraid to ask for advice.
We think it will make us look stupid or incompetent.
☑ The truth is that asking for advice shows maturity and strength.
It demonstrates that we are willing to admit that we don't know everything and that there are people who can help us get where we want to go.
There you have it; our favorite Babe Ruth quotes encouraging us to not refrain from taking advice, to work hard, to dream big, and live the best life possible.
Related Posts You Might Like: