Why is it so hard to find good domain names available for instant registration?
It's for that reason that we've researched the top ten domain name generator tools that will help you find available domain names to register quickly.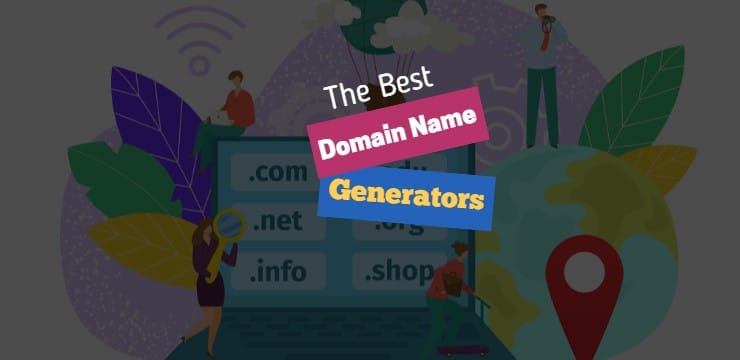 How To Find Cool Domain Names Using Free Domain Name Generators
When you're ready to set up a website, you have to pick the right domain name; otherwise, people won't remember your business when they go online to search for services related to the ones you provide.
People will type your domain name in search engines to locate your business online. It's like what your store's street address is to your physical business.
Your domain name is what customers think and search when looking you up online. For that reason, you may want to leave a lasting impression on consumers by choosing the right domain name for your business.
Why is it so hard to find a domain name for a website?
There are a few reasons it can be hard to find a unique domain name that accurately represents a business or website because only a few desirable top-level domains are available for immediate registration.
Most people find it difficult to register their preferred domain name because:
The number of unique domain names has decreased as the internet has grown.
Most of the good domain names have been registered already.
Domain name registrations are valid for a limited time, so someone else could register the name you want before you have a chance to.
Some domain names are being held for ransom by registrars or others who bought them years ago and are now asking for high prices to sell them back.
People are getting more creative in finding ways to squat on popular domain names that they can then try to sell back to the rightful owners at high prices.
How to find a domain name that isn't taken
There are a few ways to find a domain name that is still available. The best way is to brainstorm a list of possible names and check domain availability on different sites.
To speed up your domain name search process, you can use an online whois tool, a free domain name generator, or an online domain broker to check for domain names on sale by the owner.
A quick, cheap, and easy way to find domains is to use a domain name generator.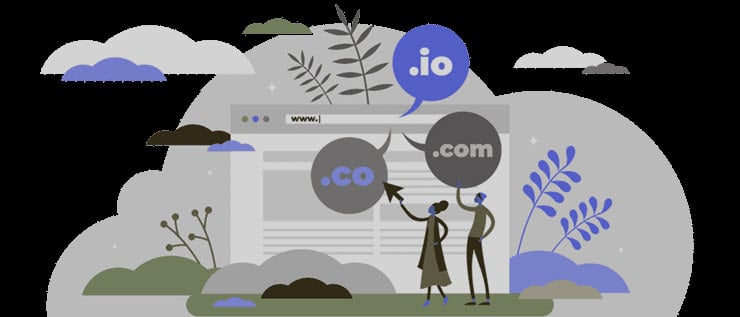 What is a domain name generator?
A domain name generator is a tool that helps you find good domain names for your business or website. It typically asks you to enter a few keywords related to your niche and then spits out a list of available domain names related to those keywords.
Domain name generators are helpful because they can assist us in coming up with ideas for domains that most people may not have thought of otherwise.
They're also handy for checking if a particular domain name is still available for purchase. Then, once you find one that's available, buy it right away!
There are several different domain generator tools online. This article will help you narrow your research, find the best domain name generator that suits your needs, and begin to generate a list of the best domain name ideas.
The Best Domain Name Generators For Instant Ideas
GoDaddy Domain Name Generator

GoDaddy is a veteran domain registrar and hosting services provider with over 23 years of experience. The company's leading position in the domain name registration market is one of its appealing features.
GoDaddy manages over 59 million domains.
Doing business with the largest domain registrar in the world has its perks. The right domain name can boost your website's success, while choosing the wrong one may lead to disaster.
GoDaddy's powerful search engines simplify the process of finding a domain name and allow you to quickly find other alternative domains in a few clicks and seconds.
Once the domain search engine completes searching through its databases for your desired name, it also instantaneously lets you know if the domain name is available so that you can scoop it up.
You can also use their free website builder to design and create your website then host it on their servers. Additionally, GoDaddy provides WordPress, shared, VPS, and dedicated hosting services.
They also provide email hosting services with a guaranteed uptake time of 99.9%. Overall, GoDaddy's random domain name generator makes it easy to find domains to build and host your website.
Shopify Domain Name Generator

What exactly does Shopify do?
Shopify is a well-known and trusted brand with a lot of credibility in the e-commerce space. Shopify makes it easy to set up and run an online store without having to worry about hosting, security, or payments because they take care of all that for you.
Their streamlined setup process makes it easy for anyone to create an online store, regardless of their level of technical expertise.
[lasso ref="shopify-domains" id="43726″ link_id="925″]
Shopify has a huge selection of tools and integrations to choose from, and one such great feature is its free domain name generator.
This tool makes it easy for anyone looking to start a new online business to do so easily by simplifying the time it takes to find the perfect domain to register.
Do you get a free domain with Shopify?
Shopify provides new customers with a free domain name extension, .myshopify.com, making it easy to set up their online store when they sign up for their service.
For example, if your store name is ILoveMyStore,
  » Your free Shopify domain name will be ILoveMyStore.myshopify.com.
Most Shopify sellers prefer to use other popular domain extensions.
Shopify domain name registration service allows businesses to purchase and manage a custom domain name using other domain name extensions for their online stores.
Their tool allows you to search for available domains and filter results based on your needs. You can also register domains directly through Shopify.
Shopify's domain name search tool is free and quick.

NameBounce is a startup based in the United States.
It started business in 2019, yet it now has servers in over 200 countries and provides business naming solutions. The company employs high-tech solutions to make it simple for anyone to find a unique business name.
 » It's a simple website where you can:
Type your search term,
Select the extension and,
Click go to see results.
You can filter the results by length of word or number of syllables.
That's the only filter option available, so this domain search tool is a bit primitive. Plus, the results do not show the prices, so you won't know the cost until you click on a specific domain name and after you get redirected to Domain.com.
The company offers a 25 % discount if you purchase your preferred name with Domain.com. That said, NameBounce Domain Name Search is 100 % free to use.

This AI-powered technology is arguably one of the best domain name generators in the world. It simplifies the process of coming up with a name for your new business, brand, or enterprise.
To get started, type one or more keywords related to your business that you would like to include in your brand name into the search form.
Then, choose the industry in which your company operates. That will assist Business Name Generator AI in producing the most satisfactory outcomes.
You can modify the tone, length, and overall appeal of each name suggestion to help you find the best name choice for your company.

You may also include a location in your business name to help it stand out in local search results. However, if your company aims for a nationwide audience, you can skip this stage.

What is Lean domain Search?
Lean Domain Search is a website that offers a great domain name generator tool for small business owners, bloggers, and anyone else who wants to find suitable available domain names for a website.
Just enter a few keywords you want in the search box, and Lean Domain Search will show you a list of domain names that match and or are related to your keywords.
You can sort results by popularity, length, or alphabetical order. You can also filter the results to get only the names that start or end with your search term.
Lean Domain Search domain generator also determines whether or not your domain name can serve as your Twitter handle by analyzing its length.
Only a few domain name generators have this capability. However, it is a helpful feature for brands looking to grow their social media presence.
There's also a feature to share results by copying them to the clipboard.
Founded by the people behind WordPress.com, Lean Domain Search is free to use! You may also want to check and read more about ten domain name search tips that will help you find the perfect domain name for your website.
HostPapa Domain Name Generator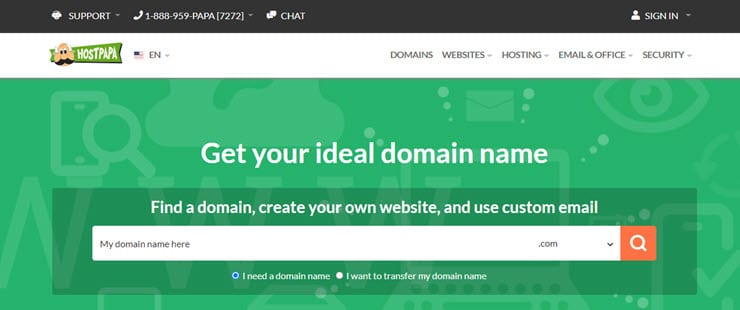 Is HostPapa a Canadian company?
HostPapa is a Canadian company headquartered in Burlington, Ontario.
The company was officially founded in 2006 and provides web hosting, domain registration, email services, and free applications such as blogging tools and shopping carts to small businesses and individuals.
HostPapa is one of Canada's largest web-hosting providers, serving more than 500,000 customers in Canada, the United States, European Union, India, the United Kingdom, and many other countries worldwide.
HostPapa offers a custom domain name generator that is free, easy to use, and helps people find a good custom domain name.
To use this tool, simply enter a few words related to your business or website, and the domain name generator will show you a variety of available domain names available for registration. You can also search for specific domains by name or extension.
Once you find a good name, you can check its availability and register your chosen domain name right from the generator interface.
Is HostPapa part of GoDaddy?
HostPapa and GoDaddy are two completely separate companies.
HostPapa is a web hosting company that provides a wide range of web hosting services to small businesses. GoDaddy is a domain name registrar that offers other web services such as online marketing, website design, web hosting, and more.

Domain wheel is a free tool used to generate a list of potential domain names.
It works by taking a keyword or phrase and cycling through to find and suggest all the possible domain names available for registration using that keyword or phrase.
To get started, enter your search term to begin using this tool; it could be one or several keywords to help generate your domain name. Mix any letters or use an actual word; your imagination is the limit.
A list of names is generated by combining words, finding rhymes, using random suggestions, or looking at popular searches.
Domain wheel gives users the option to select the extensions they'd like to include in the search and only returns a list of domains available for purchase.
Unfortunately, Domain wheel does not provide an easy option to check for at the same time the availability of its social media handle.
Network Solutions Domain Name Generator

Network Solutions is another provider of internet solutions to businesses, including domains, website and e-commerce, hosting, security, online marketing, and email.
As a domain registrar, Network Solutions manages over 7 million domains. In addition, they offer a quick and short domain name generator that can assist you in finding a domain name for your business.
Like the other tool mentioned here, input your keywords or search terms into the search bar, and their system will find domain names eligible for registration.
You may narrow the results by using common domain name extensions like dot com, dot net, or dot info. You can also search for new domain name extensions like dot guru, dot solutions, dot mobi, dot name, dot academy, dot agency, and many more.
Network Solutions domain generator displays premium domain names available for purchase directly from the website without having to do a Whois search elsewhere. You can also check expiring domains that are available for new registration.
The company also allows you to make a certified offer on the domain names you want, creating a sense of urgency for the Seller to respond.
Another feature of Networks Solutions is "bulk search," whereby you can input more than 20 search terms on a separate line and look them up at once.
Being the 4th Biggest domain name registrar globally, this company is a top alternative to other domain name registrars. In addition, there's a 25 % discount on domain registration for Word Press beginners.
IWantMyName Domain Name Generator

What is iwantmyname com?
iwantmyname is a domain registrar owned by CentralNic Group PLC, specializing in registering and managing domain names.
They offer a wide selection of top-level domains (TLDs), i.e., 400+ domain extensions, as well as powerful tools to help people find and secure their perfect domain name.
Their website is straightforward, with no clutter or upsells.
Their domain name generator doesn't offer many filter choices; in fact, you can only hide the domains that aren't available; therefore, you can't do much to sort and filter through the list of names that it generates.
Despite that, iwantmyname strives to simplify and transparently manage the domain search registration, management, and transfer process.
Is iwantmyname legit?
iwantmyname is a legitimate domain name registrar that has been in business since 2008. The company is ICANN accredited and is in good standing with the Better Business Bureau.
It was created in 2008 by Paul Spence, Lenz Gschwendtner, Timo Reitnauer, and staff from various ICANN member registrars that take pride in simplicity, openness, and integrity.
Your domain name will renew seamlessly for the same amount each year, and you will not be inundated with upsells or cross-sells as you proceed to check out. They also provide additional services such as website design and hosting.
Namecheap Domain Name Generator
Namecheap domain name generator allows people to find and filter names in many ways, allowing you to generate domain name ideas with precision.
The most popular one is the Beast Mode.
With this search tool, you can find just about any custom domain name you want.
Namecheap domain name generator is one of the best because it offers a wide variety of domain extensions at competitive prices. In addition, its user interface is simple and easy to use.
You can input up to 500 keywords and domains to get started.
You can also filter and sort the list of names generated by price to find the perfect name that falls within a price range that fits your budget.
There's also a feature to transform the domain name by dropping the last vowels, pluralizing nouns, or using domain hacks. In addition, there's the option to show premium domain names.
Namecheap free domain generator lets you easily create variations of search terms to find top-level domain extensions that interest you, check domain availability, and register the domain name with just a few clicks.
The top-level domain choices extend even further, allowing you to select other domain extensions based on sector areas such as marketing, business, technology, and many more.
You can register a domain for as little as $0.99 per year.
Above all, the company provides numerous add-ons, web hosting plans, and free website creation tools.
Conclusion: The Top 10 Free Domain Name Generator Tools

Not all domain name generators will deliver the results they offer; many of these tools promise to help people find unique business names for their websites. But, unfortunately, they only generate useless results when we start to use them.
So be aware that they don't consistently deliver superb results.
When we harness the power of artificial intelligence and combine it with logic, creativity, and imagination, it makes it much easier for anyone to find and register their perfect domain name.
The main advantage of using good domain name generators is that it will speed up the time it would otherwise take to brainstorm, sort, and find available names.
In addition, some of the domain name generators we've discussed above offer complementary services like registration, website builders, and web hosting.