A domain name is a required vital part of a website and for that reason securing a good domain name is ground zero if you plan to start a small business website.
Maybe you have a perfect domain name in mind that is memorable, brandable, easy to type and pronounce, that you want to snatch and register right away because you don't want to lose it to somebody else!
Perhaps you're having a little bit of trouble coming up with the right name,
 » Or maybe you want to find the cheapest domain registrar within your budget.
Whatever the case, we'll walk you through the top 13 most popular domain names registrars worth checking out that are reliable and have the right domain tools and resources to steer your website in the right direction.
But before we start, there are a few things I'd like to bring to your attention:
Does it matter which domain registrar I use?
It matters which domain registrar one chooses to use to buy a domain name because not all domain registrars are created equal, and some offer better features and services than others.
Some of the top domain registrars are more reliable, have a good reputation, are user-friendly, and provide better customer service.
Choosing and registering your domain name are the first initial steps to building an online presence. Before we look at these domain names registrars, let's look at the five key factors to consider when picking a registrar.
I doubt you'll miss GoDaddy in any list featuring top domain names registrars you come across online.
Is GoDaddy a good place to buy a domain?
GoDaddy is a well-known and reliable domain name registrar and web hosting company. Established in 1997, GoDaddy hosts over 80 million websites around the globe. That makes GoDaddy by far the largest domain registrar.
Yes, its closest competitor — NameCheap — powers over 15 million sites.
The GoDaddy figures speak volumes.
GoDaddy is a one-stop-shop for web services. You're covered whether you need domain name registration, email web hosting, website builder, or marketing tools.
GoDaddy's huge online dominance may be because of its attractive discounting strategy. For example, at the time of writing, registering some of the more popular domain extensions costs:
GoDaddy offers add-on features like domain protection, professional email service, and DNSSEC service. However, these come at a fee.
Even though you'll enjoy free WHOIS domain privacy protection, you may want to take advantage of GoDaddy's domain protection plans for optimal security.
A Full Domain Privacy and Protection service costs $9.99/yr, whereas the Ultimate Domain Protection plan is $14.99/yr. These advanced protection features can help lock your domain, preventing accidental or malicious transfers.
Clients pay a discounted price of $1.99 to $.8.99 per month for email hosting.
As for DNSSEC, the cost is $2.99 per month.
Overall, they have an excellent reputation for being reliable and affordable, and they also offer a money-back guarantee if you're not satisfied with their services.
Is Namecheap good for domain registration?
Namecheap has been registering domains since 2001 and has established a reputation as a leading provider of domain names and web hosting services.
As mentioned earlier, NameCheap boasts over 15 million domain names under its management. NameCheap has been around since 2001.
Is Namecheap a good domain registrar?
NameCheap is generally considered a good domain registrar. That is because they offer a wide variety of domain extensions, have competitive prices, and provide good customer service.
That said, be aware of the five factors we discussed above before you buy a domain from NameCheap.
This ICANN-accredited domain registrar has built an excellent reputation in the industry, thanks to its low-priced domain costs and expiration plans of up to 10 years.
It offers top-level domain names (TLD), with first-year registration costs as follows:
Namecheap strives to keep its costs down by running a very efficient business and leveraging technology to automate many tasks. Then, they pass on the savings to their customers, explaining why their prices are low.
You can purchase additional Namecheap services, such as:
PremiumDNS protection — $4.88/yr
SSL certificates — $3.88/yr
Web host — from $8.88/mo
Email hosting — from $0.74/mo
VPNs — from $0.83/mo (after expiration of free trial)
Like GoDaddy, NameCheap also features a marketplace for selling and buying domains. Domain transfer is free, but the registrar requires you to pay a 1-year renewal fee.
Navigating the site is easy, and there are helpful informational materials like blogs, guru guides, and knowledgebase. If you need to speak with a NameCheap customer support rep, use the 24/7 live chat feature.
We might be mistaken to include Bluehost here, you think?
Most of us probably know Bluehost as a go-to web hosting provider, especially for building WordPress Websites. But the company also offers domain registration services to new and existing customers alike.
If you're looking for a user-friendly web host and domain names registrar that is affordable and reliable, then Bluehost is a great choice.
How much does a domain name cost per year on Bluehost?
On average, a domain name on Bluehost typically costs about $10-$12 per year. New customers can also get a free domain name for the first year when they set up a new web host account with Bluehost.
Bluehost includes auto-renewal. Another thing worth mentioning is that Bluehost waives the first-year domain name fees if you choose its web hosting services.
How much does it cost to host a website on Bluehost?
Bluehost has several shared hosting plans that start for as low as 2.75/month. The company also offers a more expensive VPS plan for $18.99/month and a premium Dedicated plan for high-traffic websites that start at $79.99/month.
In addition, Bluehost's plans include unlimited storage space and bandwidth, free domain registration, and a free website builder with hundreds of templates.
What's great about Bluehost is that their hosting plans are affordable, and they have a friendly and knowledgeable live customer support team that is available 24/7 to address whatever concerns you may have.
Unfortunately, like Domain.com, Bluehost doesn't freely offer WHOIS privacy and protection. And its prices are slightly higher, set at $11.88 per year.
Bluehost also provides email hosting from Microsoft 365 at an added cost — starting at $35.88 per year. Therefore, overall, we must admit clients get the best deals when the domain registration services are part of a bundle.
Google provides a long list of products and services, including domain registration, ⇒ a service launched in 2015.
Even though Google Domains is relatively new, it has registered over 7 million domain names. Google Domains may not be the most affordable registrar, but it does things a little differently.
Unlike other domain names registrars that always seem to have something extra to sell to you once onboard, Google domains keep the process pretty straightforward with fair and transparent pricing.
How much does a domain on Google cost?
On average, it costs $12 per year for a domain on Google for the popular top-level domain extensions like · .com · .net, · .org, etc.
It uses a flat-rate pricing model for entry-level and renewal phases. However, they also have other pricey domain extensions like · .io that cost $60.00 a year, and some of the new extensions can go up to $120/year.
Google Domains offers over 300 domain name extensions.
Furthermore, people's trust and familiarity with Google give Google domains an edge over other domain registration companies, which speaks volumes for itself.
Domain registration includes free:
WHOIS privacy protection
DNSSEC
Domain lock
The only add-on you may need to buy is email hosting with Google Workspace, starting at $6 per month. Also, while Google Domains is fully functioning, it still operates in the beta phase at the time of this publication.
What is DreamHost?
DreamHost is a web hosting and domain registrar company founded in 1997 by Dallas Bethune, Sage Weil, Josh Jones, and Michael Rodriguez, four friends from Southern California University.
Its headquarter is in Los Angeles, California.
Over the last 25 years, DreamHost has become one of the largest domain name registrars and web hosts globally, hosting over 1.5 million websites.
DreamHost is also a green company, powering its data centers with 100% renewable energy.
DreamHost offers a wide range of web hosting packages, including shared hosting, VPS hosting, and dedicated server hosting. It also provides email and marketing tools to help business owners grow their online presence.
DreamHost is one of the larger and more popular domain name registrars; therefore, their pricing can vary depending on the availability of the specific domain name that you're looking for to register.
Generally speaking, common .com, .net, and .org domains start at around $10 per year. However, more unique or high-value domains can often cost several hundred or even thousands of dollars per year.
DreamHost also has some features and benefits that make it an attractive choice for hosting your website. Some of the pros include:
Unlimited storage space and bandwidth: unlike other hosts, DreamHost does not limit the amount of storage space or bandwidth you can use.
A variety of hosting options: DreamHost offers a range of hosting options, from shared hosting to dedicated servers, so that you can find the right plan for your needs.
Free domain name registration: You get free domain name registration for one year when you sign up for a hosting plan with DreamHost.
Award-winning customer support: DreamHost has won numerous awards for its excellent customer support, which is available
They offer a wide range of services and have been in business for over 20 years. Additionally, they offer a 97-day money-back guarantee, which is one of the longest in the industry.
However, they are not perfect. DreamHost customer service has been unhelpful at times, and their prices are not always the cheapest. But overall, they are an excellent choice for domain registrar service and web host for small businesses.
Fourth on our list is Domain.com, a long-serving domain registrar powering over 1.9 million websites. Again, for a company operating since 1998, you would expect much in its market share.
Regardless, Domain.com ranks as one of the best domain names registrars.
It has a user-friendly platform, and you can buy top-level domains (TLDs) and country-code top-level domains (ccTLDs) at reasonable prices.
Anyone can register their domain name for as little as $2.99 per year with a discounted promo code. The standard .com extension sells the most, costing $9.99 during the first year and renewing at $15.99 per year.
Well, this domain registrar allows you to pay for up to 5 years. In addition, it offers free domain services, including Transfer Lock and Total DNS Management.
However, Domain.com clients will have to pay for the WHOIS privacy protection feature priced at $8.99 per year.
Domain.com also specializes in other related services, including:
Web hosting — $1.99 to $13.75/mo
SSL certificates — $3.33 to $25/mo
Email hosting — $4.99/mo (Microsoft 365) or $6/mo (Google Workspace)
Website builder — $1.99 to $12.99/mo
SiteLock security — $1.99 to 24.99/mo
As for domain transfers, the fees include a 1-year registration. In addition, customer support is available 24/7 via live chat or phone.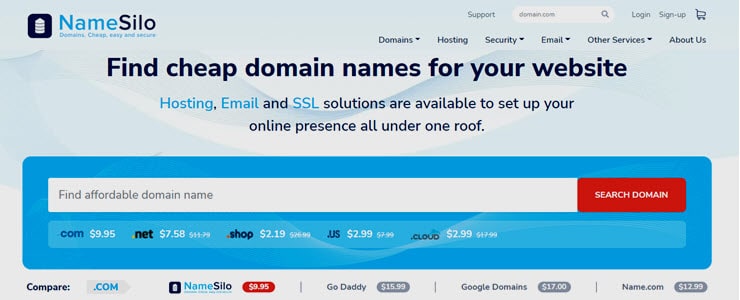 Is NameSilo a good domain registrar?
In general, Namesilo is a good domain registrar because they are a much smaller company than the other popular ones, which can be a nice thing. After all, their customers can often get better customer service.
Boasting over 4.5 million domain names, NameSilo enjoys a significant market share because of its affordable rates, especially when clients buy domains in bulk.
For example, a single .com extension goes for $9.99, but if someone joins their domain's discount program and buys in bulk, NameSilo reduces the rate to as low as $8.75.
The more domain names you buy, the higher the discount rate. By the way, you can buy over 5000 names in bulk. I mean, if you figure out what to do with all those names!
With NameSilo, you get free:
WHOIS privacy
Custom WHOIS Records
Custom Email forwarding
Domain Defender Protection
DNS management tools
Registry lock
This company uses a similar pricing model as Google Domains; therefore, the entry-level and renewal fees are the same for most popular domain extensions like .com or .org, with a few exceptions.
Cost of other NameSilo Services:
Web host services — $2.99/mo
SSL certificates — $9.59/yr
Premium DNS services — $9/yr
Is dynadot a good registrar?
Dynadot is ICANN-accredited, and they have been in business since 2002 and maintain good ratings with the Better Business Bureau.
It powers over 3.1 million domain names.
The registrar is well-known for its pocket-friendly rates, transparent pricing, and advanced domain suggestion tool. In addition, it has a domain auction marketplace where people sell expired or existing domain names.
 ⇒ It has become one of the sought-after domain names registrars.
If your desired domain is not available for registration, you can use the "Backorder" feature to request purchasing it if it's not renewed.
Dynadot domain registration services include free WHOIS privacy, a one-page website builder, DNSSEC, and a registry lock. Domain transfer is free, although you must pay a 1-year renewal fee.
Dynadot gives discounts on bulk domain renewals and super bulk domain purchases.
For example, if you spend at least $500 in a year, Dynadot lowers your .com domain price to $9.25. If you spend $5,000 or more, your rates drop to $8.99.
Dynadot Extras:
Email hosting — $15.99/yr
VPS hosting service — $10/mo
SSL certificate — starting at $16.99/yr
Website builder — starting at $10/yr
Is IONOS a registrar?
Launched in 1988, IONOS is a provider of cloud-based apps for small businesses and is one of the longest-serving companies in the web hosting industry. It is also accredited and authorized by ICANN to provide domain name registration services.
IONOS is worth checking out if you're looking for affordable domains from a highly trusted source. So far, it has registered more than 5 million domains.
You can look forward to great prices during the first year.
 » But unfortunately, the renewal prices increase substantially.
Overall, though, the company offers hard-to-resist deals with nice extras. In addition, some add-ons like WHOIS privacy and domain lock are available for free.
Cost of other IONOS services you can purchase separately:
Web hosting — starting at $0.50/mo
VPS hosting — starting at $2/mo
Business email — starting at $1/mo
Premium SSL certificate — starting at $20/mo
There's everything you need, in one place. And you're backed by 24/7 customer support available via live chat and phone.
Does HostGator sell domains?
HostGator offers customers the ability to purchase a domain name at a very competitive price. You can buy a domain name for discounted deals for as low as little as $0.99 per year when you register it for a term of 10 years.
Premium domains and other extensions may cost more.
In October 2002, Brent Oxley founded HostGator, which has grown into a leading web hosting provider and domain name registration company.
It is one of the largest web host and domain name registrars companies globally.
It has over 9 million domains and websites under management and has received numerous awards for its quality service.
HostGator offers various services, including domain name registration, shared web hosting, reseller hosting, virtual private server (VPS), and Dedicated web hosting solutions. Some of their benefit and features highlights include:
24/7/365 customer support via phone, chat, and email.
99.9% uptime guarantee.
45-day money-back guarantee.
Free website builder with over 400 templates.
HostGator is an excellent choice for website owners looking for reliable web hosting and domain name registration services and a wide range of software and tools to build their websites.
If you are in the market for a new domain name or web host solution, be sure to check out HostGator today!
Is Hover a registrar?
Hover is a domain name registrar founded in 2008, and its headquarter is in Toronto, Canada. Hover sells a wide variety of top-level domains (TLDs) to customers, and they make it easy to register, manage, renew, and transfer domains.
Clients can register domains for up to ten years, and each Hover domain name comes with free WHOIS privacy protection.
Another thing we love about Hover is its advanced search tool.
It allows you to fine-tune your domain searches to find the desired name for your website, blog, online store, etc. For instance, you can filter suggestions by business category.
Also, Hover gives discounted rates for bulk domain purchases.
Besides domain registration, Hover offers professional custom emails to match domain names, but at a fee — starting at $20 annually.
Please note that customer support isn't available 24/7. Instead, call the customer reps between 8 a.m. and 8 p.m. ET Monday through Friday. On weekends, live support is open from 12 p.m. to 5 p.m.
Name.com has established itself as a reliable ICANN-accredited company, offering more than just domain registration services.
Is name com owned by GoDaddy?
GoDaddy and Name.com are two separate entities.
GoDaddy is a publicly-traded company (NYSE: GDDY) founded in 1997 by Bob Parsons, who still serves as its CEO. As of March 2022, GoDaddy had over 20 million customers and over 84 million domains under management.
 ⇒ Name.com is a separate company from GoDaddy.
Launched in 2003 by William Mushkin, Name.com was acquired on June 13, 2017, by Donuts Inc, and it now manages over 2 million domain names under its roof.
If you're looking to start a website from scratch, Name.com has what you need to go live. It can provide hosting for WordPress (or any other website), website building tools, email hosting, and SSL certificates.
Like Bluehost, Name.com also offers free domain names for a year if you use its hosting service.
Unfortunately, Name.com does not offer free WHOIS privacy protection.
It will cost you $4.99 per year, but you also get a domain lock and an SSL certificate for this price. However, the service doesn't cover all domains.
Domain transfer fees differ, depending on the extension plans.
Cost of Upgrades:
Web hosting service — starting at $4.99/mo
Email hosting from Google Workspace – starting at $3/user/mo
Premium SSL certificate — $0.83/mo
SiteLock security — starting at $2.08/mo
Website building tool — starting at $3.99/mo
Custom URL shortener, branded URLs, and analytics — $12/mo
Live customer support isn't available round the clock. However, Name.com features a knowledge base with answers to frequently asked questions.
We wind up our list of the best domain registrars with Shopify domain registrar.
Shopify is a Canadian e-commerce company, domain name registrar, web hosting, and eCommerce payment processing service headquartered in Ottawa, Ontario.
In 2006, Tobias Lütke, Daniel Weinand, and Scott Lake launched Shopify after successfully creating an online store for Lütke's snowboarding equipment business.
 ⇒ Shopify is a popular e-commerce platform globally, and for a good reason.
It is the leading cloud-based, multi-channel commerce platform designed for small and medium-sized businesses.
Shopify makes it easy for new entrepreneurs to start an online store, select and register a domain name and set up web hosting.
So is it better to buy a domain through Shopify?
If you're looking for convenience and want to keep everything in one place, then buying your domain on Shopify might make sense.
Yet, suppose you're trying to save money or want more control over your domain settings, and you're comfortable with the technical process. In that case, another domain registrar may fit your specific needs.
Other Shopify features and benefits include but are not limited to:
Online store template that can be customizable to your brand or niche.
A wide range of built-in features, including shipping, payments, and analytics.
A growing library of apps and extensions that can add additional features or functionality to your store.
24/7 customer support from Shopify's team of experts.
Therefore, Shopify offers users customizable templates for designing the store, features for accepting payments and shipping products, and a suite of marketing and payment tools to help them succeed.
Shopify charges monthly fees and a percentage of each sale for its services.
Shopify is great for businesses that want to start selling online quickly and easily.
It's also very reliable and secure, with tight security measures in place to protect your data. Plus, it comes with features that make managing your store easy.
Overall, Shopify is one of the leading e-commerce platforms, domain name registrar, and web hosting companies. It is an excellent option for businesses of all sizes and entrepreneurs looking to start and grow their e-commerce businesses online.
So now that we've discussed the best places to buy a domain name let us quickly look at the six basic steps you need to take to register your domain.
Choose a Registrar
ICANN (full abbreviation stands for "The Internet Corporation for Assigned Names and Numbers") is the authority on the whole domain name system.
It permits external service providers called domain registrars to sell domain names. So if you want to get a domain name, you will need to register one through one of these providers.
There are many domain registrars out there. Well-known examples include NameCheap, Domain.com, GoDaddy, and Bluehost.
Make sure you choose one wisely.
Pay attention to the pricing and policies of each company before deciding to buy from it because it will be the manager of your domain.
Select a Domain Extension
Besides choosing a good name, you will also need to select an extension for your domain. The extension consists of letters that come after your domain name's dot.
As you probably know, the most popular option is .com, although you can also go for other suffixes such as .net and .org, which are also well-liked.
The three extensions mentioned above are considered the top-tier ones in the domain naming system. There are still other variations available, but you probably don't want to use them unless you have a particular reason.
For instance, you might consider picking a co.UK suffix if your website is specific to the United Kingdom, or .ca if it's going to target the Canadian audience. Such suffixes are primarily for country code top-level domains.
Get Domain Privacy Protection
Every domain registration with ICANN requires the registrant to provide personal information, including name, phone number, email address, and physical address.
After your domain name goes online, this private information will be accessible to internet users, allowing anyone, including identity thieves and spammers, to view and obtain it.
Of course, you don't want this to happen; that's why you should get domain privacy protection to keep your contact information secure.
The price for registering a domain name can vary slightly from one domain name registrar to another.
In general, the best domain registrar charges a flat fee for registering a domain name, regardless of how long the registration time is. So it's always worth checking out all other providers before making your final decision.
Final thoughts:
Which is the cheapest domain registrar?
The cheapest domain name registrars include NameCheap, GoDaddy, and Hover. They offer competitive rates and have excellent options to consider, but they don't always have the best deals on domains.
Most of the domain registrars featured here wear multiple hats.
Besides domain registration, they offer extra services, such as web hosting, email hosting, website building, and marketing solutions.
There you have it, thirteen of the best domain registrars to consider! What about the winner? It is hard to single out a domain name registrar from our list.
We better leave that to you.
The best option would undoubtedly depend on your needs and requirements.