Did you know that the WordPress plugin repository has over 60,000+ plugins?
We've sifted through and found the best WordPress plugins for digital marketing blogs to improve SEO ranking, speed, security, and blog design.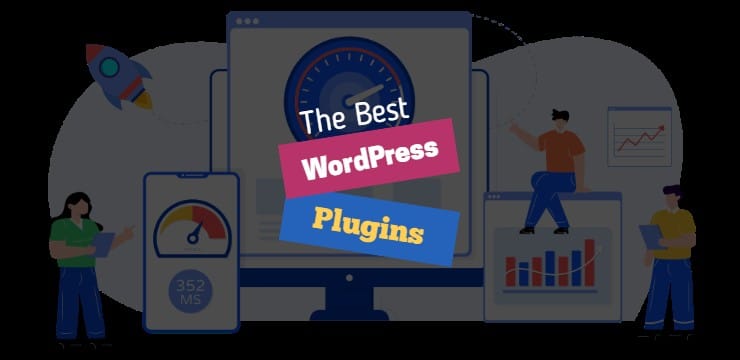 23 Must-Have Essential WordPress Plugins For Digital Marketing Bloggers
You've started a blog, and you're excited to share your ideas.
The very thought that your published blog posts will get read by many people living in different parts of the world excites you…even more!
You can't wait to see the day your blog succeeds and starts to get a large following of raving fans reading your blog posts and watching your videos.
And the best part! ⇔ Wait for it…
At last, you'll start to make money blogging, supplement your income, and finally put an end to some or all of your financial problems.
You can't help but smile.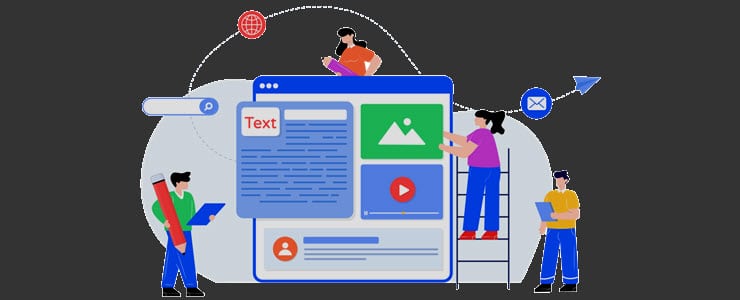 Unfortunately, as days go by, you realize that your blog is missing something. In addition, you begin to wish there was a simple way to accomplish routine blogging chores that take several hours to perform.
Despite the frustrations, you keep grinding along, determined to succeed.
You notice that other bloggers in your niche have more visually appealing blogs that load faster and have excellent functionalities that your blogs lack.
And the way things are going of late!
  👉So far, you've only managed to publish a few articles on your blog, and yet:
You're starting to get tired of clicking the mouse trying to keep up and control spam comments that are being posted now and again on your blog by spammers.
They're overwhelming you.
What exactly is your blog missing? You start to wonder!
Before you start to second guess your blogging journey, perhaps all you need to do to get your blog back on the right track is install the essential best WordPress plugins to improve speed, security, design looks, etc.
What is a wordpress plugin?
A WordPress plugin is a software add-on downloaded and added to a WordPress site to extend functionality or add new features.
Thousands of plugins are available for WordPress, ranging from simple code snippets to complex applications. In addition, third-party developers typically create WordPress plugins that other people can use for free or pay to use.
Many plugins are also available through the WordPress Plugin Directory, a repository of open-source plugins maintained by the WordPress community.
Do I need plugins for WordPress?
WordPress plugins can be a great way to add extra functionality to your WordPress website. For example, they can improve SEO, add social media sharing buttons, increase site speed, enhance a blog's visual design, and more.
  ▣ However, not all WordPress plugins are created equal.
Therefore, it's wise to choose plugins that have been well-coded and are up-to-date with the latest version of WordPress. Also, before installing a plugin, make sure it's from a trusted and reputable source.
You can ask someone else on the WordPress community forum, read the comments section of a plugin's Github page, or simply search for reviews from other bloggers.
Are WordPress plugins necessary?
Plugins for WordPress add functionality to a site and allow users to do specific tasks that otherwise would be impossible to accomplish on their own unless they knew how to write and code for a WordPress website.
WordPress bloggers don't necessarily have to install any WordPress plugin unless they want to. Hower, Plugins are like apps for a website.
Just as you wouldn't try to go around with a smartphone without installing your favorite apps, you can't start and run a successful WordPress blog without installing the basic essential plugins.
How many plugins should I use in WordPress?
A good rule of thumb that is widely accepted is to use only the plugins you need to keep your site running smoothly. Generally speaking, the more plugins a blog owner installs, the slower their website loading time.
Try to use only the essential plugins needed to get the job done.
Also, be sure to keep your plugins up-to-date because outdated plugins can lead to security vulnerabilities.
A small site with less than 30 blog posts that receive little traffic and no monetization plans could probably get by with just a couple of plugins.
On the flip side, if your end goal is to create a more complex website with custom designs, different types of pages, eCommerce features, etc., you'll likely need more plugins to do everything you want.
Unless, of course, you can write your code. Alternatively, you'll need to assemble the necessary team of programmers and designers.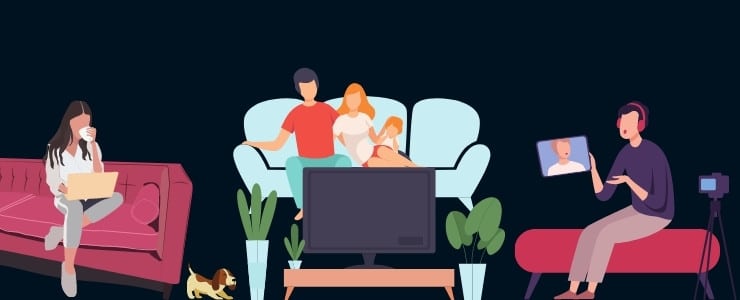 Are plugins free on WordPress?
There are many free WordPress plugins available for bloggers to download by searching the WordPress Directory or doing a Google search to find other sites.
However, some plugins may have paid upgrades for features and functionalities not available in the free version. They are also known as freemium plugins.
To unlock all the features, someone will need to pay either a one-time payment or subscribe to monthly or annual fees.
Do plugins slow down WordPress?
Plugins can slow down a WordPress site because each plugin adds the number of requests that a site makes to the server, consequently adding to the website loading time of its pages.
Remember, the more plugins installed, the slower a website becomes.
While some plugins are more resource-intensive and significantly slow down a website than others, all plugins have the potential to slow down your site.
To minimize the impact of plugins on a WordPress blog, only install well-coded, lightweight, and up-to-date plugins.
What Are The Most Important WordPress Plugins? ⇄ Table of Content
ConvertKit ⇄ The Best WordPress Lead Generation Plugin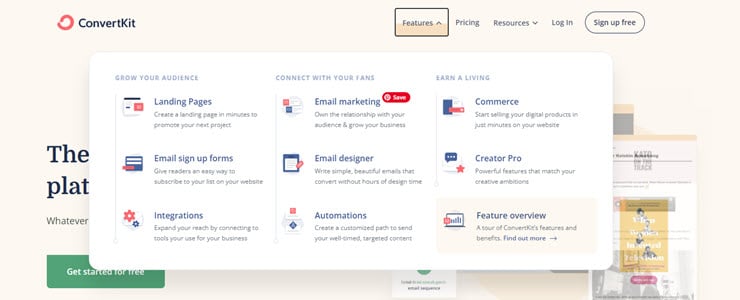 What is ConvertKit used for?
ConvertKit is a powerful email marketing tool designed for professional bloggers, authors, and online creators to help them convert subscribers into customers.
ConvertKit also includes robust features like segmentation, automation workflows, landing pages, and more that allow bloggers to grow, nature, and manage email lists.
With ConvertKit, you can easily create beautiful email newsletters, automate your email marketing campaigns, send announcements, and track your results.
What are the features of ConvertKit?
ConvertKit is a popular email marketing service designed to help online entrepreneurs grow a list, run successful email marketing, and boost online sales. Here are some of its key features:

☑ Subscriber tagging and segmentation: ConvertKit allows you to segment your audience and therefore send more targeted, personalized messages that convert better.
☑ Automation: With ConvertKit's automation feature, you can set up email sequences and drips to go out automatically, saving you time.
☑ Visual campaign builder: ConvertKit's visual campaign drag-and-drop interface builder makes it easy to create and track complex marketing campaigns.
☑ Integrations: ConvertKit integrates with popular tools like WordPress and Shopify, making it easy to use in your existing workflow.
☑ Excellent support: ConvertKit offers many helpful tutorials to get the most out of their platform, and their support team responds quickly to questions, and they are happy to help.
What are the Pros and cons of ConvertKit?
Is ConvertKit any good for creating beautiful email newsletters with minimal effort? There are a few pros and cons of ConvertKit that are worth considering. They include but are not limited to:
Pros
It is simple, very user-friendly, and great for beginners.
Powerful automation rules and integrations with other popular tools and services.
Comprehensive reporting features make it super easy to keep track of subscribers.
Cons
It can be a bit pricey, depending on the size of your list.
Not as many advanced automation features as some other email marketing platforms.
Why should I use ConvertKit?
There are several reasons why digital marketers should consider using ConvertKit. First, it can help you manage your email list more effectively.
Second, it can automate some of your email marketing tasks, making it easier for you to stay on top of your marketing campaign.
Finally, ConvertKit integrates with many popular online tools and platforms, making it easy to add subscribers and manage your campaign from one central location.
What makes ConvertKit so great is its simplicity.
You can easily segment your subscribers based on their interests or purchase history. That allows you to send highly targeted content to each subscriber, increasing their chances of opening and reading your emails.
ConvertKit Pricing for more than 1,000 subscribers increases incrementally depending on the number of subscribers and the billing duration one opts for, either monthly or yearly.
There is a 14-day free trial, and they offer a no-questions-asked 30-day money-back guarantee if you're not satisfied for any reason.
Overall, the ConvertKit email marketing service has everything you need to run a successful email marketing campaign and grow your online business.
Wp Rocket » Wordpress Caching Plugin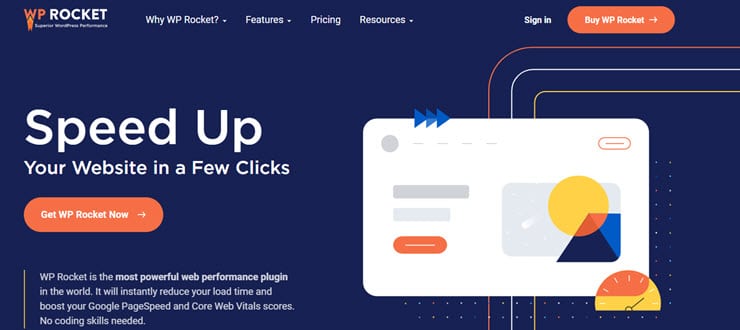 What is WP Rocket used for?
WP Rocket is a popular caching plugin designed to optimize the speed and performance of your WordPress site or blog.
This lightweight plugin is arguably the most powerful caching plugin available today, and most WP experts consistently recommend it for various reasons.
Not only will there be any need to learn coding to use it, but it's packed with features to optimize any website and delivers almost instant results.
Do you need WP Rocket for wordpress?
A WordPress user might need a WP Rocket caching plugin to improve their website's performance, especially if a site has a lot of content or plugins installed.
It helps speed up a website's speed and loading time by creating cached versions.
Main features: Is WP Rocket necessary?
WP Rocket caching plugin that makes a website faster and more secure comes with a host of features and benefits, including:
▣ Quick Setup: Some popular WordPress plugins are difficult to set up and configure, even for more advanced users. WP Rocket creators tackled this issue head-on by creating a simple, lightweight caching plugin.
✔ Browser caching: With Browser caching, static files are cached and stored in the Browser, resulting in a faster loading time.
▣ Minification: Besides innovative features for speeding up page load times, WP Rocket speeds up load times even more by minimizing and reducing the weight of HTML, CSS, and JavaScript files.
✔ Database optimization: WP Rocket allows users to manually or automatically clean up a database and reduce its size for more streamlined performance, unlike most caching plugins.
▣ Lazyload: This feature solves slow website issues by not loading all images simultaneously; images only load as blog visitors scroll down a page. Lazyload can be enabled for or disabled for photos, videos, iframes, emojis, and even embeds.
✔ E-commerce friendly: Checkout and other e-commerce pages are detected automatically and not cached, allowing visitors to see updated shopping carts and other checkout or order details.
What are WP Rocket's pros and cons?
Although WP Rocket is a great caching plugin for improving speed and performance, there are some potential drawbacks to using WP Rocket.
Here are a few of its cons and pros:
Pros
Speeds up page loading times by up to 50%
Image and database optimization.
Comprehensive help tutorials.
Constantly updated.
Cons
No free version or trial.
No live phone support.
Recurring annual cost.
Overall, WP Rocket is one of the most popular caching plugins available and an excellent choice for any WordPress website.
VaultPress For WordPress Blogs

The VaultPress plugin is an excellent solution for WordPress sites that need to be backed up and protected from malware and other threats.
It's easy to use and provides a high level of security for your website.
VaultPress is a subsidiary of Automattic, the company that created WordPress, in response to the number of hacked sites hosted on the Automattic platform.
VaultPress provides instant backup and security scanning for all WordPress sites, making it a valuable tool for any blogger, small and large business.
It has an integrated suite of tools that lets you monitor and restore backups.
VaultPress backup plugin features:
VaultPress WordPress backup plugin has many features, including:
Multiple snapshots per day, nightly backups, and restores with hourly database replications to help you avoid outages, speed up site performance, and recover from hacked sites more quickly.
You can use the Vaultpress plugin to backup your blog on your chosen schedule.
In addition, you'll be able to maintain an offsite backup of all your valuable website content on a service like Amazon S3, the most popular hosting service in the world today.
Re-building a WordPress website after losing everything is a daunting task and a complete waste of time and resources. For that reason, the VaultPress plugin is essential for backup and restoration if something weird happens.
Remember, backups are vital for any online business to grow!
VaultPress is a premium service for people who want to protect their sites that provides arguably the most comprehensive security package on the market today.
They also provide a more comprehensive plan for site daily backups, spam protection, and malware scanning, which costs $8.95 per month.
Each subscription plan is for annual billing.

Spam comments can overwhelm you.
Indeed, spammers love to comment on WP pages and posts because of its massive growth. But unfortunately, most comments are useless and are considered spam.
They waste your time when deleting them from your WordPress blog.
Save time by installing the Akismet for WordPress, one of the best WordPress plugins for a business blog and is one of the most downloaded plugins.
Akismet WP plugin is an open-source software developed to detect and prevent spam comments on your website. You can install the plugin from your WP dashboard, log in to the Akismet website with your WP account, get and activate the API key.
Akismet has a free and a premium version.
The main benefit of the Akismet anti-spam plugin
It automatically checks all comments posted on your blog to filter spam comments based on the database of the spam signal.
Shows URL in the comment body to reveal misleading links.
All comments have a history for users to view, and it shows which comments were automatically flagged and cleared by Akismet.
It has a discard feature, which automatically deletes spam content, thus saving disk space and improving the site's speed.
In addition, if you agree, your site can share new information to help identify more spam signals for efficient filtering.
No one loves receiving spam messages and comments on their blog.
Therefore, installing the Akismet WP plugin is essential to avoid the slow, painstaking time to delete useless and spammy comments.
ShortPixel Image Optimizer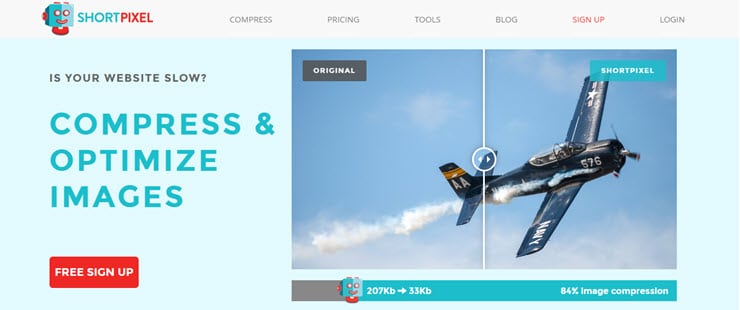 What is ShortPixel image Optimizer?
ShortPixel is an image optimization plugin that makes WP sites faster by reducing image sizes and optimizing their loading times. It's a simple, easy-to-use tool that can make a big difference in your site's performance.
As we all probably know, images make content more interactive and engaging.
While that is good, there is only one problem:
A website with high-resolution photos often loads very slowly!
To improve the speed of a WP site, you may be required to optimize images for the web. Fortunately, the ShortPixel plugin is a magnificent image compression plugin for WP users to consider using.
ShortPixel allows users to compress images, making them smaller.
The process does not change or otherwise affect the image quality. It employs lossy compression techniques, drastically reducing file sizes by up to 80% while maintaining image qualities.
Is ShortPixel image optimizer free?
The ShortPixel WordPress Plugin is a freemium plugin that anyone can download from the WordPress blog dashboard. Each month, the first one hundred images optimized with ShortPixel are free.
After that, the cost varies depending on usage levels.
ShortPixel image optimization plans start from $3.99/month for 7,000 images.

Envira Gallery is way ahead of the pack of other WordPress gallery plugins. This popular plugin is easy to use yet still loaded with advanced features for power users. Envira Gallery plugin creates great-looking static and dynamic galleries.
It integrates with WooCommerce for stunning product galleries and increased sales.
Envira Gallery key features include the following:
Featured content galleries
The Featured Content add-on allows you to create galleries for WooCommerce products, custom post types, and blog posts.
You can also set Featured Content as your gallery source to query specific taxonomies, post types, and other content options.
Videos
The Videos add-on allows to transform self-hosted or YouTube videos into dynamic video galleries. You can also link to videos from static image galleries so the video will play in lightbox popups.
That's pretty cool.
E-Commerce functionality
Envira Gallery seamlessly integrates with WooCommerce to turn your galleries into selling machines.
With this enabled, Envira Gallery will automatically create a new product and "Add to Cart" button for every gallery item you add; or you can do it manually or with a bit of editing. You have complete control.
Downloads
The Envira Gallery can also let site visitors download entire galleries or individual images with just a few clicks of a button.
If you're not selling your photos, this is an excellent idea for added exposure and building stronger customer relationships.
Proofing
Most photographers love the Proofing add-on and find it helpful because they can use the Envira Gallery plugin for client proofing.
In addition to providing you with a ton of customization options, you can share galleries with clients, and they can look them over and pick out the images they want to order.
Pros:
Easy-to-use interface.
Several gallery source options.
Advanced features for e-commerce, client proofing, and more.
Features are modular for lightweight flexibility.
Free version available for simple galleries.
Cons:
Envira Gallery renewal price hike may catch you off guard.
wpDataTables ⇄ WordPress Table Plugins

Visual illustrations like charts or tables can make the audience digest information or grasp the meaning of your complex data quickly.
wpDataTables Lite and Pro version makes creating attractive tables and embedding data a breeze. In addition, there's no prior coding knowledge required to add the tables or charts to your pages and posts.
Over 600,000 WordPress webmasters use wpDataTables to create simple and complex tables, including pricing tables, product comparison tables, etc.
wpDataTables is available in Lite and Pro versions. This freemium WordPress plugin is one of the best we have, offering tons of practical use.
wpDataTables key features:
✔ Supports uploads from multiple data sources
With the Lite or Pro wpDataTables version, you can import tables from an Excel, CSV, XML, JSON, or PHP file.
The editor features different controls, including date pickers and drop-downs, and if you have subscribed to the Pro plugin version, you can create tables from scratch using an Excel-like editor interface.
✔ Supports multiple SQL databases
The plugin allows you to display data from popular databases; MySQL, PostgreSQL, and MS SQL. Keep in mind, though, wpDataTables doesn't support MySQL-query-related tables in the Lite plugin.
✔ Excellent customization options
You can change the table colors, background, font settings, add CSS classes, add/remove/ resize/ reorder columns and rows, insert elements like the company logo, etc.
✔ Easy to insert WordPress tables on posts and pages
You place your table with a shortcode or page builders like Visual Composer. Then, your tables automatically get sorted and paginated unless you're dealing with simple tables.
✔ Responsive table
The tables you create with the wpDataTables plugin automatically adjust to accommodate the display size of different screens.
You choose the columns that collapse on tablets and mobile devices.
✔ Dynamic charts
wpDataTables uses Google, HighCharts, and Chart.js libraries to change your tables into charts. However, the lite version does not feature the advanced chat rendering engines HighCharts and Chart.js.
✔ Advanced filters and search
Except for simple tables, you can add filters to your WordPress table to make narrowing down the search results easier and faster.
✔ Great add-ons
WordPress users who want to increase the functionality of wpDataTables have plenty of add-ons to consider.
You have add-ons like the Cascade filters, master-detail tables, report builder, Gravity forms, and Forminator forms integration. These features are available to both Lite and Pro wpDataTables users.
wpDataTables Pricing
The Lite version is free, but it comes with many limitations, as you would expect.
Nevertheless, it is ideal for creating occasional simple tables that s support text, custom links, media, and star ratings. You'll want to upgrade to the wpDataTables Pro version for additional advanced features costing $69 per year.
Sucuri Wordpress Security Plugin

What is the Sucuri Security plugin?
Sucuri offers a free WordPress security plugin that helps secure a website and keep it safe from hackers. Sucuri Security plugin performs various features such as malware scanning, activity monitoring, and blocklist monitoring.
With Sucuri's multiple security layers, external attack mitigation, a cloud proxy firewall, CDN, and even a professional response team, in the event of the occurrence of a security incident, Sucuri delivers the goods.
Is Sucuri necessary?
Some people say that Sucuri's Security solution for firewall, malware scanner, and security hardening is one of the best website security and monitoring companies. In contrast, others find its many features an overkill for most personal and small business websites.
Overall, Sucuri is a good choice if you're looking for comprehensive website security protection and is the most popular WordPress security plugin.
☑ Supports multiple platforms
Sucuri's protection extends far beyond WordPress.
In addition, Sucuri also supports websites powered by other blogging platforms like Joomla, Drupal, .NET, PHP, and HTML. It delivers on both fronts with out-of-the-box performance and superior flexibility.
☑ Website security monitoring
Sucuri's SiteCheck scanner scans site pages automatically to ensure they are free of malware, iframes, suspicious redirects, link injections, and so on.
You can set and adjust the scanning frequency manually to run tests for malware, DNS changes, WHOIS changes, and changes in the core content files.
☑ WordPress security
If you're like any of the millions of WordPress website owners, you'll appreciate Sucuri's free one-stop-shop security solution.
The free plugin installs just like any other. However, unlike other plugins, it automatically audits your site activities, including new post additions, file changes, file uploads, user logging, and more.
It also keeps your core WordPress files intact, which is critical in deterring hackers from hiding their malware inside corrupted files.
☑ Server-side scanning
From the Sucuri dashboard, you can monitor the activities taking place on your web server whenever you want.
When enabled, the plugin scans your web server to ensure no suspicious activities and shows file changes, so you always know what's happening on the server-side of your blog or website.
☑ Security alerts
If Sucuri's comprehensive security plugin detects something suspicious, it sends an alert to notify you immediately.
Sucuri makes configuring how you receive alerts super easy by letting you choose to receive any security alerts flagged by the system via email, SMS, IMs, Twitter, or RSS.
☑ Malware cleanup
Of course, as one of the most popular WordPress security plugins out there today, Sucuri will also clean up your website if anything is detected.
Pros:
The core plugin is free.
Works with multiple platforms.
Automatically scans and detects malware.
Server-side scanning.
Inexpensive firewall plans.
Cons:
Free features are somewhat limited.
Pricing on some small business plans is a bit high.
Sucuri Security Pricing
| Website Security Solutions | Basic | Pro | Business | Custom |
| --- | --- | --- | --- | --- |
| Sucuri Website Security Plans | $199.99/yr | $299.99/yr | $499.99/yr | Request Price |
| Sucuri Firewall With CDN Plans | $9.99/mo | $19.98/mo | N/A | Request Price |
On the other hand, the Basic website security plan for one site starts at $199.99/yr. Sucuri also has the Pro plan at $299.99/yr, and the Business plan costs $499.99/yr.
All Sucuri Security plans include 24/7 support, blocklist monitoring, malware removal, advanced DDoS Mitigation, and a 30-day money-back guarantee.
Rank Math WordPress SEO Plugin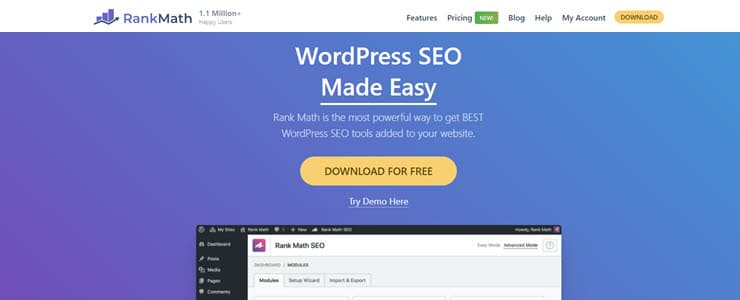 What is rank Math?
Rank Math is a popular all-in-one, freemium WordPress plugin built to help drive web traffic to your site. The SEO plugin is both powerful and easy to use.
With Rank Math, you access a range of optimization tools, allowing your content to shine for the search engines. Not only does it score each page on your blog, but it also provides actionable tips and advice for better SEO rankings.
Is it the best WordPress SEO plugin?
Below are some of Rank Math's key features:
▣ Keyword rank tracking: True to its name, Rank Math tracks your site's keyword performance and search engine rankings.
🔹Rank five Keywords per page: With Rank Math's free version, you can optimize each page for up to five keywords.
▣ Modular framework: Unlike Yoast and most other SEO plugins, Rank Math employs a modular framework. While there are several modules, you can disable any you don't need.
🔹Optimization tools: Rank Math provides a comprehensive suite of sitewide optimization tools. It can also run full site audits to find 404 errors, missing titles, missing image alt attributes, and more.
▣ Redirect manager: Most WordPress SEO plugins lack out-of-the-box redirect capabilities. Still, with an advanced redirect manager, you choose from several types of temporary or permanent redirects.
🔹Internal link suggestions: While working in the editor, Rank Math will suggest linking to other pages and content on your site; following the recommendations will boost its SEO value.
▣ WooCommerce & image SEO: Rank Math also features image SEO optimization. It will automatically add both alt and title tags to give your pictures a little SEO boost.
🔹Advanced schema generator: It is now essential to add schema into your reviews, posts, local business entries, job postings, etc. Fortunately, with Rank Math Pro, you can get an integrated schema.
Pros:
Fast and lightweight.
Easy to use and ready to run out of the box.
Compatible with just about every WordPress theme.
Google search console integration.
Optimize for up to five keywords.
Redirection module.
Image SEO.
Great community and support.
Cons:
Does not migrate well to other SEO plugins.
Will inevitably want to upgrade to a premium plan.
Social Warfare For WordPress Sites

What is the Social Warfare plugin?
The Social Warfare plugin is an essential social sharing WordPress plugin that is super lightweight, highly customizable, and beautiful.
Adding social sharing buttons to blog posts and pages has never been this easy.
It includes features like social media follow buttons, share counts, and the ability to share links. Social Warfare plugin has powerful benefits, including:
🔹Increased social shares: Social Warfare makes it easier for visitors to share your content on social media, resulting in more shares and increased exposure for your site.
🔹Added security: The plugin includes features that help protect your content from being stolen or plagiarized.
🔹Improved click-through rates: It has features that help track clicks and conversions of social media campaigns.
Social media sharing buttons should be attractive, engaging, and excellently designed to encourage and entice readers to click and share your content.
Whether you have a personal brand or small business blog, the plugin is a simple yet powerful and intuitive social sharing tool to help increase social engagement, traffic, social shares, and conversions.
Is the Social Warfare plugin free?
Social Warfare is a free WordPress plugin, and they also have a very affordable pro version which gives you access to all of the plugin's features.
Social Warfare Pro pricing for a personal license will only cost $29, whereas five sites cost $89, and unlimited site install costs $349. Therefore, the price increases depending on the number of sites you need to install.
WooCommerce Online Store Platform

WordPress added WooCommerce to its plugin portfolio in 2015.
As a result, WooCommerce has become one of the most sought-after WordPress plugins for companies or businesses selling physical or digital products online.
At least 5 million active eCommerce online stores worldwide use WooCommerce.
What are the benefits of using WooCommerce?
▣ A wide range of WooCommerce extensions: Businesses have access to hundreds of free and paid eCommerce-specific extensions that they can take advantage of to add functionality to their online store.
▣ Incredibly flexible: With WooCommerce, there's no limitation on what you can sell. You can include different product shapes, sizes, variations, and configurations.
▣ Powerful built-in analytics: This WooCommerce analytics gives you insights into customer interactions with your store and products. It also integrates with other analytical programs like Google Analytics.
▣ Multiple secure payment options: WooCommerce allows you to provide your customers with dozens of payment options, from credit cards and checks to bank transfers and cash on delivery.
▣ Multiple shipping methods: WooCommerce lets you fulfill local or international orders using different shipping options, such as free shipping or real-time shipping (RTS).
WooCommerce Pricing
Building an eCommerce store with WooCommerce is free.
However, you'll need to factor in other costs associated with launching a site, such as domain registration, web hosting, and SSL certificate. Also, you may need to pay for premium third-party WooCommerce specific plugins, extensions, and themes.
Starfish Reviews For WordPress

What is the Starfish Reviews plugin?
The Starfish Reviews for WordPress sites lets business owners easily collect reviews from customers and display them on their websites.
Consequently, it helps businesses get customer feedback to improve customer loyalty and encourage new customers to buy from them.
Potential customers trust reviews as much as personal recommendations, with customer reviews holding more swaying power in a consumer's purchase journey.
Is the Starfish Reviews plugin any good?
It supports multiple review platforms: Starfish Reviews allows you to set up and insert the review platform like Trustpilot, Yelp, Tripadvisor, Google Reviews, Facebook Reviews, etc., into a site.
Manage the reviews: The reviews generated from your funnel campaigns can be sorted into collections and displayed on several website pages using different formats.
Review scraping: Starfish Reviews for WordPress supports scraping reviews from dedicated third-party review platforms daily, weekly, or monthly.
Reports from funnel campaigns: It makes it easy to control what happens next in the review process to improve your products or services.
Email marketing integration: Starfish Reviews WP plugin integrates well with industry-leading email marketing tools that can help support automated review generation.
Starfish Reviews Pricing
Starfish Reviews is a freemium tool for WordPress websites available for free download from the WordPress plugin directory or WP dashboard.
The premium version has three plans to choose from — The business plan costs $37/mo, Entrepreneur $97/mo, and Agency is $197/mo.
All Starfish Reviews plans come with a 14-day money-back guarantee.
Quiz And Survey Master (QSM)

Quiz and Survey Master is a premium WordPress plugin that lets you create quizzes and surveys easily. It's perfect for bloggers, teachers, students, and business professionals who need to gather information from their audience.
With Quiz and Survey Master, you can create custom well-crafted and thoughtful quizzes and surveys that can help drive traffic and boost user engagement.
Quiz and Survey Master features:
It has decent features to help you make the most out of it, including:
✔ Provides multiple quiz types: Questions can feature the true and false, multiple-choice, open answer, fill in the blank, slider, checkboxes, number, or drop-down question types.
✔ Unlimited quizzes: QSM doesn't have a limit on the number of surveys, tests, exams, or questionnaires you can set up on a site.
✔ Quiz certificate: You can issue customized quiz certificates to those participants that get a passing score.
✔ Export results: This quiz WP plugin lets you export quiz and survey reports as a CSV file or connects with Google Sheets.
✔ Social network support: QSM users can allow survey participants to share results on social media platforms.
✔ Email marketing integration: QSM integrates with email marketing tools like MailChimp, Convertkit, Zapier, MailPoet, and AWeber to efficiently manage leads and email campaigns.
✔ Count down timer: You can set time limits on your quizzes. This feature is practical for web admins or agencies that conduct exams.
✔ Analytics tools: QSM has built-in analytics tools that filter reports and display them in meaningful charts. QSM also supports add-ons like Google Analytics Tracking.
Is Quiz and Survey Master free?
Quiz and Survey Master plugin price starts at $129/year.
QSM also offers a lifetime membership starting at $387. There are also discounts available for multiple licenses and lifetime updates.
Contact Form 7 For WordPress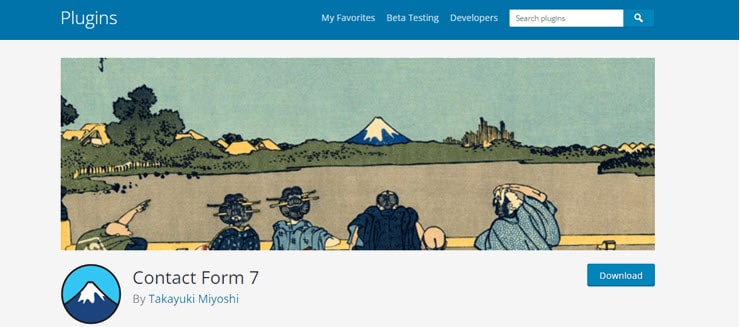 Contact Form 7 is free to install, use, and undeniably, one of the most popular plugins for creating contact forms, and millions of websites have it installed.
Contact Form 7 lets you easily create new contact forms and manage submissions.
The benefits of using this plugin include:
You can create as many contact forms as you need.
The forms are customizable and easy to configure.
The plugin integrates with various email marketing services, such as Aweber and Mailchimp.
Form submissions are stored in the WordPress database for easy retrieval.
You can track the number of form submissions and view reports on how well your forms perform.
In addition, the cost of using Contact Form 7 is free.
So if you're looking for a simple WordPress solution to create forms on your website, Contact Form 7 is a great option.
Duplicator Site Migration Plugin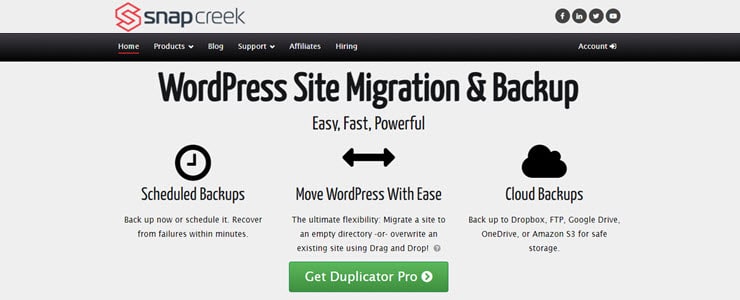 What does the Duplicator plugin do?
Duplicator is a plugin that helps WP users create and manage their WordPress site backups. It includes a powerful backup manager, a restore manager, and a migration tool that makes it fast and easy to use.
You can use it to move your site to another web-hosting provider or make a copy of your site for testing purposes. With over 1 million active Duplicator installations, it's easy to see why it is one of the best WordPress plugins in its category.
Duplicator plugin main features:
☑ Drag and drop site migration: Drag the Duplicator package (a single zip file of a bundled site) to an empty directory, subsite as a standalone website you want to overwrite.
☑ 2-Step installer: Duplicator features a 2-step installer that makes the installations faster. However, you may need to use its 4-step installer in some cases.
☑ Streamlined backups: You can schedule backups at your convenience. In addition, Duplicator integrates with cloud storage services, including Dropbox, OneDrive, Amazon S3, Google Drive, etc.
☑ Emergency site restores: You can quickly recover your websites from failures or bad updates thanks to the Recovery Points features.
☑ Instant email notifications: You'll receive important updates regarding the plugin in real-time. For example, it could be about backup problems or other critical issues that demand your attention.
☑ Database creation built into the installer: There's no need to leave the installer when adding databases to cPanel.
Is Wordpress Duplicator free to use?
Duplicator is a free WordPress plugin and is available from WordPress.org.
The plugin creators also have a pro version.
Duplicator pro costs $69 per year for a single site license. You can also purchase a Freelancer license for up to three sites or a businesses license for unlimited sites at the cost of $89 and $149, respectively.
GenerateBlocks by GeneratePress
What is GenerateBlocks?
GenerateBlocks is a WordPress plugin that lets you create custom blocks for the Gutenberg editor. With GenerateBlocks, you can quickly build beautiful layouts add custom content blocks to your pages and posts without writing code.
☑ GenerateBlocks is lightweight and fast. In addition, it's free to download and use.
Is GenerateBlocks a theme?
GenerateBlocks is a free WordPress plugin and, therefore, not a theme.
Its creator, Tom Usborne, and his team of developers specializing in WordPress plugins and theme development, like the popular Generatepress theme.
They aim to provide a simple, user-friendly way to create custom blocks for Gutenberg, the new WordPress editor.
GenerateBlocks features and benefits:
The ability to customize any block to suit your needs.
Works with any WordPress theme.
Integrates seamlessly with Gutenberg.
A user-friendly and intuitive interface.
A library of pre-designed blocks to build custom pages and posts.
Is GenerateBlocks pro worth it?
The price of GenerateBlocks Pro is $39/yr for a single site personal license. You can also purchase a 10-site license for $69/yr.
Avid users can pay $99/yr to access 250 websites licenses.
GenerateBlocks Pro offers a 30-day money-back guarantee, so new customers can always try it out and see if it's the right fit for their website needs.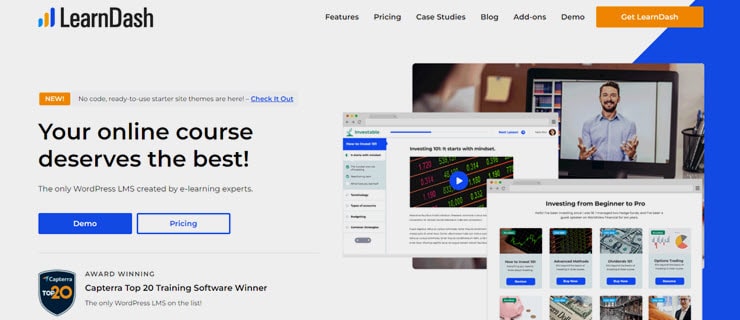 What can you do with LearnDash LMS?
LearnDash is a leading premium learning management plugin (LMS) for WordPress that helps WP users create, manage, and sell online courses. It is an eLearning platform for WordPress used by businesses and educators worldwide.
With LearnDash, you can create custom course curriculums, manage enrollments and student progress tracking, issue certificates of completion, and more.
Is Learndash easy to use for beginners?
Learndash is a good tool for eLearning because it allows learners to navigate the content quickly and makes learning more fun and interesting.
Additionally, it provides instructors with an easy way to track learner progress and performance and provides personalized feedback and reinforcement.
Learndash features and benefits include:
Learndash interface is intuitive and easy for beginners to navigate and create courses right away.
You can create interactive quizzes with an option to randomize the questions, and students can receive feedback.
Course instructors can track student progress and see which students are active, who has completed which modules, etc.
You can export students' grades, quiz results, and other data for further analysis or grading purposes.
A range of integrations allows users to connect with other popular platforms and tools.
With Learndash, you have access to a wide range of course modules, including video lessons, discussion boards, and more.
Great flexibility, allowing you to create the exact type of course that meets your unique needs.
Easy to sell courses online with the built-in e-commerce tools.
It also integrates with social media, so you can easily promote your courses online on popular social media platforms.
Does LearnDash integrate with WordPress?
Learndash was built from the ground up to integrate with WordPress seamlessly. All you need to do is install and activate the Learndash plugin.
Once activated, you will see a new menu item in your WordPress dashboard.
From there, you can manage all of your courses, lessons, and students or add them to a post or page by using a simple shortcode. You can also access many other Learndash features such as reports and analytics, course certificates, etc.
LearnDash LMS Pricing
| LearnDash LMS Plugin | Basic | Plus | Pro |
| --- | --- | --- | --- |
| Pricing Plans | $159/yr | $189/yr | $329/yr |
| Number Site Licence Included | 1 Site | Up to 10 Sites | Up to 25 Sites |
LearnDash has undoubtedly become the market leader for WP learning management systems. When paired with other themes like Astra, LearnDash effortlessly lets users build a beautiful online course on their blogs.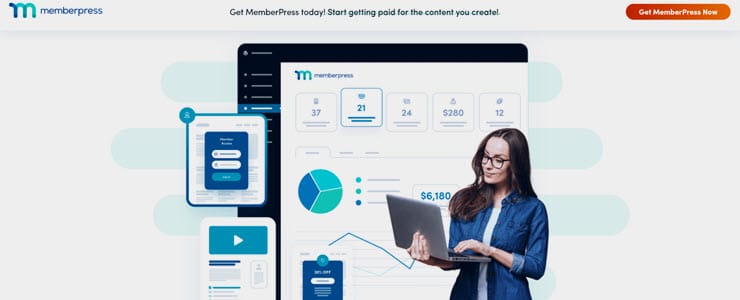 What can I do with MemberPress?
MemberPress is a membership WordPress plugin that allows bloggers to create, manage and sell memberships from their site. It's the perfect add-on tool for anyone looking to start charging for access to their content, products, or services.
With MemberPress, you can create different membership levels and restrict access to certain content based on those levels.
You can also set up drip-content delivery to release content to members over time. And finally, you can track payments and members' activities.
Is MemberPress a one-time fee?
MemberPress is an annual subscription-based premium WordPress membership plugin. The price starts at $179 for a single site license. MemberPress discounts are available to new customers who purchase more than one license.
MemberPress pricing
| WordPress Membership Plugin | Basic | Plus | Pro |
| --- | --- | --- | --- |
| MemberPress Cost Per Year | $179 | $299 | $399 |
| Number Site Licence Included | 1 Site | Up to 2 Sites | Up to 5 Sites |
MemberPress integrates with the most popular payment processors, providing detailed reporting and an easy-to-use interface for bloggers to monetize content.
Soliloquy WordPress Slider Plugin

The Soliloquy plugin creates and manages beautiful sliders on a WordPress site. It's a popular, responsive, fast, and functional WordPress slider plugin with over 70,000+ active installs. In addition, it comes with a fully responsive theme.
The top three benefits of using this plugin include:
The Soliloquy plugin is easy for beginners use. You can easily create and customize your image sliders with just a few clicks.
The plugin offers a lot of flexibility, allowing you to create sliders that match the look and feel of your website. You can also control the appearance and functionality of your slideshows.
The Soliloquy slider is fast and efficient, providing a smooth user experience for your visitors.
Soliloquy responsive slider pricing
Soliloquy is a premium WordPress plugin that helps you create beautiful, responsive WordPress sliders. The regular price for Soliloquy is $17 per year for a personal site.
In addition, they offer discounts for people looking for more advanced features or who want to buy multiple licenses, or like the option to purchase a lifetime license.

Easy Google Fonts is a free WordPress plugin that makes adding beautiful Google fonts to your website incredibly simple and quick.
The plugin also includes powerful features like font-weight and style control, custom font sizes, automatic font replacement, and more.
Easy Google Fonts WordPress plugin features:
Increased typography options: With over 600+ fonts to choose from, the options are endless.
Easy to use: Once installed, select the font you want and add it to the site.
Integration with Google Fonts: Seamlessly integrates with Google Fonts' vast library of fonts directly from your WordPress dashboard.
Works with any theme: No matter what WP theme you use.
The Easy Google Fonts WordPress plugin is completely free to use.
It's a great way to quickly add fonts to your WordPress site without worrying about coding or messing with any of the settings. Instead, install the plugin and start using the fonts you want to use on your blog.
Proven Social Proof Plugin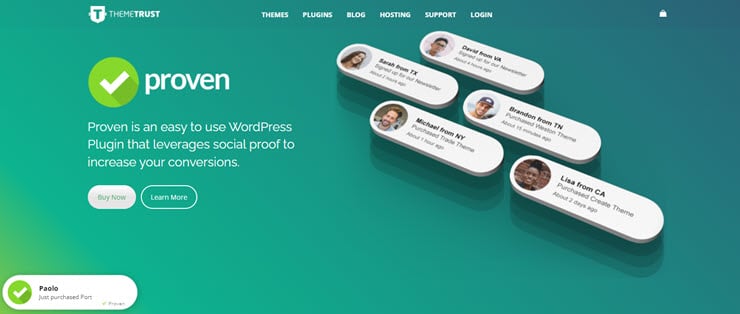 Proven is a premium, easy-to-use WP plugin that leverages social proof with the intent of increasing lead conversions. It can also show users' activities like purchases, newsletter subscriptions, and signups in real-time.
It helps you grow your site's social presence by adding social proof badges to your website, providing a clear overview of your latest followers and testimonials.
What is a social proof plugin?
A social proof plugin allows site administrators to display in real-time the counts of how many people are viewing a web page.
It also lets visitors to a page to see how many people have already liked or shared a particular piece of content.
A social proof plugin taps into the psychological phenomenon in which people assume others' actions reflect the correct behavior for a given situation.
In other words, people will look at what others are doing to determine the right thing to do, especially true when it comes to making decisions about whether or not to do something (e.g., buy a product, eat at a restaurant, etc.).
There are many benefits to using the Proven, including:
Increased website conversions and sales.
Boosts customer confidence and trust.
Helps eliminate hesitation and doubt from potential customers.
Shows that your site is popular and well-respected.
Easy to install and configure.
How much does the Proven social proof plugin cost?
The Proven WordPress plugin is a premium plugin that costs $39 for a single site, $59 for up to 5 websites, $99 for unlimited sites.
It comes with a 30-day money-back guarantee.
With Proven, you'll be able to show your visitors the number of people who have already purchased your product or signed up for your service.
That, in turn, enhances the credibility and reassurance of visitors to a new site.

A 'code snippets' plugin is a WordPress plugin that helps its users store and manage code snippets in a Wp site. Several popular WordPress plugins are available, including CodePress, SyntaxHighlighter Evolved, and more.
🔹The most popular one is probably the Code Snippets plugin.
It is a free WordPress Plugin that provides a user-friendly interface that can be extremely helpful to WordPress developers for quickly adding, editing, deleting, or inserting code into posts and pages.
The plugin has many great features, including:
It makes it easy to insert and manage code snippets in posts and pages.
It provides a handy interface for adding/editing code snippets.
It includes syntax highlighting, making it easier to read your code.
Automatic syntax highlighting for easy reading.
Collapsible code blocks for simplified browsing.
Previews of code blocks in the editor window.
A searchable library of code snippets.
It supports all major programming languages.
So if you're someone who spends a lot of time writing or editing code, then a code snippets plugin is something worth looking into simply your workflow.
GetLasso ⇄ Best Amazon Affiliate WordPress Plugin

What is Lasso affiliate?
Lasso affiliate is a powerful Affiliate marketing WordPress Plugin that lets you create beautiful product displays and manage affiliate links from one central, user-friendly interface.
It also includes features like link cloaking, automatic affiliate link insertion, and discovery of missed opportunities within a site's content for adding additional monetization income channels.
Is there an Amazon plugin for WordPress?
In general, many Amazon WordPress plugins make it easy for bloggers and online content creators to add affiliate links to their content and make money by recommending products on Amazon.
Each plugin has its strengths and weaknesses, so you'll need to research, pick and decide the best one for you that meets your specific needs and preferences.
Is Lasso plugin the best Wordpress plugin for Amazon affiliates?
GetLasso is the best Amazon affiliate WordPress plugin for content creators for the following reasons.
Product display boxes built and optimized to convert better.
Automated opportunities discovery to earn more.
User friendly-dashboard to easily manage and organize links.
Amazon integration for quick and effortless Amazon product promotion.
Track and analyze link clicks by connecting to Google Analytics.
Check for broken links, Amazon price and out-of-stock updates, and more.
Link cloaking to turn ugly-looking URLs into professional custom permalinks.
Easy migration from other popular Amazon affiliate plugins for WordPress.
We created the display box above using GetLasso.
Do you like how it looks and want to increase your conversions? If you're a marketer, they have an affiliate program for affiliates to join and earn a commission on sales.
Conclusion: Which is the best WordPress Plugin In 2022?
There are plenty of well-recommended plugins for WordPress by other WordPress experts, bloggers, and affiliate marketers alike. Still, the best one depends on the specific needs of a particular blog.
Unfortunately, it can be overwhelming to find the right one.
Whether you are a lifestyle travel blogger or running an e-commerce site, some free WordPress plugins are always worth installing.

In some cases, though, certain bloggers and business blogs may need to invest in premium versions to get the most out of the features offered.
We've talked about 23 of the best WordPress plugins in this article. Hopefully, the list above will help you improve your site and reach your blogs' business goals.
Well, back to you, that wraps up our list.