There are many free blogging platforms and countless premium content management systems for beginners and small businesses to create a blog.
We've researched the 15 best blogging platforms to start a successful blog.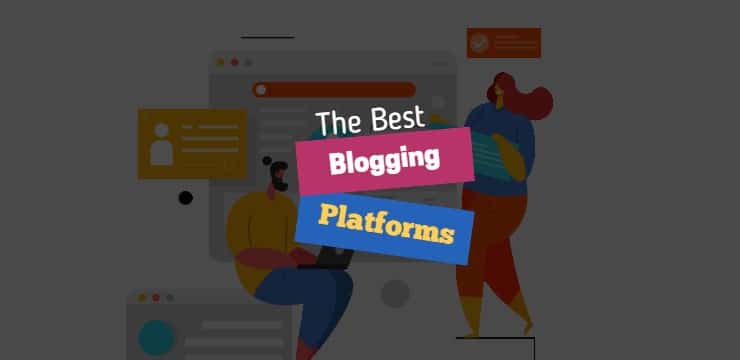 15 Premium And Free Blogging Platforms For Productive Content Management
A well-crafted, engaging, and visually appealing blog with tons of website traffic can open doors to more profitable opportunities for a professional blogger.
A successful blog is a treasure trove.
However, novice bloggers might feel a bit apprehensive about starting a blog.
There is a good reason for that!
It can be intimidating to look at a blank page without all the bells and whistles that come with a good blogging platform loaded up with plenty of user-friendly tools.
Most new bloggers are surprised to discover that one of the first steps in their journey to starting a blog isn't about writing and publishing their content but instead deciding on which content management system to use.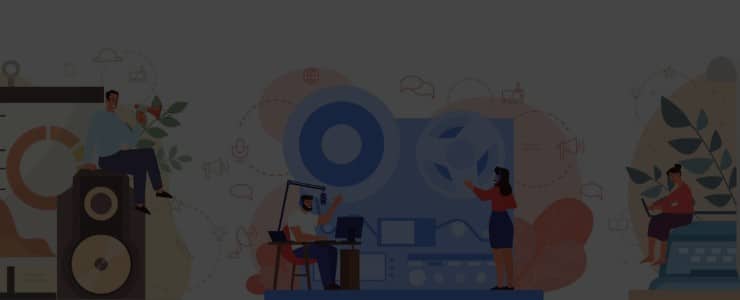 In this guide, you will find 15 of the best blogging platforms that provide an equal playground to turn text, images, and videos into engaging and sharable content.
Of course, there are cons and pros to each depending on your experience level and goals. Also, be aware that the price plans we may mention here at the time of this publication may change in the future.
First things first!
Why is blogging so popular?
When you publish great content, connect with the right people, and get enough traffic, you have the chance to become a trusted source with a loyal following.
It becomes easier to monetize a site with good website traffic and turn it from a hobby into a more professional venture that can be a source of passive income.
That may all sound far-fetched for now.
So, before we talk about the best blogging platforms that writers and digital marketing entrepreneurs can use to write, publish, and manage their content quickly.
Most people know that blogging can be a great way to share our thoughts, ideas, and opinions with the world. It's free, it doesn't require any particular expertise or prior experience, and there are no barriers to entry.
Let us remind ourselves about a question we see people asking a lot:
What are the benefits of blogging?
Some of the benefits of blogging are:
It can help you organize and clarify your thoughts and ideas.
It can help you improve your writing skills.
It can help you build an audience and develop relationships with other bloggers.
It can help you learn new things, discover new interests, and increase your exposure.
It can be a great way to make friends and connect with people who share your interests.
What are the benefits of blogging for business?

It can increase web traffic and exposure for your business or website.
It can increase credibility and authority in your field or industry.
It can improve communication and networking with customers, clients, or other professionals.
It can increase leads and sales opportunities due to greater visibility and reach.
It can lead to more interaction with customers and followers, leading to customer loyalty and brand evangelism.
What Are The Most Popular Blogging Platforms In 2022?

When discussing the best blogging platforms and drag and drop website builders for 2022, we must start with the most well-used blogging platform.
There are two versions of WordPress.
WordPress.com
and WordPress.org
The .org blogging platform is the best option for self-hosting blogs for bloggers that need a simple starting point for building a blog and getting an audience.
We will get to WordPress.com later on.
Why WordPress is the best blogging platform
WordPress is the most popular CMS and the best blogging platform because it has a very user-friendly interface and many features and benefits that other platforms don't offer.
 » What are the advantages of WordPress?
Flexible and intuitive user interface.
Easy to use photo editor with built-in filters.
Multiple users can edit content simultaneously.
Full integration with social media networks.
Plugins and themes to add features and functionality to a blog.
Most bloggers tend to stick with Wordpress.org because of the range of options. The sheer number of themes and plugins to choose from to improve the core WordPress software, for starters, is mind-boggling.
Essentially, you start with a very blank slate and adapt the site to your needs with as few or as many custom changes as you want.
You can build on the site and make it more effective over time.
There is also the chance to utilize the blog and turn it into a profitable site that connects with users. Let now look at its pros and cons:
Pros:
» 58,000+ free plugins available so you can meticulously create what you need on your WordPress blog to make it visually engaging and easy to navigate.
» You can improve the site's performance with SEO-ready themes and plugins and install tracking codes like Google Analytics to monitor website traffic.
» Completely self-hosted with complete control over how your own site looks, without the branding and restrictions of the other best blogging platform.
Cons:
» You'll need to learn a lot from scratch. The learning curve isn't as big as other blogging sites but still daunting for complete novices.
» You also need the commitment to build the site you want. It takes effort to go through all plugins to get the best-customized design.
Pricing
Although it's free to install WordPress CMS, there are fees associated with it, such as web hosting, premium themes, plugins, and e.t.c.
A good domain name isn't much, they generally cost about $14.99 a year, and WordPress hosting can be as low as $1.99 a month to as high as thousands of dollars, depending upon your site's traffic and purpose.
That means that you should be able to start using WordPress CMS for your site without worrying about spending too much money initially.

Many people turn to Blogger to create quality blogs related to their hobbies and interests – such as Craft and baking-themed pages.
While Wordpress.org is the most popular blogging platform that leads in terms of the number of sites created by its software, Blogger is also high on the list and follows closely.
Bloggers' platform focuses strongly on blogging rather than website creation.
That is what makes it more attractive to first-time bloggers.
Key features of Blogger
The main selling point here is that you have a service run by Google – a name we already trust to search for about anything and make use of its free email service.
You get access to many key features that can help your site. For example, there is a good range of tools and plugins called gadgets.
It offers a better security system than other free blogging platforms.
Pros:
» A lot of users love Blogger because it is so beginner-friendly. There isn't much to learn, so your first post can be up in no time at all.
») There are more features for content management than expected for a more basic free product.
»While there are fewer gadgets compared to the other best blogging platforms, this does allow for a more streamlined approach for hobby-themed sites.
Cons:
» Google is in charge, which means you can lose access to your blog if they decide to take it down.
» There are also fewer customization options; for instance, there is a limit to how far one can go using custom codes and tools.
Pricing
Blogger is free, and you won't have to pay anything to use the service.
Each account can publish up to 100 blogs.
As long as you have a Google account – which is very easy to set up – anyone can sign into Blogger and get started.

Joomla blogging platform may not be one you have heard of, but it is certainly worth a look if you aren't looking for a complex system with lots of features.
Joomla has unique features for users to get by when creating a fun personal blog.
What are the features of Joomla?
Ease of use: Joomla is easy to use, even for people who are not familiar with website building or coding.
A wide range of templates and extensions:
Security: Joomla is a secure platform with the latest security patches.
Scalability: Joomla is scalable.
Multilingual support: Joomla supports multiple languages, so you can create a website that is accessible to people worldwide.
The Joomla site is more simplistic for those with limited experience. Yet, there are lots of options available for building heart-felt content.
There are thousands of extensions for this blogging platform – far more than you would expect from free, open-source software that allows for a lot of customization.
To be fair, there isn't a lot to make Joomla stand out, which may explain its low profile. But, that could benefit those who want a simplistic entry-point into the world of blogging.
Pros:
» Its content management tools are well-liked for ease of use.
» There is also the opportunity to work in multiple language. That could help with bilingual content when connecting with a global readership.
» Well-designed sites can look great with personalization to make an impression.
Cons:
» Some users warn that the learning curve is steeper here than WordPress. So you can get a lot thrown at you.
» It is limited in themes and plugins compared to competitors, yet some great options are available.
Pricing
The benefit of choosing Joomla over some of the other premium or free blogging platforms is that you don't have to pay money to have the privilege of using Joomla if you don't want to.
There are free tools available; however, you can go for optional add-ons for a price if you want to.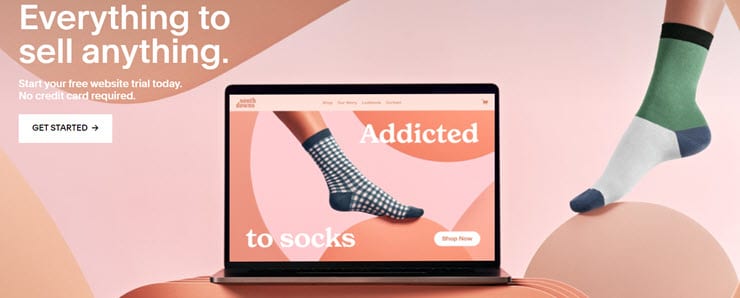 Squarespace may be the name you are most familiar with from our list of the best blogging platforms, mainly because of prominent online promotions.
Some content creators with sponsorships will praise the benefits and features available to create beautiful websites with this platform. However, it isn't for everyone.
Key features of Squarespace
Squarespace platform's primary purpose is to create online content that looks great. As a result, some of the templates are award-winning because they are so visually appealing.
Users can integrate Getty images, Unsplash, and google amp to help improve their engagement rates. However, they may not do as much regarding plugins and features as other providers.
One can make something that stands out.
Pros:
» They offer an excellent middle ground between content that looks relatively professional and processes that are beginner-friendly
» Some nice features allow content customization to get the feeling you want from the site.
» Best blogging platform for mobile-optimized content that makes it even easier to connect with followers and potential customers.
Cons:
» The templates are not as customizable as some of the other options out there. If you want to make any changes to the template, it can be difficult and time-consuming.
» It can be more expensive than some other website builder tools.
» There is no forum or community support available, so if you need help with your website, you will have to go through customer service.
Pricing
You will have to find the right monthly plan.
You can get a plan for a personal website for $16 a month or $144 a year. Or, there is the business plan that is more expensive at $26 a month or $216 for a year.
The basic commerce plan starts at $35 per month, and on the other hand, the advance commerce plan starts at $54 per month.

Wix stands out more for its promise on the user experience than the features.
This idea of a more user-friendly entry point into blogging starts with the simple drag-and-drop method for building the site.
They say that no coding skills are required to use the Wix blogging platform. In addition, there are no complex commands to figure out or complicated menus.
That should help encourage those that are a little more technophobic but feel that a blog would be pretty helpful for their brand.
What are the features of Wix?
Wix is a popular blogging platform and website builder that lets you create a website for free. It has many features, including:
A WYSIWYG (What You See Is What You Get) editor that lets you easily create and customize your website's pages
A library of templates and designs to choose from to build an online store.
Integrated search engine optimization (SEO) tools to help you get more traffic to your site.
A built-in blog to help you keep your visitors updated on your latest news and developments.
Google Analytics integration to help you track how well your site is performing.
A eCommerce store builder to quickly create an online store.
A form builder to create custom forms for your website.
A social media integration tool to connect your website with your favorite social media website.
Most new users can find what they need to learn and adjust with ease as it seems intuitive enough to add content and build the site.
So what are the pros and cons of using Wix's best blogging platform?
Pros:
» While the features for the platform are more minimal, there are more than 800 templates to choose from for a blog.
» Newcomers can start with a free plan and upgrade to a premium plan when they build more confidence.
» Some third-party apps are available on higher-priced plans
Cons:
» It's a paid service which is another monthly cost.
» The templates are limited, and you'll have to pay extra for them too.
» It's not designed for people who want a lot of customization.
» The most basic free plan for building a website doesn't include any tools for eCommerce online stores.
Pricing
The pricing plan of Wix is the most complex and potentially the least transparent.
Wix is free to use with a basic plan for its free website builder tool. However, there are also more expensive plans that offer more features.
Pricing for the most popular type of subscription, for personal use, starts at $14 per month and can be reduced by 50% with an annual payment.
They have other extensive plans, and remember prices are subject to change depending on your location, so be sure to check their website!

Weebly's blogging platform is a bit of a dark horse in the pack.
Unfortunately, it doesn't get the same press as the more glamorous WordPress, Squarespace, or Google-backed Blogger.
However, an excellent comprehensive package is available at Weebly that should work for many people.
Some users create engaging personal blogs, and others make the most of the eCommerce-related features for online stores.
Key features of Weebly
The standout feature with Weebly is that you can pick your direction a little better with a simplified pricing option.
Other website builders can focus more on design or selling; Weebly has excellent options for eCommerce applications and a more dedicated blogging platform.
Weebly allows integrations with third-party apps and tools to create quality galleries, layouts, and different ways of connecting with users.
Pros:
» The eCommerce aspect of Weebly sites allows for easy integration with other apps, for instance, reliable payments apps.
» The more complex plans allow for greater customization and helpful tools for the site's functionality.
» Most new users find it easy to set up an online store or blog.
Cons:
» The main downside of Weebly is that it's not as customizable as WordPress or the other best blogging platforms on our list.
» If you're looking for a website builder capable of making significant changes to a template design or functionality, you may find it challenging to do with Weebly.
» Weebly sites can be slower and less reliable than self-hosted sites. So if you're looking for a high-performing website, it may not be the best option.
Weebly Pricing
Weebly basic package is free, and you can upgrade to a paid package if you need more features.
One can upgrade and pay just $9 a month for a reasonably standard website package, or alternatively, you could also go "pro" for $16 a month or take advantage of the business plan for $29 per month.
In addition, each plan offers a discounted annual price.

Drupal is a free blogging platform with a wide range of features, modules, and themes that one can add to extend its functionality.
It is often used by small businesses, governments, and non-profit organizations because it is cost-effective and easy to use.
However, while the software is free, there are many costs associated with running and maintaining a Drupal website.
Drupal provides a blend between a blogging platform and a content management system. That makes it particularly effective for small businesses looking to use their blog as another form of digital marketing.
Key features of Drupal
Bloggers, marketers, and developers are more likely to create their sites on Drupal thanks to some of its best features, which can easily be altered and customized.
Drupal offers users the ability to manage content, podcasts, collaborative authoring, and more.
The various extensions offered by Drupal allow users to create unique sites that meet their needs. In addition, the modules offered are known for their reliability, efficiency, and security.
Drupal-hosted blogs get protected by layers of regularly-updated advanced security that, as a result, discourage hacking. That means that you can rest assured that your blog is safe.
Drupal allows for multi-channel publishing and sophisticated APIs with content management tools to create pages that fit nearly any need.
Pros:
» Drupal can be used to create any type of website, from a simple blog to a large e-commerce store.
» The platform is scalable to allow a website's traffic demands to be met easily.
» Thanks to its built-in security features, there are regular security updates, ensuring the site and system are safe and secure.
» There is an extensive community available to help answer questions as needed.
» Multiple users can have access to control the blog.
» The open system code allows for easy and extensive customization.
Cons:
» It is a much more complex platform. As a result, it is not as user-friendly as some of the other best blogging platforms.
» It's not as widely used as other CMSs, so less support may be available to its users.
» The learning curve can be steep, particularly for those unfamiliar with coding or development concepts.
» It can be more challenging to find designers and developers proficient in working with Drupal.
Pricing
Drupal is free to install and use to create a blog.
However, maintenance costs can vary, and monthly fees quickly run into thousands depending on individual websites.
The cost of maintaining a Drupal website will vary depending on the size and complexity of the site and the level of support required.
Drupal's most common costs include web hosting, software upgrades, security monitoring and protection, and design services.

Craft CMS enables its user to create, manage and publish their website's content from a simple and intuitive interface.
Craft CMS is different from most other CMSs in that it was designed specifically for web designers and front-end developers.
That means that it has a highly lean and intuitive user interface and that its underlying code is easy to understand and hack on if needed.
Key features of Craft CMS
There are many great templates on offer to help you find a suitable theme, but you also go deeper into the code for detailed modifications.
The ability to edit the site continues with the image editor. Most tools seem easy enough to use with someone with previous experience on other platforms.
Craft CMS comes with a powerful plugin system, which allows you to extend its functionality in any way you see fit, and so the sky's the limit when it comes to what you can do with it.
Pros:
» The range of potential features on offer is excellent for building more professional websites for clients.
» A wide range of features and plugins allow you to create any website you want.
» An active and friendly community of users who are always happy to help.
» Regular updates and support from the developers.
Cons:
» CraftCMS is a very lightweight CMS, which means that it doesn't have as many features as some of the more popular options like WordPress. That can be a pro or a con, depending on your needs.
» CraftCMS has a bit of a reputation for having a steep learning curve, and therefore it may not be a good choice for a beginner. However, if you're comfortable with code and web development, you should be able to pick it up reasonably quickly.
» Although CraftCMS is growing in popularity, the complexity of some of the tools is too much for those blogging as a hobby
» The pro version for professional developers is pretty expensive
Pricing
Craft CMS is not a free blogging platform, but it doesn't have a steep price tag.
The pricing plan starts at $199 per project per year for a personal lite plan. For businesses, the pricing goes up to $299 and $999 for the Starter and Pro plans, respectively.
Considering all of the features that Craft CMS has to offer, this price is more than reasonable. Plus, you can always try out the platform for free with its 14-day trial period.

Medium is quickly becoming a preferred option for bloggers.
Initially founded in 2012 by Twitter co-founder Evan Williams, it has quickly amassed a community of bloggers, journalists, and writers alike due to the ease of use it provides.
Key features of Medium
Medium has attracted several different writers thanks to their platform's best features.
Much of the content on Medium is "locked" behind a paywall.
As a result, the readers on the site tend to be pretty serious about following an individual. Therefore, if you wish to make a more professional blog, this may be one of the best free blogging platforms to use.
The user interface offered on Medium is clean and both reader- and writer-friendly. However, setting up an account for the first time takes minutes.
Story Options
Medium has a unique feature that creates a series of stories to tell their readers about upcoming posts. That helps generate more reader engagement, which is crucial for blogs.
SEO-Friendly
Blogs that use Medium's best blogging platform often appear high in major search engines because of its authority and the ability to customize parts of the URLs to help create better SEO.
Pros:
» Easy to use with little setup needed and no coding skills required.
» The change tracking features allow writers to track the changes made to the draft before publishing, preventing redundant editing.
» Writers can monetize their blogs on Medium based on reading time and the number of visits.
» The editor is user-friendly, and it allows for automatic formatting of content before publishing.
» Published stories are easily be shared.
Cons:
» In-house analytics are somewhat limited, and its blog designs and customization are slightly limited.
» You don't get your domain name; instead, get a medium.com profile page.
Pricing
Medium is free to use for writing. However, readers will need to pay for a subscription to access locked content.

Tumblr offers users a unique blend of a social media site and the best blogging platform that makes it attractive to those who want to blog while interacting with others.
That blend has made it particularly desirable to younger bloggers and internet users who love to use it for entertainment and discussion.
Key features of Tumblr
Tumblr sets itself apart from the other options of the best blogging platforms with a few unique features.
Discussion forums allow people to discuss several different subjects. Doing so makes it easy to engage users and encourages them to read your blog when relevant to the discussion.
HTML editing allows for easy customization and allows custom domain names.
Dashboard
Tumblr's dashboard provides easy access to all of its features in one place to streamline usage.
The social media aspect of Tumblr makes it practical for sharing jokes and memes through pictures or videos in microblogs or individual posts to share with others.
Below are some pros and cons of the Tumblr best blogging platform:
Pros:
» Tumblr's features are easy to use and lend themselves to reaching viewers quickly. These include messaging, design, and other settings.
» You can use themes to customize the feel of a blog if you do not want to customize with HTML.
» Bloggers can share their own blogs on the platform and may be able to appear on trending topics.
» It's easier to engage with others than on more traditional best blogging platforms.
Cons:
» The site can be very addictive, and it's easy to lose track of time or become distracted while using it.
» It can be a significant time suck, and it's easy to get caught up in browsing and clicking through posts without actually getting anything done.
» It can be a breeding ground for negativity and toxicity and promote unhealthy body image ideals and self-destructive behaviors.
» Posts can often be shallow or vacuous, and the platform may not always be the best place to find thoughtful or substantive content.
Pricing
Tumblr is primarily free and doesn't have a set price. Instead, it offers both free and paid plans.
The free plan includes ads, and the paid plan does not.
Therefore, prices for the paid plans vary based on the advanced features you want to start implementing.

LinkedIn is primarily a social networking site well known for its ability to help people find jobs and connect with potential employers.
It is also a place to build your professional brand and develop relationships with other professionals in your industry or get insights into your competition.
LinkedIn can be an incredibly powerful social networking tool for businesses of all sizes. Companies can create a business profile and connect with potential customers or clients.
Businesses mainly use LinkedIn to find and hire talented employees.
Key features of LinkedIn
LinkedIn Pulse provides features and integration to its platform that make it particularly attractive to professionals who want to network.
LinkedIn Pulse articles and posts will be available to those in your LinkedIn account connections and are specifically targeted to the niches relevant to your industry.
It allows advertisers to market on its platform.
LinkedIn Pulse articles can feature keywords and use appealing headlines to help boost fundamental SEO. With the right combination, your articles will be easier to find.
You can cross-promote your articles on Twitter, Facebook, and other social networking sites without much effort, allowing you to widen your audience.
Pros:
» Publishing on LinkedIn Pulse shows your article to all of your connections. Their contacts also see it as they like or share your post, allowing widespread exposure.
» LinkedIn posts usually rank higher on search engines, increasing traffic.
» Those on LinkedIn are more likely to be your target audience.
» Easy to create a more extensive professional network.
» Comments can allow for feedback while also creating exposure by appearing to those who comment on the article.
» Consistent, high-quality posting can lead to more professional credibility.
Cons:
» There is very little control over the branding and design of articles.
» Lack of built-in lead generation (scroll boxes, pop-ups, etc.) to content, limiting engagement and the chance to collect contact information.
» It can be distracting for users, as other LinkedIn features are accessible and available while viewing articles.
Pricing
LinkedIn is free to use.
LinkedIn is a for-profit company and charges users to access its premium services. It offers a free $1 trial for a month for the premium plan.

WordPress.com is the most popular blogging platform because of its many easy-to-use blogging features and large user-base.
WordPress.com provides templates that you can use and approved themes and plugins that you can install from their repository to add extra features to your WordPress blog.
And if you ever need help, WordPress.com has an extensive support team that is available 24/7 to answer your questions.
Key features of WordPress.com
It's no surprise that WordPress is as popular as it is, given just how user-friendly they make their platform.
Even if your understanding of website design and coding is rudimentary at best, it provides everything you need to create a functional WordPress blog, all with the click of a few buttons.
WordPress offers plenty of new features, even on the free version. That includes updates for the site, content backups, and an included 3GB of space. Of course, you can pay for more space if needed.
Both maintenance and setup are easy with WordPress.com. To begin, all you need is to set up your new account, come up with your URL name, connect a custom domain name, and start publishing on a brand new WordPress blog!
Pros:
» There are many free plugins and themes that to customize a blog.
» WordPress blogs are SEO friendly, making it easy to rank well-written blogs.
» Beginners can get started in minutes and begin implementing the various features with ease.
» Themes are compatible on several platforms, so your readers can view them on mobile, tablet, or desktop modes.
Cons:
» Wordpress.com doesn't allow you to install third-party plugins, no matter how small or simple the plugin might be.
» If your blog attracts any decent amount of traffic unless you upgrade, you're likely to get booted off over time.
» Your blog is hosted on WordPress servers, which means that it might slow down or go offline if there's a lot of traffic (although this is rare).
Pricing
WordPress.com, the hosted version of WordPress, starts at $4 per month for a personal blog and goes up.
A business website plan starts at $25 per month, whereas eCommerce websites start at $45 per month.
You can add custom domains, professional email, eCommerce features, and more at different price points.

For bloggers who want a minimalist site design, Write.as offers an effective medium.
This blogging platform is best for individuals rather than corporations or brands, which means that it's excellent as a beginner platform.
It's simple and easy to use, and you don't need to create an account or sign in, and you can start writing immediately.
Write.as is an excellent choice for people who want to share their thoughts and ideas but don't want anyone else to see them.
Key features of Write.as
Write.as is a bit different from the other platforms because there is no signup and if you want the freedom to post anonymously, this is the best platform for it.
Blogs are not automatically indexed and start set to private by default. However, you can choose who to share with and how much is publically available or export all content if necessary.
Markdown and HTML allow for some degree of customization and embedding YouTube videos.
Both Android and iPhone users can access Write.as through apps. Let us now look at some pros and cons:
Pros:
» The simple editor design is clutter-free and an auto-save feature, similar to writing in a virtual journal.
» Free to use with no signup necessary
»Private without IP address tracking and Ad-free.
» Teams can use it as a substitute for Google Docs for sharing proposals, WIPs, and updates.
Cons:
» Requires use of Markdown, which uses special characters for text formatting.
» The use of custom domain names, themes, and removing tags from links costs money.
» Relatively limited features unless you pay or are willing to spend time developing new ones
Pricing
There is a free and ad-free version, but you will have to pay $6/month for the Pro version when someone wants to add more features.

HubSpot is one of the best inbound marketing and sales platforms that helps companies attract visitors, convert leads, and close customers.
HubSpot's blogging platform includes a content management system (CMS) that allows users to manage and quickly create and manage content.
They offer a variety of features that help businesses improve their marketing efforts. For example, HubSpot includes tools that allow companies to track their website traffic and measure the effectiveness of their marketing campaigns.
What are the features of Hubspot?
A powerful CMS that makes it easy for businesses to create high-quality website content.
An email marketing tool that helps businesses send automated emails and track the success of each campaign.
A lead capture tool that allows businesses to collect contact information from website visitors and track their progress through the sales funnel.
A CRM system that helps businesses keep track of their customers' interactions with the business.
HubSpot attracts a wide range of bloggers thanks to its unique blend of content and marketing features.
Users can send newsletters, track subscribers, and create their website in the same place as generating content.
HubSpot provides a free SSL certificate with the subscription, allowing its customers to know their site is kept secure around the clock.
Pros:
» Users can create pages, blogs, and landing pages.
» It's easy to capture, manage and track leads.
» The integrated website builder is easy to use without requiring any coding. All you have to do is to use the drag and drop builder.
» Setup is quick and easy, and secure.
Cons:
» There is no free version, and higher tiers are pretty pricy.
» HubSpot is designed primarily for marketing purposes and may not be as robust as other CMS that have more and better features and functionality.
» It is subscription-based; you will need to pay for updates and support on an ongoing basis.
» If your website becomes popular, you may have to upgrade to continue collecting leads and contacts.
Pricing
HubSpot starter plan begins at $45/month billed annually for 1,000 leads/contacts.
However, additional leads and features cost more.
Professional and Enterprise plans cost more because they offer additional features such as advanced reporting and lead nurturing.
Hubspot is pricy; for instance, the Enterprise plan costs $3,200 per month for 10,000 marketing contacts.

One of the most popular features of Ghost is that it's a very minimalist platform. Ease of use spares bloggers from dealing with a lot of extra clutter on their screens.
It's also fast and lightweight.
Ghost is an open-source blogging platform, which means that it's free for anyone to use and modify. That makes it an excellent choice for bloggers who want more control and customization options for their website needs.
Key features of Ghost
Ghost offers a few features that attract those interested in minimalist and easy-to-use blogs despite the simplicity and limitations.
Clean User Interface
Ghost's clean user interface makes reading and writing blog posts easy and pleasant.
Design
Several themes and templates are available, including some more customizable third-party templates and themes.
Plugins
The integrated social media plugins and extensions allow for easy incorporation, including a comments section without the need for external blogging tools.
SEO Friendly
The SEO tools included helps to ensure that your articles rank higher in search query results using targeted keywords.
Pros:
» Ease of use and is very user-friendly to navigate, making it a good option for beginners.
» Ghost offers a high level of customizability, so you can tweak the look and feel to match your brand or personal style.
» Ghost is incredibly fast and lightweight, meaning your website will load quickly for your readers.
» Ghost provides excellent support through its online forum and blog, as well as its team of experts who are always happy to help out.
Cons:
» Setup is complicated if you intend to install it yourself instead of hosting it with Ghost.
» It can be challenging to find good hosting and support for a self-hosted Ghost since it is still a relatively new platform.
» Users may need to learn some coding to take full advantage of all the features offered by Ghost.
Pricing
Ghost will require you to pay, whether you self-host or use the hosted version. The self-hosted version requires you to pay for a custom domain, which averages around $14.99 annually, and web-hosting, which can vary, starting at $7.99/month.
Pricing for the hosted version depends on both staff and page view limits. The most basic version starts at $9/month for 500 members and a single staff user.
There is also a Creator, Team, and Business plans.
Best Blogging Platforms- The Conclusion

Writing something is easy. Anyone can do it. But, a lot more goes into writing something that catches readers' attention enough to have them asking for more.
As you can see, many companies provide a great range of products and opportunities for bloggers to start writing, developing, and managing their own blogs.
With so many potential blogging platforms to choose from, deciding on the best blogging platforms for blogging is, to say the least, challenging.
You could, for example:
Go for one of the more prominent blogging platforms,
Perhaps find an affordable mid-range plan platform,
Or you could test out freemium options until you find the best fit.
Maybe, you may opt to dive into a premium plan with extra features to make your blog shine. Each brand has its unique target audience, selling points, and potential drawbacks. So make your choice carefully.
Take your time to explore all options and be realistic about your goals when choosing the platform that works best for you, your preferences, and your budget.
Hopefully, this blog post will help you narrow your options and make a better decision when choosing the best blogging platform to start a successful blog.