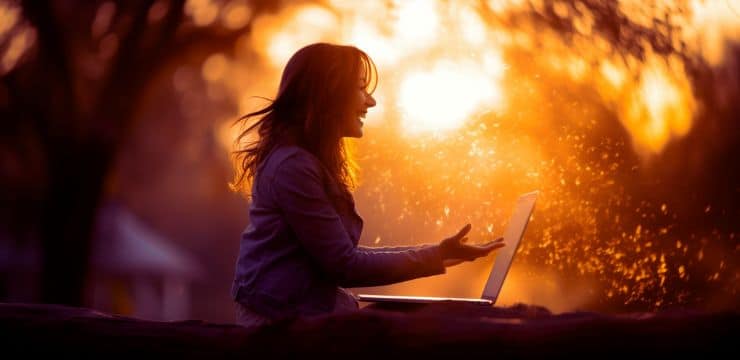 Numbers speak volumes, and data doesn't lie: SEO writing is the engine that powers organic traffic and skyrockets our ranking to the top of search engines like Google.
You've poured your heart into crafting the perfect piece of content.
You hit "publish," and then you wait. And wait. And then all you hear—crickets.
The silence is deafening. Your content, your labor of love, is lost and vanishes into the digital void. Terrifying, isn't it? It's not just fear; it's a harsh truth. The brutal reality and dread every content creator knows too well.
Now, imagine the opposite. When you hit publish!
☑ Your content doesn't just get views; it gets eyeballs that stick.
 ▪️ Your blog content doesn't just rank; it dominates the first page of the SERPs.
That's not just winning; that's ruling the digital world, and with it comes fame, wealth, and self-worth. The allure of this digital utopia motivates us all.
So, what's the roadblock standing between you and your first-page ranking?
Three titanic hurdles:
Keyword Saturation,
Quality vs. Quantity,
The Backlink Battles.
These are the obstacles and digital gatekeepers any SEO writer must subdue!
They're the roadblocks to owning the search engine's coveted top spotlight.
Conquer SEO Hurdles and Own the SERPs
☑ First, Keyword Saturation.
Think you're just picking words? Wrong. Think again. You're diving into the psyche of your audience, decoding their search intent. One wrong move, and you're a ghost in the machine.
☑ Next, Quality vs. Quantity.
You might churn out content, but if you're not resonating, you're just making noise. The algorithm is watching, and it's unforgiving. Your content needs soul, not just SEO-friendly tags.
☑ Finally, the Backlink Battles.
It's the Wild West out there, a ruthless fight for high-quality backlinks that can elevate you from obscurity to prominence. It's not a numbers game; it's a credibility contest to earn the right ones.
Intrigued? You ought to be.
Overcoming these SEO writing challenges is tough but not impossible.
Therefore, this blog post is your roadmap, your guide, and the battle plan that will equip you with the know-how to craft content that doesn't just engage but also ascends in search engine rankings. Are you ready to dominate the SERPs?
SEO writing fuels organic traffic and skyrockets Google rankings.
Aims? Boost rankings, snag leads, and spike sales.
Know Google's algorithm. Master keyword research.
SEO copywriter? Your optimization MVP.
Win at SEO? Focus on user experience, craft unique lines, mix in related words, link to top sites, and diversify content.
Why SEO Writing Is Your Game-Changer
SEO writing isn't just words on the screen; it's your ticket to Google's front page.
Miss that spot on page one for the query you want to rank, and you're digital wallpaper. Did you know that a staggering 27% of clicks land on the first search result? The top spot is more than just a vanity metric!
Nail those top SEO rankings, and you've got more than a golden ticket—you've got a perpetual traffic machine. It's not just a one-time win; it's the gift that keeps your site buzzing and your audience growing. Ready for that kind of visibility?
☑ Master SEO writing; you will craft content and build an empire.
It's not just for writers or bloggers; it's for anyone hungry for online visibility and traffic growth. Here's why SEO writing is your secret sauce:
Boosts Rankings: Optimize with the right keywords, and watch your content climb the search engine results. More visibility? More organic traffic.
Nails Organic Traffic: Target the keywords your audience hunts for. Align with their search intent, and you're their go-to source.
Ups User Experience: Craft content that sticks. Keep 'em on your page, slash those bounce rates, and watch conversions rise.
What is the Differences Between SEO Copywriting and Content Writing
SEO Copywriting vs. Content Writing:
Two sides of the same coin, but not the same thing.
SEO copywriting and content writing may seem like twins, but they're more like siblings with distinct personalities.
SEO Copywriting is the strategic sibling, laser-focused on pleasing search engines. It's all about keyword research, meta tags, and making Google happy.
How? By weaving target keywords into a web of content that Google can't resist.
The goal? Climb the SERP ladder and get your content on the first page of search engines. It's the tactical approach to writing, where every word is a calculated step towards higher rankings.
☑ SEO Copywriting's goal is to rank higher, attract clicks, and drive organic traffic.
Content writing, however, is the storyteller.
Conversely, content writing is the empathetic sibling, always tuned into the audience's needs. It's less about algorithms and more about human connection.
It's about crafting articles, blog posts, or eBooks that resonate, inform, entertain, or solve problems for the reader.
▪️ It's not just about being found; it's about being remembered.
  ☑ The aim here is to build trust, engage minds, and, perhaps, win hearts.
While SEO is still in the picture, it takes a backseat to deliver value and engagement.
SEO Copywriting makes you searchable; Content writing makes you shareable. SEO Copywriting gets you clicks; Content writing earns you fans.
So, SEO Copywriting is your go-to for search engine love, while Content Writing is all about reader love. The magic happens when these two join forces. That's when you're not just writing content but building an empire.
Ready to choose your path? Or better yet, integrate both into a holistic strategy? Your online success might just depend on it.
5 Must-Know Pillars Of Keyword Research
Keyword research isn't just a task; it's the backbone of SEO writing.
It's how we discover the magic words our audience types into search engines.
These aren't just words and phrases; they're our roadmap to creating content that meets our readers right where they are.
Selecting the right keywords isn't a game of chance.
It's about aligning with our reader's needs and questions. Imagine their queries, then craft our content as the answer, naturally weaving in those crucial keywords.
But beware, overdoing it with keywords—known as "keyword stuffing"—can backfire.
It's a balancing act: compelling content sprinkled with just the right amount of keywords. That way, we catch Google's eye and engage our human readers.
1. Ignore search intent, waste your time
Win Clicks, Boost Profits
Imagine pouring hours into crafting a blog post, only to find out it's not what your audience is searching for. That's the pitfall of ignoring search intent.
We need to know why people are typing certain queries into search engines.
Is it to find information, purchase a product, or something else?
We're essentially shouting into the void if we don't align our content with this intent.
But when we get it right, we're not just attracting an audience but the right one. The kind of audience that clicks, converts, and boosts our bottom line.
2. Now, let's talk about long-tail keywords.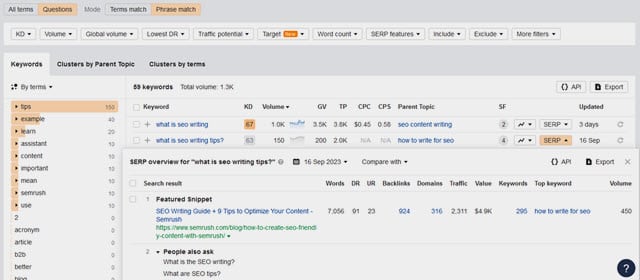 You might think you can't compete with industry giants, but you could be wrong!
Long-tail keywords are your secret weapon.
Think of long-tail keywords as your goldmine. Less competition, higher conversion.
It's like having an audience that's already searching for exactly what you offer. Ready to strike gold? Start using long tail keywords.
3. Unearth your competition's secrets.
Unearthing your competition's secrets isn't just savvy—it's essential. Why? Because they're already where you want to be: on that coveted first page of search results.
Ask yourself, search on Google, and find out:
Is it a David vs. Goliath scenario, or can you realistically go toe-to-toe?
Ignoring this step is like entering a poker game without checking your cards.
But when you do your homework, you're not just playing the game but strategizing to win. You'll identify gaps in their armor, opportunities they've missed, and areas where you can outshine them.
▪️ This isn't just research; it's your roadmap to SEO writing victory.
 ☑ It's like having the answers before taking the test.
You discover the keywords they're targeting, the backlinks they've secured, and the content that's driving their traffic. This intel allows you to craft a strategy that doesn't just mimic success; it surpasses it. Ready to turn the tables?
4. Crack the Code of Keyword Difficulty.

Let's assume you've done your homework and found a killer keyword. You can't wait to write about the topic. It's spot-on and engaging, but can you actually rank for it? Enter keyword difficulty tools – your SEO GPS in the SEO wilderness.
They gauge the competitive landscape, giving you a score to beat.
◬ Aim for the stars without a spaceship, and you're doomed.
When you pick a keyword with a difficulty level that matches your site's authority, you're not just in the game; you're playing to win, and you're not just competing; you're on track to own the game.
✔ That isn't guesswork; it's your strategic leap toward SEO writing greatness.
5. Don't overlook the magic of LSI keywords.
LSI, or Latent Semantic Indexing, keywords are the terms that orbit around your main keyword, like planets around a sun. They give search engines a deeper, more nuanced understanding of what your content is really about.
These gems are the contextual glue that holds your main keyword in a meaningful embrace. They're the supporting cast that elevates your star keyword, giving search engines a 360-degree view of your content's universe.
Think of it as painting a full portrait instead of a sketch.
Ignoring LSI keywords is like baking a cake and forgetting the frosting!
Sure, it's still a cake, but not as enticing. You miss the chance to fully resonate with search engine algorithms, leaving your content vulnerable in the ranking race.
When you master the art of weaving in these contextual keywords, you're not just speaking like search engines; you're fluent. Your content becomes not merely searchable but magnetically relevant.
☑ This is more than a quick fix; it's your long game for SEO writing dominance.
Due diligence keyword research presents a unique challenge but also a unique opportunity. An opportunity to not just rank but to dominate; to not just attract traffic, but the right kind of traffic.
So, are you ready to rise to the challenge and claim your spot on the first page?
SEO Quality Vs. Quantity: The Debate Might Surprise You
In the SEO arena, the Quality vs. Quantity debate is as enduring as the practice itself.
Advocates of Team Quality stress argue for the long game, emphasizing that well-crafted, in-depth content ranks better and establishes you as an authority, attracting valuable backlinks and long-term organic traffic.
On the flip side, Team Quantity advocates for the relentless power of regular content updates. They argue that this approach captures a broader spectrum of keywords, making your site always fresh and relevant in the eyes of search engines.
☑ In this high-speed SEO race, AI writing assistants are their secret weapon.
These new AI tools help Team Quantity pump out top-notch content at scale, keeping their sites in sync with the ever-shifting search engine terrain.
However, the savviest SEO experts often advocate for a balanced approach: consistent output of high-quality content. What matters? Know your audience, manage your resources, and build a no-compromise strategy.
Because in the world of SEO,
Cutting corners on quality or quantity is a shortcut to obscurity.
Here's a radical thought:
We've been conditioned to think it's an either-or game, but what if the real key is neither? What if it's about resonance, about crafting content that not only ranks but also reverberates in the minds of your audience?
We're talking about content that doesn't just attract clicks but cultivates a community. Content that transforms passive viewers into active participants.
Forget the old-school metrics and the worn-out debates.
Maybe it's time to rewrite the SEO rulebook. Delighted? You should be.
Are SEO Backlinks Worth It?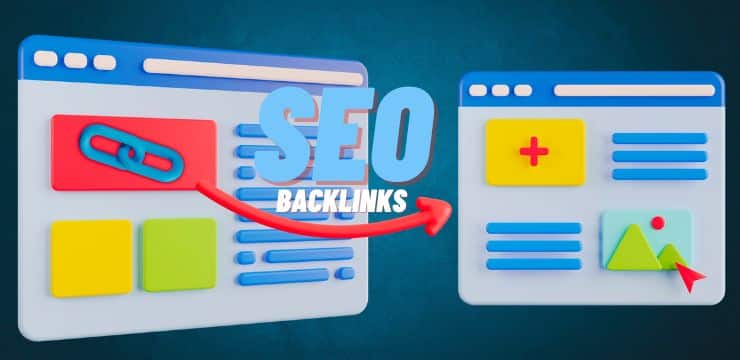 Backlinks: Essential SEO asset or overhyped relic?
Here's the deal. Some SEOs swear by backlinks, calling them the linchpin of SEO.
This school of thought believes that backlinks are like the popular vote in a search engine election, boosting a site's credibility and rankings.
But wait, there's a counter-narrative. A growing number of SEOs say backlinks are yesterday's news. They warn that bad links can sink a site, and Google's ever-smarter algorithm won't let site owners game the system.
 ▪️ But what if backlinks might be SEO's greatest illusion?
We've bought into the idea that they're the golden ticket to rankings.
What if their impact is more myth than magic?
As search engines get smarter, to a point where the human factors, such as engagement, behavior, and relevance, outweigh the algorithmic ones, are we hanging onto backlinks because they're easy to measure and manipulate?
◬ Could ardent SEOs be blind to the game-changing trends unfolding?
 ☑ It's time to shake up our SEO backlink thinking.
Maybe our SEO game could reach new heights when we dare to question the tried-and-true. So, what's the real story? All sides have a point.
Backlinks aren't your magic bullet, but they're not obsolete either!
They're one piece of a complex SEO puzzle that includes killer content and user experience. The key? Don't obsess over backlinks. Instead, focus on creating SEO content that earns them naturally.
In the shifting sands of SEO, flexibility isn't just useful; it's essential.
Ready to rethink your SEO strategy?
SEO Content Writing Best Practices
1. Understand your target audience
Before you even start writing, know who you're writing for. Understanding your searcher's intent is crucial.
Your content strategy should focus on solving the problems or answering the questions your target audience has.
2. Keyword research is your best friend
Use an SEO tool or keyword research tool to find your target keyword. This is the cornerstone of SEO content writing.
The better your keyword research, the better your content will rank on the search engine results page (SERP).
3. Craft a compelling title tag and meta description
Your title tag is the first thing searchers see in the search results. Make it enticing and include your target keyword.
The meta description should be a concise summary of what your content offers. These are essential SEO elements that can significantly impact click-through rates.
4. Write for SEO, but don't forget the human element
SEO writing is the process of creating content that ranks, but don't forget you're writing for humans, too. Good SEO is also good content.
Make your content engaging, informative, and valuable to the reader.
5. Use subheadings and bullet points
Break up your content into digestible chunks. Use subheadings and bullet points to make your content easy to scan. This improves the reader's experience and helps search engines understand your content.
6. Incorporate relevant keywords naturally
While you're writing an article, use keywords naturally throughout the text. But avoid keyword stuffing. Google's algorithm is smarter than ever and can penalize you for such practices.
7. Use Alt text for images
Images can also contribute to SEO. Always include alt text with your images. This alt text will help search engines understand what the image is about.
8. Add internal and external links
Links are like the currency of the internet. Internal links keep users on your webpage, while high-quality external links can improve your content's authority. This is a staple in SEO best practices.
9. Update existing content
SEO and content marketing are long-term games. Keep your existing content updated to ensure it ranks well and provides value to readers.
10. Types of content matter
Not every piece of content will serve the same purpose. Whether you're writing a blog post, a featured snippet, or web content, know what type of content works best for your SEO and content strategy.
11. Use SEO-friendly tools
Tools like Google Docs can be incredibly helpful for SEO content writers. They offer features that can help you write SEO-friendly content, such as real-time collaboration with team members.
They're also helpful at suggesting spelling and grammar checks.
12. The final touch: Proofread
Before hitting publish, make sure to proofread your content. Good content is free from grammatical errors and provides a smooth reading experience, which can ultimately improve your writing and SEO.
SEO Writing: Your Fast Track To Dominating Page One
Mastering SEO isn't optional in today's digital jungle—it's essential.
As an SEO writer, you're not just weaving words but laying down a dual-track road for search engines and humans alike. Guiding and providing value. The process of writing content that resonates requires:
☑ A blend of art and science, intuition and analysis.
The content you write needs to serve dual masters:
The algorithms that index it and,
The humans who consume it.
And let's be clear: great content isn't just about what's visible on the page.
It's also about the unseen architecture, the meta tags, and the strategic use of search terms that help you show up in the search results. Without SEO, even the most compelling content risks becoming a needle in the digital haystack.
◬ But remember, SEO writing isn't just about ticking boxes.
It's about boosting your page content to make it a triple threat: accessible, valuable, and a magnet for both people and search engines.
In addition, the best SEO content writing tips will always advocate for quality over quantity. Why? Because SEO is not just about getting eyes on the page;
✔ Effective SEO writing is about keeping website visitors engaged on the page.
Power Of Writing For SEO?
So, as you venture into content creation with a mission:
Write content that both ranks and resonates.
The first page of search engines? That's your new prime real estate.
But remember, it's not just about buying the lot; it's about upkeep and curb appeal. Whether you're an SEO veteran or a newbie, know this:
☒ SEO is not a one-time-off task. It's a relentless, ongoing practice and pursuit.
Search engine optimization is a lens through which we view the entire content creation process, from the first keystroke to the final meta tag.
So, keep writing, keep optimizing, and keep aiming for that first page.
Your audience is searching for what you're writing about!
Make sure you're there to be found.
To sum it up, this guide to writing SEO-friendly material isn't just a set of writing tips; consider it your SEO writing guide, a roadmap to the coveted first page of Google.
Q: How can I optimize my content for SEO?
A: To optimize your content for SEO, start with keyword research to identify target keywords that align with user intent.
Incorporate these keywords naturally into your title tag, meta description, and throughout the content.
Use SEO-friendly headings and add relevant alt text to images.
Link to high-quality external sources and optimize internal links. Keep the content engaging and valuable to the reader, and don't forget to monitor performance using tools like Google Analytics.
Q: How do I write effective meta descriptions for SEO?
A: To write effective meta descriptions for SEO, Include your target keyword, add a call-to-action, and make it relevant to the content on the page.
Aim for a length of 150-160 characters to ensure it displays fully in search results. This small snippet can drive big clicks.
Q: Where can I learn more about writing for SEO?
A: If you want to learn more about writing for SEO, several reliable resources are available online. Consider online courses like Moz's "Beginner's Guide to SEO" or Google's SEO Starter Guide.
Blogs like Search Engine Journal and Neil Patel's website offer invaluable tips and updates. Don't overlook YouTube tutorials from SEO experts. SEO Books provide comprehensive insights.
SEO tools like SEMrush and Ahrefs also offer tutorials and webinars.
Forums like Reddit's r/SEO are great for real-time advice. For hands-on practice, nothing beats writing and optimizing your own content.
Related Posts You Might Like: