Stuck at square one, pondering how to start writing? You're in good company.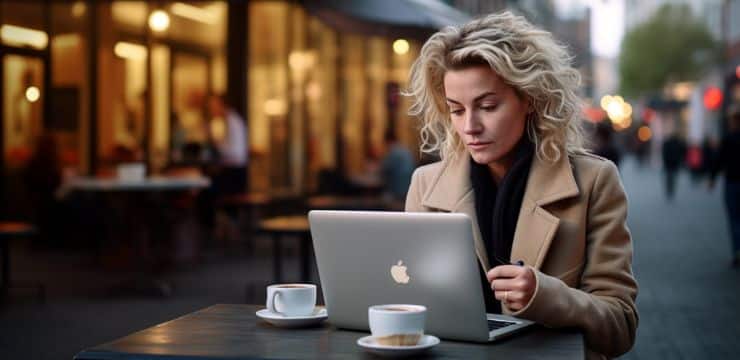 So, you're a beginner and ready to start writing. Maybe it's nonfiction. Maybe it's the next great American novel. Either way, you're standing at the edge of a thrilling abyss. Don't let the fear of the unknown hold you back. Take the leap.
You're going to get stuck; it's inevitable.
Even literary giants have faced this wall. But they broke through. And so can you.
But remember, a blank space doesn't mean a blank mind. It's just a temporary pause, a moment to breathe. Don't worry. You'll soon find your rhythm.
You're writing, and that's the magic.
Each word, each sentence, is a step toward writing better. And the best writing advice? Keep writing. Maybe even start that book today.
So, are you ready to turn the page?
We've got a toolkit of actionable tips that'll turn that blank screen into a canvas of words. It's not magic; it's method.
Ready to defy the norm? To turn "I wish I could write" into "Watch me write"?
Your writing journey starts with a single click. Tap. Keystrokes!
☑ The world is ready to read your story.
Key Takeaways
Zero in and craft a routine that supercharges your writing.
Pick your writing haven and arm yourself with the ultimate toolkit: software, timers, notebooks, and more.
Block out sacred writing hours—no excuses.
Aim for daily and weekly word targets to keep your writing on track.
Nail down a killer idea and sketch out a roadmap.
Dig deep with research for bulletproof credibility.
Slice your project into bite-sized tasks to dodge overwhelm.
Build a fortress of focus: no distractions, no pings, just pure concentration.
The Writer's Mindset: A Blueprint For Success
Craving to be a writer? It starts in the mind.
Focus, a writing routine, and the right writing space are your building blocks. Let's dive into anything that turns your writing time into a creative flow.
The Power Of Focus
Focus isn't just a buzzword; it's your writing tool.
It's the engine that drives your words onto the page, making you a better writer.
Ever heard of the Pomodoro technique? Work in bursts, then take a breather. It's not just about beating procrastination; it's about sharpening your writing skills. And if you're looking for a way to stay motivated, "Don't Break the Chain" is your mantra.
Write every day. Your focus will thank you.
Crafting Your Creative Routine
☑ Schedule your writing time and guard it like a treasure.
A writing routine isn't a cage; it's your launchpad. This isn't just any time; it's your writing session. Do something that sparks joy before you start—read, sketch, dance. It's better to have a pre-game ritual.
Stick to it, even if you're tempted to stray. Consistency is your ally.
Your Creative Sanctuary
Your writing space isn't just a spot; it's your sanctuary. It's where you take the plunge into your writing world. Make it a space that fuels your creativity.
Photos, plants, or even a quirky mug aren't distractions; they're your muses. And let's not forget the people around you. Make them allies in your writing career. You'll find it easier to focus and produce when they respect your writing space.
Ready to transform from a beginner writer to a seasoned pro?
Your Writing Arsenal: Tools For Success
The right writing tools aren't just gadgets; they're your lifelines. From writing software to a trusty notebook, gather what fuels your creative flow. Ready to dive into anything-to-do-with writing? Your toolkit awaits.
Writing Software: Tools like Microsoft Word, Evernote, Notion, or Scrivener can help you write and organize your work.
Timer: This tool helps you set writing goals and stick to them.
Notebook: A notebook is perfect for jotting down ideas when they come to you.
Favorite Pens: Use pens that are comfortable and easy to write with.
Grammar Checkers: Tools like Grammarly or Hemingway Editor can help you avoid mistakes in your writing.
Task Management App: Apps like this can keep you on schedule and remind you of deadlines.
The Blueprint of Your Writing Time: Your Schedule
A writing schedule isn't a constraint; it's your game plan.
Set daily and weekly writing goals.
Carve out specific slots in your week for writing sessions. This isn't just time; it's your scheduled writing time. Treat it as sacred, non-negotiable.
You're not just dabbling; you're building a writing habit.
The Art of Goal-Setting
Goals aren't just markers; they're your compass. Setting SMART goals transforms your writing process from a maze to a map.
Imagine committing to 500 words a day for a week.
It's not just a goal; it's a SMART goal. Specific, measurable, achievable, relevant, and time-bound. Each small win is a step closer to finishing your book or piece of writing. Your writer's life just got a boost.
Ready to take the plunge into a disciplined, fulfilling writer's life?
Daily Goal
Weekly Goal
▪️ Set a specific word count to achieve each day. —be it 250 or 1,000.
▪️ Consistency is king; hit that number daily.



▪️ Roll daily targets into a big weekly win for a bird's-eye view.
▪️ Flex within the week, but keep your eyes on the prize.
▪️ Consistency rules—nail those goals, no excuses.
▪️ Lock in your daily writing slot—be it dawn, lunch, or dusk.
▪️ Discover your prime time and own it.
Commit. No flip-flopping.


▪️ Scatter daily writing bursts throughout the week.
▪️ Squeeze in 10-15 minutes daily—busy or not.
▪️ Guard those minutes like gold for rock-solid consistency.
▪️ Deploy tools like timers to track your game.
▪️ Aim for routine, not a race.


▪️ Weekly check-in: Goals met? Celebrate.
▪️ Falling short? Tweak those targets.
Crushing it? Raise the bar.

Time-Slotting: Your Writing's Best Friend
Allocating specific writing times isn't a chore; it's your strategy. This is where you schedule your writing time, turning it from a 'want to start writing' into a 'going to write.' Let's break it down. Here are some important points to consider:
Set aside dedicated time for writing each day or week.
Make sure you choose a time when you can focus without distractions.
Write down your allocated writing times in your calendar or planner.
Treat these scheduled times as non-negotiable, just like any other important commitment.
Create a routine around your writing times to help condition your mind for creativity and productivity.
The Blueprint Called Planning
Planning isn't just about jotting down tasks; it's your writing career's GPS. This is where you decide the number of pages or words you write in each writing session. It's not just about filling time; it's about fulfilling your writing goals.
Ready to turn your writing time into a powerhouse of productivity?
The Master Plan: Your Writing Blueprint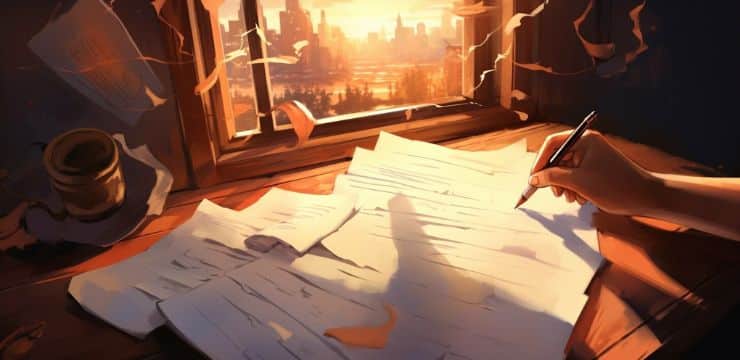 Planning isn't just a prelude; it's the backbone of your writing process. From a compelling idea to a rock-solid outline, your plan is your guide to writing.
The Idea Magnet
A compelling idea isn't just a thought; it's your story's heartbeat.
Want to start writing something that grabs the reader's attention? Start here. Brainstorm. Dive into themes, concepts, or even personal experiences.
The goal? Engage your readers.
Don't just skim the surface; dig deep until you strike gold.
The Art of Outlining
Outlining isn't just a task; it's your writing's architecture. It's how you turn a daunting project into manageable pieces. Your roadmap, your guide to writing, keeps you on track. Tips for outlining? Think structure, think flow, think reader engagement.
Ready to turn your 'want to start writing' into 'writing my first novel'?
Choose a compelling idea: Start with a strong concept or topic that interests you and captivates your audience.
Break down your work into manageable pieces: Divide your writing project into smaller sections or chapters. This makes it easier to tackle one piece at a time.
Create an outline: Outline the main points or ideas you want to cover in each section of your work. This gives you a road map to follow while writing.
Conduct necessary research: Gather relevant information and sources beforehand if your writing requires research. This ensures accuracy and credibility in your work.
Consider the structure: Think about the flow of your content and how each section will connect with the next. A well-structured outline helps maintain coherence in your writing.
Revise and refine: Once you have an initial outline, review it to see if any changes or adjustments need to be made. Refine it until you're satisfied with the overall structure.
The Research Quest: Your Writing's Backbone
Research isn't just a step; it's your writing's foundation. Before you even hit that first sentence, arm yourself with facts, insights, and expert opinions.
The Info Hunt
Reading books and articles isn't just for bookworms; it's your writing tool. Online sources? They're your treasure troves. Want to add another layer? Interview experts.
You're not just gathering data; you're building your writing's credibility.
Note-Taking: Your Safety Net
Taking notes isn't a school chore; it's your writing's safety net. As you dive into research, jot down gems. These aren't just notes; they're your future references. They give your writing depth, making you more than a writer—a trusted authority.
Ready to elevate your writing from basic to brilliant?
The Writing Journey: Your Roadmap to Success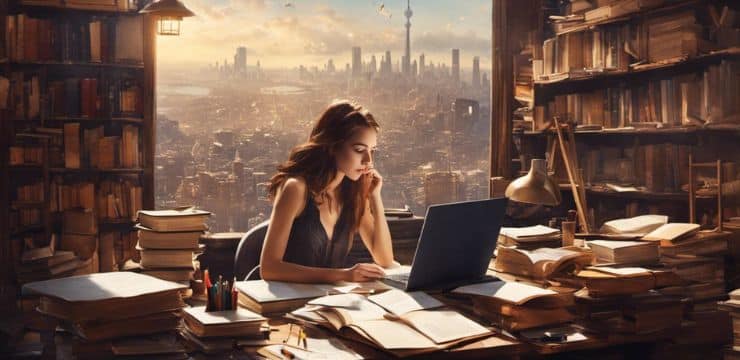 Writing isn't a sprint; it's a marathon. From breaking your project into bite-sized pieces to embracing the gift of procrastination, your writing process is a journey.
The Project Puzzle
Breaking your project into pieces isn't just a tactic; it's your lifeline. It's how you turn a mountain into stepping stones. It's your guide to writing without the overwhelm.
Tips? Think chapters, think sections, think milestones.
Here are some tips to help you:
Start by brainstorming ideas and jotting them down.
Outline your work by creating a structure or framework for your writing.
Break the writing process into smaller tasks or milestones.
Set achievable goals for each writing session, whether it's completing a certain number of pages or hitting a specific word count.
Focus on one section or aspect of your writing at a time instead of trying to tackle the whole project at once.
Take breaks when needed to recharge and avoid burnout.
The Focus Fortress
Distractions aren't just annoyances; they're your writing's nemesis. How to combat them? Create a writing schedule and guard it. Pomodoro technique?
It's not just a timer; it's your focus booster.
And the internet? Disconnect to connect with your writing.
The Procrastination Paradox
Procrastination isn't your enemy; it's your undercover ally. It's not laziness; it's your mind's playground. When you procrastinate, you give your brain room to wander to explore new ideas. It's where your creativity gets its wings.
So, don't just tolerate procrastination; welcome it.
Ready to turn your writing time into a masterpiece?
Reading: The Unsung Hero of Writing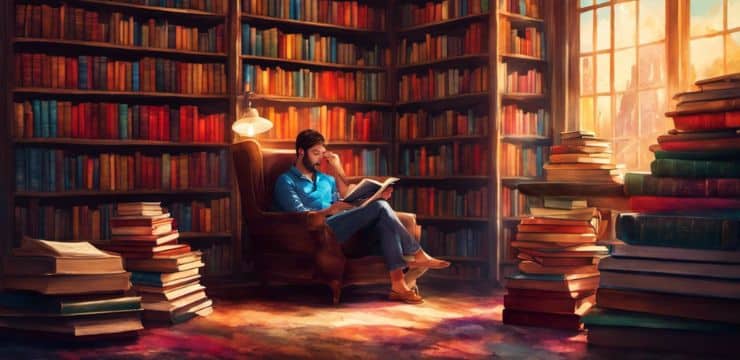 Reading isn't just a pastime; it's your writing's secret sauce. Reading is your backstage pass to writing mastery, from honing your craft to sparking your imagination.
The Learning Loop
Reading isn't just for book lovers; it's a lifeline for writers, bloggers, and content creators. It's how you sharpen your writing skills and find your next big idea.
When you read, you're not just flipping pages; you're dissecting storytelling techniques, character development, and narrative arcs.
It's your daily dose of writing wisdom.
The Inspiration Engine
Reading isn't just an activity; it's your writing's muse. Whether you're into thrillers or non-fiction, every book is a lesson, and every article is a guide to writing.
You're not just a reader…
You're a sponge soaking up styles, techniques, and the magic of storytelling.
Ready to elevate your writing from good to unforgettable? Your reading list is your launchpad.
The Discipline Of Writing: Your Non-Negotiable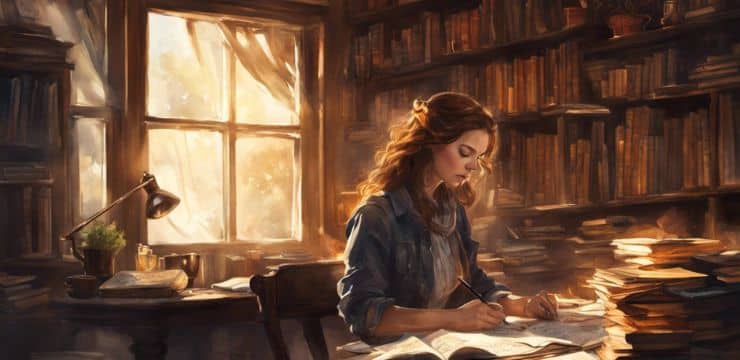 Discipline in writing isn't a luxury; it's your lifeline.
It's not about squeezing in time to write; it's about making writing non-negotiable in your life. Ready to turn discipline into your superpower?
The Consistency Code
Consistency isn't just a buzzword; it's your writing's backbone. It's not about the volume of words you churn out but the rhythm you establish.
What is your writing schedule?
It's not a suggestion; it's a commitment. Reviewing, rewriting, and feedback. They're not optional; they're your toolkit for excellence. And reading? It's your daily vitamin for writing health.
The Balancing Act
Life's a juggling act, especially for writers with day jobs or families.
But here's the kicker: your writing isn't just another ball to juggle; it's the one you can't afford to drop. The line and sticky note approach isn't just an organization hack; it's your roadmap to writing amidst chaos.
Specific writing times aren't just slots in your calendar; they're sacred spaces where your writing comes to life.
Ready to make discipline your writing's best friend?
The Beginner's Playbook: Writing Edition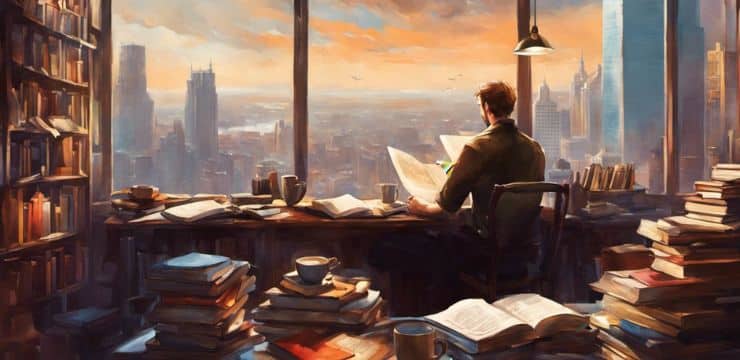 You're a beginner, and that's not a label; it's a launchpad.
The first rule of the game? Make writing a habit, not a hobby. Ready to turn your 'want to start writing' into 'can't stop writing'?
The Habit Loop
A writing habit isn't a checkbox on your to-do list; it's your daily ritual.
It's not about squeezing in writing time; it's about making writing your time. And feedback? It's not a criticism; it's your growth fuel. Here are some tips to help you get started:
Set aside dedicated time each day for writing.
Create a consistent schedule that works for you.
Start with small writing sessions and gradually increase the duration.
Find a quiet and comfortable place to write.
Eliminate distractions like your phone or social media.
Set achievable goals for your writing sessions.
Keep track of your progress and celebrate milestones.
Stay motivated by joining writing communities or finding an accountability partner.
Practice self-care and prioritize your mental well-being.
Remember to enjoy the process of writing and have fun with it.
The Focus Factor
Here's the secret sauce: when it's writing time, it's only writing time: no social media pings, no multitasking tangents. Your writing space isn't just a quiet room; it's your sanctuary of creativity.
And those dedicated writing times?
They're not calendar appointments; they're your rendezvous with imagination.
The Immersion Principle
When you sit down to write, you're not just filling a page; you're filling your mind with possibilities. This isn't about clocking in writing hours; it's about clocking into a creative mindset.
Your goal? Let your ideas flow like a river, not drip like a leaky faucet.
Ready to turn your beginner status into your superpower?
The Final Word: Your Writing Odyssey Awaits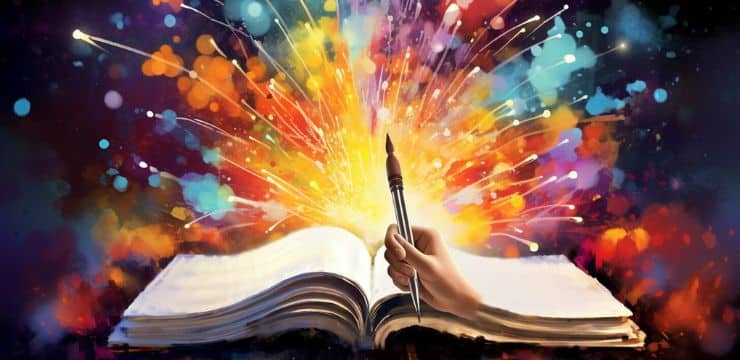 You're standing at the edge of a creative cliff. Behind you is the comfort of the known. Ahead? An ocean of words waiting for you to dive in.
Whether you're a beginner writer or scaling the heights of a writing career, the journey starts with a single keystroke. So, to recap:
The Mindset Matrix
The right mindset isn't a luxury; it's your lifeline. It's not about finding time to write but making time a non-negotiable. Your writing space? It's not a corner of your home; it's the cornerstone of your creativity.
The Blueprint and the Journey
Planning isn't a preliminary step; it's your roadmap. And the writing process? It's not a hurdle; it's your racetrack. You're not just writing; you're architecting your thoughts, one paragraph at a time.
The Fuel: Reading
Don't underestimate the power of reading. It's not a pastime; it's your creative gym. It's where you sharpen your writing skills and bulk up your inspiration.
The Discipline Code
Discipline isn't a buzzword; it's your secret weapon.
It's not about willpower; it's about want-power.
Want to be a writer? Act like one. Every day. Every thought. Every word.
So, what's stopping you? Your blank page is a canvas, not a wall. Grab that pen or hit those keys. Your writing world awaits.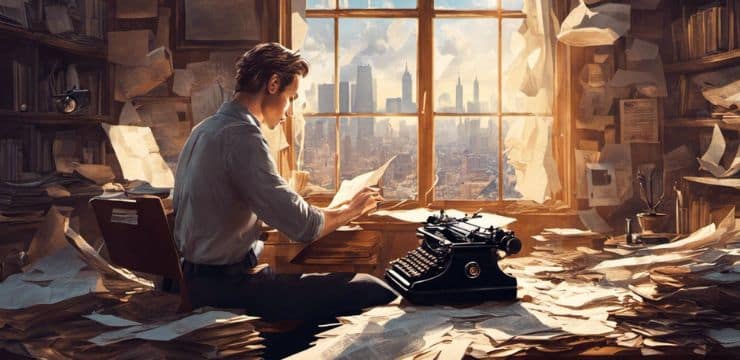 Q: What are some great ways to start writing a book?
A: There are several great ways to start writing a book.
First, don't just have an idea; let it consume you. Whether it's a scene that plays like a movie in your mind, a character who feels like an old friend, or a burning question that demands an answer—grab it.
Your starting point isn't just a notion; it's your north star. It's not about merely choosing; it's about being chosen. So, what's calling you? Listen closely. That's your book idea talking to you.
Idea Ignition: Don't just pick a topic; let a topic pick you. Something that not only interests you but consumes you.
Character Sketch: If fiction is your game, start by crafting your characters. Know them like you know your best friend.
Scene Painting: Sometimes, a vivid scene can be the cornerstone of your book. Sketch it out, feel its vibe, and let it guide your narrative.
Outline Crafting: Don't just jot down points; create a roadmap. Know your milestones and pit stops.
Dialogue Start: Write a dialogue encapsulating your story's essence. Let your characters speak your story into existence.
Research Dive: Don't just scratch the surface if it's non-fiction. Dive deep. Become an expert so you can write with authority.
Voice Discovery: Write a sample chapter to find your voice. Is it formal, casual, or somewhere in between?
Audience Chat: Imagine your ideal reader. What would captivate them? Write your first paragraph with them in mind.
Conflict Creation: Identify the central conflict that will drive your story. It's not just a problem; it's the heartbeat of your narrative.
Inspiration Session: Read the first chapters of books that inspire you. Notice how they hook readers and apply similar strategies.
Q: I'm a beginner writer. What should I do to improve my writing?
A: Read into the ocean of words penned by masters in your genre. Don't just read; dissect. Observe their storytelling arc, their sentence rhythm, and their word choices. It's not mere reading; it's a masterclass in disguise.
Then, get your hands dirty. Write. Write like it's your job, even if it's not. Consistency isn't your enemy; it's your ladder to mastery.
But don't hoard your words. Share them. Find a tribe, a writing group, or even a lone critic. Listen to the feedback, the good and the bad. It's not just ink on paper; it's a mirror reflecting your growth.
You see, writing isn't a solo journey. It's a community hike, and every piece of advice is a signpost guiding you to your summit. So, are you ready to take the first step?
Q: How can I overcome writer's block?
A: Writer's block isn't a wall; it's a door. A door you've temporarily misplaced the key to. So, how do you find that key? Change your scenery. Sometimes, a new backdrop is the locksmith your creativity needs.
Still stuck? Step away. Go for a walk, bake a cake, or play the guitar. Let your mind wander. Often, inspiration strikes when you're miles away from your writing desk.
Or scribble down anything. Ideas, outlines, even gibberish. It's not about crafting the perfect sentence; it's about breaking the dam holding back your thoughts.
And if you're still staring at that blinking cursor, set a tiny goal. Write one sentence. Then another. Small steps often lead to giant leaps.
Remember, writer's block isn't a sign of your inadequacy but an integral part of the creative process. It's not a dead-end; it's a detour that often leads to unexplored vistas of imagination. So, are you ready to find your key?
Related Posts You Might Like: