Artificial Intelligence isn't just for tech giants anymore. For Small Business trailblazers, it's the game-changer in Digital Marketing and content creation. Entrepreneurs, are you ready to ride the AI wave and redefine success?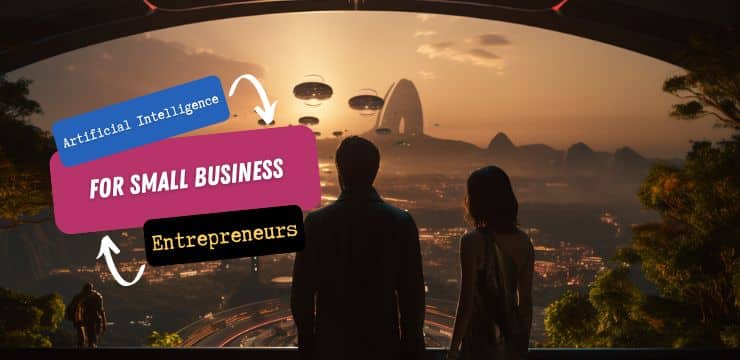 What Is Artificial Intelligence (AI) in 2023?
Think AI is just today's buzzword? Think again.
We know machines can't think. But what if they could? Enters AI.
Artificial intelligence (AI) is not just another tech term but a game-changer.
☑ It's not about coding; it's about teaching. Machines that learn, adapt, and evolve.
It's not the future; it's the now, where artificial intelligence is redefining industries, enhancing lives, and challenging our core beliefs about technology.
AI isn't just remarkable. It's revolutionary.
☑ And in a world of constants, isn't revolution what we truly seek?
Quote from @SimplilearnOfficial Channel
In this blog post, we'll delve into the world of AI – from its definition and evolution to its types, key components, real-world applications, and future implications.
We'll also address ethical considerations and explore the growing career opportunities in this rapidly advancing field. Get ready to embark on an enlightening journey into the realm of AI!
AI is a field of computer science that simulates human intelligence and has applications across various industries.
It can be divided into three major types: narrow AI, general AI, and superintelligence.
Real-world applications include virtual assistants, self-driving cars, healthcare technologies, and more. It also presents ethical considerations for its responsible development in the future.
The Ongoing Evolution of Artificial Intelligence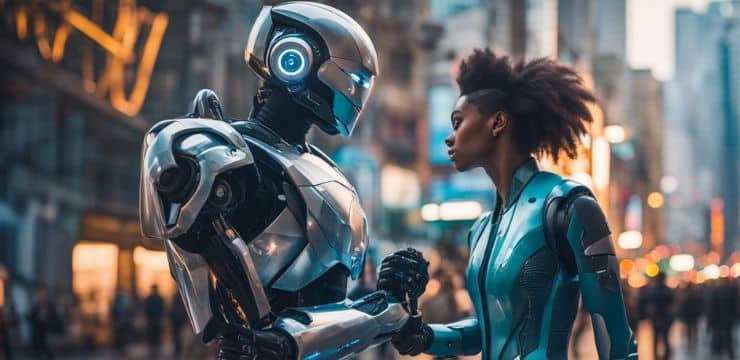 The concept of AI has evolved over time, with early AI research focusing on problem-solving and performing tasks commonly associated with intelligent beings, such as playing chess or solving mathematical problems.
As AI capabilities continued to develop, researchers began exploring more complex applications like speech recognition, computer vision, and large language models.
Today, AI is integrated across industries, powering virtual assistants, steering self-driving cars, and revolutionizing healthcare!
The journey of AI is marked by its continuous evolution, as it moves from simple reactive machines to advanced systems capable of learning and adapting.
With each leap forward, AI technology becomes more intertwined with our daily lives, providing innovative solutions and transforming how we interact with the world.
While AI cannot fully replicate human intelligence, its progress shows a promising trajectory, with ongoing research and development propelling it toward new heights.
Human vs. Machine Intelligence
The difference between human and machine intelligence lies in AI's intent to mimic human cognitive capabilities and behaviors. AI research is traditionally focused on a range of topics, such as:
Reasoning
Knowledge representation
Planning
Learning
Natural language processing
Perception
Robotics support
All these areas must be explored to advance AI technology.
AI systems are designed to execute tasks typically associated with intelligent beings, albeit with greater efficiency and accuracy than their human counterparts.
Humans improve their intelligence through experience, thinking, learning, and adapting to the environment. On the other hand, AI systems employ deep learning to learn from data and enhance performance over time without human intervention.
One key difference between humans and machines is how AI systems process information significantly faster than the human brain.
Quote By Sanksshep Mahendra
AI research aims to develop machines capable of executing tasks akin to humans, with comparable understanding and adaptability.
That involves the development of AI systems that can understand human language, interpret emotions, and make decisions based on complex data.
As AI continues to advance, the line between human and machine intelligence may become increasingly blurred, leading to more natural interactions between humans and AI systems.
AI's Evolution Over Time
AI evolution traces back to 1308. That's contrary to what most of us have learned about AI, but focusing on recent developments of AI, it began with early ideas about how humans think, leading to the creation of the first computer in the 1940s.
In 1956, experts officially began AI research at Dartmouth College, USA, and believed they would soon develop computers as intelligent as humans.
☑ Since then, AI has evolved rapidly. From basic reactive machines to sophisticated systems that can learn and adjust.
Early AI research focused on symbolic AI, which simulates the conscious reasoning employed by humans to solve puzzles, express legal reasoning, and perform mathematical operations.
As AI continued to develop, researchers began exploring more advanced techniques, such as deep learning algorithms and neural networks, to tackle previously unattainable tasks with symbolic AI.
The development of AI technologies like convolutional neural networks enabled breakthroughs in various fields, from computer vision to speech recognition.
Today, AI has become an integral part of our everyday lives, with applications ranging from virtual assistants and self-driving cars to healthcare and beyond.
We still have a long way to go to achieve artificial general intelligence (AGI). Rapid advancements in AI research and development promise a future with machines performing a wide range of tasks using human-like intelligence.
The term 'artificial intelligence' encompasses the ongoing pursuit of Artificial General Intelligence (AGI), which aims to reach a stage where machines can undertake any intellectual activity just as humans do.
Types of Artificial Intelligence
Did you know there are distinct "types of Artificial Intelligence" that power innovations in healthcare, finance, and even our daily gadgets?
For this article's clarity, we broadly classify AI into three types: narrow AI for specific tasks, general AI for various tasks, and superintelligence exceeding human abilities.
Each of these types of AI serves different purposes and has unique challenges and potential applications. In the subsequent sections, we'll delve deeper into each type of AI, discussing their unique characteristics and advancements in each domain.
Narrow AI, also known as Artificial Narrow Intelligence (ANI), is the most prevalent form of AI available today, designed to specialize in a single task and execute it with great efficiency.
This type of AI is specifically designed to carry out tasks that would typically require human intelligence, such as language translation, image recognition, or facial recognition.
While narrow AI may not possess the same level of intelligence and adaptability as humans, it is highly effective at performing specific tasks with greater speed, accuracy, and consistency than humans.
Narrow AI is an invaluable tool for various industries, as it can help automate repetitive tasks, analyze large volumes of data, and make predictions with minimal human intervention.
Continued advancements and incorporation of narrow AI systems into various life aspects are expected to significantly influence industries and professions by enhancing efficiency, minimizing errors, and offering valuable insights.
As AI technology continues to advance, narrow AI applications are expected to become even more sophisticated and capable, further transforming our world.
General AI, also known as Artificial General Intelligence (AGI), aims to achieve human-like intelligence, capable of understanding and learning any intellectual task that a human can do.
The development of general AI has been a long-standing goal within AI research, but achieving human-like intelligence in machines remains elusive. Building systems that learn, adapt, and respond like humans in any environment takes time.
Despite the challenges, the pursuit of general AI continues to be a central focus for AI researchers, with the potential to revolutionize numerous industries and transform how we live and work.
As AI technology continues to advance, the prospect of achieving general AI becomes more tangible, opening the door to a future where machines can perform tasks with human-like intelligence, understanding, and adaptability.
The concept of superintelligence AI raises both excitement and concern, as it has the potential to bring about transformative advancements in various fields, such as solving complex problems and enhancing the quality of life for humans.
However, the development of superintelligence also presents potential risks, including the possibility of AI becoming uncontrollable and causing harm to humanity.
As AI continues to progress, the debate surrounding the development of superintelligence and its potential implications will likely intensify.
Researchers, policymakers, and society must actively discuss and set regulations for AI's responsible development to balance its transformative power with AI's superintelligence risks.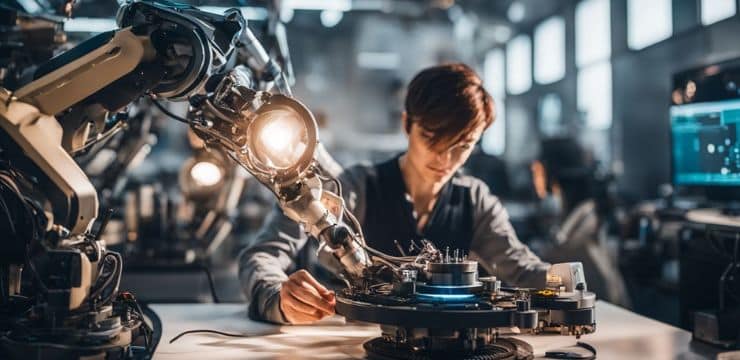 AI systems thrive on machine learning, neural networks, and natural language processing – the pillars of AI technology.
Let's examine these components in greater depth, discussing their contribution to the functionality of AI systems and their diverse applications.
Machine Learning
Machine learning, a subset of AI, allows machines to learn from data and enhance performance without manual programming, using algorithms that detect patterns, predict outcomes, and adjust to new data.
Machine learning makes AI systems more intelligent and efficient as they process and analyze information, ultimately enhancing their capabilities and applications.
☑ There are several types of machine learning, including:
Supervised learning, where the machine learns from labeled training data
Unsupervised learning, which utilizes unlabeled data to identify patterns and relationships
Reinforcement learning, where the AI system learns by interacting with its environment
Transfer learning, which involves leveraging pre-trained models to solve new tasks.
Machine learning has become a crucial component of AI, driving advancements in various fields and applications, including:
Natural language processing
Computer vision
Recommendation systems
Predictive analytics
As machine learning techniques continue to evolve, AI systems are expected to become even more intelligent and capable, further expanding the potential applications and impact of AI technologies.
Neural Networks
Neural networks, also known as artificial neural networks, are computational models inspired by the human brain, consisting of interconnected layers of neurons that process data and generate predictions.
These networks enable AI systems to analyze complex data and make decisions based on patterns and relationships within the data.
Neural networks have been a driving force in AI research, enabling advancements in areas such as image recognition, speech recognition, and natural language processing.
☑ There are various types of neural networks, including:
Deep neural networks, which consist of multiple layers of neurons
Convolutional neural networks, which are particularly adept at processing image data
Recurrent neural networks, which can process sequences of data
Long short-term memory networks are designed to handle temporal dependencies in data.
Neural networks have become an essential component of AI systems.
☑ It enables them to learn and adapt based on the data they process.
Consequently opening the door to even more powerful and versatile AI applications. As neural network architectures and techniques continue to advance, AI systems will become increasingly capable of:
 This opens the door to even more powerful and versatile AI applications, e.g.:
Processing and analyzing complex data
Recognizing patterns and making predictions
Understanding natural language and speech
Generating creative content
Making autonomous decisions
Natural Language Processing
Natural language processing (NLP) is a subfield of AI that focuses on enabling computers to understand, interpret, and generate human language.
NLP allows AI systems to communicate more naturally with humans, facilitating more intuitive interactions and bridging the gap between human and machine language.
NLP has been a crucial component in the development of AI systems, enabling advancements in areas such as speech recognition, machine translation, and information extraction.
Deep learning techniques have played a significant role in advancing NLP, with modern approaches including word embedding, transformers, and other methods that enable AI systems to process and analyze large volumes of text data.
These advancements have allowed AI systems better to understand the nuances and complexities of human language, making them more effective at tasks like sentiment analysis, text classification, and question-answering.
As NLP techniques continue to improve, AI systems will become even more adept at understanding and generating human language, paving the way for more seamless and natural interactions between humans and machines. This will have far-reaching implications for various industries and applications, including:
Virtual assistants
Chatbots
Customer support
Content generation
Real-World Applications of AI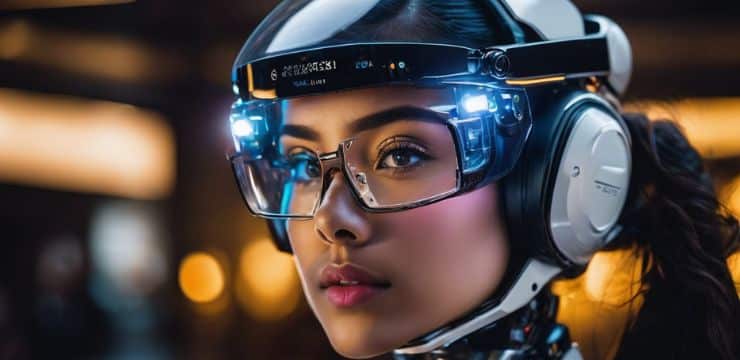 AI has already significantly impacted our daily lives, with numerous real-world applications transforming industries and improving lives.
☑ Some examples of AI technologies include:
AI tools for entrepreneurs
Virtual assistants
Self-driving cars
Healthcare applications
Natural language processing
Image and speech recognition
These artificial intelligence technology advancements are revolutionizing how we live, work, and interact with the world around us.
In the subsequent sections, we'll delve into some of AI's most notable real-world applications, accentuating their transformative potential and impact on reshaping our world.
AI tools for entrepreneurs
In today's digital age, small businesses must stay caught up. The best AI tools offer a competitive edge, turning data into growth opportunities.
Personalize Content:

Use AI to analyze customer data.
Tailor content to individual preferences, boosting engagement.

Chatbots:

Implement AI-driven chatbots for 24/7 customer support.
They answer queries, improving user experience.

Ad Optimization:

Employ AI to refine ad targeting.
Ensure you reach the right audience, maximizing ad spend.

Predictive Analysis:

Utilize AI to forecast sales and trends.
Adjust strategies proactively.

Enhance SEO:

AI tools can suggest keyword optimization.
Stay ahead in search rankings.
Remember, integrating AI doesn't mean replacing the human touch. It's about enhancing our strategies, making data-driven decisions, and maximizing ROI.
Virtual Assistants
Virtual assistants like Siri, Alexa, and Cortana have become integral to our daily lives. They use AI technologies like natural language processing and machine learning to understand and respond to user commands.
These intelligent assistants are designed to make everyday tasks more convenient and efficient. Some of the tasks they can perform include:
Setting reminders
Answering questions
Controlling smart home devices
Providing personalized recommendations
By leveraging AI capabilities, virtual assistants can provide more accurate suggestions and tailored responses over time.
Using AI, virtual assistants improve and adapt to user preferences and needs, enabling more natural and intuitive interactions between humans.
As AI technology continues to advance, we can expect virtual assistants to become even more intelligent and capable, offering new features and functionalities that further enhance our lives.
From managing our schedules and providing real-time information to assisting with complex tasks and decision-making, virtual assistants will continue to play an increasingly important role in our everyday lives.
Self-Driving Cars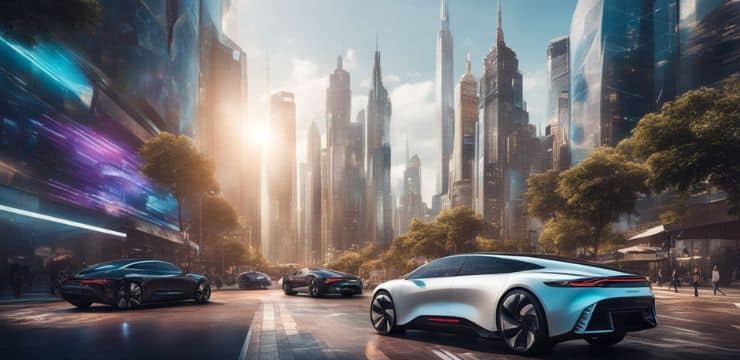 Self-driving cars represent another groundbreaking application of AI, utilizing advanced technologies like computer vision, deep learning, and neural networks to autonomously navigate, detect and avoid obstacles, and make decisions.
These vehicles have the potential to revolutionize transportation, with benefits such as reduced traffic congestion, improved safety, and more efficient transportation.
☑ AI-powered self-driving cars are still in development.
As researchers continue to prioritize safety and reliability in autonomous vehicle technology, we anticipate a rise in their presence on our roads. This advancement will revolutionize our travel experiences and transform how we travel.
The widespread adoption of self-driving cars can significantly impact society, from urban planning and infrastructure to jobs in the economy and the environment.
As AI technology continues to advance, the possibilities for self-driving cars and their transformative effects on the world around us are vast and exciting.
Healthcare
AI is rapidly becoming a powerful tool in the healthcare industry, with applications ranging from diagnostics and treatment planning to personalized medicine.
AI technologies, such as machine learning, can enable healthcare professionals to make more accurate diagnoses, optimize treatment plans, and even predict patient outcomes based on vast amounts of data.
▣ One notable example of AI in healthcare is IBM Watson,
Their system uses natural language processing and machine learning to analyze patient data and other available sources of information to formulate hypotheses and generate treatment recommendations.
Other applications of AI in healthcare include AI-powered wearable devices and sensors that use deep learning to monitor patients' health conditions in real time.
As AI advances and integrates into various aspects of healthcare, we can expect to see even more innovative applications that improve patient outcomes, reduce costs, and revolutionize how healthcare is delivered.
From early detection and prevention to personalized treatments and more efficient healthcare systems, the potential of AI in healthcare is vast and transformative.
The Future of AI – Imagine The World in 2050
The future of AI promises a thrilling journey packed with complexity, a blend of intrigue and innovation! A journey teeming with endless possibilities yet intertwined with challenges and unforeseen risks.
As AI continues to advance and integrate into various aspects of society, it raises numerous ethical considerations and offers a wealth of career opportunities for those interested in the field.
In the subsequent sections, we'll delve deeper into the future of AI, discussing the ethical issues related to its development and the increasing demand for AI specialists, engineers, and researchers.
Ethical Considerations
AI presents a multitude of ethical considerations that must be carefully addressed as the technology continues to evolve and permeate various aspects of our lives.
▣ Some of the most pressing ethical concerns surrounding AI include:
Bias
Privacy
Job displacement
The potential misuse of AI technologies, such as deepfakes, phishing, and AI-generated libel.
Ongoing discussions and debates surrounding the ethical implications of AI are essential to establishing guidelines and best practices for the responsible development and use of AI technologies.
As artificial intelligence continues to advance, it is crucial for policymakers, researchers, and society as a whole to engage in ongoing discussions about the ethical considerations surrounding artificial intelligence.
We must address these concerns to ensure the responsible development and use of artificial intelligence technologies, balancing their potential benefits against risks to individuals and society.
Career Opportunities in AI
As AI continues to grow and integrate into various industries, the demand for skilled AI specialists, engineers, and researchers is on the rise. Career opportunities in AI span a wide range of roles, including:
Deep learning engineers
Machine learning engineers
Data scientists
AI research scientists
AI developers
Robotics engineers
Business intelligence developers
AI ethicist
These roles typically require skills in programming languages like Python, Scala, and Java and expertise in machine learning, deep learning, and neural networks.
The expanding field of AI offers numerous opportunities for professionals to advance their careers and contribute to the development of groundbreaking technologies that have the potential to transform industries and improve lives.
☑ The demand for skilled AI professionals is expected to grow.
AI continues to evolve and integrate into various aspects of our lives.
As a result, the demand for skilled AI specialists will only continue to grow, creating a dynamic and rewarding career for anyone interested in working at the forefront of technological innovation.
Whether you're a seasoned AI expert, a visionary entrepreneur eyeing AI's potential, or a budding enthusiast in this thrilling domain, AI offers many opportunities to develop new skills, contribute to groundbreaking research, and impact the world.
The AI Evolution: Understanding Its Impact and Future
We have explored the fascinating world of Artificial Intelligence, from its definition and evolution to its types, key components, and real-world applications.
We have also discussed the future of AI, including the ethical considerations surrounding its development and the growing career opportunities within the field.
☑ The future of AI is exciting and complex.
As AI continues to advance and integrate into various aspects of our lives, it holds the potential to create revolutionary tools and services that could drastically alter our lives and reduce strife, inequality, and human suffering.
☑ We must harness AI's transformative power responsibly for everyone's benefit!
In conclusion, artificial intelligence offers unparalleled tools and strategies for business growth and is revolutionizing the landscape for small business entrepreneurs, digital marketers, content creators, and bloggers.
Related Posts You Might Like: