In the realm of artificial intelligence, opinions vary from awe to apprehension. Therefore, here's a curated list of "Quotes on Artificial Intelligence" from tech visionaries to renowned scientists that offer a glimpse into AI's future.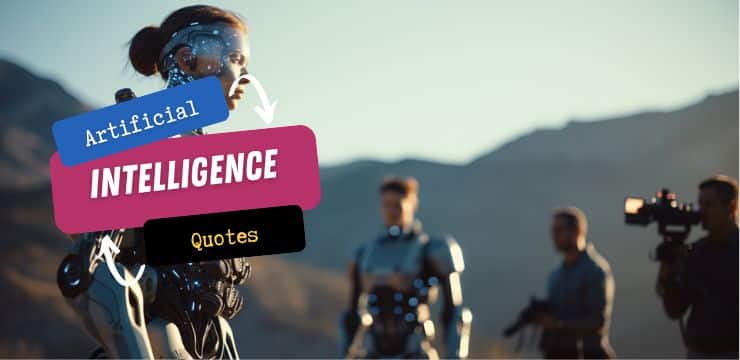 Why Is Artificial Intelligence (AI) Gaining Importance Today?
In a world drowning in uncertainty, there's a beacon.
While we've been busy doing things the old way, artificial intelligence challenges the status quo, asking, "Why not be better, be creative, reimagine, innovate, etc.?"
As the world spins faster, AI doesn't just keep up; it leads. Relentlessly pushing the limits, AI is not just mimicking the human mind; it's redefining it.
☑ For writers, AI is not just an enhancement but a game-changer.
In this digital age, being indispensable isn't a luxury; it's AI's signature.
Adopt? Survive. Thrive.
We have curated a collection of thought-provoking quotes about artificial intelligence that shed light on various aspects of this fascinating technology, from human involvement and ethical concerns to inspiring visions of AI's future.
These quotes on AI are from some of the brightest minds in AI technology.
They serve as a reminder that while progress in artificial intelligence holds immense promise, it is essential to proceed with caution and responsibility.
As we continue to push the boundaries of AI, we must ensure that its development aligns with our values and benefits humanity as a whole.
Best Quotes On AI
What is a famous quote about artificial intelligence?
"Just as electricity transformed almost everything 100 years ago, today I actually have a hard time thinking of an industry that I don't think AI will transform in the next several years." 🔔Andrew Ng
List of other famous quotes for artificial intelligence.
The kind of intelligence we're developing is very different from our intelligence. ➿ Steven Spielberg
I sort of think of progress as this continual exponential; it's not like we could say here was the moment where AI went from not happening to happening. 〰️ Sam Altman
The most important aspect of the current phase of the ongoing AI Revolution is that AI is gaining Mastery of language at a level that surpasses the average human ability. 🪄 Yuval Noah Harari
You can't tell AI to be Van Gogh in the first place. It can ape the style of Van Gogh because it has data on that. It doesn't have data on something that hasn't happened yet. 〰️ Neil deGrasse Tyson
We cannot allow ourselves to be dislodged from our position as the dominant species on this planet. We cannot allow that 🎉 Mustafa Suleyman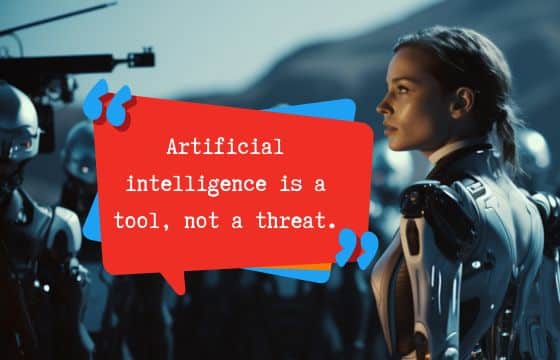 I don't think we fully understand how a human mind works either. ➿ Sundar Pichai
In the future, data will empower human beings. Today's data is like electricity a hundred years ago. We have to believe our kids will be much smarter than us using the data. 〰️ Jack Ma
Climate science is another problem where the totality of the picture… does anyone have the whole picture in mind? No, but AI systems could have the whole picture. 🪄 Professor Stuart Russell
The only way you can defend against the super intelligence is through another super intelligence which is what creates that prisoner's dilemma. 〰️ Mo Gawdat
Artificial intelligence is to be transmuted into super intelligence, either by improving natural human intellects by biological methods or by creating artificial superintelligences in machines. 🎉 Nick Bostrom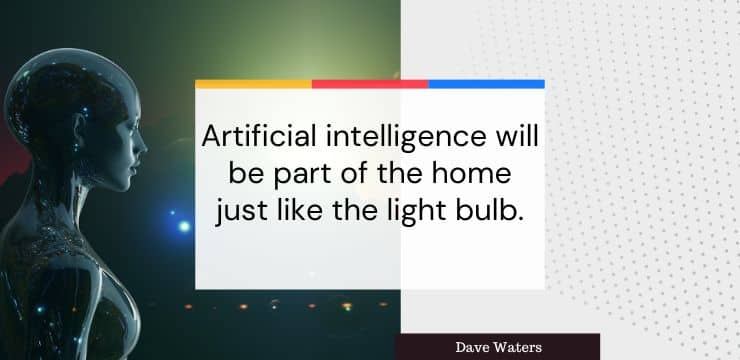 Quote by Dave Waters
Embracing AI: Quotes On Human Involvement
The development of full artificial intelligence could spell the end of the human race. 〰️ Stephen Hawking
Some people worry that artificial intelligence will make us feel inferior, but then, anybody in his right mind should have an inferiority complex every time he looks at a flower. 〰️ Alan Kay
Nobody phrases it this way, but I think that artificial intelligence is almost a humanities discipline. It's really an attempt to understand human intelligence and human cognition. 〰️ Sebastian Thrun
We must address, individually and collectively, moral and ethical issues raised by cutting-edge research in artificial intelligence and biotechnology, which will enable significant life extension, designer babies, and memory extraction. 〰️ Klaus Schwab
Quote On AI Singularity Forecasts
Quote from Quote by Sam Harris
The AI singularity is a hypothetical point in time when artificial intelligence surpasses human intelligence, leading to a potential rapid acceleration of technological progress that could impact the human race.
The concept of AI singularity has generated numerous forecasts and predictions about its timeline and consequences. It could involve the development of the ultimate search engine, which may lead to unintended consequences.
Elon Musk, a prominent figure in the field of AI, predicts that something seriously dangerous might happen with AI within the next five years, at most within the next ten years.
AI singularity may be a double-edged sword. It could unleash uncontrollable machines but also promises life extension and industry breakthroughs.
We must carefully consider the potential outcomes as we navigate AI's evolution.
Quotes On The Evolutionary Path Of AI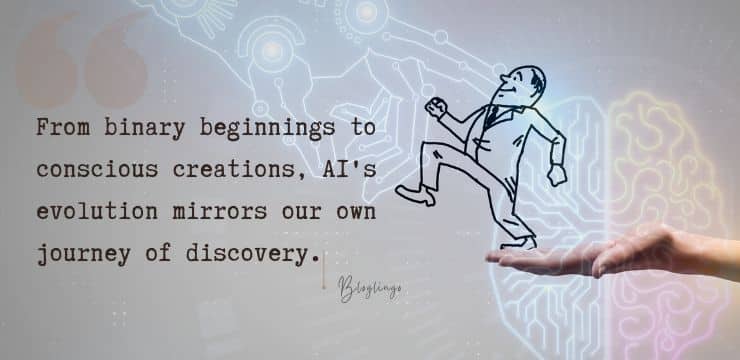 The ultimate aim of artificial intelligence AI is to construct an artificial intelligence machine that surpasses humans in terms of cognitive and learning capabilities, which could spell a new era for humanity.
AI has the potential to revolutionize and shake up our world! Here are ten exciting ways artificial intelligence could transform our society and technology.
Healthcare: Improved diagnostics, personalized treatments, and drug discovery.
Transportation: Autonomous vehicles, traffic management, and smart infrastructure.
Finance: Fraud detection, robo-advisors, and algorithmic trading.
Education: Personalized learning, virtual tutors, and adaptive content.
Entertainment: Content recommendation, virtual reality experiences, and game design.
Agriculture: Precision farming, crop monitoring, and pest prediction.
Manufacturing: Predictive maintenance, quality control, and smart factories.
Retail: Customer insights, inventory management, and chatbot assistance.
Environment: Climate modeling, conservation efforts, and pollution control.
Security: Facial recognition, threat detection, and cybersecurity enhancements.
Yet, AI's growth sparks vital ethical dilemmas we must tackle.
Vernor Vinge's quote, "Within thirty years, we will have the technological means to create superhuman intelligence. Shortly after, the human era will be ended," highlights the potential for a dangerous happening in the future.
Likewise, Claude Shannon's statement..,
"I visualize a time when we will be to robots what dogs are to humans, and I'm rooting for the machines," marks a significant milestone in the human era as we approach the development of smarter-than-human intelligence.
Quote About The Emotional Void In AI
A significant challenge in the development of intelligent machines is the lack of emotions, which can present potential dangers and limitations to their functionality.
The unique blend of human cognition and emotion will allow for a depth of compassion and empathy that AI cannot convincingly replicate today.
While machines may excel in processing vast amounts of data at lightning speeds, they need a more nuanced understanding of human intelligence.
The absence of human emotion in an artificially intelligent system can restrict its capacity to comprehend and react to human emotions, making it difficult for AI to provide sympathetic and personalized interactions.
As we push the boundaries of technology, we may develop advances in human-biological-machine intelligence to endow AI with innate human emotions.
Famous Quotes On Artificial Intelligence
What is the most famous quote about artificial intelligence?
"We're in the process of building some sort of God. Now would be a good time to make sure it's a god we can live with." 🔔Sam Harris
List of other famous quotes about artificial intelligence.
The question of whether a computer can think is no more interesting than the question of whether a submarine can swim. ➿ Edsger W. Dijkstra
Artificial intelligence is growing up fast, as are robots whose facial expressions can elicit empathy and make your mirror neurons quiver. 〰️ Diane Ackerman
The sad thing about artificial intelligence is that it lacks artifice and therefore intelligence. 🪄 Jean Baudrillard
Artificial Intelligence, deep learning, machine learning — whatever you're doing if you don't understand it — learn it. Because otherwise you're going to be a dinosaur within 3 years. 〰️ Mark Cuban
The key to artificial intelligence has always been the representation. 🎉 Jeff Hawkins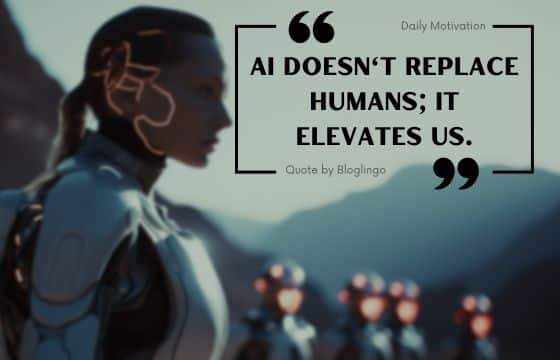 A year spent in artificial intelligence is enough to make one believe in God. ➿ Alan Perlis
I think we should be very careful about artificial intelligence. If I had to guess at what our biggest existential threat is, it's probably that. So we need to be very careful. 〰️ Elon Musk
The future is not preordained. It is up to us to decide. That decision will depend upon the A.I. learning algorithms we create. 🪄 Oren Etzioni
Machines will be capable, within twenty years, of doing any work that a human can do. 〰️ Herbert A. Simon
Artificial intelligence will simulate human intelligence but can never replace human intelligence. 🎉 Amit Ray
Quote On The Call For AI Legislation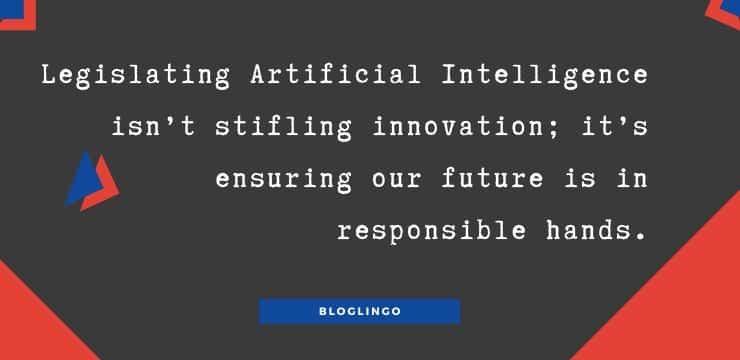 For ethical reasons, there's a pressing need to draft and implement an artificial intelligence bill to regulate its rapid advancement. Regulatory oversight is essential to ensure responsible AI development and avoid potential pitfalls.
 ☑ Five reasons for drafting and implementing an artificial intelligence bill:
Ethical Considerations: To ensure that AI systems are developed and used in ethically sound ways, respecting human rights and avoiding biases that could harm certain groups or individuals.
Data Privacy and Security: Protect individuals' data from being misused or mishandled, especially when AI systems process vast amounts of information.
Economic Impacts: To manage the potential disruption AI might bring to the job market, ensuring that measures are in place to support workers displaced by automation.
Transparency and Accountability: To ensure that AI systems are transparent in their operations and that there are mechanisms to hold developers and users accountable for malfunctions or misuse.
Research and Development Standards: To set guidelines for safe and responsible AI research, ensuring that new developments prioritize safety, accuracy, and fairness.
National and International Level Cooperation: An AI bill, both national and international, sets the gold standard for ethical AI, safeguarding the world, especially disadvantaged regions.
Quotes On Harnessing AI For A Better World
Quote by Fei-Fei Li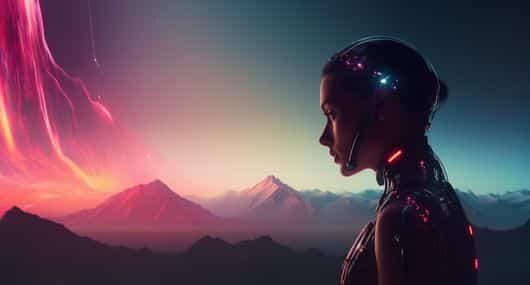 Machine learning allows us to build software solutions that exceed human understanding and shows us how AI can innervate every industry. 〰️ Steve Jurvetson
What all of us have to do is to make sure we are using AI in a way that is for the benefit of humanity, not to the detriment of humanity. 〰️ Tim Cook
Some people call this artificial intelligence, but the reality is this technology will enhance us. So instead of artificial intelligence, I think we'll augment our intelligence. 〰️ Ginni Rometty
Artificial intelligence is whatever hasn't been done yet. 〰️ Larry Tesler
Quotes On Dangers And Concerns Surrounding AI
The potential benefits of artificial intelligence are huge, so are the dangers. 〰️ Dave Waters
Humans should be worried about the threat posed by artificial intelligence. 〰️ Bill Gates
We must address, individually and collectively, moral and ethical issues raised by cutting-edge research in artificial intelligence and biotechnology. 〰️ Klaus Schwab
Time to behave, so when Artificial Intelligence becomes our overlord, we've reduced the reasons for it to exterminate us all. 〰️ Neil deGrasse Tyson
Inspirational Quote About The Future Of AI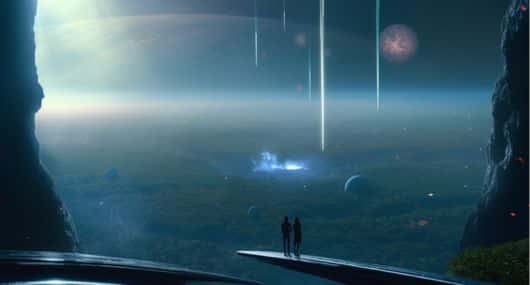 Success in creating super-intelligent AI would undoubtedly be a landmark event in the history of humankind. It would bring about a shift in the very way humans operate and interact.
Envisioning AI's future and its potential to resolve complex issues and open new innovation avenues can inspire a generation of researchers, developers, and policymakers to harness AI power for humanity's betterment.
Thought-Provoking Quotes From Experts And Visionaries
In conclusion, artificial intelligence is a rapidly evolving field with the potential to revolutionize various aspects of life and how we interact with the world.
These quotes about AI presented here have shed light on various aspects of AI, from human involvement and ethical concerns to inspiring visions of AI's future.
Engaging in open discussions and promoting collaboration among experts in the field allows us to navigate the intricate journey of AI evolution.
Bloggers, digital marketers, content creators, and other small business entrepreneurs must actively tap into the incredible benefits artificial intelligence offers society, all while minimizing its potential dangers.
As we boldly push AI's limits, we must tread carefully. It's vital to steer its growth in a direction that mirrors our values and uplifts humanity.
Related Posts You Might Like: