We've curated a list of the best Eleanor Roosevelt quotes on human rights, courage, friendship, greatness, happiness, and life to inspire each of us to strive and be a better person today than we were yesterday.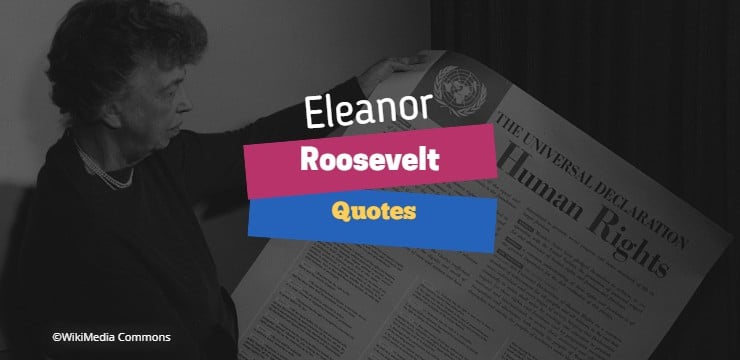 November 1949 – Lake Success, New York – Eleanor Roosevelt and United Nations Universal Declaration of Human Rights.
What Was Eleanor Roosevelt Best Known For?
Anna Eleanor Roosevelt holds the title of the longest-serving First Lady, while her husband Franklin D. Roosevelt served for 12 years (1933 to 1945) as President of the United States.
Eleanor Roosevelt is best known for being a highly influential and active First Lady during her husband's Presidency and being a public figure and advocate for human rights issues long after his death.
Eleanor Roosevelt achieved many things during her life.
Eleanor Roosevelt was a groundbreaking human rights activist, journalist, and advice columnist in her own right.
She spoke out on racial injustice, women's equality, and the need for international cooperation long before it was popular or politically safe.
American icon.
 » She was one of the most fascinating women in history.
She supported civil rights and fought for the rights of minorities. Her life has been an inspiration to many people, and she remains an inspiring role model for anyone committed to making the world a better place.
Below is a collection of Eleanor Roosevelt quotes to help us overcome fear and gain strength, courage, and confidence.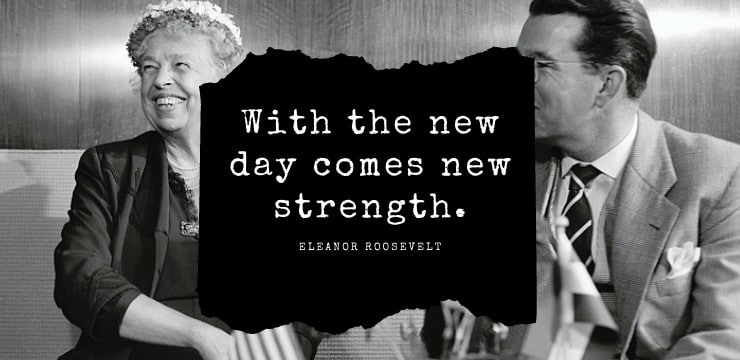 We are constantly on the hunt for adventure, growth, and happiness.
It's the little things that keep us going! For example, when we feel like giving up, we think about how much our family and friends love us. That helps!
Every day is a chance to make our dreams come true.
Famous Eleanor Roosevelt Quotes
What is Eleanor Roosevelt's famous quote?
"Great minds discuss ideas; average minds discuss events; small minds discuss people."
List of other famous quotes by Eleanor Roosevelt.
A good leader inspires people to have confidence in the leader. A great leader inspires people to have confidence in themselves.
Since you get more joy out of giving joy to others, you should put a good deal of thought into the happiness you are able to give.
I believe anyone can conquer fear by doing the things he fears to do, provided he keeps doing them until he gets a record of successful experience behind him.
Since you get more joy out of giving joy to others, you should put a good deal of thought into the happiness you are able to give.
It is better to light a candle than curse the darkness.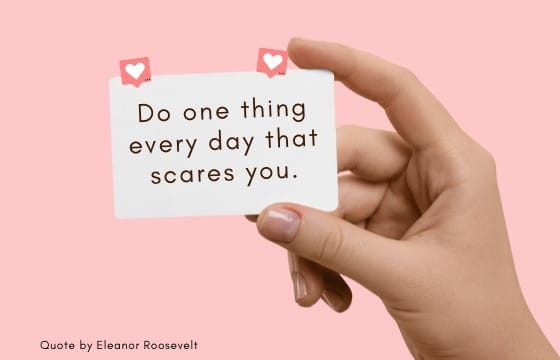 No matter how plain a woman may be, if truth and honesty are written across her face, she will be beautiful.
You have to accept whatever comes, and the only important thing is that you meet it with the best you have to give.
To handle yourself, use your head; to handle others, use your heart.
One's philosophy is not best expressed in words; it is expressed in the choices one makes… and the choices we make are ultimately our responsibility.
With the new day comes new strength and new thoughts.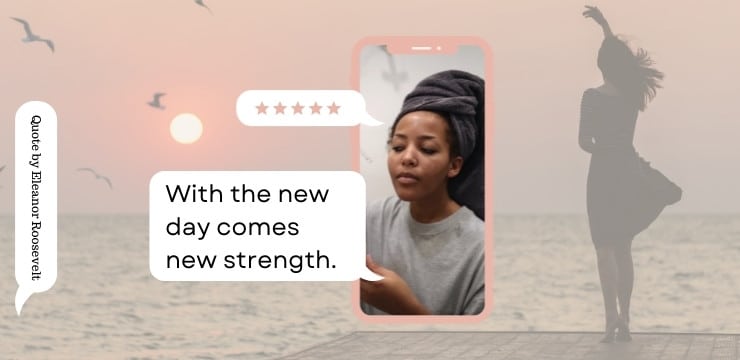 Quote by Eleanor Roosevelt
Eleanor Roosevelt Quotes – Table of Content
Eleanor Roosevelt Quote about Fear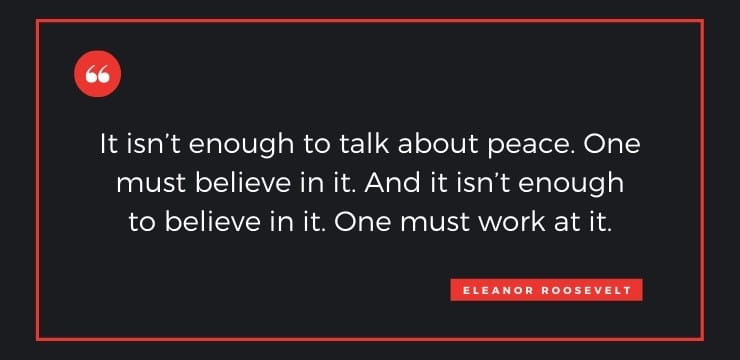 The only way to get great things accomplished is through action. We don't have to say much, but we must act to achieve the little that we say.
Talk without deeds is cheap.
In the same line of thought, fear is one thing that stops people from doing what they talk about and want.
Whenever most people think about accomplishing something, they hesitate because doing new things is scary. But, at the same time, if you don't try anything new, you'll never get anything accomplished.
Let's make it our duty never to be afraid to follow our dreams. If there is something you want, don't just talk about it, don't be scared to go for it!
We are afraid to care too much, for fear that the other person does not care at all.
You gain strength, courage, and confidence by every experience in which you really stop to look fear in the face.
Do the things that interest you and do them with all your heart. Don't be concerned about whether people are watching you or criticizing you. The chances are that they aren't paying attention to you.
The purpose of life is to live it, to taste experience to the utmost, to reach out eagerly and without fear for a newer and richer experience.
Eleanor Roosevelt Quotes on Human Rights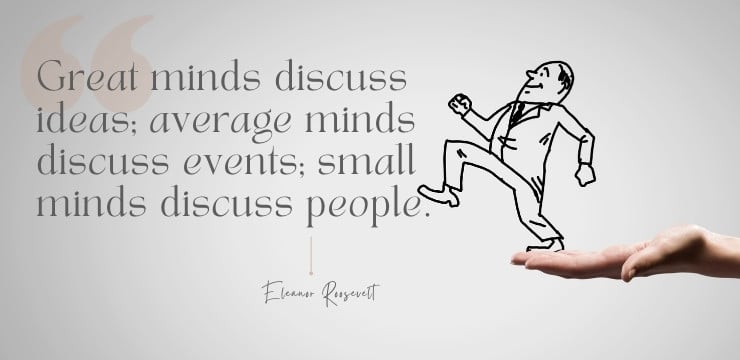 Do you love talking about world problems and how to solve them?
Well, you are not alone.
Talking about meaningful topics is a great way to get people engaged in conversation. There are plenty of different things we can talk about no matter our differences and interests!
One of the most important things we can do with our lives is travel. Seeing different parts of the world helps us understand how other people live, and it makes us appreciate what we have more than before.
Exposure to different regions of the world, cultures, and people will help us grow our intellectual minds and experience.
People grow through experience if they meet life honestly and courageously. This is how character is built.
What could we accomplish if we knew we could not fail?
Do what you feel in your heart to be right – for you'll be criticized anyway. You'll be damned if you do, and damned if you don't.
We do not have to become heroes overnight. Just a step at a time, meeting each thing that comes up, seeing it as not as dreadful as it appears, discovering that we have the strength to stare it down.
Eleanor Roosevelt Quotes about life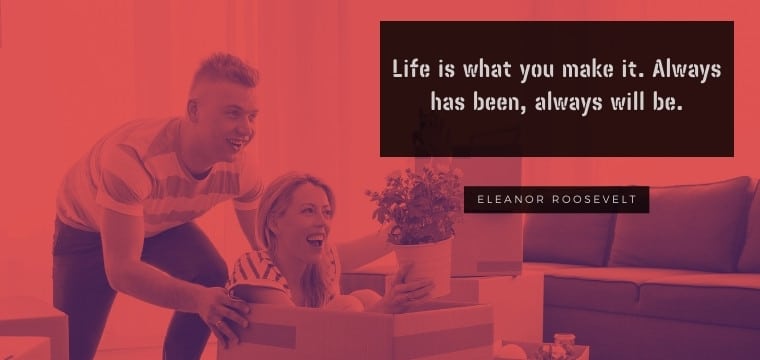 Life is what we make it to be. That's what makes life beautiful.
For instance, we can make life exciting and enjoyable if we put our mind to it or turn it into misery if we choose to do so!
Life is a journey, and we have the option to make it better for ourselves and the world around us.
To enrich our life, we can meet new people, learn new things, or enjoy the little moments that happen every day.
Life isn't about the amount of time we have.
It's what we do with that precious little time we have. No matter our lifestyle or age, time flies by, and we never know what will happen in our lives.
It's so easy to get caught up in the day-to-day grind of life, but we must spend time celebrating what has gone right. Every single thing good happens because of your hard work and effort! So take a minute now and then to celebrate your life.
Don't let a day go by without a smile!
Life is short, but it can be lived to the fullest if we make every second count.
Since everybody is an individual, nobody can be you. You are unique. No one can tell you how to use your time. It is yours. Your life is your own. You mold it. You make it.
Do not stop thinking of life as an adventure. You have no security unless you can live bravely, excitingly, imaginatively; unless you can choose a challenge instead of competence.
Probably the happiest period in life most frequently is in middle age, when the eager passions of youth are cooled, and the infirmities of age not yet begun.
Life was meant to be lived, and curiosity must be kept alive. One must never, for whatever reason, turn his back on life.
Eleanor Roosevelt Quotes about Friendship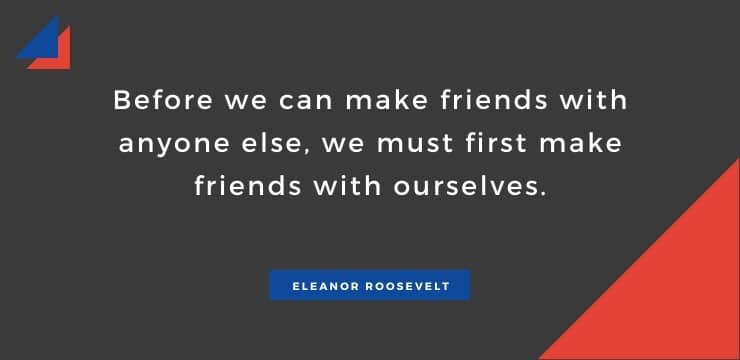 Let's make an effort to get to know people from different cultures and be friends with people from all over the world.
I think it's one of the best ways to enrich our lives. It makes us more intelligent, knowledgeable, and better at communicating with people.
Befriend yourself.
I know we say it all the time but remember first to make friends with yourself. We need to know who we are before trying to make friends with other people.
Much of what we do in life is motivated by the relationships and connections we establish in our lives. The more meaningful these connections are, the happier and healthier we tend to be.
We all want friends who understand us, people with whom we can share life's ups and downs, motivations, dreams, and worries without fear of judgment or criticism.
Many people will walk in and out of your life, but only true friends will leave footprints in your heart.
A woman is like a tea bag – you can't tell how strong she is until you put her in hot water.
Friendship with one's self is all important, because without it one can not be friends with anyone else in the world.
If you lose money you lose much, If you lose friends you lose more, If you lose faith you lose all.
Eleanor Roosevelt Motivational Quotes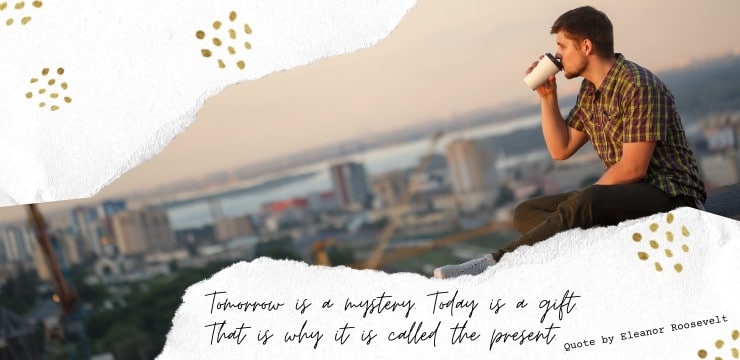 Tomorrow is not something that we, the mere mortals, can accurately predict. It's unpredictable, so enjoy today while you can!
The future is the place in our thoughts where people with crazy ideas and new ways will always fantasize and imagine making it a reality.
Today is a gift.
Let each day be the day you commit to achieving greatness for those who long to be their best selves and prefer to live their most wholesome life in the present.
Self-motivation that comes from within you is essential to being productive. So, whenever you're feeling down, this list of short inspirational quotes is excellent for any occasion and will keep motivation flowing when things get rough.
You must do the things you think you cannot do.
It is a brave thing to have courage to be an individual; it is also, perhaps, a lonely thing. But it is better than not being an individual, which is to be nobody at all.
Nothing has ever been achieved by the person who says, 'It can't be done.
You can often change your circumstances by changing your attitude.
Other Eleanor Roosevelt Famous Quotes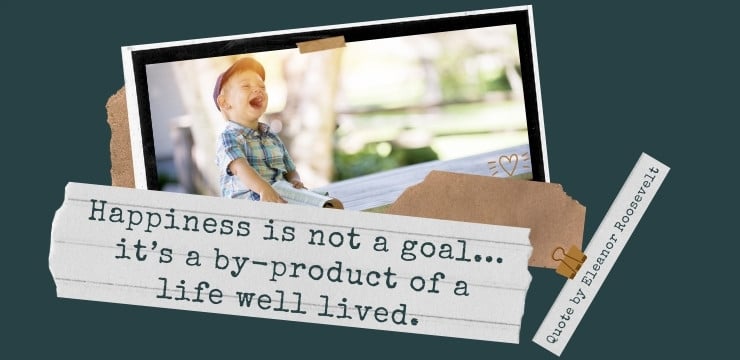 I think happiness is everyone's goal in life. Of course, it doesn't always happen, but we should all try to make others happy and work hard to be satisfied ourselves!
Did you know that one of the best ways to find happiness is giving and serving others?
Help other people.
And it's not just helping only the people we love but also the strangers and people who may not have the means to return the favor.
We may think that giving something to someone else will take away our resources and time; however, when we spend our energy helping others, it fills us with positive feelings because of how good the act of giving made us feel!
The purpose of life is to live it, to taste experience to the utmost, to reach out eagerly and without fear for a newer and richer experience.
If someone betrays you once, it's their fault; if they betray you twice, it's your fault.
Learn from the mistakes of others. You can't live long enough to make them all yourself.
One thing life has taught me: if you are interested, you never have to look for new interests. They come to you. When you are genuinely interested in one thing, it will always lead to something else.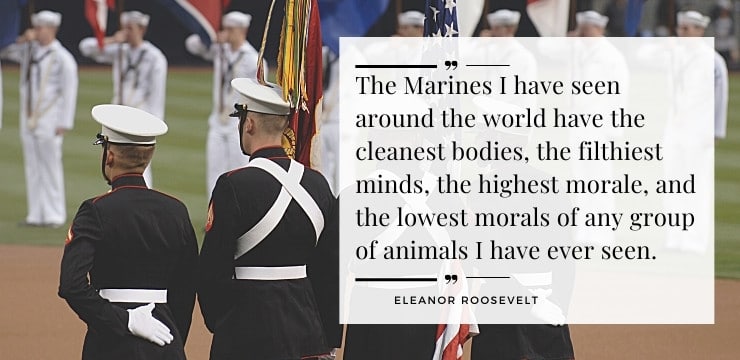 Eleanor Roosevelt Quote
No one can make you feel inferior without your consent.
The future belongs to those who believe in the beauty of their dreams.
Never mistake knowledge for wisdom. One helps you make a living; the other helps you make a life.
Beautiful young people are accidents of nature, but beautiful old people are works of art.
Never allow a person to tell you no who doesn't have the power to say yes.
Conclusion: Quotes By Eleanor Roosevelt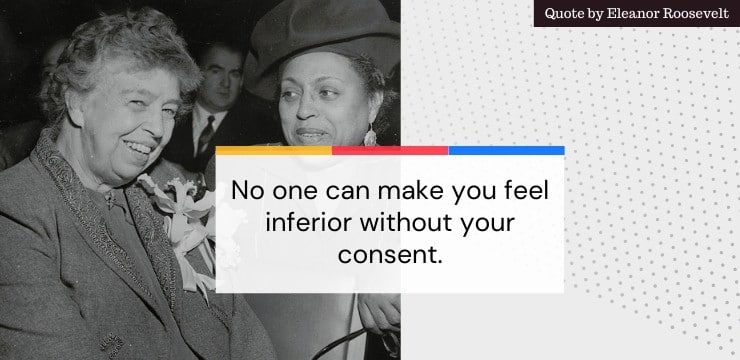 There you have it, 45 Eleanor Roosevelt quotes to give you a dose of inspiration today.
A motivational quote from an inspirational source can inspire us to never give up on our goals and dreams.
When life gets tough, sometimes all that is left to keep us going are these inspiring words from famous people in history telling their stories about how they overcame adversity to accomplish great things in life!
These famous quotes have helped many people like yourself find their inner strength and accomplish great things in life, and I hope they do the same to you and me.
Eleanor Roosevelt
Related Posts You Might Like: