Need help with content creation? You're not alone. Most online entrepreneurs often feel trapped when writing SEO-rich long-form articles. No more, meet the new Agility Writer AI tool. Read our in-depth "Agility Writer Review" to see why!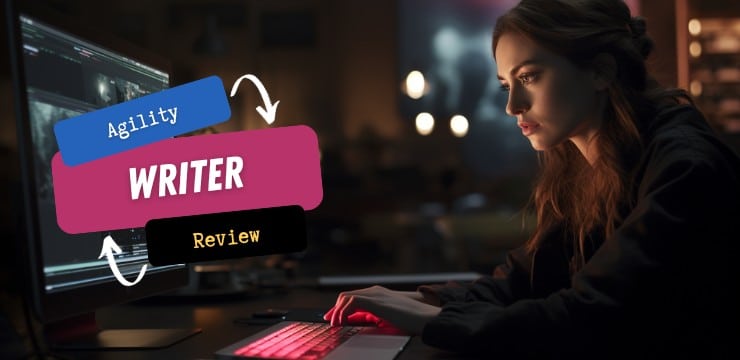 Agility Writer Review: AI Content Genius Or Just Hype?
The AI Digital Writing Revolution
Every content creator knows the drill:
☑ Brainstorm, draft, edit, optimize, and hope it ranks.
But how do we craft the unforgettable in a world drowning in subpar bulk content automation? Enters Agility Writer, An AI writing tool that promises to revolutionize content creation as we know it today.
☑ Say goodbye to Writer's block or countless hours spent on revisions.
This tool claims to have the magic formula to create perfect factual data content.
Does it use AI? Sure, many writing tools claim they do!
Yet, amidst the buzz, a question lingers:
Does Agility Writer live up to its claim, or is it all hype?
☑ What makes Agility Writer stand out in a sea of AI writing tools?
Our comprehensive "Agility Writer Review" dives deep, uncovering the features, benefits, and value it brings to the table for content writers.
Read to see and find out what it is that sets it apart. Because in a world inundated with AI tools, finding the most remarkable is everything!
Is Agility Writer Worth It?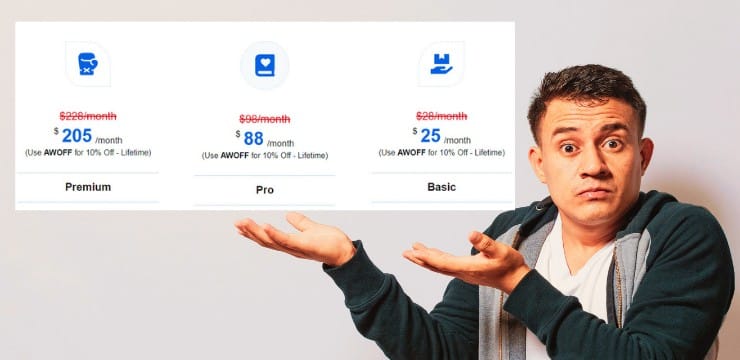 Agility Writer is a powerful AI content writer designed to produce high-quality, SEO-optimized articles swiftly and effortlessly tailored to businesses and individuals.
With features like the Smart Outline Builder, Advanced Mode, and Bulk Mode, it offers a comprehensive set of customized settings, such as tone of voice, inserting AI Images, and other writing styles for those seeking to elevate their content game.
Created with bloggers, SEOs, and digital marketers in mind!
Agility Writer professes to create articles that genuinely resonate and are SEO-ready to rank, with a little bit of editing and tweaking on your part.
How Much Does Agility Writer Cost?
☑ Agility Writer starts at $25 monthly (when AWOFF – 10% Off – Lifetime coupon is applied); for a $1 trial, they offer new members to sign up and receive 3 credits instantly. In addition, join their FB group for an additional 10 credits.
Agility Writer Pricing
| | | | | |
| --- | --- | --- | --- | --- |
| Plan | Price (Regular) | Price With (AWOFF) Coupon) | Credits (Regular ) | Credits (With Offer) |
| Basic | $28.00 | $25.00 | 20 | 32 |
| Pro | $98.00 | $88.00 | 75 | 120 |
| Premium | $228.00 | $205.00 | 200 | 320 |
| Elite | $528.00 | $475.00 | 500 | 800 |
| Ultimate | $998.00 | $898.00 | 1000 | 1600 |
Are you curious about Agility Writer's current pricing and their lifetime coupon? Swing by their site and see what fits your needs. No pressure, just options, no strings attached!
Dive into Agility Writer: An AI "dynamo" that crafts captivating content in a snap.
Harness advanced modes for standout titles and unmatched originality.
Power through with Bulk Mode and outsmart AI detectors for top-tier SEO rankings.
What Is Agility Writer AI Content Generator?
Agility Writer is an AI-powered content creation tool designed to assist writers in producing high-quality, engaging articles efficiently.
It streamlines the writing process by offering features that tackle common challenges like:
It tackles writer's block
Ensures SEO optimization
Maintains content originality
With customizable optimization options, users can craft compelling titles and content tailored to their needs.
One of its standout features is the Optimize Mode, which allows SEO content production while ensuring the output remains authentic and human-like.
Additionally, its Anti-AI Detection Feature ensures that the generated content is optimized for SEO rankings, giving it an edge in search engine results.
Agility Writer revolutionizes how content creators approach writing, making it a valuable asset for bloggers, marketers, and online entrepreneurs.
AI Writing Tool For Authentic SEO-Optimized Content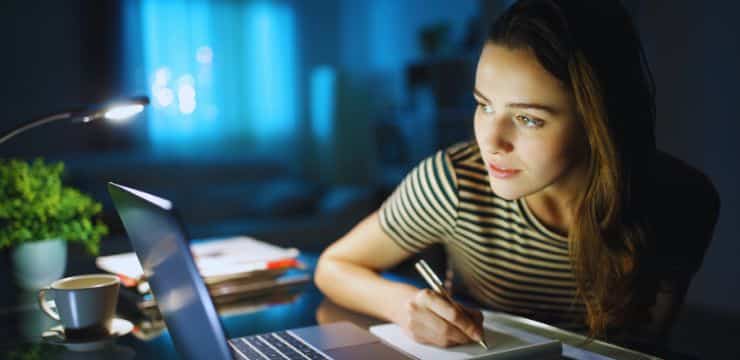 Crafting top-tier content that perfectly fuses SEO mastery with riveting storytelling isn't just a "tip and trick" that content creators need to know and learn.
☑ It's a skill that every digital marker must master.
But there is a problem.
Writing SEO-rich content is complex and time-consuming.
That's where Agility Writer's "Optimize Mode" steps in.
Imagine collaborating with a seasoned writer who's got SEO down to a science and knows the art of keyword content optimization like the back of their hand.
That's the power of "Optimize Mode."
You're not merely typing words; you're weaving SEO-rich blog articles that captivate and resonate with your audience while ticking all the SEO boxes.
Again, it's not about over-optimizing with SEO;
Most important, it is about understanding the heart of a story.
And there goes the delicate balancing, storytelling vs. SEO.
It seems a simple task until you enter content into a Search optimization tool and watch minutes turn into hours. The score? Still below par!
And then there's "Optimize Mode".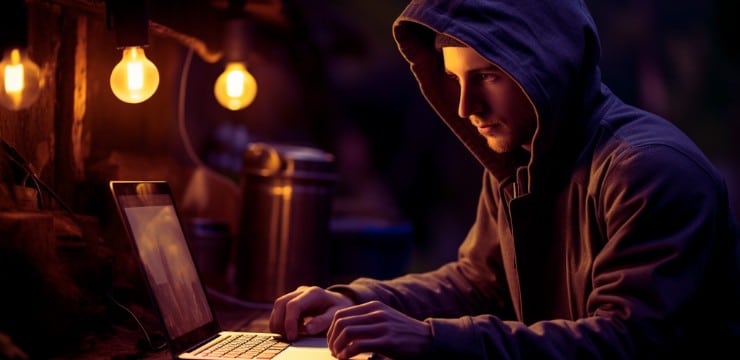 Imagine a sage delving deep into the vast web, bringing back nuggets of gold in mere moments. It's not just research; it's enlightenment at the speed of thought.
☑ Now you can story write and let Agility do the heavy lifting.
Regardless of the niche, "Optimize Mode" guarantees precision and depth content.
But it doesn't stop there.
With its unmatched efficiency, say goodbye to manual keyword optimization and hello to more time doing what you love: crafting masterpieces.
Agility Writer's "Optimize Mode" Mastery

These are the key features of the "Optimize Mode" in Agility Writer:
Harnessing the power of natural language processing capabilities, Agility Writer dives deep into user's search intent. It doesn't just generate content; it crafts high-quality content that resonates with users' needs.
Automatic LSI & NLP Optimization: With a keen understanding of Latent Semantic Indexing (LSI) and Natural Language Processing (NLP) prowess, the tool enriches content, amplifying its SEO value.
🔍 SERP Data Analysis:
When you input a keyword, Agility Writer doesn't just skim the surface. It delves into the top-ranking search results on the Search Engine Results Page (SERP), identifying articles that dominate the rankings.
Customizable Article Structure: Whether you're crafting article titles or diving into detailed sections, choose structures that resonate—be it long text, standard prose, or advanced formats with lists and tables.
Audience and Tone Selection: Every brand has a voice, and every audience has a preference. With Agility Writer, align the two seamlessly.
Automatic Outbound Authority Links: Beyond just content, it's about credibility. Embed authoritative outbound links, and watch your article's trustworthiness soar.
Internal/Custom Links: Optimize your articles further with internal or custom links, ensuring your content isn't just readable but SEO-friendly too!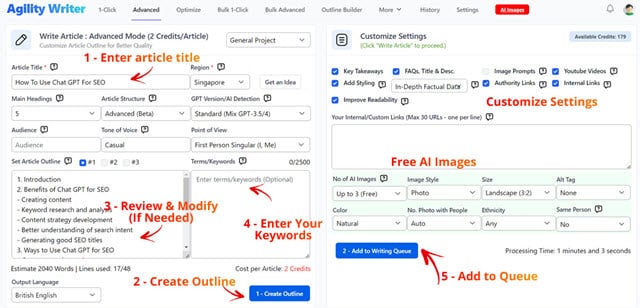 Multiple Outlines: Drawing from top-ranking articles, the smart article outline builder crafts various blueprints, each echoing the essence of high-performing content. You're not just choosing an outline; you're selecting a strategy.
Content Styling: It's not just about what you say but how you present it. With automatic styling options, make your content pop—bold text, headers, and formats that enhance readability.
FAQs Section: Dive deeper with an FAQs section, addressing the burning questions your audience might have.
Factual Data and Source URLs: Every claim is backed by in-depth factual data. And with Agility Writer, every fact comes with a source, ensuring your high-quality articles aren't just compelling but credible.
Catchy Title Suggestions: ✏️
Where does Agility Writer stand out? It's in crafting titles that don't just inform but captivate.
Master Time With Agility Writer For Content Creation
Blank page standoff: And words hide!
In the writing world, time isn't just ticking; it's taunting. Every writer feels its pressure, its relentless chase. But what if we flipped the script?
 ☑ What if time became our ally, not our enemy?
Forget the old struggles and the endless searches. AI assistants are the future of writing, challenging every norm we've known. Impressive? Without a doubt.
Because in a sea of words, being remarkable isn't a choice; it's a necessity.
And Agility Writer? It's the game-changer we've been waiting for.
With Agility Writer's premium features, you're not just buying tools but investing in golden hours. Because in the world of content, time isn't just money; it's everything.
☑ Think of the new content you could create.
How about the stories you could tell and the audience you could captivate!
Why settle for the ordinary when the premium offers you the extraordinary?
Avoid AI Content Generation Pitfalls, Write With Authority
Lack of experience in writing?
It's a silent trap, waiting to ensnare our content's potential. Every word we pen without the right expertise is a step closer to mediocrity, a dance with obscurity.
The market is unforgiving, and readers? Even more so.
☑ They sense inexperience, and it pushes them away, breeding distrust.
But here's the twist: we can sidestep this pitfall.
Dive deep, learn, grow, and, most importantly, acknowledge the gaps.
Because in the world of content, it's not just about writing; it's about writing with authority. Don't let inexperience be your downfall.
☑ Rise, evolve, and let every word resonate.
Create Credible Content With Agility Writer AI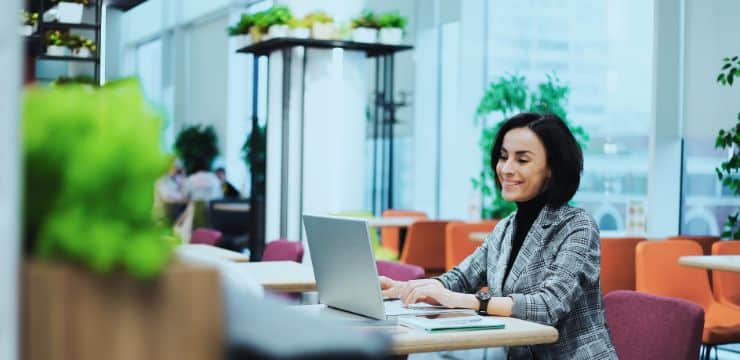 The web thrives on content, but not all content is born equal.
Dig a couple of inches further down, and you'll find a sea muddied by poor research, where misinformation floats and truth sinks.
It's a disservice, not just to readers but to the very essence of knowledge-sharing.
☑ But imagine a web where every writer is an empowered researcher.
Where content enlightens, not confuses.
A thriving digital hub where writers don't just aim for clicks but for clarity.
It's not just about mass production; it's about better writing where truth reigns, where writers are not just creators but curators of genuine knowledge.
It's more than just data; it's about resonance.
Supercharge your research with Agility Writer
Agility AI writing tool is not just another content generator; it's your research companion. Here's how it elevates your article research game:
Agility Writer goes beyond mere information retrieval. It taps into current trends, communicates seamlessly with search engines, and weaves compelling narratives.
☑ Consider it your guiding star to content that truly resonates.
 Agility Writer aids in article research in the following ways:
Real-time Data Crawling: Goes beyond just AI models by crawling top-ranking websites, ensuring the articles generated are up-to-date and relevant.
SEO Analysis: Uses the Optimize Mode to analyze top search results for a given keyword, examining the structure, format, and content of competitor articles to gain valuable insights.
Automated Outlining: Generates well-structured outlines for articles based on competitor analysis, suggesting headings, subheadings, and sections proven to perform well in search engine rankings.
Keyword Integration: Identifies relevant keywords based on top search results and integrates them strategically throughout the article, enhancing SEO.
Outline Builder: A free tool that creates well-structured article outlines based on targeted keywords or analyzes provided URLs, ensuring content is cohesive and organized.
Agility Writer Pros & Cons: Conquering Writer's Block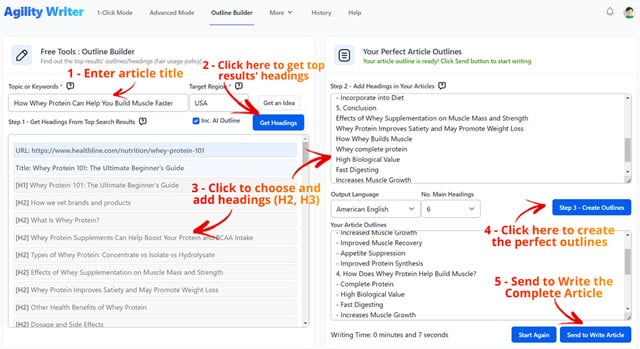 In a world drowning in words, the most daunting challenge?
◬ Facing an empty page.
It's not just you. Even the giants in writing, those legends of prose, grapple with that silent monster: Writer's Block.
But here's a secret making the rounds in hushed whispers among the elite SEOs: they're switching to Agility Writer. And it's not just for the fancy features; it's the escape from the paralyzing grip of the blank page.
  ☒ While many still grapple with the void of creativity.
☑ The best SEO writers are churning out masterpiece after masterpiece.
It's not magic; it's Agility Writer. Feel that twinge of envy? It's natural.
Because in a world where words are power, having the right tool is the ultimate advantage. Don't just watch from the sidelines. Be part of the elite AI writers.
Pros:
Versatile Writing Modes: Offers a range of modes such as Advanced Mode, 1-Click Mode, Optimize Mode, Bulk Mode, Outline Builder, and Product Roundup.
SEO Optimization: Generates SEO-optimized articles with LSI keywords and NLP entities.
User-Friendly Interface: Intuitive and accessible to writers of all skill levels.
Time-Saving: Automates the writing process without compromising quality.
Affordable Pricing: Competitive pricing starts from 25/month (Use AWOFF for 10% Off – Lifetime), regardless of word count.
Regular Updates: Continuously updates and introduces new BETA features to stay ahead of AI technologies.
  👎Cons:
Lack of Control: Some modes generate entire articles automatically, limiting customization for specific sections.
Language Limitations: Primarily supports English, with other languages in beta mode, potentially affecting quality.
Content Uniqueness: Occasionally produces content that plagiarism detectors may flag, a common issue with AI content generators.
Cut the Digital Clutter: Connect, Engage And Amplify!
Competition is fierce.
In the vast digital arena, where every word we pen is a shout into the void.
Have you ever felt like your voice is just an echo?
You're not alone. Many writers pour their heart into content, only to be met with the deafening silence of an unengaged audience.
We write. Publish. Wait. People and search engines ignore, see, and say nothing.
It's not just a miss to hit metrics; it's a sting to the soul. That creeping shame, wondering if your content is just… noise. But here's the twist: it's not about writing more; it's about resonating more.
The challenge isn't creation; it's connection. Don't let your voice fade.
Rise above the noise. Engage, don't just create.
Here is the twist.
You need more time to connect and engage and not do the mundane tasks AI writers like the Agility writer can do for you.
Let it do what it does best.
Do what you do best: Imagine, research, be creative, edit, and polish!
SEO Chessboard Mastery: AI Precision-Powered Content
In the grand chessboard of the web, where every piece of content is a move, have you ever felt like you're perpetually in check?
◬ SEO rankings, those elusive metrics.
They often seem like a rigged game. The SERPs! Keep rewriting the rules!
We craft, we create, yet our super awesome SEO content is buried pages deep, lost in the digital shuffle. But what if you could strategize, not just write?
Take pride, not in mere words, but in visibility.
It's time to elevate, to make moves that matter. Because in the digital dance for dominance, it's not just about writing; it's about reigning. Don't just be a player; be the game-changer.
Elevate your content with Agility Writer.

Edit, polish, and make your next move.
Use the free moments to refine and strategize, making every move with the precision of a chess grandmaster.
☑ Getting links. More Links. Relevant links.
Page one on the SERPs isn't just a rank. It's a testament to your pride.
Agility Writer Review: Craft Content That Stand Tall
Narratives That Resonate
In a world awash with content, standing out is no longer optional.
With Agility Writer, high-quality articles aren't just a hope or a goal; they're a guaranteed expectation.
Their smart outline builder is more than a tool; it's a compass that ensures every word finds its purpose, guiding every word to its rightful place.
In the vast sea of AI writing tools.
Agility Writer stands distinctly tall, diving deep into search intent, crafting content, and delivering narratives that don't just speak but resonate.
Choose not just to write but to make an impact.
It's not just about churning out content; it's about crafting narratives that matter with tools tailored to your needs and results that speak volumes. The question isn't whether you should try Agility Writer, but when will you?
  Agility Writer Alternatives