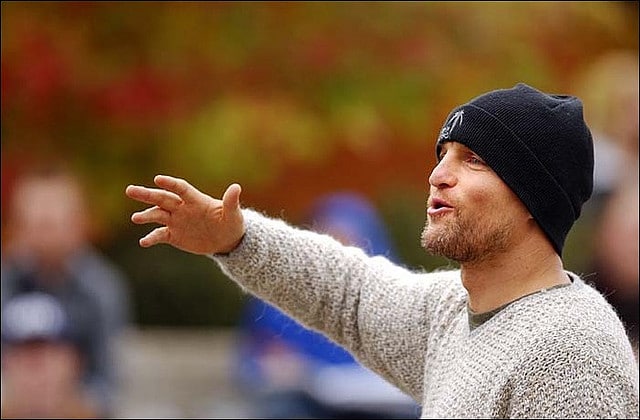 You might know him as the bartender from Cheers, The People vs. Larry Flynt or maybe even as the Zombie killing bad ass from Zombieland.
It doesn't matter what role was the most memorable for you when it comes to Woody Harrelson's movies and TV shows, it's a simple fact that Woody Harrelson is a widely recognized and celebrated actor.
He has come close to receiving an Academy Award and has starred in both art house films, and mainstream blockbusters. Woody Harrelson really needs no introduction.
He had his roots in the comedy scene and lately, his career has come full circle in a way with the Texas native hosting a recent episode of Saturday Night Live.
He is also gotten back to his television roots starring in the critically acclaimed HBO crime series True Detective.
While you might know a bit about his mainstream roles, there is always something new to learn and as is the case with most celebrities, it's the little bits of trivia that are the most interesting.
12 Interesting Facts You Probably Didn't Know About Woody Harrelson
He is gone from the small screen to blockbuster motion pictures and has done pretty much everything in between. He is starred in celebrated roles about controversial people, and has even portrayed a cold and calculating killing machine.
Whether you're his biggest fan or you're just getting interested in Woody from his recent roles, you might just be surprised by some of the trending topics concerning him.
For long term Woody Harrelson fans and new converts alike, here is a list of 12 interesting facts you might not have known about this amazingly talented actor.
1.) A Childhood You Probably Wouldn't Envy
Woody was born Woodrow Tracy Harrelson on the 23rd of July, 1961 and while there is nothing exceptional about that fact, you might have to read the next one twice.
When Woody was just seven years old, his father was imprisoned on a murder conviction. Woody Harrelson's father died while serving a life sentence. Woody Harrelson's mother then raised Woody and his siblings in Ohio.
2.) The Theory of Acting
Unlike some actors who almost fall into the profession by accident, Woody Harrelson knew in his teens that he wanted to become an actor of some kind.
He studied English and Theatrical Arts and earned a Bachelor's Degree in 1983.
3.) Woody Learned His Craft Away From the Camera
Although he was getting odd work as an extra in various film and television productions, it was as a theater understudy that Woody learned a lot of his acting chops.
He worked on the Neil Simon play Biloxi Blues before landing his breakout role on television. Through the years, Woody has remained active on the stage scene, taking the odd role and minor production work.
4.) The Role That Made Him Famous
Everybody knows the comedy Cheers and it was in the fourth season of the hit show that Woody got his big break.
His role as the dopey bartender garnered critical praise and would open the doors for him on later productions.
5.) Early Success and Recognition
Cheers well and truly catapulted Woody Harrelson into the limelight and Woody's acting skills were apparent even at this early stage of his career.
Woody was honored with 5 Emmy nominations, including a win in 1989 for Best Supporting Actor.
Woody Harrelson Interview, YouTube Video
6.) A Beautiful Guy, Inside and Out
Not many would describe Woody as "classically" attractive, but what he does have is a certain kind of handsome charm that is partially carried by his charisma.
People Magazine is just one high profile publication that has recognized Woody's looks, naming him one of their 50 Most Beautiful People of 1990. He was also named PETA's Sexiest Vegetarian in 2012.
7.) An Actor With a Musical Flair
Woody is a seriously talented actor, but it's not the only way that he expresses himself. Woody is the front man of his own band and you can catch them by looking out for shows featuring Manly Moondog and The Three Kool Kats.
8.) Comedy In His Bones
Woody is a talented drama and action actor, but its comedy where he got his big break and where many of his fans love him best.
Over the years, he has kept his comedic options going and has had returning roles in sitcoms like Frasier, Spin City, and Will & Grace. He is also starred in fan favorite comedy films like Semi-Pro, Zombieland and Surfer, Dude.
9.) Woody Has Narrowly Missed an Oscar On Two Occasions
It's not just fans who love Woody and this is obvious with the fact that his performances have been praised by critics around the world.
On top of his Emmy award and nominations, he has also been in the run for Best Actor and Best Supporting Actor awards, but ultimately lost out.
Woody did, however, win a Screen Actors Guild award for his role in the film No Country for Old Men.
10.) Woody Harrelson Twitter
Woody Harrelson joined Twitter in April 2012 but interestingly he hasn't tweeted anything. His Twitter account has 419 followers.
11.) Woody Is Heavily In to Advocacy Work
As an actor with a high profile, Woody is able to leverage off of his fame to advocate a number of causes and organizations that he supports.
He is a vegan and lives on a vegan and raw food diet. He promotes veganism for ethical reasons. He is also an active promoter of UNICEF and a number of environmental organizations.
Regarding Woody Harrelson's drugs reform, he supports the legalization of marijuana and hemp and is a known enthusiast.
12.) Woody Harrelson Net Worth
Having earned Academy Award nominations for Best Actor and Best Supporting Actor, it's no doubt that Woody has a long career that keeps getting better.
This being so, Woody Harrelson net worth is sixty five million US dollars.
Long Career That Keeps Getting Better
One thing about watching Harrelson through the years is you get the idea that the best is always yet to come. He made a big bang at such an early stage of his
career that you might wonder how he didn't burn out or even fall off the radar.Instead, Woody has done the opposite, landing bigger and better roles as he has grown as an actor and it's arguable that his latest television work on True Detective is his best yet.
In his 50s, he is still one of the best in the business and there is no doubt that in 20 years' time, you could fill the pages with new achievements, fun facts and trivia about this phenomenal actor and all around good guy.
Woody Harrelson's Movie, Zombieland
What do you expect from Woody Harrelson Zombieland movie if you haven't watched it? If you really enjoy watching comedy and also horror movies, then definitely Zombieland is the right movie for you.
Unlike other horror movies that will scare you to death, Zombieland will make you laugh. Woody Harrelson truly delivers jokes perfectly.
This movie won't disappoint zombie fans. The Zombieland is available on Amazon website (Amazon instant video). Do yourself a favor and watch this great horror-comedy if you have never watched it.