It's official now that the real Housewives of New Jersey star Teresa Giudice is going to spend some time in prison. What did she do?
We all knew that this was coming, but Real Housewives of New Jersey fans practically went into mourning this week as it was announced that Teresa Giudice reported to Federal Correctional Institute, Danbury in Danbury, Connecticut on 5 January 2015 to begin serving her 15 month sentence for tax fraud.
Her husband, Joe Giudice, will also be doing time (three and a half years, in his case), but will not begin serving his sentence until Giudice Teresa's release.
The judge in the case granted staggered sentences to the couple because of their four young children; the arrangement will allow at least one parent to care for the children at all times until both Teresa and Joe have been released.
Teresa Giudice has reportedly been getting ready for her stay in the big house by becoming pen pals with other women who have done time in the federal prison in Danbury.
According to her attorney, James Leonard, she received the advice to be friendly, but cautious when dealing with her fellow inmates – and revealed that she expects to be able to have a visit with family as soon as this coming weekend.
Life in prison can be lonely and overwhelming. Teresa Giudice has to learn to do the daily prison chores like mopping, making her bed and the other duties assigned to prisoners. Her freedom is gone for 15 months.
Teresa Giudice's jail sentence may be a disappointment to fans, who have been following her exploits since the series began in 2005, but fifteen months isn't quite an eternity (perhaps not even in the world of reality TV) and it seems likely that we'll see her again on Real Housewives before long.
Together with her husband Joe Giudice, they have faced legal problems previously. They're not being charged with one count but 41 counts of fraud. You already know that the couple in 2013 had been charged with conspiracy to commit wire fraud, bank fraud and mail fraud.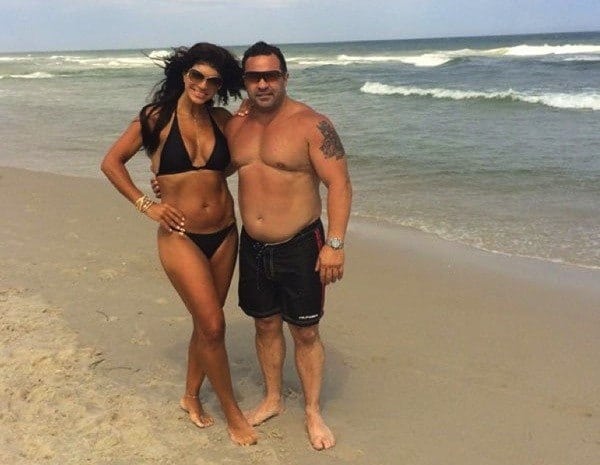 One fact you should know about Teresa Giudice is that she is the second-highest paid cast-member of The Real Housewives franchise.
Teresa Giudice net worth being estimated at $11 million, she once filed for bankruptcy.
Being in a debt of more than $11 million as she had claimed in her filing for bankruptcy together with her husband Joe Giudice, they later on withdraw their petition for bankruptcy.
The bankruptcy led Teresa Giudice's house (mansion) put up for sale and also they wanted to auction many of their household items. However this didn't happen as the auction was postponed then it was canceled.
One of the trending topics concerning Teresa Giudice jail sentence is that she doesn't want Melissa Gorga who is her sister-in-law and Joe to post anything online about her four daughters. Teresa Giudice's kids are Giagia Giudice, Gabriella, Milania, and Audriana.
Teresa Giudice is well known for her extravagant lifestyle, maybe this could be the cause for her financial and legal troubles. . . probably spending expensively and more than the amount credited in her bank account.
Apart from Teresa Giudice being infamous for tax fraud, she is famous as an author. You can read some of her blog posts including recipes on Teresa Giudice blog. Definitely she has a passion for cooking.
On Twitter, Teresa Giudice last tweet was on 24 December 2014 before reporting to Federal Correctional Institute, Danbury in Danbury, Connecticut. The tweet says, "Me and Joe are so proud of our Gia can't wait to see her and the girls perform on Friday. Xx"
Teresa Giudice Twitter has over one million followers compared to Teresa Giudice Instagram account which has 393,594 followers (the date when this article was published here).
Cookbooks By Teresa Giudice
Teresa Giudice is not only an American television personality and entrepreneur but she is also an author who has written three New York Times bestseller cookbooks.
If you really love cooking and you want to learn new recipes, then you should read cookbooks that Teresa Giudice has written. Remember that she has a restaurant in Hillside and she is also "The Real Housewives of New Jersey."
These are the cookbooks:
1.) Skinny Italian.
2.) Fabulicious!: Teresa's Italian Family Cookbook.
3.) Fabulicious!: Fast & Fit.
4.) Fabulicious!: On the Grill.
Teresa Giudice Jail Sentence YouTube Video
6 Other Celebrities Who Have Spent Time in Prison
Teresa Giudice is in good company and while she is serving her 15 months jail sentence for tax fraud, there are also other famous people who spent time in jail. In fact, there are some celebrities who spent the longest time in prison compared to Teresa Giudice.
A surprising number of celebrities have served time for offenses both minor and major; the following are just a sampling of some of the famous people who have spent some time behind bars over the years.
1.) Ozzy Osbourne
Long before he had his own reality TV show, the former (and now again) Black Sabbath singer had a run-in with the law. This wasn't a drug charge in the 1970s or 1980s – back in 1966, Osbourne was arrested for burglary in his native Birmingham, England.
It's a good thing Ozzy went into music, because he obviously wasn't a naturally gifted criminal. He was arrested after having burgled the same shop three times; the third time he wore fingerless gloves during the act, leaving fingerprints everywhere.
For the theft of items totalling 25₤, he was fined 40₤. He wouldn't have gone to jail, but since he didn't have the money at the time (and his exasperated father refused to lend the money to him), he ended up spending three months in Winston Green Prison in Birmingham.
2.) Tim Allen
We know him as the star of Home Improvement and as the voice of Buzz Lightyear in the Toy Story films, but before he made it big, Allen had his share of legal trouble.
He served 2 years and 4 months in a prison in Minnesota for cocaine possession in 1978, but has since managed to stay out of trouble except for serving a year's probation in the 1990s on a DUI charge.
3.) Don King
Don King was once the biggest name in the sport of boxing. The promoter worked with Muhammad Ali, Evander Holyfield and Mike Tyson, among others.
However, before King made his name promoting world famous events like the historic 1974 Rumble in the Jungle match between George Foreman and Muhammad Ali in Kinshasa, Zaire, the boxing promoter had served time: for murder.
In 1966, King was found guilty of manslaughter in the death of an employee; King was pardoned by Ohio Governor Jim Rhodes in 1983.
4.) Danny Trejo
You may be less surprised to find out that this veteran character actor also happens to be a veteran of the California prison system.
Trejo, who has become beloved for his portrayals of tough guys in movies and on TV, really was something of a villain in real life before he discovered acting and won roles in films like Machete, Spy Kids and Once Upon A Time In Mexico.
In the 60s and early 70s, Trejo spent time in prison for crimes including armed robbery. A chance encounter at a AA meeting led to an opportunity to train the actor Eric Roberts for a boxing scene in a movie – and Danny Trejo's natural talent shone through, leading the actor to a wide variety of roles.
You can see Trejo in nearly everything these days, ranging from the soap opera The Young and the Restless, the IFC comedic series Maron and movies including Champion and Muppets Most Wanted.
5.) Phil Spector
One of the most renowned and influential record producer of the 1960s, Phil Spector was the inventor of the famed Wall of Sound production style. Over the years, he worked with artists as varied as Ike and Tina Turner, The Crystals, Leonard Cohen, The Ramones and John Lennon.
However, his music career came to a screeching halt when Lana Clarkson was found dead in his home. Spector initially stated that Clarkson's death was an accidental suicide, but overwhelming evidence convinced the jury otherwise.
Spector was sentenced to 19 years to life in prison in 2009 and the producer is still serving time in prison in Stockton, California; he'll be eligible for his first parole hearing in 13 years, when he's 88.
6.) Charles S. Dutton
Charles S. Dutton is well known for his early 90s TV series Roc (which was actually Dutton's nickname as an amateur boxer in his teens) as well as appearances on TV series including American Horror Story, The Good Wife and Criminal Minds, along with an extensive list of stage work.
He wasn't always an actor, though. Dutton served 7 years in prison for manslaughter (he claimed the killing was in self defence), followed almost immediately by a 3 year sentence on a weapons charge in 1975.
After his release, he returned to school, studied acting and has spent the decades since as a successful actor and director.