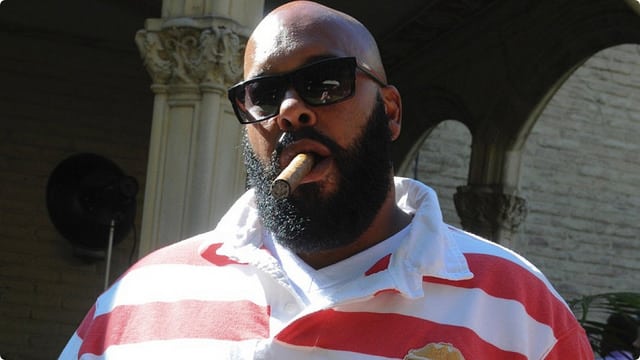 As you may have heard by now, Suge Knight was arrested on suspicion of murder after an incident earlier this year (January 29, 2015).
According to witnesses, he had followed the actor (and reportedly friend of Knight) Terry Carter and the filmmaker Cle Sloan from a movie set to a fast food stand where he hit both men with his car before leaving the scene.
As you already know, Terry Carter was killed while suffered head injuries and mangled foot. It is hardly the first time that the rap mogul has run afoul of the law.
So, what news is trending now about Suge Knight? First, the $25 million set by the court for his bail was reduced on April 16, 2015 to $10 million. Rolling Stone had reported that the lawyer of Suge Knight expected boxer boxer Floyd Mayweather to pay the bail money for him.
However, this didn't happen. Suge Knight is still in prison. Snoop Dogg now feels sorry for him. Despite the fact that in the past he had beef with Knight but Snoop Dogg acknowledges that Knight had helped him beat his own murder charge in the 1990s.
Suge Knight's Reputation
Of course, we can't fail to recognize that Suge Knight has a reputation as one of the toughest people in the business. One of his early successes in the music business was "convincing" Vanilla Ice to sign over the royalties to his hit single "Ice Ice Baby" to Knight's own fledgling music publishing company, reportedly by dangling the rapper from a hotel balcony.
To be fair, the song contained material written by one of Knight's clients and Vanilla Ice himself says he wasn't actually dangled off of the balcony; he claims that Knight did, however, threaten to throw him off the balcony. Ultimately, the matter was settled in court and Knight walked away with a huge victory under his belt.
A few years later, Suge Knight founded Death Row Records, a label which would dominate the rap scene in the 1990s. The 1992 release of Dr. Dre's legendary album "The Chronic" set the bar for West Coast hip hop and Snoop Dogg's Doggystyle and Tupac Shakur's All Eyez on Me, among others, cemented Suge Knight's reputation as a hit maker.
The label saw tough times after Suge Knight went to prison for violating his probation in 1996 and ultimately went under in 2006 (after Knight had already sold his interest in the company).
Allegations of intimidation by Knight also surround the origins of Death Row Records. Jerry Heller, N.W.A's manager, alleges that Knight and others threatened Eazy-E and himself with baseball bats and pipes in order get them to release Dr. Dre and others from their contracts with Ruthless Records.
Whatever else you might say about Suge Knight, his influence on the music industry and more broadly, pop culture, has been immense.
Suge Knight Vanilla Ice, YouTube Video
5 Facts About Suge Knight
He can't seem to keep out of trouble, but he is remembered just as much for his successes in the world of hip hop as he is for the number of times he has been charged for violating the law.
However, there are a lot of other things you might not know about Suge Knight and if you'd like to learn more about the troubled rap music mogul, then here are five facts about him.
1.) He Had Trouble with the Law Before, A Lot of Trouble
Suge Knight has had more than his share of encounters with the law. In 1987, he was arrested for domestic violence, followed just weeks later by an arrest for attempted murder, grand theft auto and carrying a concealed weapon in Las Vegas.
Reportedly, he shot a man three times in the process of stealing his car. Knight received a light sentence, two years probation after pleading guilty to a misdemeanor.
Knight managed to mostly stay out of trouble for a few years, but was arrested for violating his parole in 1996 and sentenced to nine years in prison.
He was released in 2001, but returned in 2003 for a brief stint on another parole violation after an altercation with a parking valet.
Another arrest came in 2008, on aggravated assault and drug charges in Las Vegas after beating his girlfriend outside of a strip club and wielding a knife. However, prosecutors and the police were unable to contact the victim, Melissa Isaac and no charges were ever filed.
Knight has also seen the civil side of the justice system, he filed for bankruptcy in 2008 and at the same time, filed a lawsuit against Kanye West after being shot in the leg and robbed at a pre-VMA party hosted by West in 2005. The suit was settled out of court.
Another quiet (relatively speaking) period for Knight followed, ending in 2012 when he was arrested once again in Las Vegas on warrants for moving violations. He received three years probation for driving with a suspended driver's license.
Last year (2014) was also tough for Suge Knight, when he was shot at a Chris Brown-hosted pre-VMA party in LA, the second time he has been shot at a VMA party.
Although he was shot six times, he walked to the ambulance under his own power and was released from the hospital just three days after the incident.
He was shot in August and arrested again in October, this time on charges of theft. Allegedly, Suge Knight and the comedian Katt Williams stole a camera from a photographer in Beverly Hills (the theft occurred just days after Knight's release from the hospital). His court date on these charges is still pending.
2.) Suge Isn't His Real Name
Like John Wayne, Suge Knight's real name is Marion, Marion Hugh Knight. Suge (pronounced "Shug") is a nickname from his childhood which stuck. It's short for "Sugar Bear" in case you were wondering.
3.) He Played For the Rams
Suge had originally dreamed of becoming a professional football player. He received a scholarship from UNLV, where he played for the Rebels.
After college, he played "briefly" for the LA Rams as a replacement player for the duration of the 1987 NFL strike. Unfortunately, a NFL career for Knight wasn't in the cards and he became a concert promoter as well as working as a bodyguard; he was Bobby Brown's bodyguard for a time.
4.) You Have Seen His Stuff On "Storage Wars"
After Knight filed for bankruptcy, many of his belongings were auctioned to satisfy his debts and some of these items were sold on the A&E reality show "Storage Wars" in an episode that aired in 2010.
5.) Suge Knight Net Worth
He had many of his belongings auctioned after filing by bank bankruptcy in 2006. Suge Knight net worth is said to be $200 thousand.