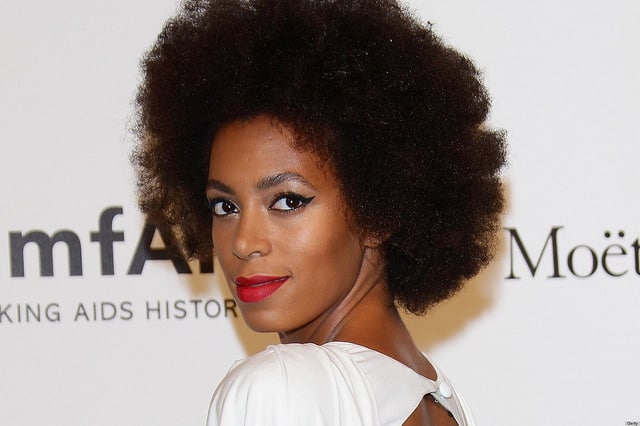 Show business sure has a knack for bringing out the stars in talented families. Just take a look at the Jacksons or even the Baldwin brothers if you need proof.
Living in a family full of celebrities, especially when your eldest sister is one of the biggest stars on the planet, can be difficult. Where some siblings get taken over by the pressure or even eclipsed by their star parents or siblings, Solange Knowles never had this problem.
Solange Piaget Knowles is a star all on her own. Because she is Beyoncé's sister, the comparisons are unavoidable. Solange has had a hard time, not with differentiating herself but with urging the critics, press and pop culture bloggers to do so.
When you begin to take a look into her life and achievements, you'll find that Solange is a star who shines all on her own.
As we all know she is the baby sister of Pop and R&B star Beyoncé Knowles. Her birthday is June 24 and she was born in 1986. She is 5 years younger than her sister Beyoncé.
Early Beginnings
Solange Knowles was attracted to music and performance at an early age. Her first appearance was at the tender age of five years old when she performed at an amusement park.
This early foray into music and performance would set the tone for Solange's later life. She started writing her own music at the age of nine.
She had decided that she wanted to pursue music as a career, albeit her parents were initially resistant. They wanted Solange Knowles to have a more grounded childhood.
Her older sister was also reluctant and has stated in interviews that she didn't want the pressure and scrutiny associated with the music industry for her little sister.
Regardless of the initial resistance, Solange Knowles continued to sing and at the age of 15, she worked as a dancer in Destiny's Child, the girl group that her sister was in.
She would even replace singer Kelly Rowland in Destiny's Child for a short period while Rowland was recovering from an injury where she broke her toes.
A Career of Her Own
By the time Solange Knowles was 16 years old, her family had given in to her desire of pursuing an entertainment career.
Already being managed by her father Mathew Knowles, Solange Knowles was now signed to his recording company. These early years would see Solange taking on a number of high profile recording jobs for film and television, including tracks in the "Austin Powers Goldmember" movie, as well as for the television series "The Proud Family."
The early 2000s were a busy time for the rising star as she guested on a number of albums, including a Kelly Rowland solo album.
Solange Knowles had been working on her own solo album since she was 14 and in 2003, she released her debut, appropriately titled Solo Star.
Impressively, it reached #23 in the Billboard R&B album charts and it went on to sell over 100,000 copies in the United States alone.
Solange Knowles has kept busy since her teen debut and she has seen her own share of success in the music industry over the years.
A star in her own right, a veteran of the music industry with some acting roles under her belt too, Solange Knowles is an often underrated entertainer who probably suffers unfairly with comparisons to her sister throughout the entertainment press.
Regardless of the challenges she has faced, she has done a lot in her short career and some of the most interesting achievements might be the complete opposite of what you would expect.
Solange Knowles Fashion
Being a model, Solange Knowles and her sister Beyoncé Knowles own a clothing line called House of Deréon. Being a family's clothing line that is named after their grandmother, the two sisters model for it.
Solange Knowles fashion collections are published on Vogue website and also Whowhatwear website.
12 Interesting Facts About Solange Knowles
Solange Knowles, age 28, is a young, independent and inspiring artist with a style of her own.
Of course, you might have read some of the trending topics on the internet about her but this doesn't mean that you know everything about her.
So, this is the time to discover some interesting facts about Solange Knowles.
More than just a pop star, these quick facts about Solange may surprise even her biggest fans.
1.) The perfect showcase for her talents, Solange had a fairly significant role in the dance troupe film Bring It On: All Or Nothing.
2.) Not only does Solange write her own songs, but she is also a well-rounded composer who plays keys and percussion.
3.) Her debut album was released before sister Beyoncé, a fact that many of the bloggers and those in the press fail to acknowledge.
4.) Solange has helped write songs for her sister's albums, including the single Upgrade U from Beyoncé's second album.
5.) Solange married when she was just 17. Just three years later, Solange knowles and Daniel Smith divorced.
She has a son from the marriage and shares custody with her ex-husband. Solange Knowles' son is Daniel Julez J. Smith, Jr.
6.) Early in 2014, a video was leaked of Solange assaulting her brother in law, Jay Z, in an elevator in Manhattan. Details of the altercation were never confirmed with both parties preferring to keep the matter private and within the family.
Solange Knowles Video Leaked By TMZ

7.) She married again on November 16, 2014. Solange Knowles' husband Alan Ferguson is a music video director. He has directed videos for Beyoncé, Jay Z, Katy Perry, Nelly Furtado and other popular artists.
8.) Both Beyoncé and Jay Z attended Solange Knowles' wedding thus putting to rest rumors that a rift still existed between Solange and the famous rapper.
9.) Solange plans to release a new album this year (2015) and is a consultant and endorser of a Hip-Hop inspired clothing line for children.
10.) Solange Knowles net worth is estimated to be five million dollars.
11.) Initially, Solange Knowles' hair generated reactions from the public. When she was criticized about her 'unkempt' hair, she defended her natural air. She prefers to grow natural hair, the modern afro style.
12.) Solange Knowles Twitter account was created in December 2008 and it has more than two million followers. When she was criticized about her natural hair, she responded by tweeting.
Not Just Beyoncé's Little Sister
Despite comparisons, Solange Knowles has shown that she is more than just Beyoncé's little sister. With her own musical style and successful career, she is a personality of her own and the future looks bright for this multi-talented young star.