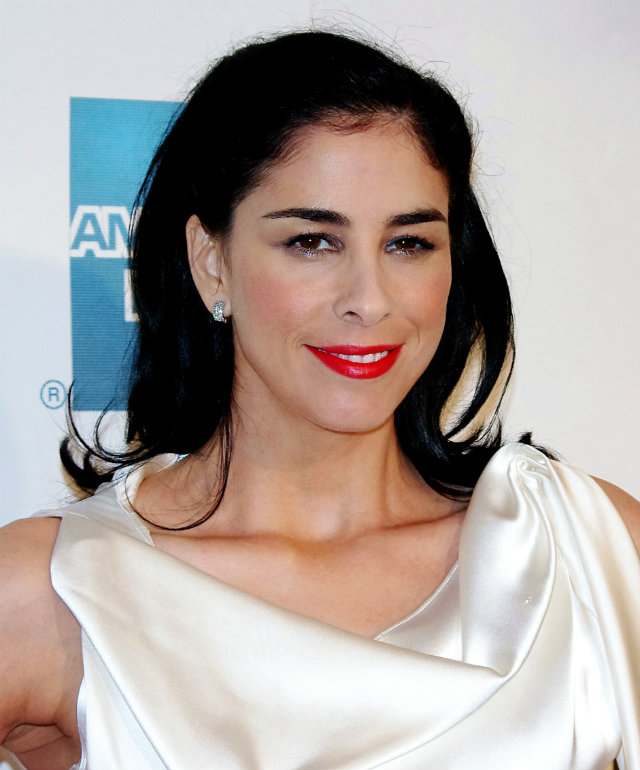 Who is Sarah Silverman and why is she trending now on the internet? She is a comedian, writer and actress. She is a celebrity and the good news to her fans is that she has just made her return to Studio 8H at Rockefeller Center to host Saturday Night Live.
Sarah Silverman returned on Saturday night to host this week's episode of Saturday Night Live (SNL). Her comedies are satirical, she does them so well and anyone watching her while she is performing will sincerely acknowledge that she is talented.
Sarah Silverman stand up comedies mostly focus in addressing the social taboos and the controversial trending topics of all the time such as religion, even some of Sarah Silverman' quotes are controversial.
This week's episode of Saturday Night Live hosted by Sarah Silverman was the first time that she had appeared on the program in twenty years – she was a cast member in the show's 1993 – 1994 season before being fired.
Many viewers may not have been aware of Sarah Silverman's history with SNL, but her appearance as host couldn't help but give something of an impression of a victory lap.
Fortunately, Silverman's brief run on the venerable NBC sketch comedy series were featured during her monologue, which included footage of Silverman as a fake audience member in a skit from the 93 – 94 season asking questions of Silverman today.
The questions were classic Silverman absurdity, including "what did dinosaurs eat?" and "how does a human knee bend," all of which were addressed by the comedian with aplomb and to great comic reflect.
One thing that viewers may have noticed is that Silverman's monologue was decidedly on the long side – for those keeping track, it was actually among the longest monologues ever to appear on the program.
It's not untypical for SNL to give stand up comics a little more time to work some of their own material into this segment (as SNL did when Louis CK hosted recently), but some may have found the monologue to stretch a little longer than necessary, especially given the somewhat awkward transitions from Silverman's racier standup material to the tamer interactions with the 90s footage of herself.
1.) The Bedwetter
Sarah Silverman is not only a stand-up comedian and actress but she also a writer. Talking of her being a writer, she has written a book known as "The Bedwetter."
You might be asking yourself why Sarah Silverman wrote this book. She has already given a reason, "These days there is only one reason to write a book: to be taken seriously. And that is exactly what is about to happen to me."
She is stand-up comedian and therefore this book is hilarious. There is the audio CD of it for those who don't prefer reading printed papers.
2.) Sarah Silverman short lived relationship with Jimmy Kimmel
Sarah Silverman was in relationship with Jimmy Kimmel although their relationship didn't last for along time. Having split with Jimmy Kimmel, she has dated other men such as, Alec Sulkin, Kyle Dunnigan and Michael Sheen.
There is always a reason why women say, "Never go through a woman's purse," but Jimmy Kimmel once went through Sarah Silverman's purse.
What interesting content did he found out?

3.) Sarah Silverman Twitter
Sarah Silverman met Alec Sulkin on Twitter and that is when they started dating. But they didn't date for long as their relationship came to an end in 2010.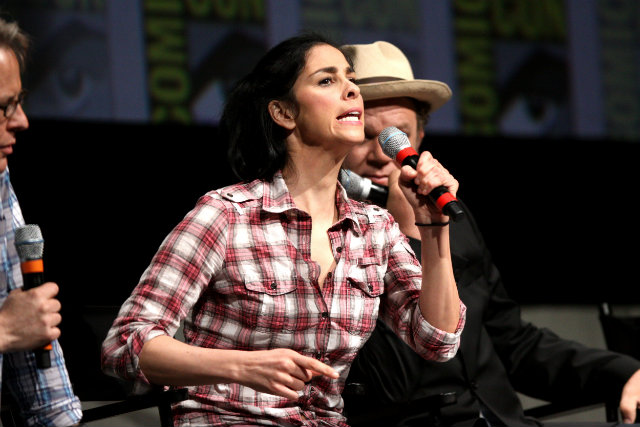 Sarah Silverman once tweeted, "Kudos to @TEDChris for making TED an unsafe haven for all! You're a barnacle of mediocrity on Bill Gates' asshole."
This is after she attended the TED (Technology, Entertainment, and Design) conference.
Chris Anderson had early on tweeted to put across his disappointment on what she had said during the conference.
Sarah Silverman has got more than five million people following her on Twitter (Sarah Silverman Twitter name is @SarahKSilverman).
4.) Sarah Silverman Instagram
On Instagram, there is a photo she posted and someone commented on the photo "To much radiation exposure for those feet. ;)" could they be Sarah Silverman feet.
Another person also commented on the photo, "when I google you Sarah Silverman feet is one of the top searches."
Sarah Silverman has more than 162,000 followers and she is only following 48 people (as on 9th October 2014).
5.) Sarah Silverman Tour to Uk
In 2008, Sarah Silverman was heckled while performing on stage during her Uk tour. Her fans in Uk (London) had paid about £50 a ticket but they were disappointed by her short performance.
They had not expected her performance to be that short, 40 minutes performance, and so they started shouting demanding their money back.
Sarah Silverman tour to Uk left her fans disappointed although she admitted of having not prepared any other material.
6.) Sarah Silverman Net Worth
As a celebrity, Sarah Silverman net worth is ten million dollars. It is through her career that she has managed to accumulate this net worth. She makes money from:
1.) Saturday Night Live (SNL).
2.) The Bedwetter.
3.) School of Rock.
4.) The Sarah Silverman Program.
5.) A Million Ways to Die in the West.
6.) Mr Show (Sarah Silverman show) which is HBO sketch comedy.
7.) Wreck-It Ralph.
8.) Who's the Caboose?
9.) V.I.P.
7.) Standout Sketches, Mixed Reactions
Surprisingly (or perhaps unsurprisingly for Silverman fans), one of the most successful sketches of the evening was the fake trailer for "The Fault in our Stars 2: The Ebola in our Everything."
She joked, "If doctors know so much, then why is my doctor dead from Ebola?"
The sketch was topical, not without genuine emotional appeal and also one of the funniest sketches to appear on SNL in a while.
Also of note was the "Joan Rivers in Heaven" sketch, featuring Sarah Silverman as the recently deceased Rivers roasting fellow departed celebrities in heaven.
The sketch included cutting (and very Joan Rivers) lines such as "The longest relationship he had was with multiple sclerosis" about Richard Pryor and "even your teeth aren't straight" about Freddie Mercury (played by musical guest Adam Levine of Maroon 5).
Joan Rivers herself may have approved of the sketch and of Silverman's performance, but for the audience both in Studio 8H and at home, it may have been too soon to laugh.
Of course, causing offense is Sarah Silverman's stock in trade; although every horrifying statement is given with a smile and tongue firmly planted in cheek.
Silverman is a satirist, after all and her greatest gift as a comic is that she can often get us to laugh at what would ordinarily just bring gasps of disbelief by ironically embracing ignorance (especially including stereotypes).
From her early days on SNL to her standup work, appearances on the pioneering HBO (Home Box Office) series Mr. Show, The Sarah Silverman Program on Comedy Central and of course,  Sarah Silverman Jesus is Magic film, Silverman has been raising eyebrows and simultaneously getting her audience to think about some deeper issues for years.
However, the reception her stint as host of this week's SNL showed that the show's audience may not be quite as receptive to all of her work as are her own legions of fans.
Sarah Silverman's Return to SNL Earns Laughs and Mixed Reviews
To be fair to Ms. Silverman, the problem isn't that she's not ready for prime time – or late night as the case may be, but that prime time isn't quite ready for her off color, yet incisive brand of comedy.
Her performance overall was strong, despite some missteps (some lines were obviously forgotten and cues not quite hit), but Sarah Silverman is a comic force to be reckoned with and held her own with the SNL cast.
The episode may not have been quite the standout showcase that Silverman's fans might have wished for, but for those who have been wishing for her return to Studio 8H, this week's episode was at least in part a dream come true.
With any luck, fans won't be waiting another 20 years to see Sarah Silverman back on the program again.