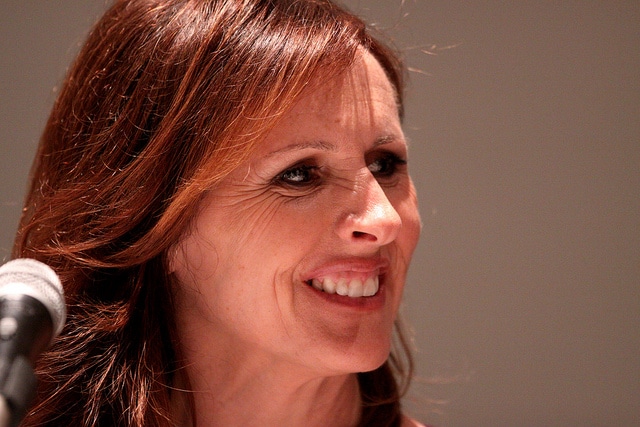 Molly Shannon superstar took to trends after an interview that saw her promoting the new film, Me and Earl and the Dying Girl appeared in the Hollywood Reporter.
In the piece, Molly discusses her struggle with her weight, passion for food, and how she almost quit acting before hitting it big. All thanks to a fat joke from a competing actress.
There is literally more to know about actress Molly Shannon. To begin with, for over 25 years, she has been in front of the camera making people laugh.
Molly Shannon's career highlights includes time on television, in movies and as a pivotal cast member on Saturday Night Live (Molly Shannon SNL) for over 100 episodes.
The following are seven interesting facts for you to know about Molly Helen Shannon born September 16, 1964.
1.) Actress Molly Shannon Went to High School With Greer Goodman
Graduating in 1983, Molly Shannon superstar and fellow actress Greer Goodman went through their formable years together.
Although they have never acted together, they were both on the same Network. Greer appeared several times on Law & Order, while actress Molly Shannon was appearing on Saturday Night Live.
2.) Molly Shannon Car Accident
Molly was the sole survivor of a car accident. When did the car accident happen, you may ask? It happened when she was four years old. It was a serious car accident.
Her mother, 3 year old sister, and 25 year old cousin all perished in the accident. It's sad to have lost them but as the only survivor, actress Molly Shannon took that to mean she had to do something more in life.
She has often cited this as being the reason why she pushes herself hard and doesn't lose sight of her goals.
3.) Molly Shannon Has Ties to Sheryl Crow
Serious singer songwriter Sheryl Crow may seem like the polar opposite of actress Molly Shannon. However, the pair appeared together in Sheryl's video, A Change Would Do You Good.
In the video, Molly Shannon superstar portrays a doctor in a hospital while a young actor deals with a serious wound on her arm.
The lighthearted video is a change from Sheryl's typical fare. The original unedited version of the video features a considerable amount of dialogue.
Sheryl and her team would later edit it after MTV, TV Guide and others criticized the focus on a storyline over music.
Molly Shannon Interview, YouTube Video
4.) Her Wedding Dress Was Designed By the SNL Wardrobe Department
While she could have worn a dress by anyone, she opted to let Dale Richards design the dress for her. Wanting something off white and comfortable, Dale created a garden dress.
Walking down the aisle with longtime boyfriend Fritz Chesnut in 2004, the pair then went on to have two children together and remain married to this day.
5.) Mary Katherine Gallagher Wasn't Envisioned for the Long Term
Mary Katherine Gallagher is perhaps the best known character that actress Molly Shannon has done. But the character was envisioned as a single run for a short skit on October 28, 1995.
When SNL learned about the popularity the character had with fans, she would be brought back an additional 16 times (Molly Shannon SNL characters).
The fandom that ensued also helped actress Molly Shannon to score a Hollywood film that centered on the character.
Superstar was released on October 8, 1999.
It would become a box office bomb generating only $30 million and having largely negative reviews. Superstar is the final Saturday Night Live Film to make back at least its budget. The two films that followed, The Ladies Man and MacGruber didn't fare well in the United States.
6.) Her Early Roles Weren't Comedy
Until she appeared on In Living Color, Ellen and Sister, Sister she had only appeared in a horror film and a couple of dramas.
Her first role was with Robert Englund in the horror adaptation of The Phantom of the Opera. She would also appear in Twin Peaks and General Hospital in the following years.
7.) She Struggled With The Sign of the Cross in Superstar
There were several times with the filming of Superstar where Molly Shannon would confuse herself while making The Sign of the Cross.
In one scene, she would make the gesture with her left hand on accident, when the proper hand to use is her right one.
In another instance, she touches the shoulders in an incorrect order. While actress Molly Shannon was heavily criticized for these mistakes, since she has identified as being Irish Catholic in the past.
Have You Watched Molly Shannon Movies and TV Shows?
If you haven't watched any of Molly Shannon movies and TV shows, then you should know that they are available on Amazon website. You can download them on Amazon website.
Superstar is one of the most rated movies on Amazon that is starring Molly Shannon. It has received many positive reviews from customers. It is a great movie if you're a comedy lover.