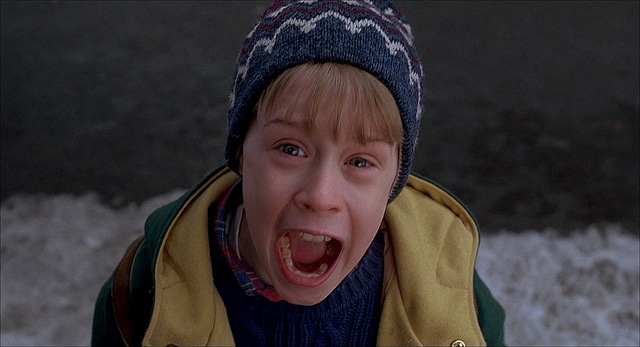 If you're like me, then you still remember the "Home Alone" actor Kevin McCallister. Home Alone was the most popular family comedy in 1990. Now you may ask, what happened to Kevin McCallister?
Just to mention he is no longer a child and so much has happened in his life. For instance, we knew him as actor but now he is also a musician.
Just last year, the breaking news about him read, "Macaulay Culkin Found Dead at Age 34." And as obituaries began to roll out from him, Macaulay Culkin was surprised to find that he died on Decemeber 7, 2014 (on a Friday).
How did he respond to this internet death hoax? Like other celebrities who have responded to their internet death hoaxes on social networking sites, Macaulay Culkin actor did respond by posting some of his photos with his band on Instagram.
One of the photos posted by Macaulay Culkin actor had this message, "We're on tour you silly people." What is trending now on the internet about Macaulay Culkin?
You should note that Macaulay Culkin has been keeping a low profile in recent years and despite some very convincing press releases, he is alive and well. This has not stopped him from hitting the top of the Google Trends.
Macaulay Culkin Actor, Eating Pizza: YouTube Video
11 Things You Probably Didn't Know About Macaulay Culkin Actor
With the actor alive and well, it seems like the perfect time to touch on some of the things people might not know about him.
Take a little time to learn some interesting facts about Macaulay Culkin, the star of Home Alone, The Good Son and Party Monster.
1.) He Hasn't Always Played the Young Hero
While he is best known as the star of Home Alone, he first appeared in the thriller Jacob's Ladder. He then would star as a murderous youth in the thriller The Good Son and eventually a drug addict in the critically acclaimed Party Monster.
2.) The Client Caused Him to Stop Acting
After Macaulay Culkin losing the role of Mark Sway to Brad Renfro, he decided he was burned out on acting and called it quits in 1994. He wouldn't make another film until Party Monster in 2003.
However, that return to fame was short lived. Despite a few occasional roles, his last movie was Sex and Breakfast in 2007, a 5 episode arc in the show Kings in 2009 and a short film he wrote, produced, directed and starred in last year.
3.) Macaulay Culkin Has Had High Profile Relationships
Despite trying to maintain a low profile, Macaulay Culkin has dated some very high profile women. This includes Rachel Miner who the star was married to from 1998 to 2002 and that was followed by Mila Kunis who he was with from 2002 to 2011.
Since November 2013, Macaulay Culkin is still dating Jordan Lane Price.
4.) Macaulay Was Good Friends with Michael Jackson
An advocate for the innocence of Michael Jackson, Macaulay Culkin actor has spoken numerous times about his friendship with the late King of Pop.
This includes testifying that despite spending a great deal of time with him and Elizabeth Taylor, nothing inappropriate ever happened and he had never once witnessed Michael abusing any children.
He is also the godfather to Michael's oldest son Prince and his daughter Paris.
5.) He Had His Own Animated Series
Wish Kid was a Saturday morning cartoon that aired for 13 episodes and featured the child actor at the height of his popularity.
The series was popular enough that the actor decided to pursue additional animated projects. This includes starring in the film The Pagemaster, which combined live action and animated scenes and Robot Chicken later on, which was predominately Claymation.
6.) Macaulay Culkin Received Positive Reviews In the Film Saved
He starred in American teen comedy-drama film called Saved as Roland Stockard who is a brother to Hilary. It is a religious satire film.
The film received positive reviews. On Rotten Tomatoes website, the film currently has 82 positive reviews against 54 negative reviews.
Macaulay Culkin plays the role of Roland in the film. As a child, he fell out of a tree and this caused him to be paralyzed from the waist down. He is wheelchair-bound. He doesn't identify himself as a Christian unlike his sister Hilary Faye who is extremely religious.
It's his role in this film Saved that saw him receive positive reviews and future implications about his career as an adult actor.
7.) His Scenes In Uncle Buck Was The Concept For Home Alone
After appearing in Uncle Buck, producers wanted to capitalize on the popularity of Macaulay. They reviewed his scenes in the film and created the general idea for Home Alone.
This began with the scene where he interrogates the babysitter through the Dog Door in Uncle Buck and became a similar scene in the film Home Alone where he points a gun in Daniel Stern's face.
8.) Joe Pesci Accidentally Bite Macaulay's Finger While Filming Home Alone
While filming the scene where Harry bites Kevin's finger, Joe was only supposed to lightly bite down on Macaulay's finger and sound effects were going to be added.
Not realizing he did so, he accidentally bit the finger and drew blood. To this day, the young actor still has a scar on that finger.
9.) Macaulay Culkin Family Appeared In His Films
Macaulay Caulkin used his early fame to help family members pursue their interest in acting. His brother Kieran appeared as his cousin in the films "Home Alone" and "Home Alone 2: Lost in New York."
His other brother Rory played his onscreen little brother in The Good Son and as the younger version of Macaulay's character in the film Richie Rich.
10.) He Was the Youngest Actor to Ever earn a Million Dollars for a Role
Not counting royalties, Macaulay Culkin was the youngest actor to ever get a million dollars just for agreeing to play a role. The role wasn't any of the Home Alone movies.
Instead, it was for his supporting role in the film My Girl.
11.) Macaulay Culkin Net Worth
Being the youngest actor to ever get a million dollars just for agreeing to play a role, Macaulay Culkin net worth according to celebrity net worth website is fifteen million dollars.
Macaulay Culkin Home Alone Movie
This is one of the Christmas family comedy movies for children. Although it was popular in 1990, the movie has received more than 1, 600 customer reviews on Amazon.
It is available on Amazon website and you can stream it (Amazon instant video). Apart from Macaulay Culkin Home Alone movie, there is also "Home Alone 2, Lost in New York." It is the second series of Home Alone.