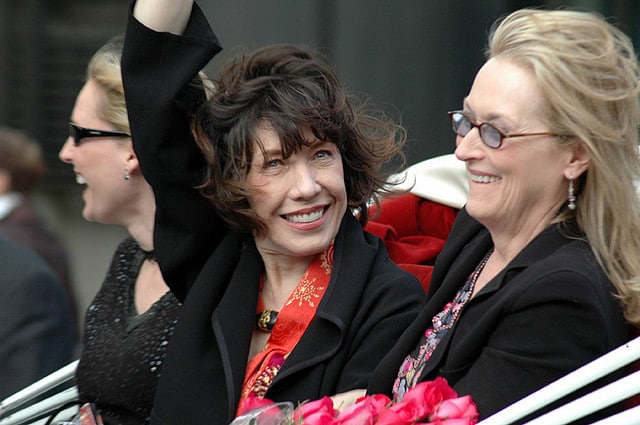 Lily Tomlin returned to the big screen with the film, Grandma, at Sundance. The film, which also features Jane Fonda, has become a success for both women.
Critics have celebrated the acting and the script. Sony Classics in turn has opted to purchase the distribution rights to the film.
Like other successful actresses, Lily Tomlin has been trending on the media. It is recently that she discussed how she had to deal with her sexual identity in the in the 1970s.
According to information published on Wikipedia website and I quote, "Unless you were so really adamantly out, and had made some declaration at some press conference, people back then didn't write about your relationship."
That was in 1970s, but now there is the internet and for sure you can't miss to find gossip topics being published every day about celebrities. This being so, you'll get information you didn't know about Lily Tomlin movies and TV shows if you search for it on the internet.
Getting to Know Lily Tomlin
A fan favorite on television shows like Malibu Country and Damages Lily Tomlin has always been an actress that has stood out.
Take a moment to learn more about the legendary Mary Jean "Lily" Tomlin, born September 1, 1939.
1.) Lily Tomlin Quit Med School for Acting
Growing up, Lily Tomlin had wanted to have a career in medicine. She began chasing her dreams early on. She made it as far as a pre-med student at Wayne State University, before she found a new passion in life.
Lily had appeared regularly on The Gary Moore Show and had her first taste in acting. Finding she was incredibly passionate about it, she opted to drop out of school and pursue a career in acting.
2.) Lily Tomlin Married Jane Wagner and Has Been With Her Wife for 42 Years
It is on December 31, 2013 that Lily Tomlin married Jane Wagner. So, how did they meet? In 1971, Lily was working on her second album and had the chance to meet Jane Wagner to collaborate on the project.
As the pair worked together closely, a romance budded and they ended up in a committed relationship with each other.
The pair remained together as domestic partners until 2013 when they were legally allowed to get married in the United States.
3.) Lily Tomlin Keeps Fans on Their Toes
Passionate about those who take the time to see her, Lily Tomlin always is up to something. Before a one woman show in New York City, Lily noticed the line outside waiting to get in.
With the outdoor temperatures being cold, she took action. Putting on a Nurse's uniform she took to the line and handed out coffee to those in line.
In Las Vegas, she appeared as her own opening act. She presented herself as Tommy Velour, a shady male lounge singer. The audience applauded her antics and Lily delivered a double performance that is still talked about to this day.
4.) Fans Had a Chance to Own Her Hair
Lily Tomlin has always had a strange approach to things. An example can be seen in 1993 when she was promoting her video library collection.
Fans that made the purchase were given a lock of her hair as part of the deal. As disturbing as it may seem, it did help to further propel her sales, as it gave collectors something else that would become hard to come by over the years.
Early on, these locks of hair sold fairly well on eBay. However, the frequency of these listing has died down with eBay becoming stricter on items that are listed.
5.) Has Won Numerous High Profile Awards
Lily Tomlin might not be an A list actress, but she has managed to win some impressive awards in her career.
She has been honored by the Kennedy Center, won 2 Tony Awards, a Grammy Award and 5 Emmy Awards and a Daytime Emmy Award.
6.) Lily Tomlin Has Experience As A Mime
While Lily Tomlin characters in acting are known, she is an impressive mime. In her early years she studied the craft with Paul Curtis.
On occasion, she will entertain those around her by going through some of the routines that she has learned.
7.) She Has Classic Characters from Her Laugh In Days
Lily Tomlin has had a number of beloved characters over the years. Perhaps the best known are the ones she portrayed on Laugh In.
Over the years, companies like A T & T have offered her millions to portray these characters in their commercials. Among them are Ernestine, Edith Ann and Mrs. Judith Beasley.
Lily Tomlin was most fond of the character Edith Ann and created a series of animated shorts and even a mock autobiography for the character. She continues to do an updated version of Edith Ann in appearances.
Lily Tomlin Movie, Big Business
Not everyone has watched Lily Tomlin movies and TV shows. By the way, have you watched Big Business comedy movie? This is one of those movies by Lily Tomlin that will make you to watch it over and over again.
So, if you haven't watched it, this comedy movie is available in the format of Amazon Instant video and you can stream it any time.