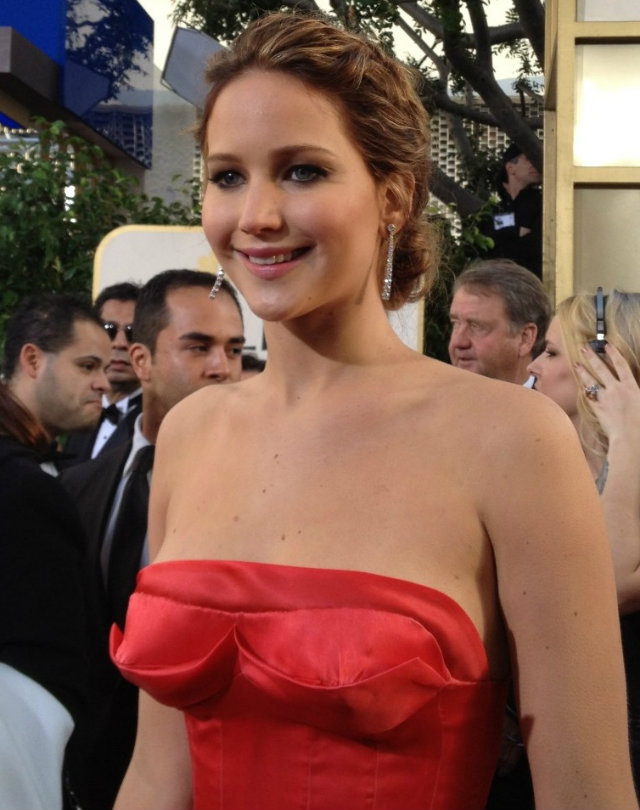 As an actress, Jennifer Lawrence has fans around the world who probably want to know all about her. There is more to know about Jennifer as a celebrity who has had many trending topics on the media.
Is Jennifer Lawrence dating? That is the news that is trending now. It was a surprise when she confessed of having an infatuation with Larry David who is about forty years older than Jennifer.
How did Larry David respond to Jennifer Lawrence's confession? Although Jennifer declaration of love could be an infatuation, Larry responded by saying, "It's a shame that I'm about 40 years older than she is. I don't think I could do it, on one hand, it's very flattering and on another hand, it's kind of a shame — in terms of timing. I'd have fun watching the reality show of it, though." Jennifer Lawrence age is 24.
1.) Jennifer Lawrence Chris Martin
Jennifer Lawrence boyfriend is Chris Martin. Most likely it's this summer that Jennifer Lawrence and Chris Martin started dating. On several occasions, Jennifer has been spotted being with Martin.
This is just rumors. Jennifer Lawrence hasn't publicly confirmed her relationship with Chris Martin although she said, "I'm in love with him, and I have been for a really long time, I worship Woody Allen, but I don't feel it below the belt the way I do for Larry David."
It looks like things are getting serious between Jennifer Lawrence and Chris Martin since Martin has met Jennifer's mother and won her approval. Definitely their romance is heating up.
2.) Jennifer Lawrence and Nicholas Hoult
How about Jennifer Lawrence and Nicholas Hoult filming love scenes together? Currently this is what is worrying Jennifer.
Jennifer Lawrence and Nicholas Hoult were dating in 2011 but their relationship didn't work out. They separated in August this year (2014). The two started dating after the filming of "X-Men: First Class."
3.) Apple Security Breach
The Apple security breach recently tossed Jennifer Lawrence into the spotlight for all the wrong reasons. Hackers obtained hundreds of celebrity nude photos and leaked them online.
Private pictures of the actress were uploaded to the Apple iCloud and were illegally obtained by hackers. Those hackers sent the images around the internet, causing the actress some grief.
But those images don't define the actress, who is showing her class and character as she fights back against the leak.
Trying to get the individuals who leaked the photographs charged with a sex crime, she is showing she won't just play the victim.
5.) YouTube Video of Jennifer Lawrence Interview
Jennifer Lawrence hunger games interview, this is what she had to say.
There are other more interviews that Jennifer has done such as Jennifer Lawrence interview Jimmy Fallon, Jennifer Lawrence interview Rolling Stone, Jennifer Lawrence interview on Ellen , Jennifer Lawrence interview Letterman and many more others.
6.) She Was the First Girl Born on Her Dad's Side of the Family in 50 Years
Having older brothers and plenty of Uncles on her dad's side of the family, Jennifer became the first female born to his family in 50 years on August 15, 1990 in Louisville, KY.
7.) Her Family Avoids Medical Treatment
Unless there is no way around it, her family will avoid medical treatment. At 18 months old, she was hit by a car and once she was thrown from a horse causing her tailbone to become deformed.
Neither incident resulted in her ending up in the doctor's office.
8.) She Held Her Own Against Her Brothers
Growing up, Jennifer Lawrence learned to hold her own against men by keeping up with her brothers Blaine and Ben. The trio would rough house, fight and go at it against each other almost daily.
Whenever she could, Jennifer would sneak her brothers clothing and dress in them, despite their protests.
9.) Jennifer Lawrence Didn't Fit in at School
A quirky individual, Jennifer Lawrence found she didn't fit in with the other kids at school. Instead, her strange sense of humor left her an outcast among the others.
This caused her to dislike recess, going on field trips and attending parties with other students, causing her to spend more time at home with her family instead.
10.) Jennifer Lawrence Winter's Bone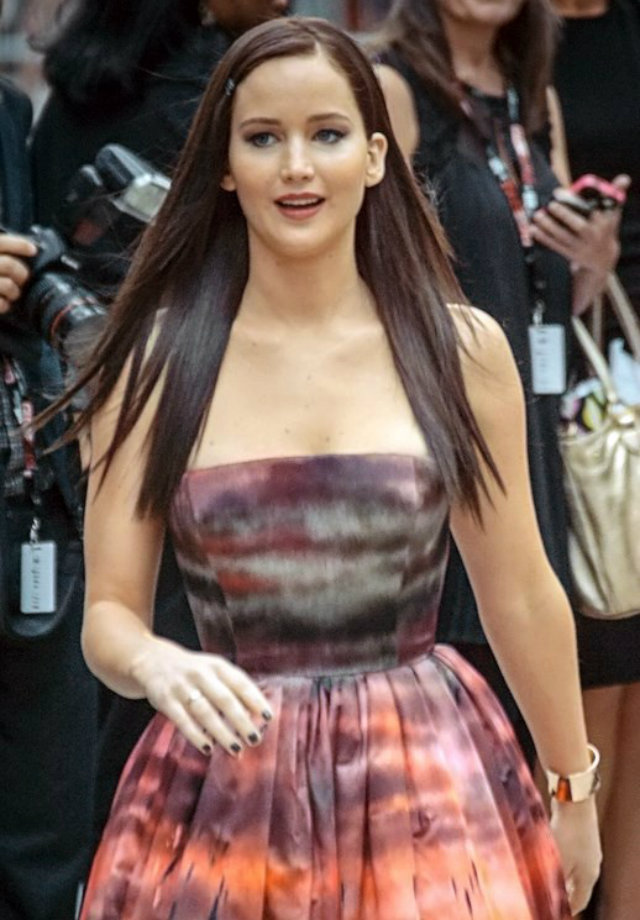 She almost lost her Oscar nominated role for her looks. In a strange twist, Jennifer Lawrence was almost too pretty to be considered for a role in Winter Bone.
The producers initially denied her the role she would end up becoming Oscar nominated for because they felt she was far too attractive.
To change their mind, she didn't shower or wash her hair for a week, took a red eye flight and pleaded with them that she wasn't just another pretty face, causing the producers to reconsider.
11.) Jennifer Lawrence Height and Weight
Jennifer Lawrence weight is 139 pounds although this may change as days go by and her height is 1.75 m (5′ 9″).
There was a time she was told that she is fat and if she didn't lose weight, then she was going to get fired.
According to her, calling someone fat on TV should be illegal.
12.) She Wants to Explorer Darker Roles
One thing Jennifer Lawrence wants to do is to get into the darkness of a role. She wants to play a serial killer on screen, shave her head and do something that breaks away the "pretty, good girl" image she feels she is being typecast into.
13.) Jennifer Lawrence Twitter
When the hacked photos of Jennifer Lawrence leaked on Twitter, users of Twitter had to Retweet them. Twitter users went crazy over the leaked celebrity photos.
One of the tweets has the message, "open this picture to see Jennifer Lawrence's nudes:" and the picture has this message, "Christ is Watching."
And someone replied, "@osullivanronan christ has been fapping to celeb nudes forever. he has total access to clouds."
What is Jennifer Lawrence official Twitter? Does Jennifer Lawrence have a Twitter? These are some of the questions being asked given that there are more than two Twitter profiles under the name of Jennifer Lawrence.
14.) Jennifer Lawrence Instagram
Instagram being one of the celebrities' favorite social media, fans of Jennifer Lawrence can get the latest updates and photos on jenniferlawrenceinform (instagram.com/jenniferlawrenceinform) Instagram.
They can get to know the funny side of her from the photos shared on Jennifer Lawrence Instagram. From that Instagram profile, her fans can also visit Jennifer Lawrence Tumblr.
There is a link of Tumblr on jenniferlawrenceinform (Jennifer Lawrence) Instagram profile.
Do they really both belong to her?
15.) Jennifer Lawrence Cut Her Hair for a Reaction
Trying to get a reaction from the media to prove a point, she took her trademark locks and cut her hair into a short pixie style. A style that she said, "Couldn't get any uglier."
Media websites and even fans began to compare the new look to Kate Gosselin.
16.) She Stalked John Stamos at a Party
One of her first celebrity sightings was John Stamos, who she encountered at a party. Smitten by him from a young age, she began to follow the actor around trying to talk to him, saying things like, "Dude!" and "Uncle Jesse".
17.) She Named Her Cat Chaz Bono
Her young female kitten had such a masculine energy to it and held its own against the boy cats, she decided to call it Chaz Bono after the transgender child of Sonny Bono and Cher.
18.) She Was Once Starstruck by a Commercial Actor
One of her early roles was on a Verizon Wireless commercial. It featured the, "Can You Hear Me Now Guy."
Upon meeting him, Jennifer Lawrence recalls being starstruck by the actor and finding it to be one of the most amazing experiences at the time.
19.) Jennifer Lawrence Net Worth
Being an award winning American actress, Jennifer Lawrence net worth is estimated to be $40 million. It is "Winter's Bone" that gave Jennifer a breakthrough.
Jennifer Lawrence net worth being $40 million, she is one of the celebrities who are generous. She is philanthropic.
Some of her philanthropic works include Feeding America and World Food Programme and she has even formed her own organization, "The Jennifer Lawrence Foundation."
20.) Jennifer Lawrence Movies
"The Hunger Games" is a book that is written by Suzanne Collins. The book has received thousands of reviews. There is also Jennifer Lawrence' movie "The Hunger Games."
This movie is based on this bestselling book by Suzanne Collins. In the movie, Jennifer plays the role of  a 16-year-old Katniss. It is a series film.
The second film that was released on November 22, 2013 is "The Hunger Games: Catching Fire." The third film which is also the final one will be in two parts and is likely to be released November this year and November 2015.
Other of Jennifer Lawrence movies include:
1.) X-Men: First Class.
2.) American Hustle (comedy-drama).
3.) The Burning Plain.
4.) X-Men: Days of Future Past.
5.) Winter's Bone.