You might disagree, but hear me out on this. . .
There is a reason why some celebrities have insured their legs for millions of dollars. We will be right to say that they're the most insured legs.
Do you find this to be insane?
You're about to discover some of the celebrities who have insured their legs for million of dollars as you continue reading this trending post about Jamie Lee Curtis here at blogging income lifestyle blog.
So, what is trending now about Jamie Lee Curtis? First, news broke of Jamie Lee Curtis making her return to the horror genre on Fox's Scream Queens. A series that will be produced by Ryan Murphy and is expected to air in the fall of 2015 around the Halloween season.
Fans quickly noted that Jamie has been absent from horror films since her 2002 appearance in Halloween: Resurrection, which ended the story of Laurie Strode, a character that helped her to become a superstar back in 1978.
13 Interesting Facts About Jamie Lee Curtis
The legendary scream queen has plenty of interesting facts about her that are true. Many of these facts make the infamous urban legend that she is a hermaphrodite seem silly.
Take a moment to learn some new information about this fascinating actress and find out just why the search population has taken her to the top of the trending topics.
1.) Jamie Lee Curtis' Mother and Father Are Legends Too
Being the child of two legendary actors was enough to fill Jamie Lee Curtis with the acting bug. She was born to Janet Leigh of Psycho fame and Tony Curtis who starred in over 100 films.
Before Jamie Lee Curtis' mother died, Jamie Lee did have the chance to star alongside her mother in the film Halloween: H20 Twenty Years Later.
Interestingly enough, this film was made based on her recommendation of the 20th Anniversary of the original film rather than the studio approaching her.
2.) Jamie Lee Curtis Found Her Husband in a Magazine
Married to Christopher Guest since December 18, 1984, Jamie Lee Curtis didn't know him until she saw his image in a copy of Rolling Stone Magazine.
The photo was with Christopher in full costume and makeup to promote the film "This is Spinal Tap." She promptly gave her number to his manager and the rest is history.
As a married couple, Jamie Lee Curtis and Christopher Guest have adopted two children (Annie and Thomas).
3.) She Was Nominated For A Grammy Award
Winning awards like two Golden Globe Awards (Jamie Lee Curtis' True Lies) and a People's Choice Award doesn't come as a surprise for a talented actress like Jamie Lee.
What is perhaps surprising is that she was nominated for a Grammy award. However, the award wasn't for singing.
Instead, Jamie Lee Curtis has penned several children's books and she read them to be recorded on tape. Those recordings were enough to score her a nomination for Best Spoken Album for Children.
4.) She is a Blogger
Jamie Lee Curtis is not only an actress and author but she is also a blogger. She blogs just like other bloggers.
She is a blogger for a popular news blog known as "The Huffington Post." You can click this link, Jamie Lee Curtis to read her articles that have been published there.
5.) She Doesn't Watch Horror Films
Jamie Lee Curtis' Halloween movie where she is playing the role of Laurie Strode saw her being a cast in other several horror films. Despite being able to portray fear, has a famous scream and is arguably one of the biggest icons of horror, Jamie Lee Curtis doesn't like to watch horror films.
While she has watched the films she has appeared in, she says the genre terrifies her and she doesn't typically watch the films.
6.) She Is Also An Inventor
U.S. Patent # 4,753,647 is held by Jamie Lee Curtis. Her invention is described as an infant garment that is disposable and takes the form of a diaper, has pockets and makes cleaning up faster and easier.
The product has never been released, however.
7.) The Infamous Rumor, Jamie Lee Curtis a Hermaphrodite
There was a rumor going round about Jamie Lee Curtis born with both sexes (a hermaphrodite) and therefore she had to undergo surgery in order to become a female.
There are two facts that support the rumor, one fact her names and the other fact  is her adopting children. But adopting children doesn't mean that a person was born a hermaphrodite.
8.) Famous Legs Insured: Jamie Lee Curtis' Legs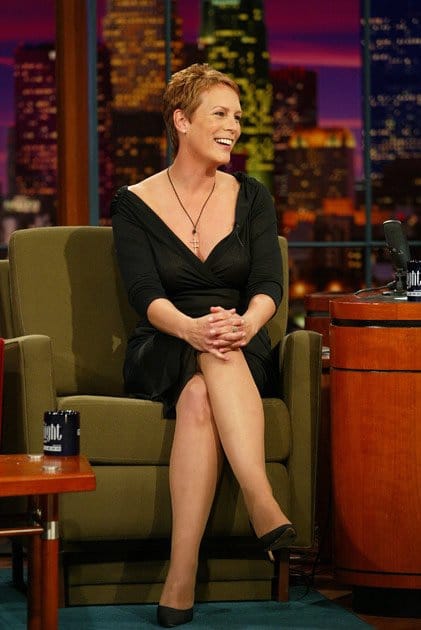 It's no secret that Jamie Lee Curtis' feet are insured. Over the years, Jamie Lee Curtis has had her legs featured in ads and on television. So much so that a $2.8 Million life insurance policy is kept on them.
This policy began around the time L'Eggs had her as the spokeswoman for their line of products.
But before you write that off as being insane, there are other seven celebrities who have insured their legs as well for million of dollars.
Perhaps the most mind blowing is that Mariah Carey has insured her legs for $1 Billion.
1.) Robyn Rihanna Fenty has insured her legs for $1 Million.
2.) Heidi Klum has insured her legs for $2 Million.
3.) Tina Turner (Anna Mae Bullock) has insured her legs for $3.2 Million.
4.) Betty Grable (Elizabeth Ruth Grable) insured her legs for $1 Million.
5.) David Beckham (David Robert Joseph Beckham) has insured his legs for $70 million.
6.) Cristiano Ronaldo dos Santos Aveiro has insured his legs for $144 million.
7.) Michael Ryan Flatley has the highest insurance policy as a dancer. His legs are insured for $40 million.
Although Charlie Chaplin (Sir Charles Spencer) didn't insure his legs for millions of dollars, he insured his legs for $20,000.
9.) She Was an Addict/Alcoholic
According to information published on Wikipedia website, after having cosmetic surgical procedure she started using pain killers. She was addicted to them but eventually she became sober.
She is also recovering from alcoholic. According to Jamie, recovering is the greatest achievement of her life.
Start Living Life For Yourself–Jamie Lee Curtis and Oprah YouTube Video
10.) Jamie Lee Curtis' Hair
There is something to note about Jamie Lee Curtis' hairstyle. In 2008 she had appeared on the cover of AARP Magazine with gray hair.
She is one of the celebrities who prefer short haircut/hairstyle. She makes her grey hair look edgy.
11.) She Has Jewish and German Roots
During the time of the Nazi regime, her paternal grandparents, who were Hungarian Jews, escaped to the United States.
Her maternal grandfather was English, German and Irish and had Swiss German Ancestry. When he met her maternal grandmother, who was Danish, these two also left the Nazi regime and made it to America.
12.) Jamie Lee Curtis is the Godmother to Jake Gyllenhaal
Friends with his parents, Jamie Lee Curtis was asked to be the Godmother of Jake Gyllenhaal when he was born.
She accepted. Jake's Godfather, interestingly enough, is Paul Newman.
13.) Jamie Lee Curtis Net Worth
Jamie Lee Curtis being a blogger, an actress and having authored many books, she is one of the actresses who have achieved success.
Jamie Lee Curtis net worth being thirty five million dollars, she is a philanthropic woman. She is a not only a staunch supporter of children's hospitals but she also participates in "Children Affected by AIDS Foundation."
Jamie Lee Curtis Books
She has penned several children's books. Jamie Lee Curtis as the author and artist Laura Cornel as illustrator, they've worked together on several books.
The three bestselling books authored by Jamie Lee Curtis and illustrator Laura Cornel are:
1.) "Tell Me Again About the Night I Was Born."
2.) "Today I Feel Silly: And Other Moods That Make My Day."
3.) "When I Was Little: A Four-Year-Old's Memoir of Her Youth."