Jamie Lee Curtis is a talented actress. She starred in many films, including True Lies, Halloween, and A Fish Called Wanda, and is also well-known for advocating for women's health issues and working on Children's books.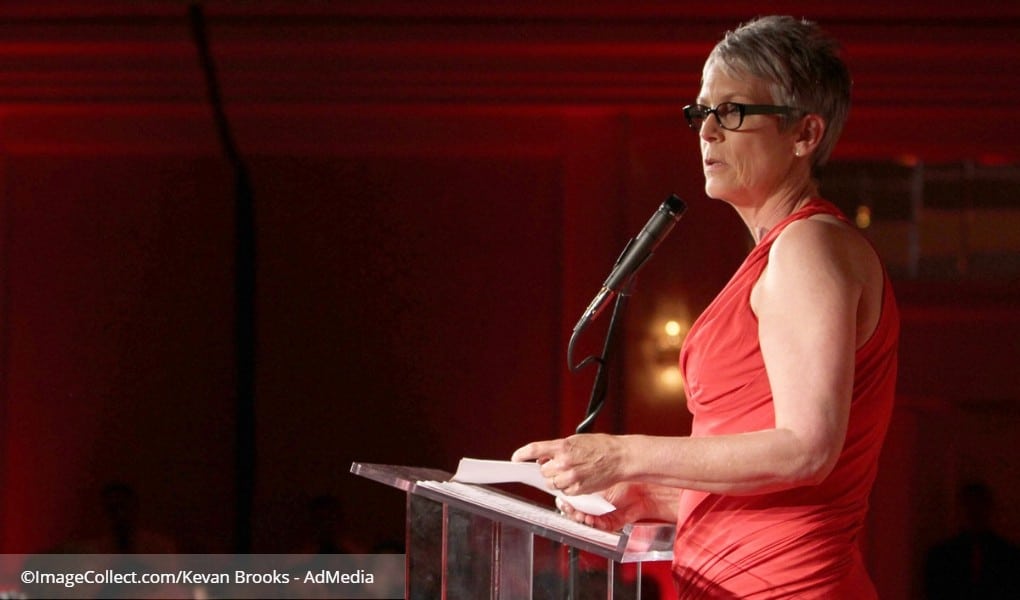 April 2012 – Santa Monica, California – Jamie Curtis at the Santa Monica Red Cross Chapter Annual Red Tie Gala Show held at Fairmont Miramar Hotel. Photo by Kevan Brooks/AdMedia
What are Jamie Lee Curtis movies and children's books?
Jamie Lee Curtis is a two-time Golden Globe award winner, activist, and best-selling children's book author who has been writing books for over 20 years.
Born on November 22, 1958, she has demonstrated high versatility in all her works as an author and actress, having participated in the film and television industry.
Jamie Lee's children's books touch on crucial childhood lessons and subjects more lightheartedly. By emphasizing the importance of critical topics like family, friendship, and imagination, she gives young readers the tools they need to thrive.
Jamie Lee Curti was inspired by her childhood experiences and other kids' experiences to write stories that significantly impact little hearts worldwide.
Motivational quote by Jamie Lee Curtis
What was Jamie Lee Curtis's first children's book?
Jamie Lee's book from 1998, "Today I Feel Silly, and Other Moods That Make My Day," was ranked as a best-selling book by the New York Times.
Together with illustrator Laura Cornell, Curtis's books bring delight and wonder with a profound sense of children's minds to each page. The outstanding book is perfect for young children and for families to share together.
In the spirited and astonishing view of growing up, the book was inspired by her then four-year-old, who always boasted that she wasn't little anymore.
Jamie Lee Curti, together with Laura Cornell, captures an incredible journey of a simple little girl who looks back and celebrates her childhood at only four years old. 
Who are Jamie Lee Curtis parents?
Her mother and father are legends too.
Being the child of two legendary actors was enough to fill Lee Curtis with the acting bug. She was born to Janet Leigh of Psycho fame and Tony Curtis who starred in over 100 films.
Before her mother died, Jamie did have the chance to star alongside her mother in the film Halloween: H20 Twenty Years Later.
Interestingly enough, the film was made based on her recommendation of the 20th Anniversary of the original film rather than the studio approaching her.
Jamie Lee Curtis Children Books Table of Content
Today I Feel Silly and Other Moods That Make My Day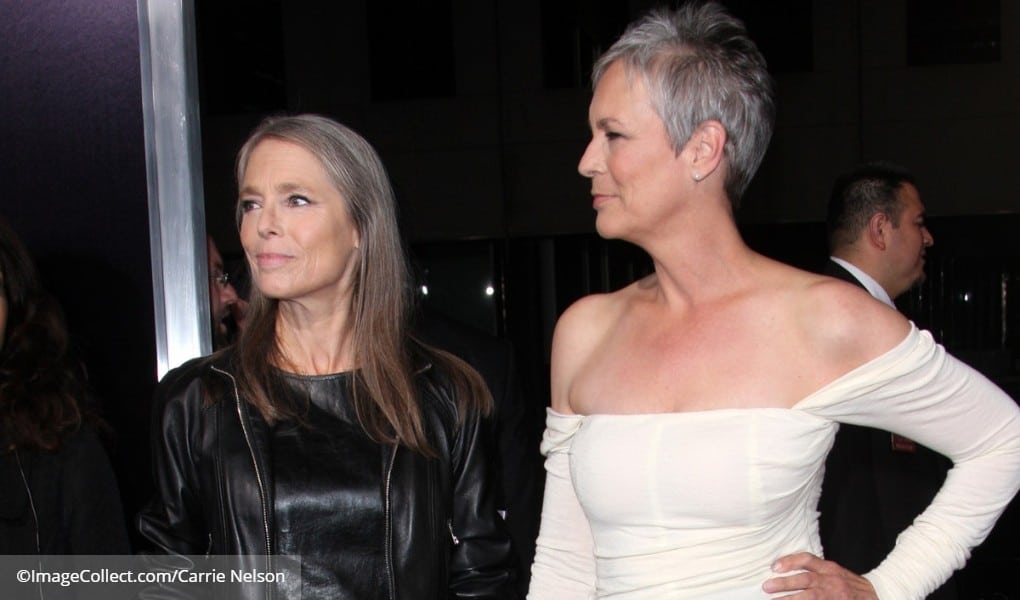 Jamie Curtis and Kelly Curtis arrive at the Los Angeles 'Hitchcock' Premiere at the Academy of Motion Pictures Arts and Sciences on November 20, 2012, in Beverly Hills, CA. Picture by Carrie Nelson
The book was ranked number one on the New York Times best-selling list.
"Today I Feel Silly, and Other Moods That Make My Day" is a whimsical and original tale that shows kids different mood swings.
The illustrations match the buoyant and boisterous protagonist, which as a result, effortlessly captures the young reader's attention.
By the end of the book, children understand how to identify, explore, and have fun with any mood–silly, cranky, sad, or excited!
How much is Jamie Lee Curtis Net Worth?
Since she jumpstarted her career path in 1973, Jamie has managed to accumulate an estimated $60 million in net worth. She made her debut in the film industry in the movie Halloween (1978).

At the time that movie was a big hit, the film gained her massive recognition as a notable actress in the horror genre.

Subsequently, she starred in the second Halloween film in 1981.

As a teenager, Jamie Lee Curti went to Westlake School and later at Beverly Hills High School. She graduated from Choate Rosemary Hall and attended Pacific University.

She is not only recognized for her numerous performances within the film industry but also for writing innumerable books.

Born on November 22, 1958, to the renowned film stars Janet Leigh, and Tony Curtis, she has marshaled multiple works within the film that spans numerous genres, such as comedy films.
Quote by Curtis
I believe that life is hard. That we all are going to walk through things that are hard and challenging, and yet advertising wants us to believe that it's all easy.
Click To Tweet
It's Hard to Be Five: Learning How to Work My Control Panel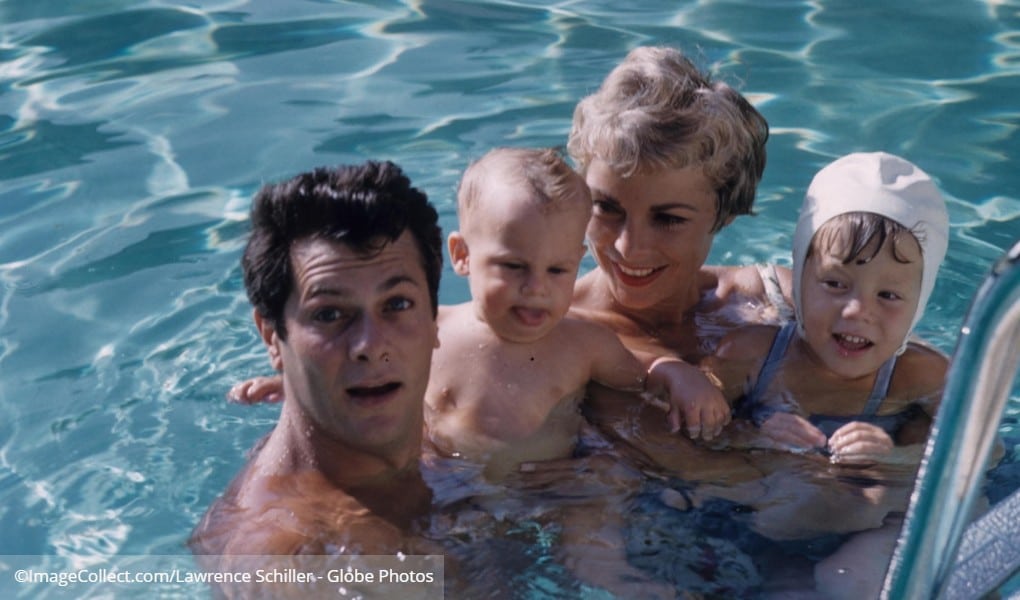 Jamie Curtis with mother Janet Leigh, father Tony Curtis, and sister Kelly Curtis. Photo by Lawrence Schiller – Globe Photos, Inc.
Curtis creates a very positive message with "It's Hard to Be Five," which follows a sometimes-squirmy 5-year-old who finds it hard to focus on everyday tasks and what things a 5-year-old should do.
The illustrations are colorful and lighthearted as the reader follows a little boy through his triumphs and tribulations, learning about his "control buttons."
Families can use this book to talk about all kinds of issues, such as learning to ride a bike or how to tie your shoes.
Quote by Curtis
My mother and stepfather were married 43 years, so I have watched a long marriage. I feel like I had a very good role model for that. And, you know, it's just a number.
Click To Tweet
How did Jamie Lee Curtis and Christopher Guest meet?
The love story for most people starts funnily, and that of Jamie and Christopher's guest is not an exception. Well, how did Lee Curtis meet Christopher Guest?
Jamie Curtis was going through a Rolling Stone magazine when he came across a picture of three men. He pointed to the one at the far right and told her friend Debra Hill that man would be her husband.
She didn't even know who the man was.
Her friend told her the man was Chris Guest and even gave her his agent's number. Curtis called the agent the next day and gave her a number for Chris to call her. That never came.
One day while Jamie is having dinner at Hugo's restaurant in West Hollywood, Jamie Lee Curti stares at Chris, who is three tables away. They just waved at each other, and Chris shrugged his hand while he was leaving.
He called her the next day, after four days, and after four days, they went for their first date at Chianti Ristorante on Melrose. The two had fallen in love within a month.
He proposed to her two months after their first meeting. And so, from a magazine picture, the love of the two lovebirds originates. As a married couple, Lee Curtis and Christopher Guest have adopted two children (Annie and Thomas).
I'm Gonna Like Me: Letting Off a Little Self-Esteem3>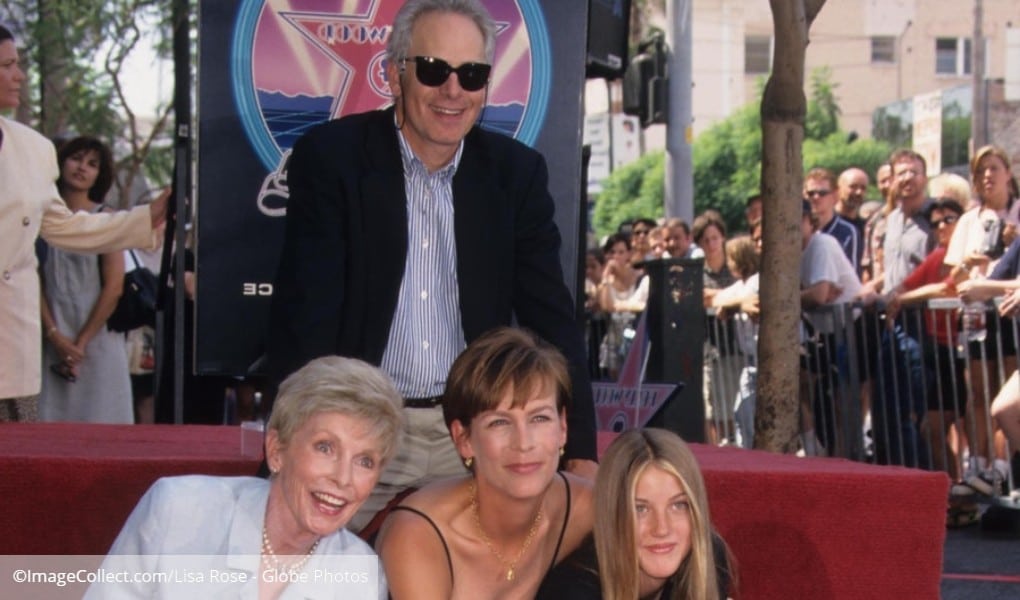 Lee Curtis with daughter Annie Guest and mother Leigh and husband Christopher Guest at Hollywood Walk of Fame 1998. Photo by Lisa Rose – Globe Photos, Inc
Every kid goes through a phase of finding their way and understanding who they are.
The book "I'm Gonna Like Me: Letting Off a Little Self-Esteem" focuses on the tales of a boy and a girl learning to like who they are and all that comes with their unique personalities.
Laura Cornell creates the perfect imagery of two children going about their day, including getting up and going to school, having lunch, and attending a birthday party.
At each event, the rhythmic progression of the boy's and girl's lines carries the reader through seamlessly, so the message is easy to receive and communicate with little kids.
This is the perfect book for families who want to help a shy child make friends in a new school or neighborhood.
Quote by Curtis
I don't think any woman wants to be known for being beautiful or busty. I think you want to be known for who you are.
Click To Tweet
Jamie Lee Curtis Golden Globe Awards
Winning awards like two Golden Globe Awards, an American Comedy Award, or the People's Choice Award doesn't come as a surprise for a talented actress like Jamie Lee Curti.
Her roles have won her incredible awards and nominations as the best actress. What is perhaps surprising is that she was nominated for a Grammy award.
However, the Grammy award wasn't for singing. Instead, Jamie Lee Curtis has penned several children's books and she read them to be recorded on tape.
Those recordings were enough to score her a nomination for Best Spoken Album for Children.
Tell Me Again About the Night I Was Born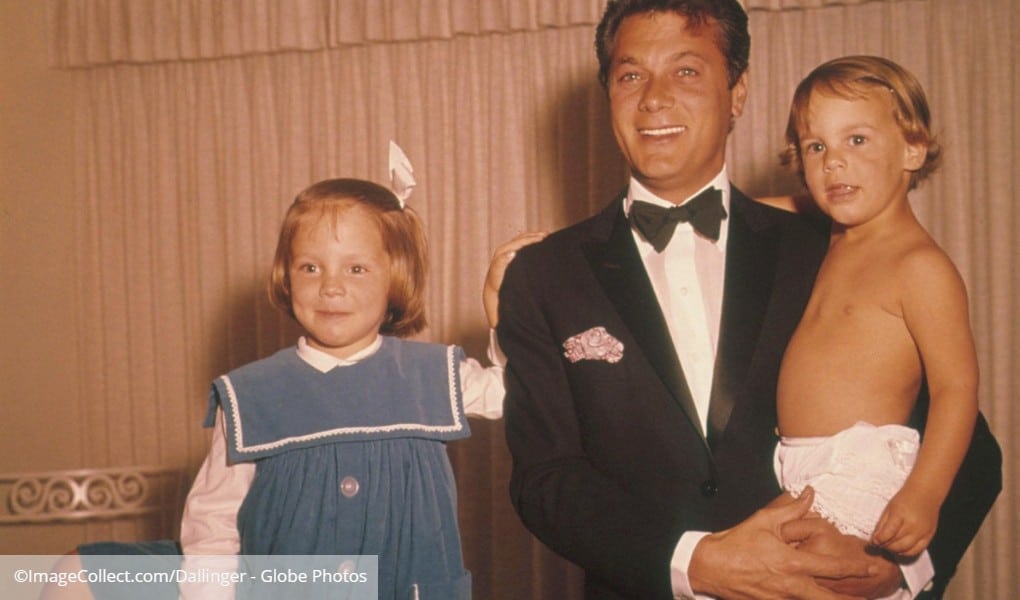 Lee Curtis with father Tony Curtis and sister Kelly Curtis. Photo by Dallinger – Globe Photos, Inc.
Curtis turns her focus toward family values with a beautiful adoption story called "Tell Me Again About the Night I Was Born."
The book focuses on a young girl asking her parents about her birth.
Because she was adopted, her parents have a lovely tale about meeting her and holding her for the first time in their arms. The story is so tender because it's close to home for Curtis, who wrote it for her child.
With tender and heartfelt prose, the book quickly illustrates on every page what it means to be loved, even if you started somewhere else. This book is best for parents trying to find a way to tell their kids about adoption and how it works.
Quote by Curtis
I'm a performer. I've just been one since I was a little girl. I used to pretend all the time.
Click To Tweet
Jamie Lee Curtis horror movies
Her Halloween movie, where she plays the role of Laurie Strode, saw her being cast in several other horror films.
Despite being able to portray fear, having a famous scream, and being arguably one of the biggest horror icons, she doesn't like to watch horror films.
While Jamie Lee Curti has watched the films she has appeared in, she says the genre terrifies her, and she doesn't typically watch horror movies.
Does Jamie Lee Curtis play guitar?
Well, the short answer is yes.
The stem of controversy undoubtedly stems from the movie "Freaky Friday," where her character, Tess Coleman, plays one mean guitar solo at the end.
While she did fake the playing and a professional musician did the actual soundtrack, Jamie does know her way around the chords of a guitar.
To pull off the scene to a tee, she needed to learn precisely how to play guitar, an experience she termed one of her favorite moments in the production.
Jamie Lee Curti believes she could do the solo on her own despite the assertion of the directors who wanted nothing short of perfection.
Under the tutelage of a member of the band Orgy, her guitar skills, which were pretty rusty at the start, improved a great deal.
Her husband, Christopher Guest, an experienced guitarist, also helped her prepare for the Freaky Friday movie, as he chipped in with a few pointers of his own.
In a nutshell, Jamie Lee Curtis can play the guitar.
While she is not at an expert level yet, her skill would still pass as pretty good even by the harshest critic.
Big Words for Little People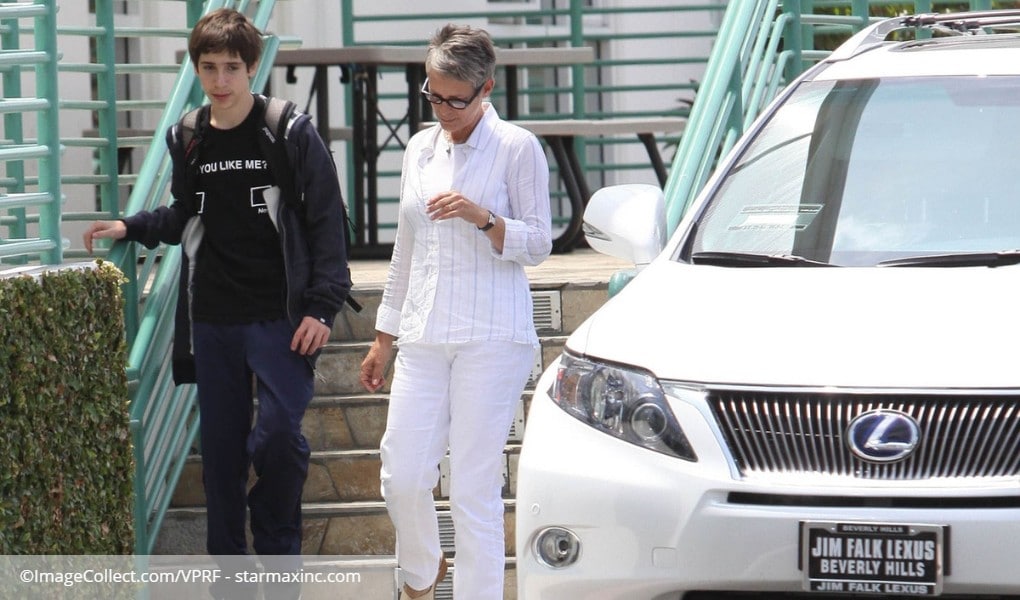 Jamie Curtis picks up her son, Thomas Haden Guest, at school. Pic by StarMaxWorldwide
What are some of the first big words that you learned?
The new children's book "Big Words for Little People" rhymes with some of the words children learn as they grow up. For example, one line talks about the word "privacy" by rhyming it with a tale about needing to "pee."
This book is perfect for younger children ages 5 to 7.
Quote by Curtis
I think my capacity to change has given me tremendous happiness because who I am today I am completely content to be.
Click To Tweet
Some words taught in the book include consequences, cooperation, appropriate, patience, family, love, respect, and others that children may not understand at first.
However, Curtis cleverly creates sensible rhymes to learn each word's meaning while keeping the tone lighthearted and fun.
This book will help you explain some of the most challenging words if you have a growing second grader with a widening vocabulary.
She Is Also An Inventor
U.S. Patent # 4,753,647 is held by Jamie Lee Curtis.
Her invention is described as a disposable infant garment that takes the form of a diaper, has pockets, and makes cleaning up faster and easier. The product has never been released, however.
When I Was Little: A Four-Year-Old's Memoir of Her Youth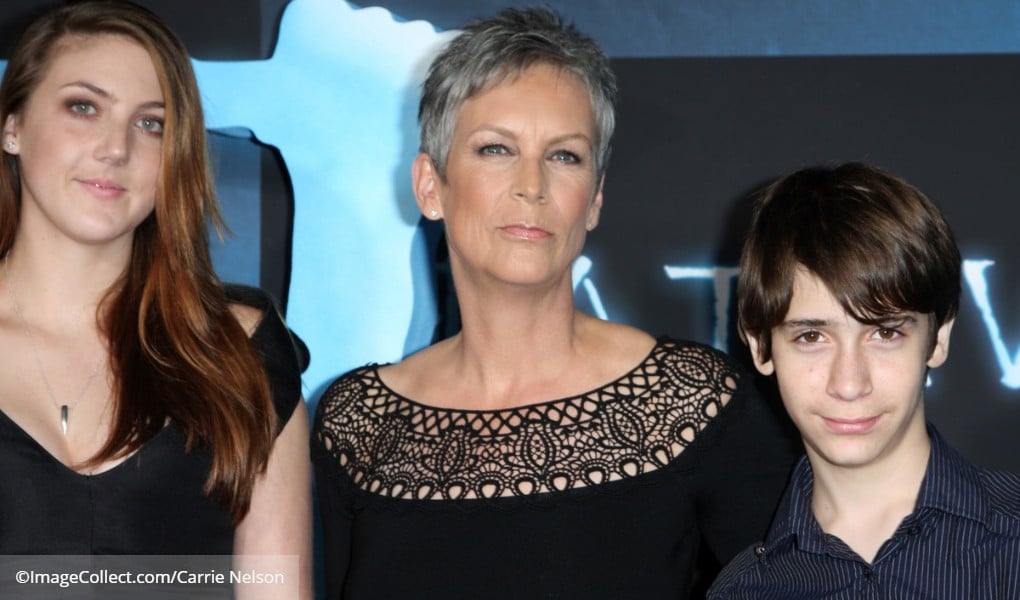 Jamie, her son, and daughter Annie arriving at the Los Angeles Premiere of Avatar Grauman's Chinese Theater Los Angeles, CA December 16, 2009. Photo by Carrie Nelson
This book will help a child to hit that mark in maturity. "When I Was Little: A Four-Year-Old's Memoir of Her Youth" focuses on the optimistic view of a little girl figuring out the world around her.
Upbeat and colorfully illustrated, this children's book also tackles some of the delicate parts of growing up, such as changing car seats, seeing new "silly" hair wisps, and getting taller.
Every part of the book puts you in the perspective of a young girl who is confident and bubbly, which comfortably carries the story through each activity she appreciates as an older child.
As the girl looks back on her childhood after growing up so much in four and a half years, the book offers a ton of wisdom and opens up discussions with kids about growing up and being able to do different things they couldn't do before.
Quote by Curtis
All the work built my fame and certainly made me more money, but the toll it took in my home was not good.
Click To Tweet
Is Jamie Lee Curtis a Hermaphrodite
The answer is no. These rumors are just gossip.
There was an infamous rumor about Jamie Lee Curtis, born of both sexes (a hermaphrodite); therefore, she had to undergo surgery to become a female.
Some people said the two facts that support the rumor are her name and the second fact is her adoption of children. But, let's face it, does a name or mere act of adopting children mean that a person was born a hermaphrodite? Most people don't think so!
Where Do Balloons Go? An Uplifting Mystery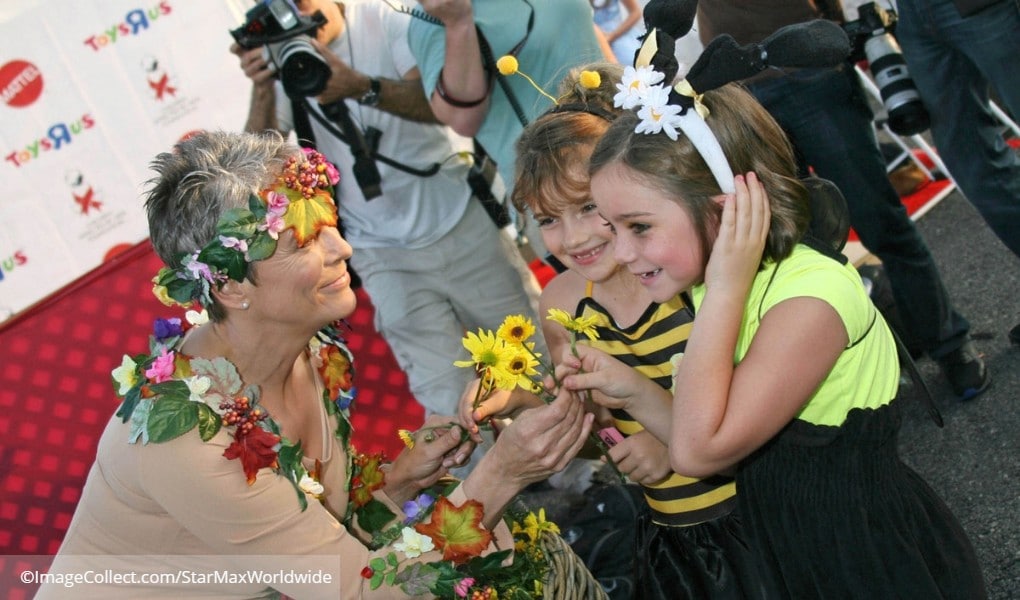 Lee Curtis at the 16th Annual Dream Halloween Gala. Pi by StarMaxWorldwide
In this beautiful children's book, Jamie Lee Curtis rhymes about the wonderful mystery of where balloons go.
It includes lines like "where do balloons go – when you let them go free? – it can happen by accident – it happened to me – do they tango with airplanes – or cha-cha with birds?"
Parents will love this tale as a gentle and fun exploration of a balloon's life.
It's the perfect bedtime story for a young toddler.
As wayward balloons get into different shenanigans thanks to the narrator's imaginative mind. The reader sees balloons as if they could be in another universe, including a scene of balloons dancing together.
Bursting with vibrant colors and vivid fantasy scenes, this is the best book to help kids daydream and tap into creative thinking.
Quote by Curtis
I'm a tidy, neat person. But I'm not a maniac.
Click To Tweet
Jamie Lee Curtis Legs insured for $2.8 million!
It's no secret that Jamie Lee Curtis' feet are insured. Over the years, she has been well known for her long legs, and her legs have been featured in ads and on television.
So much so that In 1996 when she became the spokeswoman for all L'eggs products, a $2.8 million life insurance policy was kept on them.
This policy began around when L'Eggs had her as the spokeswoman for their line of products until 2006, when Jamie Lee Curti decided to slow her acting career.
Before you write that off as being insane, did you know that some of the most famous celebrities you know have insured their legs or other body parts as well for millions of dollars?
Perhaps the most mind-blowing case is that of Mariah Carey, who is rumored to have insured her legs for $1 Billion. Read more about 13 Celebrities that have insured their body parts for millions.
What was Jamie Lee Curtis first movie?
While the actor's exploits on the big screen reverberate the globe over, not many people are familiar with her first film that paved the way for what would be a sensational career.
Her first movie was "Halloween (1978 film), an American slasher film directed by John Carpenter, where she played the character Laurie Strode.
The film was a big hit, even earning the tag of the highest gross independent movie of its era as it accrued a staggering $ 70 million in revenue from a production budget of just $ 300,000.
In the movie, Jamie plays the role of a high school student who emerges as the last man standing after a catatonia-plagued serial killer who goes on a murderous rampage.
The serial killer is eventually foiled by his sheriff's father, who shoots him six times before his body mysteriously disappears.
Her performance in 1978's Halloween was nothing short of impeccable and proved to be the stepping stone to other successful roles in hit horror films, including the sequel to her first film.
My Brave Year of Firsts: Tries, Sighs, and High Fives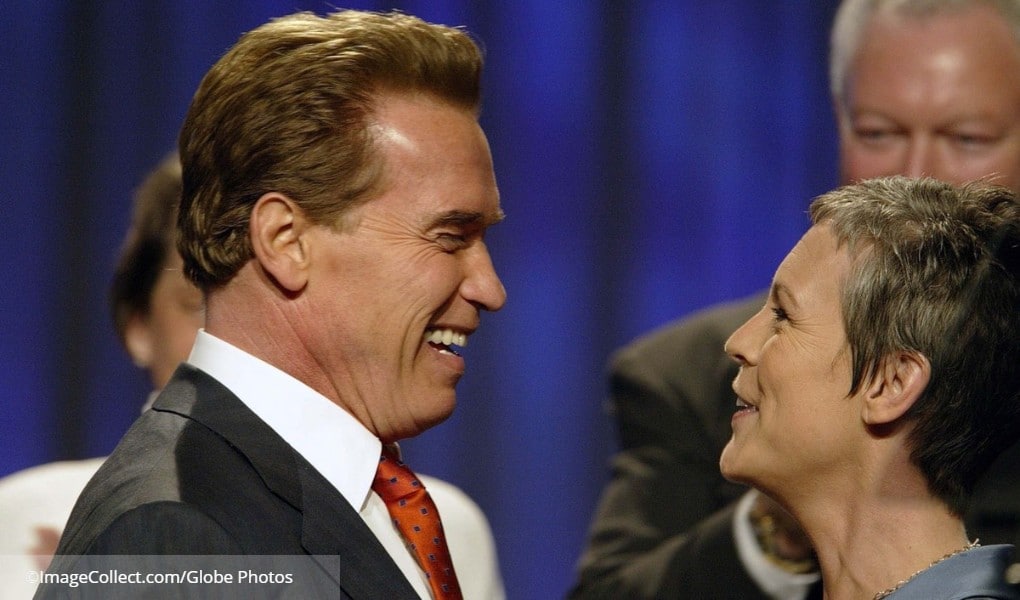 Arnold Schwarzenegger, Lee Curtis during Governor's Conference on Women and Families event that was chaired by Maria Shriver held at the Long Beach Convention Center, Long Beach, CA. Photo by Nina Prommer/Globe Photos
Released in 2012, "My Brave Year of Firsts: Tries, Sighs, and High Fives" is Curtis's 10th children's book. The main character, Frankie, is an active child learning to do everything, such as riding a bike and raising a new dog.
Frankie also has to make new friends and help her dad while discovering new things and what she likes about having responsibilities. For families with young kids, this book helps kids feel more confident as they take on some new firsts.
As the book starts, "The first time I rode a two-wheeler alone, I crashed, and my mom filmed it on her iPhone." This line perfectly illustrates why Curtis easily mesmerizes children with her words and descriptive texts.
Most of the experiences in the book are things most children do as they start to get taller and grow up, which is why it works well for teachers who want to help children learn about all the things they could do.
Quote by Curtis
And I was ashamed of myself for feeling like I had to do that in order to look a certain way. I felt misshapen, just not natural anymore. And I think it was a big stimulator of my drug use.
Click To Tweet
Jamie Lee Curtis alcoholic addiction past problems
According to information published on the Wikipedia website's personal life entry, she started using painkillers after having a routine cosmetic surgical procedure.
She was addicted to them, but eventually, she became sober.
She is also recovered from alcohol. According to Jamie Lee Curti, recovering from alcoholism is the most outstanding achievement of her life.
Is There Really a Human Race?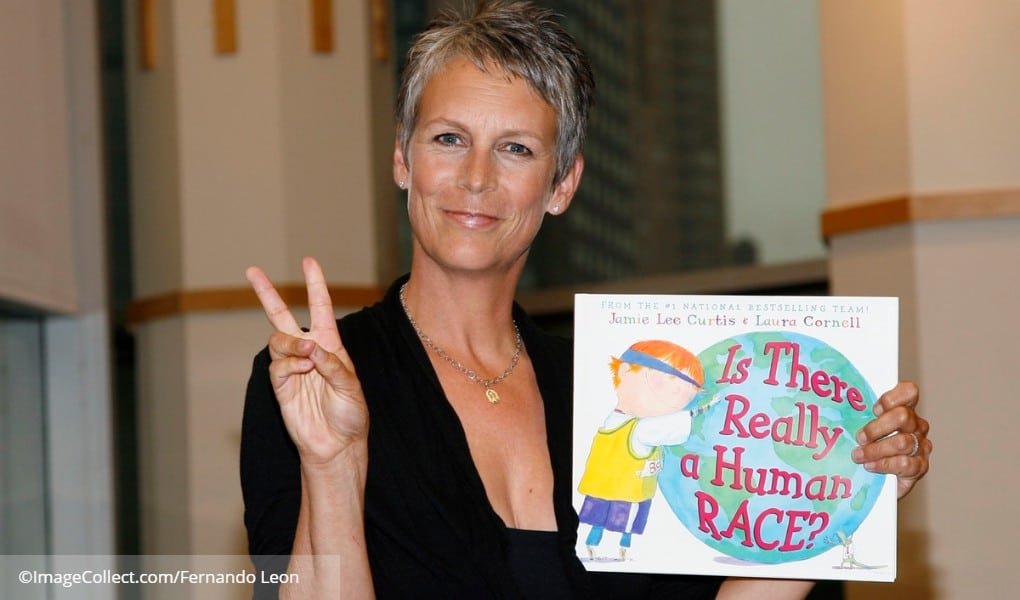 Lee Curtis poses for pictures during an appearance promoting her new children's book 'Is There Really A Human Race?' at Barnes And Noble Bookstore on September 5, 2006, in New York City.
The rhymes are elegant, and the characters are fun to follow in this existential children's book called "Is There Really a Human Race?"
The clever play on race leads to a larger metaphor for the children in the book and what type of futures they envision for themselves.
For instance, a witty text is partnered with brilliant graphics by Laura Cornell, depicting the characters as babies predicting what's to come.
One baby wears sunglasses and holds an Oscar statue, while another plays with the tasseled edges of a graduation cap. One of the messages in Curtis' book is quite simple, as she says that humans are supposed to make the world a better place.
As with other Curtis books, the clever rhymes and diverse characters make it fun for young children to consider their paths gently and kindly.
Quote by Curtis
With short hair you have to get a haircut every two or three weeks. And if you're coloring your hair, you have to color it that often. Every time I did it, I felt fraudulent.
Click To Tweet
Jamie Lee Curtis hair
There is something to note about Jamie Lee Curtis' hairstyle.
In 2008 she appeared on the cover of AARP Magazine with gray hair.
She is one of the celebrities who prefer short haircuts and hairstyles. But unfortunately, she makes her grey hair look pretty cool! Don't you think so?
My Mommy Hung the Moon: A Love Story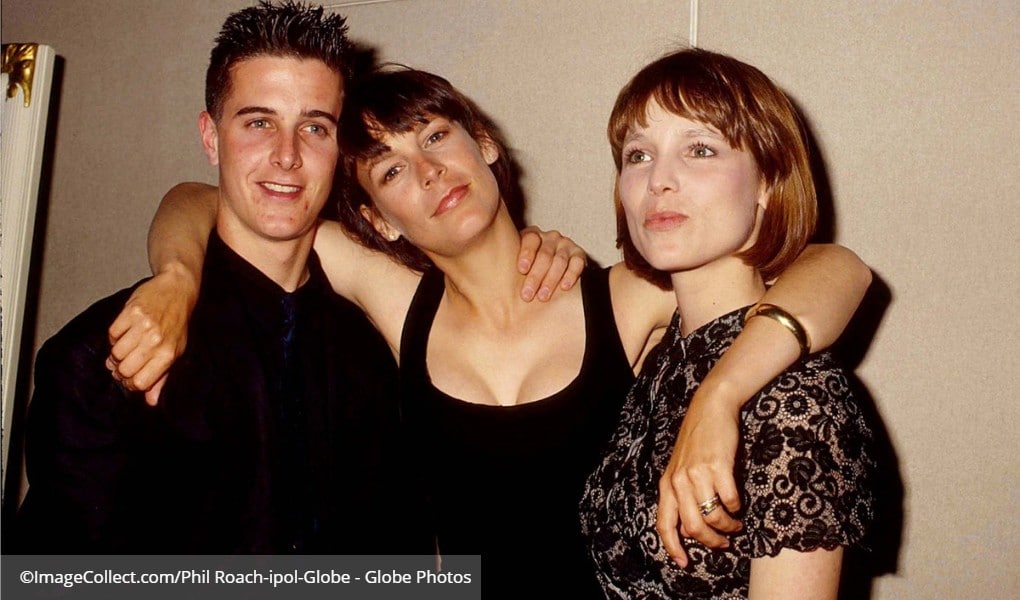 Lee Curtis with Nicholas Curtis and Kelly Curtis at Tony Curtis Art Exhibition. Photo by Phil Roach-ipol-Globe Photos, Inc.
Moms are the best at everything; is that not true? In "My Mommy Hung the Moon: A Love Story," we follow the life of a mom who can do it all.
She can untangle kites, bake cookies, carpool with kids, and steal bases. Moms also have special powers to light up the sun with their love.
Curtis writes from her heart about being a parent, specifically a mommy, and how parents light up the world for their children.
Laura Cornell perfectly illustrates this in a scene where mommy bakes cookies in a "BIG MOMMA BATCH," and all the cookies take on different shapes and other wild characters like Mount Rushmore and ET.
The image is hilarious and brilliantly showcases what it's like for children to love their parents. You can see how much positivity the book brings to your family while reading with the kids.
Quote by Curtis
I've etched out who I am through myriad haircut attempts, outfit attempts, beauty attempts, diet attempts. It's been an evolution
Click To Tweet
What is Jamie Lee Curtis Workout Routine?
Lee Curtis is an assertive and talented actress who likes doing Pilates exercise routine to meet her fitness goals.
The mat-based exercise routine helps her fire up her core and get a full-body burn in a short time. In addition, the Pilates workout has allowed this 5-foot and 7-inch actress to remain fit and is the secret to her superb figure.
By doing Pilates, Lee can control her breathing and improve the alignment of her spine. In addition, she complements her exercise routine with a balanced diet.
She does portion control and watches all she eats.
According to her, Pilates effectively improves flexibility and abdominal and postural strength. In addition, Jamie Lee Curti says neck, joint, or back pain is not a thing to worry about when you regularly engage in Pilates.
This is why she is a die-hard enthusiast of Pilates. Curtis advises other women to make healthy choices and stop doing what's harmful.
By walking more and eating less, Jamie Lee has managed to stay healthy, energetic, and fit.
How Did Jamie Lee Curtis Become Famous?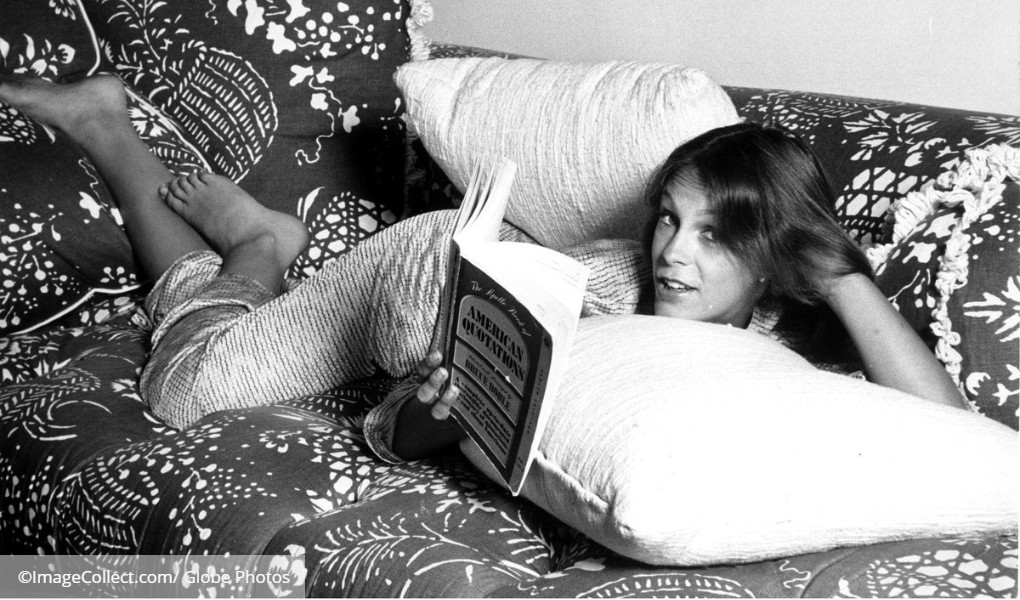 Jamie Lee Curtis young photo by Globe Photos, inc.
Fans worldwide are not only familiar with her on their movie and television screens but also in the book-writing industry. Looking back at her biography, we can reveal the attributes behind her fame.
☑ An early introduction to the acting industry
After reading through her life history, it is evident that her fame did not start yesterday! She was born on November 22, 1958, and raised in a family where both parents were active in the show business.
As a child of famous parents, everyone wants to know her whereabouts, which could be one reason she quickly rose to fame. In other words, she was famous by association!
☑ Perfecting the skills of pretending
Many actors and actresses from Hollywood and around the globe have risen to fame just because of perfecting their ability to act and look like famous people, and Curtis is only one of them.
At first, mimicking personalities was her weakness, but following her parents' footsteps, she turned it into her strength. In fact, at 19, she was playing a lead role in a Halloween film.
Inspirational quote by Jamie Curtis
It's not that I'm retired; I just no longer accept acting work.
Click To Tweet
☑ She is simple in style.
As an actor, too much style can negatively ruin your career.
Jamie Lee Curti maintains a simple style. Her popularity in writing and the acting world can be attributed to the fact that she seems not to be looking to stand out.
She kept it simple, owning a pair of jeans and buying just a single dress each year. She even gave away some jewelry because she never needed or wore them.
☑ Unveiling original writing pieces
Lee Curtis is one of the few celebrity cum writers who has managed to win over readers and critics alike. She achieved this tremendous applause because most of her writing work was original, targeting children.
Much of her inspiration in the writing industry came from filmmaking.
Conclusion
Although her schooling life went unnoticed, Jamie Lee Curti has been in the spotlight from tender age while growing up in a famous family. She did some things that made her recognized in the acting world.
Appearance in movies and television screens, as well as the writing of books for toddlers and children, made her stand out like a glowing star!
Not only has Jamie Lee written numerous children's books published by HarperCollins, but Jamie Lee also wrote a unique one-of-a-kind book for Jay Leno.
Showing creativity in more than just acting, Lee Curtis continues to produce quality stories for young readers.
Hopefully, Jamie Lee Curtis still has many more beautiful children's books not yet penned and movies to be made during her lifetime.
Related Posts You Might Like: