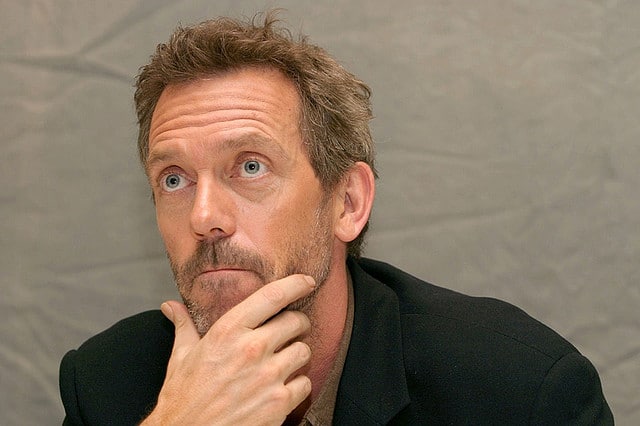 Hugh Laurie actor started trending thanks to this involvement in the forthcoming miniseries adaptation of John Le Carre's novel, The Night Manager.
Best known for his work on House, Hugh will star alongside Tom Hiddleston when filming begins in the spring. The announcement of Hugh Laurie being added to the cast sparked excitement, especially in the United Kingdom, as fans are aware of his enthusiasm for the book.
According to information published on Wikipedia website, Hugh Laurie doesn't believe in God. However, he has this idea "if there were a God, or destiny of some kind looking down on us, that if he saw you taking anything for granted he'd take it away."
After all his idea isn't wrong, people should appreciate what they already have achieved or own. We shouldn't take what we have achieved for granted.
It's a fact that we are all blessed and if we appreciate what we have already achieved, then for sure we will continue to achieve a lot.
Interesting Facts You Should Know About Hugh Laurie
While there are a lot of people who already know about Hugh Laurie actor who is listed in the Guinness World Records as the most watched leading man on TV, there are still little known surprising facts about him.
Some of these facts may surprise you. For instance, did you know that he was one of the highest-paid actors in a television drama?
All of these ten facts discussed below will help you better understand the depth of one of the finest actors in the modern era. Here is more information on James Hugh Calum Laurie, born June 11, 1959 in Oxford, England.
1.) He Almost Didn't Snag the Role of House Because He Was British
A producer on House didn't want anyone but an American actor to play Gregory House. Laurie, who auditioned at the time, had worked on his American accent to be better received by American audiences without knowing this information.
When he auditioned, the producer was overjoyed and stated that Hugh's performance was why he wanted to hire an American actor and was shocked to find that he had given the role to someone British.
2.) He Was a Horrible Child
During his youth, he used to smoke cigarettes. In fact, Hugh Laurie actor spent most of his youth smoking. He did not only smoke cigarettes but he also used to cheat in French vocabulary tests.
He was a frustration to his mother Patricia and she didn't like him. Hugh was a horrible child but he changed he is a changed man who is successful.
3.) Hugh Plays In a Celebrity Band for Charity
Hugh Laurie actor is an active member of the charity band, "Band from TV." The group plays for charity functions to help raise money.
Other members in the band include James Denton, Terri Hatcher, Jesse Spencer, Bob Guiney and Greg Grunberg. All funds that are raised through recordings and appearances go directly to charity.
It is a way for these stars to combine their passion for giving with their love of music. As for Hugh, in addition to being an accomplished vocalist, he can also play the piano, guitar, drums, harmonica and the saxophone.
4.) Hugh Laurie Has a Past With Emma Thompson
During his time at Cambridge, Hugh Laurie actor and Emma Thompson grew close. While they dated for a time, they would eventually find they were better friends then lovers.
To this day, the two remain very close friends.
5.) Hugh Laurie Married Jo Green
He married Jo Green in 1989. Hugh Laurie's wife is a theatre administrator and they have two sons (Charlie and Bill) and one daughter Rebecca.
Hugh Laurie's family lives in Belsize Park.
6.) Emma Thompson Introduced Hugh Laurie to Stephen Fry
The comedic pairings of Hugh Laurie and Stephen Fry wouldn't have transpired if it wasn't for Emma Thompson.
After a chance meeting, the two began performing together and eventually they wrote and starred in a series in the United Kingdom called A Bit of Fry and Laurie.
The two remain good friends to this day.
7.) Hugh Was a Champion Rower in His Youth
Hugh Laurie actor became a junior national champion in rowing and even took fourth place in the World Junior Rowing Champions.
His passion for rowing continued into his college years where he focused more on anthropology courses to give him more time to practice rowing without having to commit countless hours to rowing.
8.) His Time On House Almost Caused Damage to His Leg
While walking with a cane on house, due to the fact Dr. Gregory House had suffered permanent leg damage, Hugh Laurie's doctors warned him he was potentially causing permanent damage to his leg from the constant hobbling on set during Season 5.
This led to his character standing in place more often and sitting frequently, cutting down the hobbling scenes significantly.
9.) Hugh Laurie Has Been Honored By the Queen
Her Majesty, Queen Elizabeth II gave Hugh Laurie the title of Officer of the Order of the British Empire, thanks to his work in superior drama on May 23, 2007.
10.) He Has Topped the US Billboard Blues Charts Twice
His albums Didn't It Rain and Let Them Talk both did well worldwide. In the United States, both albums took the # 1 spot on the Billboard Blues Charts.
Hugh Laurie Is a Best-selling Author
Though Hugh Laurie is widely popular as an actor, he is also the best-selling author. His prized work is called "The Gun Seller", a spy comedy that follows a former soldier who is conned into providing assistance to the British government.
"The Gun Seller" is the first novel written by Hugh Laurie. On Amazon website alone, this novel has received more than 341 customer reviews. His second novel is "The Paper Soldier."