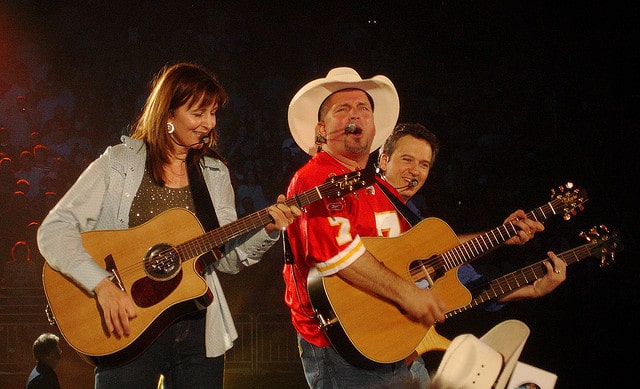 Garth Brooks has hit the recent Google trends for a number of reasons. First, he made his return to the country music market last year (2014) with the release of his new album, Man Against Machine, his first new studio album in 13 years.
He also joined the social media universe for the first time and a video of him serenading a cancer patient to his hit song, The Dance, became a viral hit.
Garth Brooks "The Dance" song was released in 1990. This song was composed and written by Tony Arata. It became a big hit around the word and of all the songs that Garth Brooks has recorded; Brooks has claimed that The Dance is his favorite song.
YouTube Video, Garth Brooks The Dance Song
10 Things You Should Know About Garth Brooks
With his return to music, Garth Brooks is seeking to continue his historic career, which was put on hold in 2001 when he retired from music.
Influenced by acts like Kiss, George Strait and James Taylor, there is plenty to know about this remarkable man.
1.) His First Wife Wrote Songs For Him
While his wife Sandy Mahl was married to him, she co-wrote a couple of songs that ended up on Garth's albums.
The first was I've Got a Good Thing Going from his debut album. The other was the # 1 hit, That Summer.
2.) He Doesn't See Eye to Eye with iTunes
One of the last major acts to shun iTunes, Garth Brooks doesn't want individual tracks to be sold and he wants more control of the price so that everyone gets paid for their hard work on the album.
When the demand for digital music couldn't be ignored any longer, he created his own digital music store called GhostTunes.
3.) He Was Supposed to Star in a Psychological Thriller
In 1999, Garth Brooks was set to portray a character by the name of Chris Gaines for a psychological thriller in a film called, The Lamb.
Prematurely, Garth recorded a pop influenced "Greatest Hits" package for the character and released it. The album would sell 2 million copies (A far cry from the 10 million his other albums have sold) and would have three singles released that were moderate hits for him.
4.) Wife Trisha Yearwood Appears on 78 Songs He Has Recorded
Including the current album Man Against Machine where Trisha Yearwood is featured on the song She's Tired of Boys, Garth's current wife has appeared on 78 songs in his impressive catalogue.
This includes backing vocals and duets that the pair have recorded. In turn, Garth has appeared on several tracks from Trisha's own catalogue.
5.) He Was A Field Superstar
Before Garth Brooks made it in music, he was making it on the field. His work with the javelin helped him to score a scholarship to Oklahoma State University.
He would end up graduating from the school in 1984 with a degree in advertising. That would pay off in the future as he would use his skills and experience in his own career.
6.) Garth Brooks Moved to Nashville and Sold Boots
Music success wasn't overnight for Garth Brooks. Instead, he had to pay his dues in the city. As he wrote songs and sang in clubs, he tried to make ends meet by selling boots.
It was while he was selling boots that he wrote the song, Not Counting You, which would become a top 5 hit. While he worked here, one of his fellow co-workers was Ken Mellons who has had a successful career in country music.
7.) Steve Wynn Yanked Him Out of Full Retirement
Garth Brooks wasn't going to do any concerts or record music until his youngest daughter turned 18 and graduated from High School.
When he approached Steve Wynn for a donation to his charity, the casino mogul offered Garth a private jet to take him to Oklahoma every night to be home with his family and would fly him home in enough time to be at his shows on the weekends.
So he never had to spend any extra time in Vegas. Garth agreed and he made a partial return to the music scene.
8.) Garth Helped Give Martina McBride Her Start
Martina McBride first made the rounds with Garth Brooks first by selling shirts for him. Having heard her sing in passing, he offered to let her become his opening act.
This helped her to land a recording contract and to become a powerhouse in country music.
9.) His Hit Rodeo Was Intended for Trisha Yearwood
Garth originally wrote the song Rodeo with the title Miss Rodeo and intended it for Trisha Yearwood who was his friend at the time.
Not being able to relate to the lyrics, she passed on the song. He altered the lyrics and ended up having a # 3 hit with it.
10.) He Tried to Save Chris Ledoux's Life
In 2000, Garth found that his friend and fellow recording artist Chris Ledoux was suffering from liver failure. He attempted to give part of his liver to save his friend and was found to be incompatible.
Despite his efforts to find a match, Chris lived for 5 years before passing away in 2005.