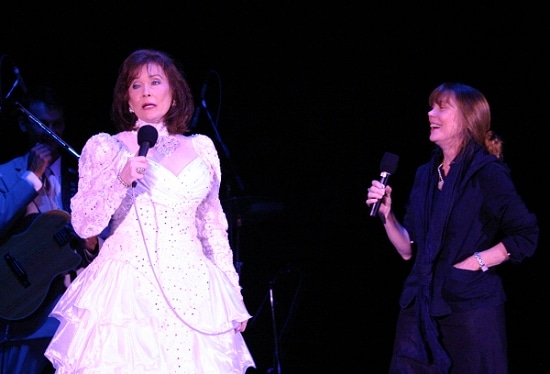 What do you know about country singer Loretta Lynn? There are ways that you can get to know someone even if you have never met him or her face-to-face. The fact is, celebrities have fans from all the corners of the world.
Of course, people are searching celebrities on the internet. They want to know about them and read news stories that concerns them. You can't miss to find the trending topics about celebrities on the internet.
Of course, there are people who love to read gossip stories published on various websites and blogs about celebrities. Some of the gossip stories about celebrities are true while others are just mere idle gossips that aren't true and are meant to capture people's attention.
Although there is much gossip on the internet about celebrities, we won't have known some of the facts about the lives of celebrities.
The internet has made it easy for many people to know more information regarding celebrities. It has transformed their relationship with celebrities.
It is not like many years ago before the internet happened to be when people had no access to free publication platforms such as Twitter and social media. As such, celebrity news and scandals didn't go viral the way they do nowadays.
Talking of celebrity trending topics, we have heard, watched and read Loretta Lynn news. Have you read the recent news concerning singer Loretta Lynn? If you're one of her fans, then probably it's not your first time you have heard about her.
So who is Loretta Lynn? Country music fans and those who just tune in to enjoy the spectacle of awards shows were treated to something a little special in 2014 during Country Music Awards.
It was a surprise appearance by country legend Loretta Lynn, who made an unannounced entrance onto the stage to sing a duet with Kacey Musgraves on a version of Lynn's 1971 hit "You're Looking at Country."
The sudden entry of the country singer Loretta Lynn halfway through the song shocked many in the audience and delighted fans both in attendance and those watching at home and may have earned Lynn a whole new generation of admirers.
While singer Loretta Lynn may have made waves in 2014 due to her performance with Musgraves at the CMAs, she had a decades-long career in the music industry and if you're not already familiar with her work, the following facts about this living legend should help you get up to speed on her work.
1.) She Really Is A Coal Miner's Daughter
One of Lynn's biggest hits is "Coal Miner's Daughter" and as it happens, Lynn's father, Theodore "Ted" Melvin Webb, was in fact a coal miner from Butcher's Hollow, Kentucky, where Loretta was born, not far from the West Virginia border in the heart of coal mining country.
Nothing much is said about Loretta Lynn's mother who was a Democrat, Scots-Irish and Cherokee ancestry.
2.) She Married While Young
Country singer Lynn married Oliver "Doolittle" Lynn (Loretta called him "Doo") in 1948, when she was just 14 and the two remained married until his death in 1996.
It was an often turbulent marriage, with accusations of domestic violence (on both sides) and one which inspired many of Loretta Lynn's hits, including "Don't Come Home A' Drinkin' (With Lovin' on Your Mind)", "Fist City" and "You Ain't Woman Enough (To Take My Man)" among others.
However, it wasn't all turmoil in the Lynn household and in fact, it was Oliver who bought Loretta her first guitar in 1953 and encouraged her to start a band a few years later, kicking off her music career.
While the idea of his wife becoming one of the biggest stars in the music business might not have been what he had in mind, he stood behind her and was one of her biggest boosters for the rest of his life.
Of course, it would have been impossible to predict just how big of a success Loretta Lynn would be, but for all of his faults, Oliver's belief in Loretta's talent never faltered.
3.) Loretta Lynn's Children
Concerning Loretta Lynn's children, she had six children. By the time Loretta was 19 she already had three children. Unfortunately some of her children have passed on.
As of April 2014, she is a grandmother to 21 grandchildren.
Loretta Lynn Dude Ranch and Kitchen Restaurant, YouTube Video
4.) She Had More Number One Hits Than Almost Anyone Else
Singer Loretta Lynn made her mark on the country music scene almost immediately once she began her career, but in 1967, she saw her first number one hit, although Lynn was already no stranger to the top 10 charts.
It was the first of many, since she has had no less than sixteen number one country hits over the years, as well as a staggering fifty four other songs in the charts, both on her own and duets with other artists.
5.) She Had Caused Some Controversy Over The Years
There were some times when country stations wouldn't play Loretta Lynn songs, dealing as it often did with the real issues facing working class rural women, but the resistance of radio programming directors didn't stop her from telling it like she saw it.
Loretta Lynn soldiered on and despite no less than nine of her singles being banned from various country music stations over the years, her fans continued to seek out her music, as they still do to this day.
6.) She Has Won More Awards
Country singer Loretta Lynn has been a member of the Country Music Hall of Fame since 1988, a member of the Song Writers Hall of Fame since 2008, earned a lifetime achievement award from the CMAs.
She has earned the Presidential Medal of Freedom, which she was awarded last year (2013), along with Bob Dylan and more music industry awards than we have room to go into here, both in and out of the country music category.
One of her proudest achievements, however, is having been a member of the Grand Ole Opry since 1962. As Lynn says about the Opry, "I've played in a million places, but the Grand Ole Opry is different."
7.) She Has Worked With Jack White
As far as collaborations go, country singer Loretta Lynn is probably best known for her frequent (and chart topping) work with Conway Twitty in the 1960s and 1970s, but she has worked with a variety of other artists over the years, including Jack White, who produced her 2004 album Van Lear Rose.
The album earned the pair five Grammy nominations and two awards, as well as widespread acclaim from fans and critics alike.
Award Winning Movie About Country Singer Loretta Lynn
Younger readers may not be aware that singer Loretta Lynn wrote an autobiography in 1976. "Coal Miner's Daughter", Lynn's life story was adapted into an Academy Award winning film of the same name, starring Sissy Spacek.
Anyone including you can stream instantly "Coal Miner's Daughter" film on Amazon instant video. It has been rated by more than 430 customers on Amazon website. Most of the customers gave it 4.8 out 5 stars.
It is an interesting true story to watch about a rousing love affair and a woman's achievement in making her name in the world.