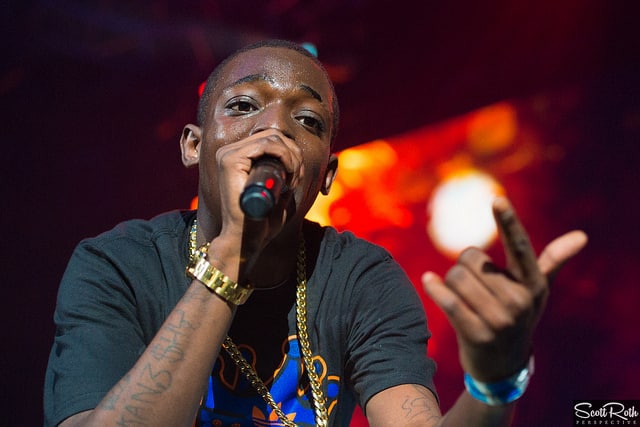 The hip hop world got a bit of an unpleasant Christmas surprise last year (2014) with the news that New York rapper Bobby Shmurda would be spending the holiday on Riker's Island.
It had been reported that Shmurda's label, Epic Records, would be posting his $2 million bail, but that turned out not to be the case.
Bobby Shmurda was visited by family members on Riker's Island and naturally, also by his attorney, Howard Greenberg.
Greenberg had no comment on Epic's decision not to post bail for Shmurda, saying that other plans are in the works. He also discussed the indictment against Bobby Shmurda and his group, GS9.
Shmurda was charged with conspiracy to commit murder, conspiracy to commit assault, reckless endangerment and criminal possession of a weapon, among other charges; charges which Greenberg dismissed as nonsense (although in stronger language).
Bobby Shmurda and his crew were arrested at Quad Studios in New York following an investigation by the NYPD which had stretched over two years.
It was reported that police seized over $50,000 worth of cocaine and 21 weapons in the arrest. Shmurda pleaded not guilty to the charges at arraignment
The list of charges against his associates is even more serious, including attempted murder, murder, assault and others. Bobby Shmurda is very much in the trending topics, and very much a fixture on the radio and the charts.
How much do you know about this one time internet sensation turned hip hop star?
7 Interesting Facts About Bobby Shmurda
The following seven interesting facts will help you get up to speed on this rapper everyone (apparently including the police) is talking about.
1.) He Is From Flatbush
While the rapper may have been born in Florida, he was raised in Brooklyn and reps Flatbush all the way.
Shmurda has such strong ties to Flatbush that he filmed his first video in his central Brooklyn neighborhood, right on the street, surrounded by typical Brooklyn 6 story apartment buildings and rowhouses.
2.) His Name Isn't Bobby Or Shmurda
It probably won't surprise you to learn that Bobby Shmurda is a stage name – the rapper was born Ackquille Jean Pollard.
He is the younger of two sons of a Trinidadian mother and Jamaican father.
3.) Bobby Shmurda Shmoney Dance Moves
He might not be Fred Astaire, but Bobby Shmurda launched a meme heard (and seen) around the world "The Shmoney Dance." The dance shows up at around the 2:20 point in the rapper's debut video, where he twists his baseball cap around and does a loose two step, a move which was quickly imitated by, well, everybody.
Within days of the video's release, a seemingly endless stream of Vine videos flooded the web; clearly, this was something that everyone wanted in on, with even Beyonce and Rihanna doing the dance.
The rest, as they say, is history and Shmurda quickly became not just an internet sensation but a renowned rapper in no time.
Bobby Shmurda Shmoney Dance, YouTube Video
4.) He Has Had Legal Troubles Before
Flatbush, Brooklyn can be a tough place to grow up and Bobby Shmurda has had a few run-ins with the law in the past.
He spent 15 months in juvenile detention for a probation violation as a teenager and was also once arrested on a weapons charge; that charge, however, was dropped.
5.) He Started His Rap Career At A Young Age
A lot of people get started in music in their teens, not Bobby Shmurda, who began rapping at the tender age of ten! By the time people started doing the Shmoney Dance, he had been rapping, producing and remixing for a decade.
Fun fact: Bobby's first remix dropped all the way back in 2004 and was a remix of "Knuck If You Buck" by Crime Mob.
6.) He Has Famous Fans
He has thousands of fans and we already know that Beyonce and Jay-Z were fans of Bobby Shmurda, but so is the Wu Tang Clan's Raekwon the Chef.
The hip hop legend invited Bobby Shmurda on stage to perform with him at the recent Brooklyn Hip Hop Festival, exposing the already popular artist to an even larger audience, including many listeners who aren't necessarily completely immersed in the rap world 24/7.
7.) Has Been Featured By Several Media
Several media outlets including Vibe have featured Bobby Shmurda. In fact, he is said to be a media darling.